*FYI - this post may contain affiliate links, which means we earn a commission at no extra cost to you if you purchase from them. Also, as an Amazon Associate I earn from qualifying purchases. Check out our Privacy Policy and Disclosure. for more info.
Great travel gifts for men are hard to find.
Or actually, shopping for men is difficult period.
Especially when you're trying to think of something useful, thoughtful and isn't um, video games. Since my boyfriend is a guy that loves travelling, I'm constantly thinking of unique travel gifts for him that won't completely break the bank. I mean, I find men aren't as easily swayed by "things with maps on them" as I am. Bummer.
Save this post on Pinterest for later: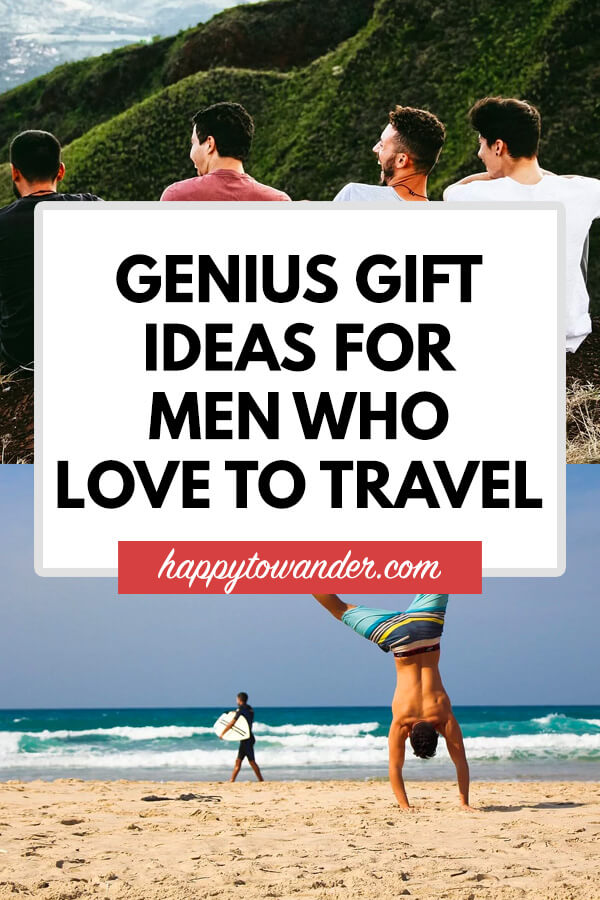 So, if you're one of the many out there seeking gifts for men that travel, you're in the right place. This list details the best travel gifts for him, suited for all budgets. I hope it helps you in your quest to find the perfect gift 🙂

---
---
Best Travel Gifts for Men Under $20
Here are some super affordable gifts for men who like to travel – all with a tidy price tag under $20!
If you're shopping for a man with simple pleasures (namely one who enjoys cold brewskis and having his name on stuff), then a personalized bottle opener is one of the best unique travel gifts for him to receive!
Especially for those who travel often, a bottle opener is typically that one little item that we always forget or can't find. Luckily, these ones are attached to your keys soooo… if you can't find it, you've got some bigger problems to deal with. I love this simple design from Etsy.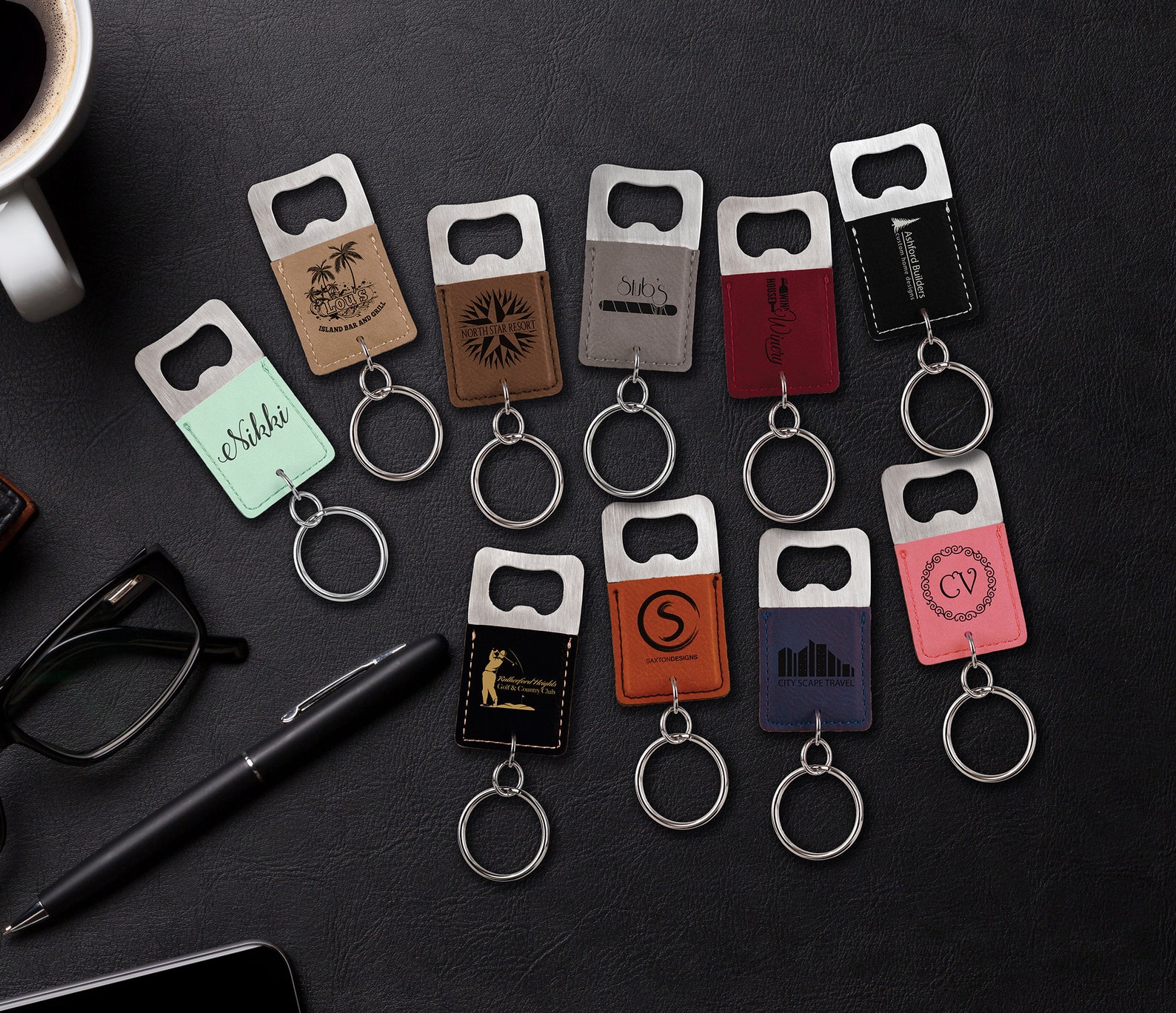 ---
---
Badass beer glasses to remind him of his time at Oktoberfest, fancy whiskey glasses to remind him of scotch tastings in Edinburgh, etc. etc. Often, *ahem* alcohol plays a memorable role in one's travel experiences, and with some cool drinkware, you're able to remind him of those fond travel memories.
The perfect thoughtful gift that is guaranteed to get some real use. Click here to scope out great deals on beer steins and other drinkware.


---
---
Men love their gadgets, and even (relatively dull) ones like adapters can be exciting if practical and cool enough. I recently gifted one to my boyfriend and I swear I have never seen anyone so excited about an adapter before.
He couldn't stop raving about how cool and useful it was. Shows me to never judge an adapter again 😉 It's the perfect, practical travel gift for a man who travels often. Check out this one from Amazon for less than $15 - it includes USB charging ports and consistent 5 star reviews.
---
---
The perfect gift if your travel man has a trip coming up! Just based on anecdotal evidence, I've always found that while fellow female travellers love browsing Pinterest, blogs, Instagram and the entire freaking Internet for advice, male travellers are often much more content to lug around one book and treat it like a travel bible.
Gift them this bible and they'll be forever grateful! My go-to guidebooks are the ones from Lonely Planet - I love the witty way they're written and how much information they manage to pack in. They're offering a 3 for 2 deal at the moment - click here to browse the best prices.


---
---
Men are often messy and disorganized. This is already a pain in daily life (*glares at sink full of dishes*), BUT even more of a headache during one's travels. A travel wallet is therefore the perfect useful gift for making sure nothing gets lost (if not a subtle dig at their disorganization).
There are plenty of affordable options online for less than $20, including this top-rated pick from Amazon, which has a bunch of pockets for cards, cash, boarding passes and even passports.
---
---
Best Travel Gifts for Men Under $50
Gifts for men who travel a lot don't need to be expensive. Here are some of the best traveling gifts for him, all for the appealing price of under $50:
International beer or chocolate set
As they say, the way to a man's heart is through his stomach, and a brilliant gift for men who travel a lot is a set of snacks or drinks from around the world! For instance, assuming you're shopping for a classic dude bro, you can't go wrong with the gift of beer, especially cool ones he normally doesn't have access to from all around the world.
I promise, if they're a beer loving traveller, they'll love this thoughtful and tasty gift! Alternatively, I love this chocolate passport idea from Trader Joes, with little chocolate bars from around the world.
---
---
Forget carrying toiletries in a Ziplock bag. Help your traveler man class up his travel gear arsenal with a practical yet stylish toiletry bag. He'll feel instantly fancier - guaranteed. I love these customizable ones off of Etsy.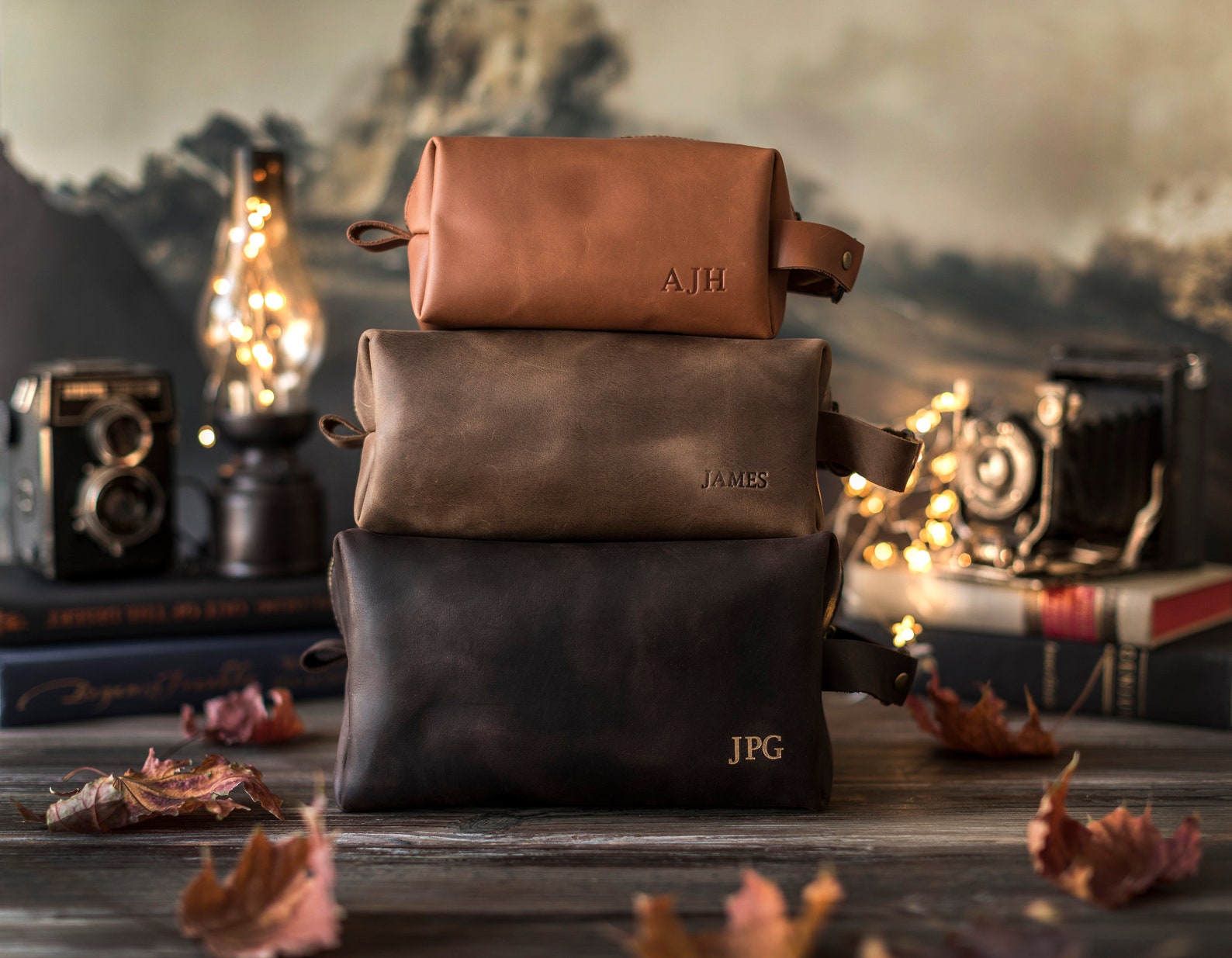 ---
---
One of the manliest gifts for men who like to travel, and one that will earn you gratitude for life. A Swiss army knife with multiple functions would be a super handy present (literally) and one that earns double whammy points for being cool and generally badass. Click here to browse the best deals for them on Amazon.
---
---
Seriously, this is PROOF that we're living in the future! These phone cases charge your phone for you, which makes it the perfect gift for travelers who are always connected. Practical and cool - it's the perfect double whammy gift. Scope out the many options on Amazon here.

---
---
The ultimate gift for the outdoorsy traveller (or any traveller really). Thanks to a 2 tier filtration system that removes 99.9999% of waterborne bacteria, these amazing water bottles ensure that your travel man has clean drinking water wherever he goes.
The newest models even reduce things like bad taste and chlorine. A must for any man on the go! Click here to browse the different options.
---
---
Perfect at home or abroad, you can't go wrong with a lightweight portable speaker as a gift. The key is to find one that is relatively small and waterproof, so that he can bring it with him on adventures all around the world (whether by the beach or simply binging on Netflix in one's hotel room). Here's a popular, highly-rated choice from Amazon.
---
---
With crazy developments in smartphone camera technology, travellers these days are increasingly ditching their cameras in favour of simply phone photos. That's why smartphone lenses make the perfect gift!
From fisheye to macro, there's an assortment of cool lenses that will infinitely uplevel one's phone travel photography. I have this set from PNY Technologies and love it. The super wide angle is perfect for getting epic backgrounds into selfies, and can get way more into landscape shots too).
If you're looking for an equivalent for North America, these lenses are among Amazon's top rated.
---
---
For avid travellers who are spending ample time taking selfies or bumbling about on Google Maps, it's a sure bet that their electronics will start running out of juice.
That's why a portable charger makes the perfect travel gift! There are a lot of options out there, but I'm a big fan of this Anker PowerCore+, which is small, portable and has amazing reviews on Amazon.
---
---
You can never go wrong with a sleek, minimalist notebook for documenting one's travel adventures. You might think that this is a dull gift, but I've never met a traveller who wasn't mildly obsessed with nice notebooks!
The best part is you can customize the gift according to his personality, or even get one customized just for him. I love the ones from Moleskine (click here to check deals) but Etsy has a wide array of personalized options too. Here are a few.


---
---
Best Travel Gifts for Men Under $100
These are the best travel gifts for him under 100 bucks:
A travel voucher
Giving the gift of travel doesn't always have to mean throwing together an entire trip! While gift cards may seem impersonal, there's no way a travel lover is going to hate a travel-related voucher of some sort. TIP: Simply personalize this gift by drawing up a really thoughtful card and attaching the voucher to that.
If you're shopping for someone in Europe or headed to Europe in the future, one great idea for around $99 is an Interflix pass, which is only 99 euros and is good for 5 one-way bus journeys on any Flixbus route. That means 5 potential bucket list destinations for around $100!
---
---
A travel hammock makes the perfect gift for the outdoorsy adventurer. Ideal for hikes, beach days and um, maybe even days when you can't afford accommodation (I met a guy who backpacked Europe this way!!), this versatile gift will earn you serious brownie points without breaking the bank. Check out this affordable, lightweight option from Amazon.
---
---
Fact: every traveller needs a good travel bag, and a functional backpack is a gift that will be appreciated by any kind of traveller, from budget to luxury and anything in between. Some features you should look out for include locks and anti-theft capabilities, water-resistance and of course, something that's both lightweight and durable.
I used to travel often with a Swiss Gear backpack which had everything I needed (and then some). I highly recommend their bags! Click here to browse the best deals on Swiss Gear bags.
---
---
A bottle of their favourite foreign alcohol
Much like how music can often bring back intense memories, many travellers have fun stories and memories with (you guessed it) alcohol! And so, rather than make a mixed tape to invoke all those nostalgic feels, why not gift him a bottle of his favourite international alcohol instead?
You might have to do some research for this one, or keep your ears open for travel tales that start with "I had the most amazing rakia in the Balkans (said no one ever)" or "I had the BEST wine at this vineyard in Bordeaux..." Definitely a thoughtful gift that he'll appreciate.
---
---
A unique experience at home
Here's a fact: travellers crave experiences, which is why a voucher for a cool experience will always go over well as a gift!
If you think that this kind of gift is out of your budget, don't worry! There are a lot of great sites out there like Groupon and Living Social where you can scope out discounted experiences like cool restaurant outings, adventure sport tours, boat rentals, classes and more... usually at steep discounts of 40%+. After a quick look for my hometown (Vancouver),
I found tons of amazing experiences from scuba diving certification to pasta and bread making with a pro. There are SO many cool options and I'm confident you'll find a good fit.
---
---
A cool experience for his next trip
Likewise, if you know that the traveller you're shopping for has a trip in the coming future, one really awesome gift would be to buy him an experience abroad that he won't ever forget - something like riding a camel or skydiving!
One of the best ways to gift a fun travel experience to someone is by purchasing a Tinggly box, which is a physical box you can wrap up (more special that way!) with 100+ experiences they can choose from when the time is right. Click here to browse their different boxes.
Besides that, my favourite resource for booking attractions/experiences online is Get Your Guide, because they guarantee the lowest possible price. How? Well, they refund you the difference no questions asked if you're able to find a lower price than theirs. This locks in the best price you can get, plus by booking through them you're often able to save yourself from horrendous line-ups in person.
---
---
Best Travel Gifts for Men Over $100
Feeling like splurging a little? These are some amazing traveling gifts for him that will set you back over $100.
Whether they're a roll-on suitcase kind of guy, or prefer a mega-manly leather duffle, a high quality travel bag is one of THE best gifts for men who like to travel. In terms of rolling suitcases, I swear by my Samonsite hardcase, which has been with me all over the world and still is in tip top shape. Click here to browse the best deals online for Samsonite suitcases.
If you want to get especially fancy, why not personalize the bag too? This beautiful bag from Etsy allows you to custom-emboss initials on it!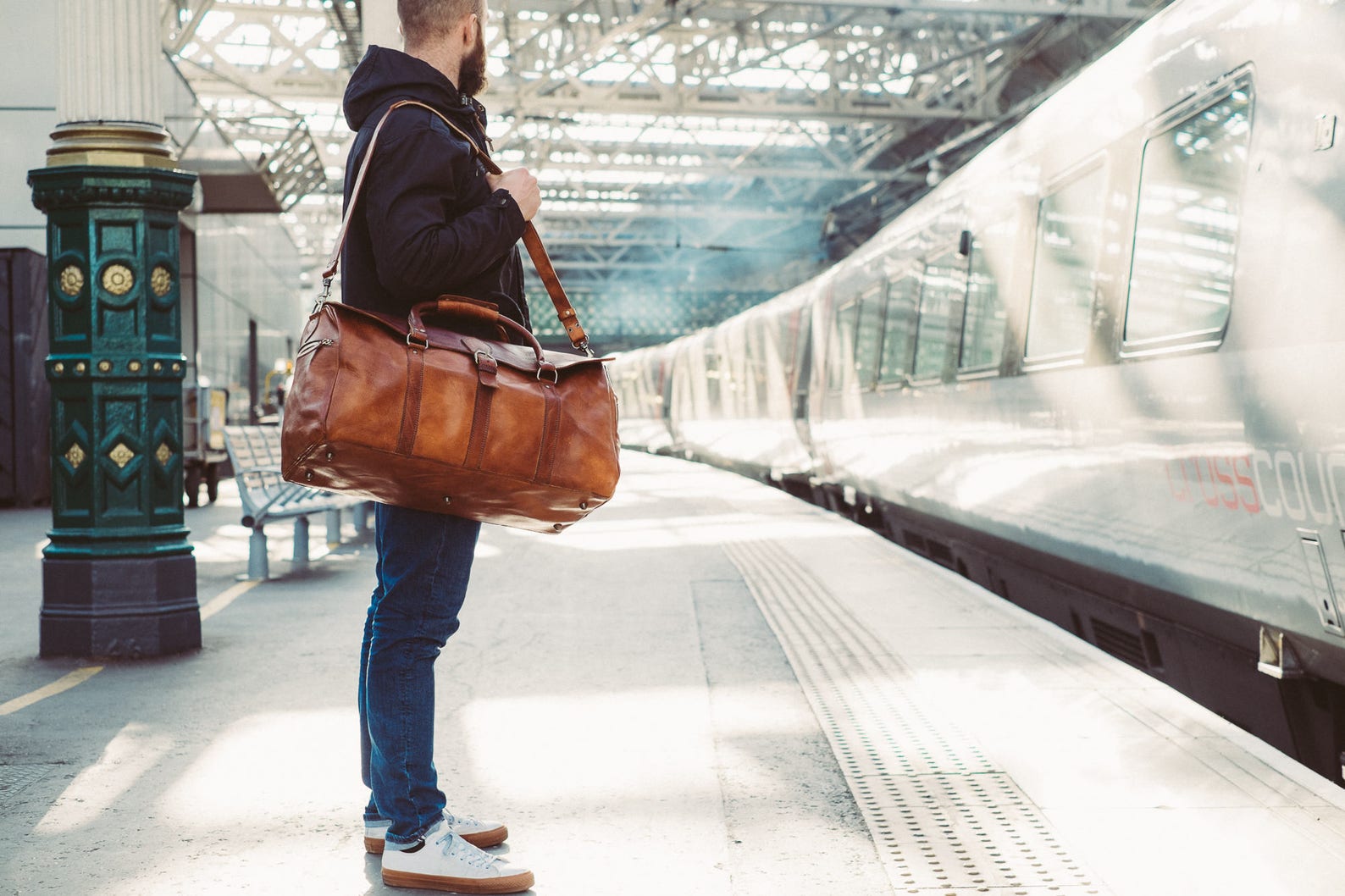 ---
---
This gift is perfect for any aspiring travel bloggers on your gift list, or simply someone who loves to capture their memories in unique ways. I have been using JOBY's products for years and love their high quality and compact designs which make them perfect for travel. They're much lighter and more versatile than bringing a regular tripod, plus you can use them to get cool photos on your own without relying on a stranger's (usually unsteady) hand.
NOTE: It's important you get the right GorillaPod product for the person you're shopping for, so try to do some detective work in advance to see what they use most to take photos when they're travelling. Smartphone vloggers would get a ton of use from this kit, but if they're mainly photographers, getting a regular GorillaPod like these is probably your best bet.
---
---
No matter if they're budget backpackers or luxury travelistas, a pair of noise-cancelling headphones is THE perfect travel gift - ideal for more comfortable commutes, watching Netflix in hostel dorms or relaxing beachside at a luxury resort.
I personally love my Sony headphones in spite of their hefty pricetag, and I firmly believe they're worth every single penny. You can shop the best deals on them here.


---
---
If your goal is to go the extra mile and really splash out on the BEST travel gifts for him, gifting a new GoPro is a perfect fit for adventurous travelers.
The newest iteration of GoPro has super high quality photos/video and supreme portability and durability to boot. Click here to shop great deals on GoPro.
---
---
Most travellers I meet on the road these days prefer to take an iPad with them rather than a computer. I mean duh, it's lightweight and is perfect for watching Netflix on the road 😉 Definitely a worthwhile purchase, and the perfect gift for a guy who travels often. Click here to shop the best deals online for iPads.


---
---
Last but not least, this is less "gifts for men who like to travel" and more just "gifts for any living human being", but I mean hey, let's be honest: if you're looking to ball out and splurge a bit to spoil your traveller this season, you can't go wrong with a good laptop.
Bonus points if it's lightweight and durable. I'm definitely an Apple fangirl, and don't have anything bad to say about my MacBook Pro! It has been with me to dozens of countries and counting, and is never too heavy to lug around. Click here to shop some of the best deals.
---
---
I hope you enjoyed that 'Best Travel Gifts for Men' roundup and got some good ideas re: gifts for men who like to travel! Let me know if I missed any of your favourite ideas.
---
Watch my most popular YouTube video this week:
---