*FYI - this post may contain affiliate links, which means we earn a commission at no extra cost to you if you purchase from them. Also, as an Amazon Associate I earn from qualifying purchases. Check out our Privacy Policy and Disclosure. for more info.
If you're looking for an exhaustive list of all the fun things you can do in Verona, I'm happy to step up as chief fangirl because this city has an absolute chokehold on me.
After all, longtime readers/stalkers will know that it was a spontaneous trip to Verona and Venice in early 2016 that got my waffley boyfriend to finally commit and ask me to be his girlfriend.
It was pouring, cold, and disgustingly romantic, and ever since then I've always thought of Verona with these dreamy sepia-toned love-goggles.
I've since been back a few more times, most recently on my own in the thick humid heat of Europe's Great Heatwave of 2019 (I believe some headlines called it "hell on earth").
… and I still love Verona. I sweated a lot, but I still loved it. And truthfully, the better I get to know it, the more I appreciate all there is to do in this romantic little city, far more than what standard guidebooks would tell you.
So, in the spirit of sharing the love, I've compiled a list of my favourite things to do in Verona, filled with the touristy musts that are worth your time, along with some hidden gems I've discovered during my last three visits. Here we go!
First: Quick Verona Activity Recommendations
In a rush? I detail a lot of my top Verona recommendations below in depth, but here are some quick links if you just want to book and go: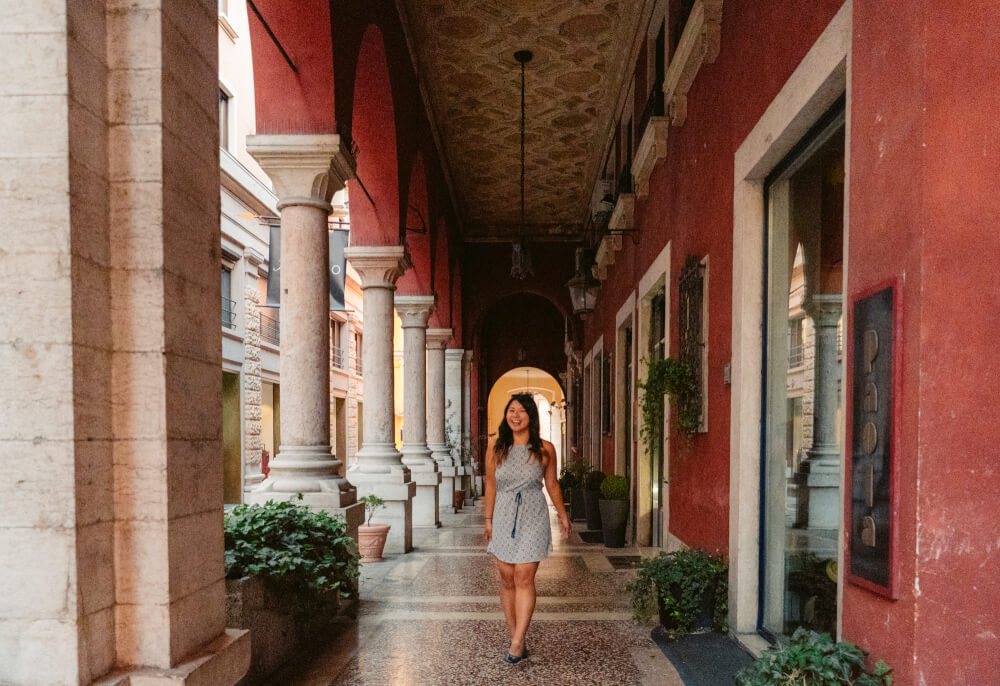 1. Enjoy the view from Castel San Pietro
Let's start with one of my favourite (free) things to do in Verona. Castel San Pietro is a dreamy hilltop castle that overlooks the city. Occupied since pre-Roman times, this used to be a prime spot for anyone who wanted to control the Adige River. Today, it's one of the most spectacular places in Verona to catch sunset.
Although much of the castle was destroyed when Napoleon arrived in 1801, visitors these days can still walk past the ruins of the Roman theatre to the top of the hill or ride the funicular to get to the top in less than a minute.
Once you reach the top you're treated to almost 360° views of Verona, truly the best vantage point to see all those church spires, the old town and the river.
If you get up early enough, you can even enjoy the views without all the crowds of tourists! Although trust me, sunset is really the time to come here, especially if you bring a bottle of your own vino to enjoy.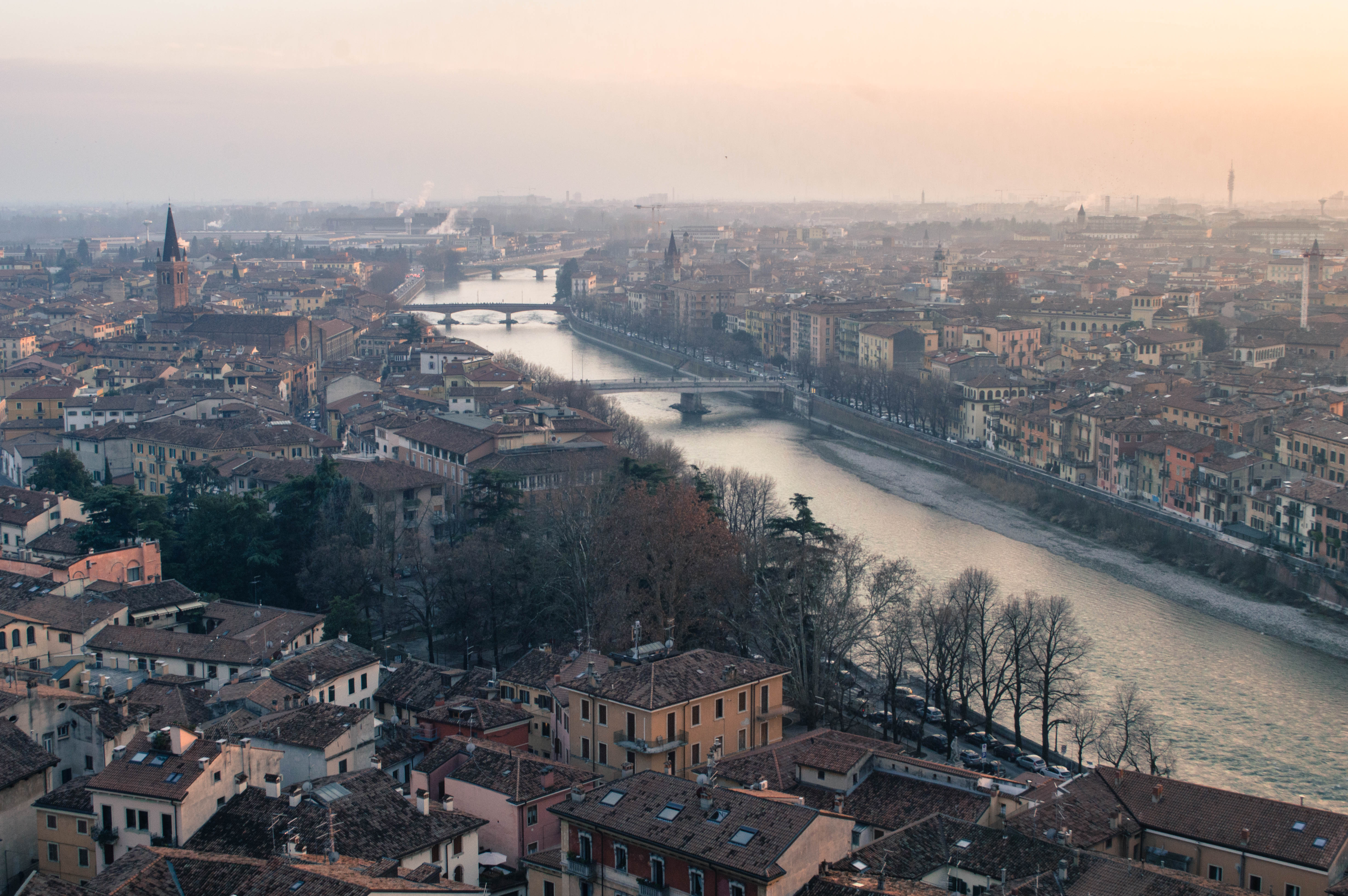 2. Visit Juliet's House (and balcony)
Next up: the famous Casa di Giulietta (Juliet's House).This is another one of the most famous things to do in Verona, but I want you to lower your expectations, because (while it's a famous must-do), this is an activity I personally find overrated.
Pretty much everyone knows the story of Romeo and Juliet, whether by reading the play or just swooning over Leo DiCaprio in the 1996 film version.
And, according to Veronese tourist lore, this is the house where Juliet lived and had her super-romantic balcony moment with Romeo… ignoring the fact that, you know, Romeo and Juliet were not actually real people.
Nonetheless, thousands of tourists flock here today to get their own balcony photo and rub the boob of Juliet for luck. It's a little pervy, and often terribly crowded, but it's just one of those Verona must-dos that you can't escape. I'd say – go early in the morning, check it off the list, and mosey on.
NOTE: If you want access to the balcony, you'll have to pay to access the museum. It's included with the Verona Card, so worth a quick stop if you're doing other big attractions in the city, but I found the museum itself a bit boring, to be honest.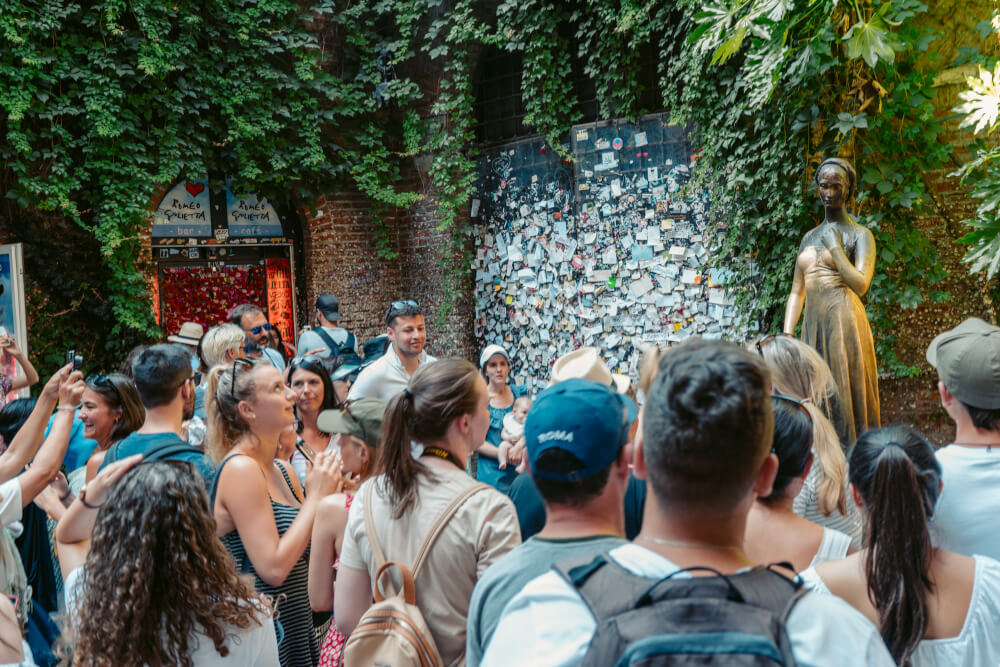 3. Scope out the Verona Arena
The Arena di Verona (Verona Arena) is a Roman amphitheatre built in the first century and still in use today. It's one of the best-preserved structures of its kind, although not as big or as famous as the Colosseum in Rome.
Still, with a capacity of 15,000, it's a popular spot for concerts and other performances… and sightseeing!
It's pretty cool that the stones here have seen everything from gladiator fights and operas, to One Direction concerts, and it's even going to be the location for the closing ceremony of the 2026 winter Olympics in Milan.
During my visit, a lot of was obstructed as they were setting up for an opera, but it was still extremely cool to see the inside, so be sure to put it on your list!
PS: if you're looking to save money, admission is included with a Verona Card.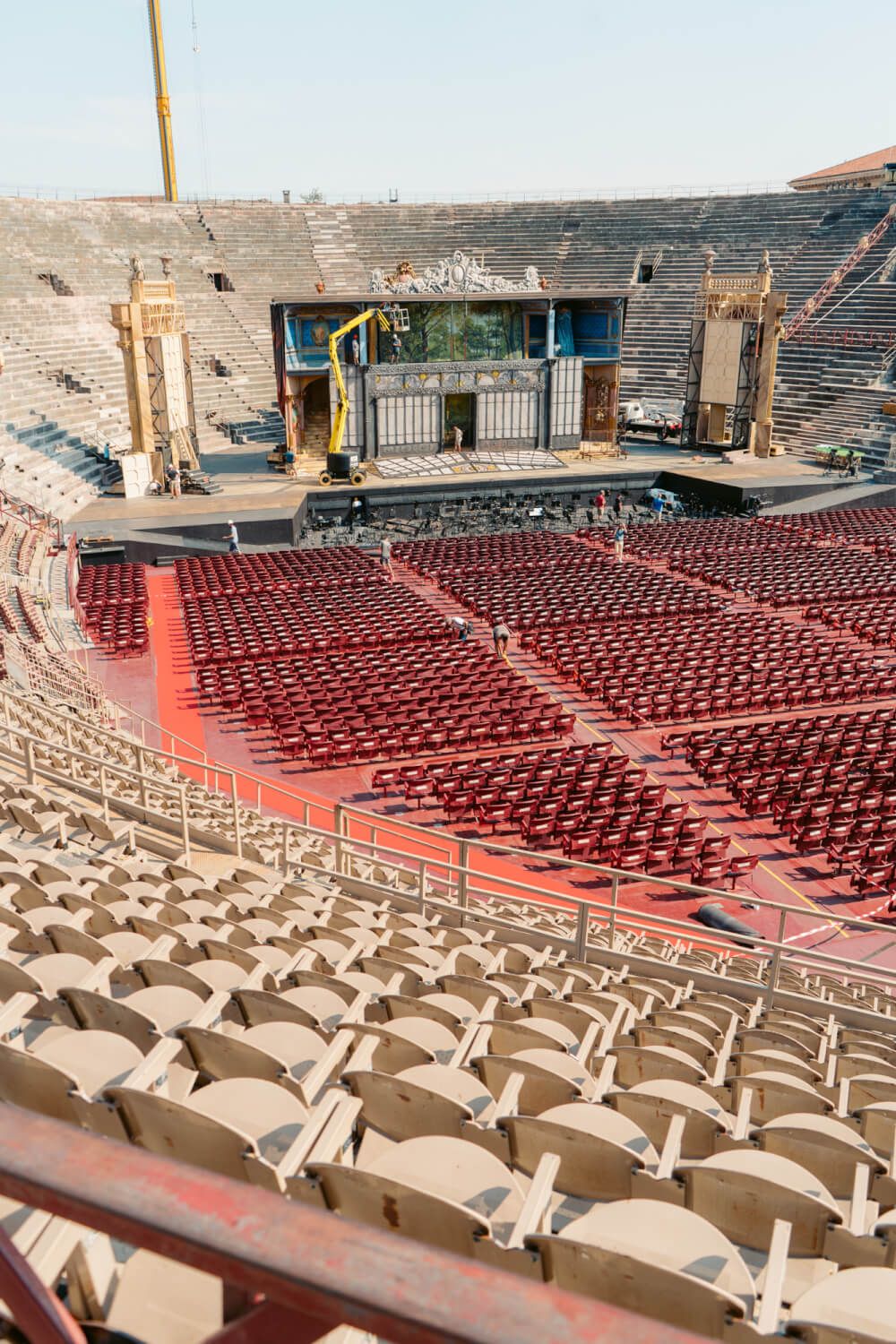 4. Attend an opera or live performance at the Arena di Verona
Admiring the facade of the Arena di Verona is nice. Walking along the epic interiors is better. But the best is getting to witness a live performance inside.
This is one item on my bucket list I can't wait to cross off someday, and if you feel the same, you can check out their calendar of performances here.
PS: For my fellow humans who got brainwashed into Italian obsession thanks to the Lizzie McGuire movie, this may be the closest you get to experiencing a concert in the Colosseum, because the one in Rome doesn't host live events.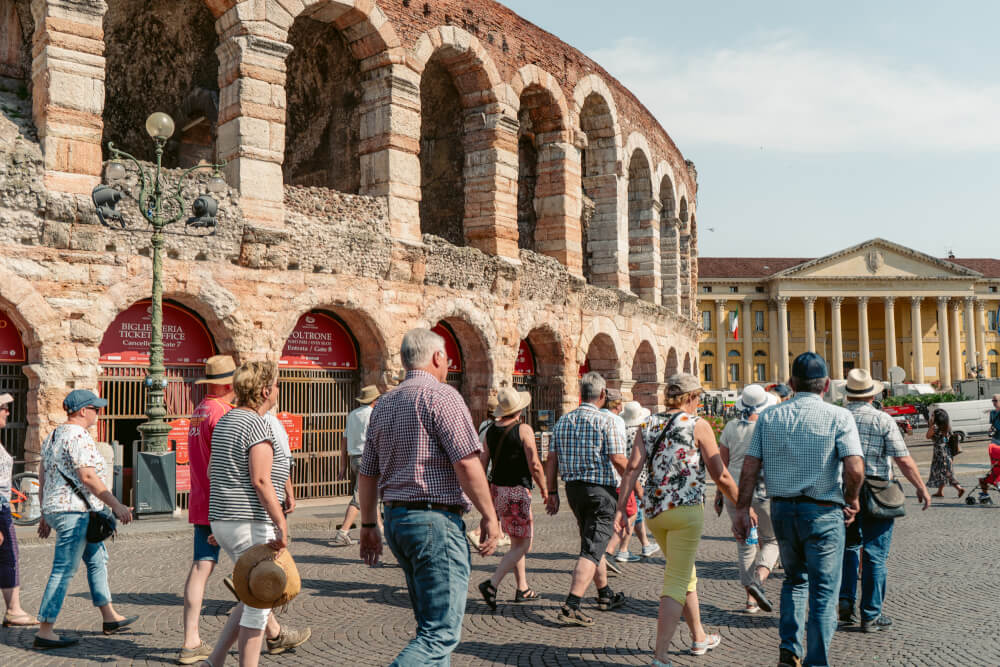 5. Prance across Ponte Pietra
With its scenic location hugging the banks of the Adige River, Verona has no shortage of pretty bridges, but if there's one I'd give a specific shoutout to, it's Ponte Pietra (AKA Stone Bridge).
This Roman arch bridge is a real stunner. Completed in about 1508, she's looking pretty good for her age… although admittedly she has had some work done, as four of her arches were blown up by retreating German troops during WWII. Luckily for eager sightseers like you and I, they've since been repaired.
Ponte Pietra is very pretty obviously, but so are the views you get from here of pretty vine-covered buildings and the rushing waters of the Adige. This is a pedestrian-only bridge as well, so feel free to pose for as many selfies as you want without needing to worry about being run over by cars.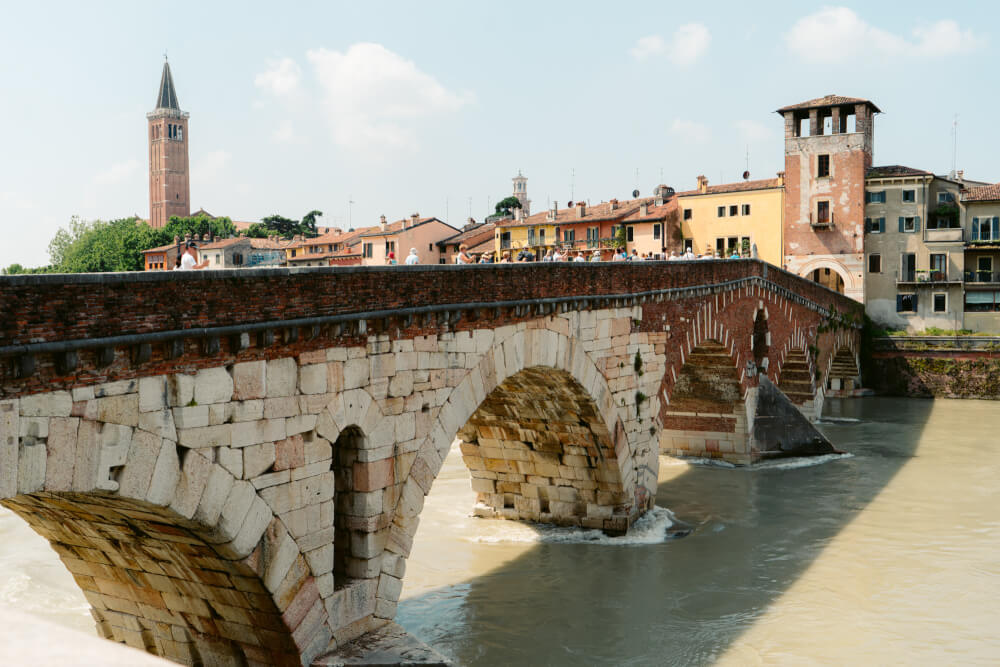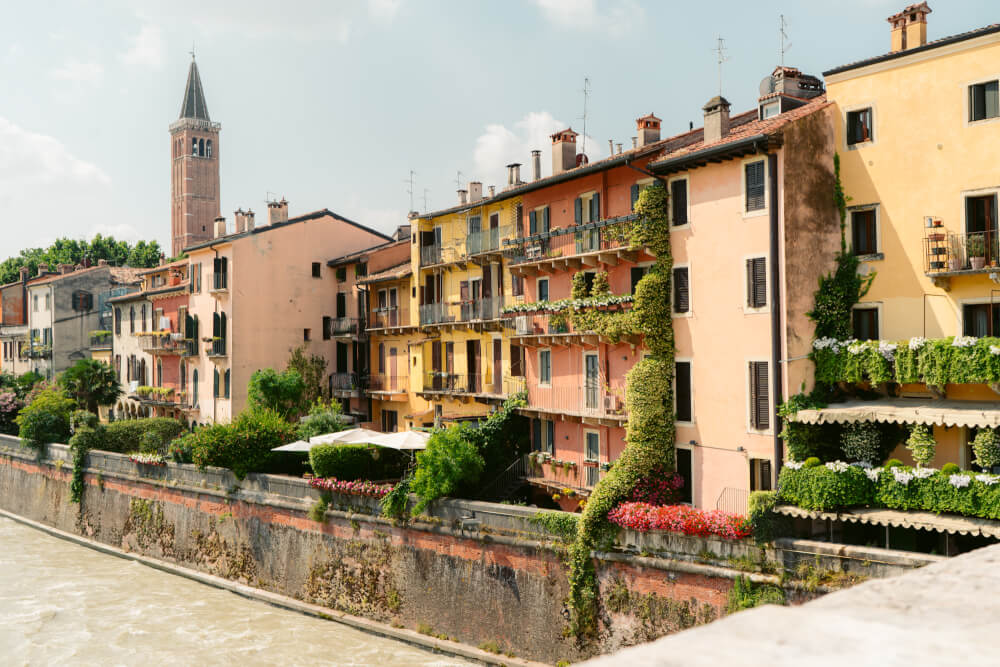 6. Get a beautiful view from Lamberti Tower
Verona is a city of views, and one of my favourites is from the Lamberti Tower or Torre dei Lamberti. You won't be able to miss this huge clock tower as you can see it towering above from nearly anywhere in the city.
For €8 (or free with the Verona Card) you can climb the 84 metres to the top of the tower to enjoy 360° views, or just take the transparent elevator if you don't feel like walking up 368 steps, especially if it's the middle of another European heat wave…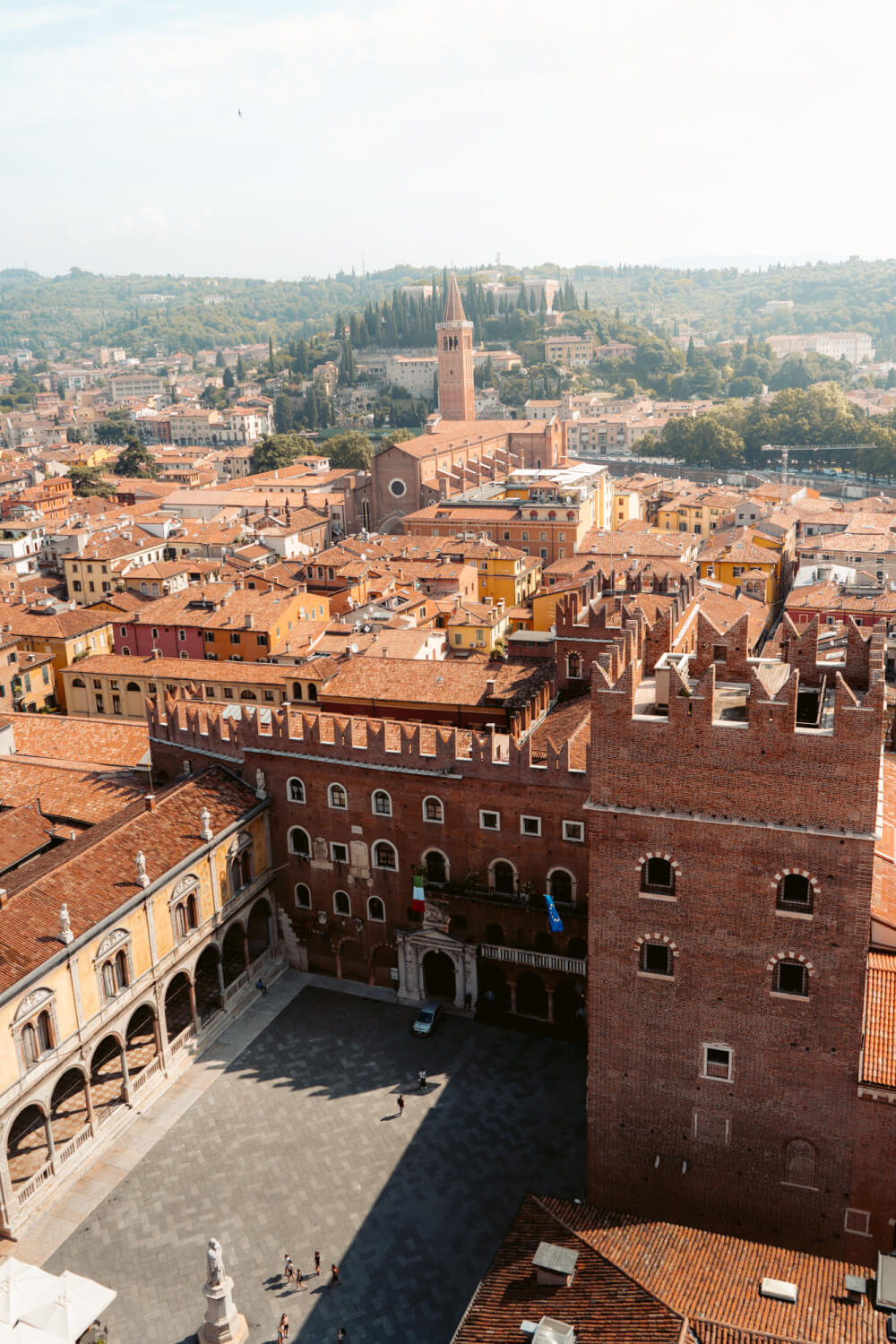 7. Enjoy the beauty of Verona's main squares
There are a lot of pretty piazzas in Verona, but the three main ones are also the prettiest and most worth exploring.
Piazza Brà: Brà (as the locals call it) is the largest piazza in Verona and the one where you can see the big Roman amphitheatre, now known as the Verona Arena. Don't get too distracted by it though or you'll miss the pretty garden in the centre of the piazza as well as the many cafes and restaurants lining the square. This is also where you can visit the historic town hall (Palazzo Barbieri) and the Palazzo della Gran Guardia.
Piazza delle Erbe: Piazza delle Erbe is the diamond-shaped piazza located close to Juliet's Balcony. There's an ancient fountain in the centre (built in 1368) as well as a Roman sculpture dating to 380 AD! Most of the buildings lining the square are gorgeous, from the frescoed Mazzanatti houses to the Baroque style Palazzo Maffei and its statues of Greek gods.
Piazza dei Signori: This piazza might not be as popular or busy as the other two but it's still so cute! There are lots of pretty arches and in the centre is a famous statue of Dante (yeah, the one who wrote the Divine Comedy) since he was given shelter in Verona after being exiled from Florence in 1302.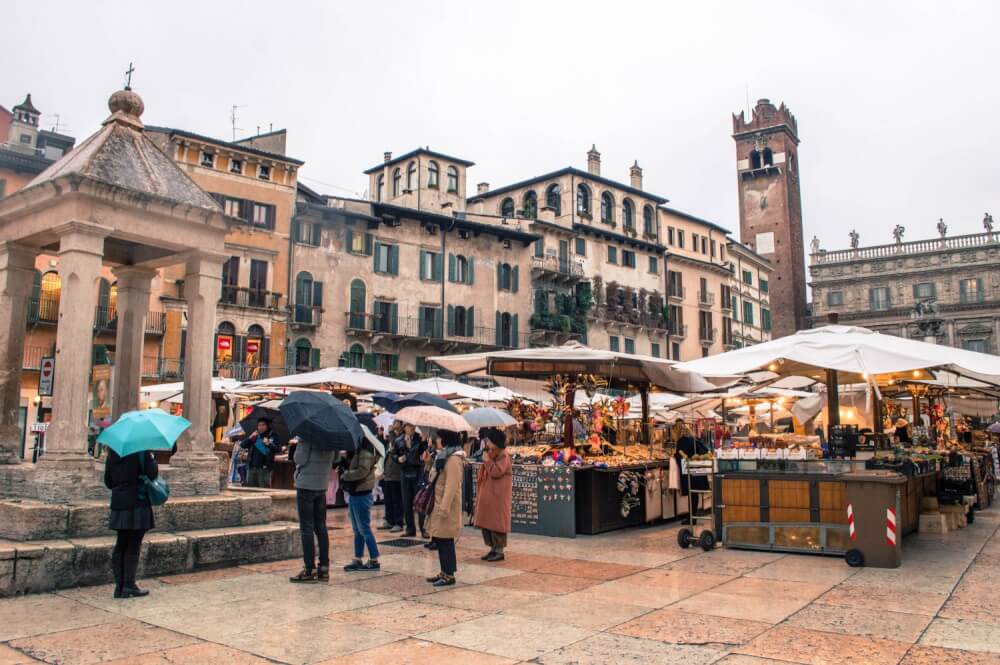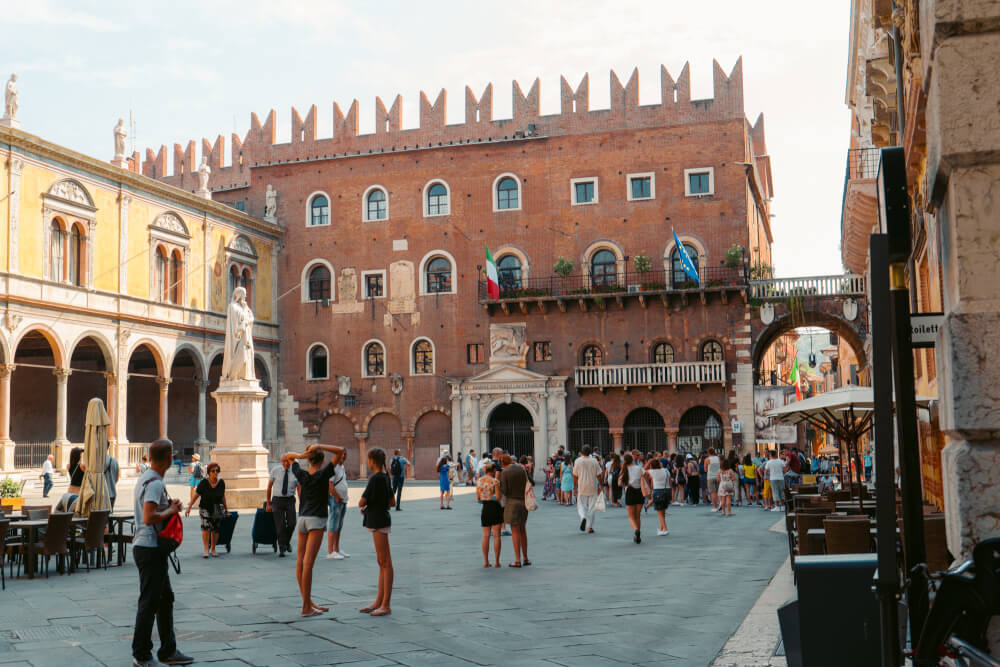 8. Go church hopping
If you're one of those travellers who can't resist a nice church peek, then Verona is the perfect destination for you. There's a wealth of beautiful and unique churches here which are worth exploring. Here are some of my favourites!
Duomo di Verona: Possibly the most famous and most-visited church in the city is the Duomo di Verona, AKA Verona Cathedral. It's a Roman Catholic Cathedral dedicated to the Virgin Mary and has been standing in Verona since 1187. Not only is this a very pretty Cathedral, with a big tower giving off serious Rapunzel vibes, but it's also home to one of the oldest continuously functioning libraries in the world. So you can pretend to be Belle as well as Rapunzel!
Basilica di San Zeno Maggiore: The Basilica of San Zeno is mostly famous because this was where Romeo and Juliet were supposedly married in Shakespeare's play. But putting aside the location of a fictional marriage, this is a beautiful example of Romanesque architecture that marks the burial site of Saint Zeno of Verona. There's a statue of the saint inside and a pretty belltower on the outside as well.
Basilica di Santa Anastasia: If you prefer your churches more Gothic, then the Sant'Anastasia near the Ponte Pietra might be your fave. This is a church of the Dominican Order and features lovely stained-glass windows, Gothic arches, statues, carved facade panels and the famous fresco of St. George and the Princess by the Italian master Pisanello. See if you can spot a little statue of a hunchback while you're there!
Chiesa di San Fermo: A really beautiful church with a belltower holding six different bells and pinnacles on the rooftop. Inside is just as interesting as this church is split over two levels and the wooden ceiling kind of looks like the hull of a ship that's been decorated with hundreds of paintings.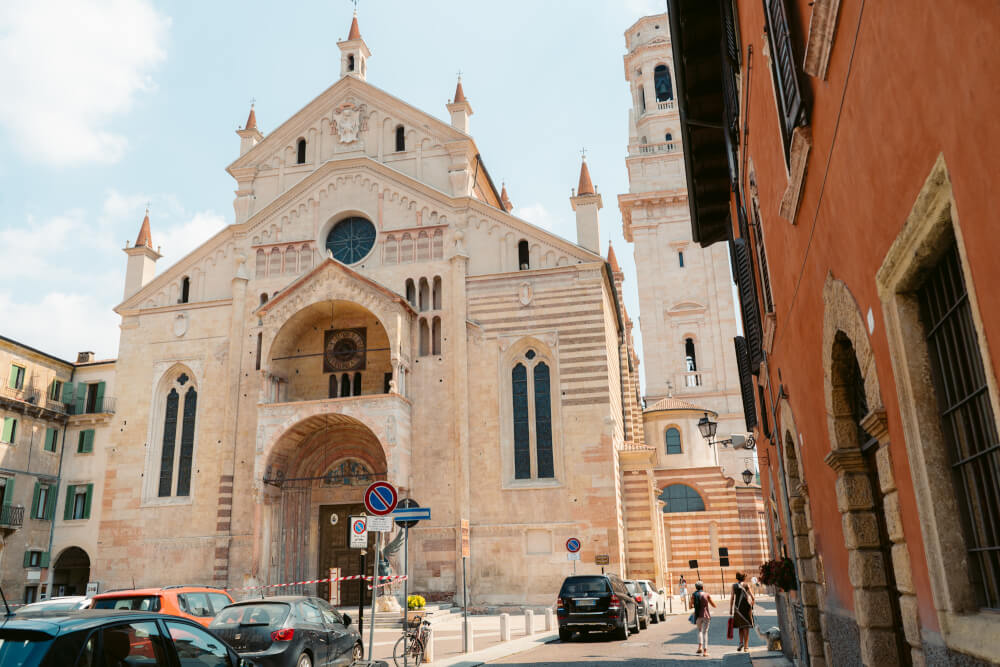 9. Stop by the Scaliger Tombs
Rounding off this section of classic Verona sights, the Scaliger Tombs are a group of five Gothic funerary monuments dedicated to members of the Scaliger family.
The Scaligers were the ruling family of Verona during the 13th and 14th centuries so it kind of makes sense that they'd have some very over-the-top tombs, especially the one for Cangrande I – which means "Big Dog" in Italian!
The highlight for many visitors is a big statue of Cangrande on a horse on top of his tomb, which is a popular spot for photos. While there is an entry fee to get up close, the tombs are built in such a grand way that they can be admired from outside the iron fence, making it an easy add-on while exploring other Verona attractions.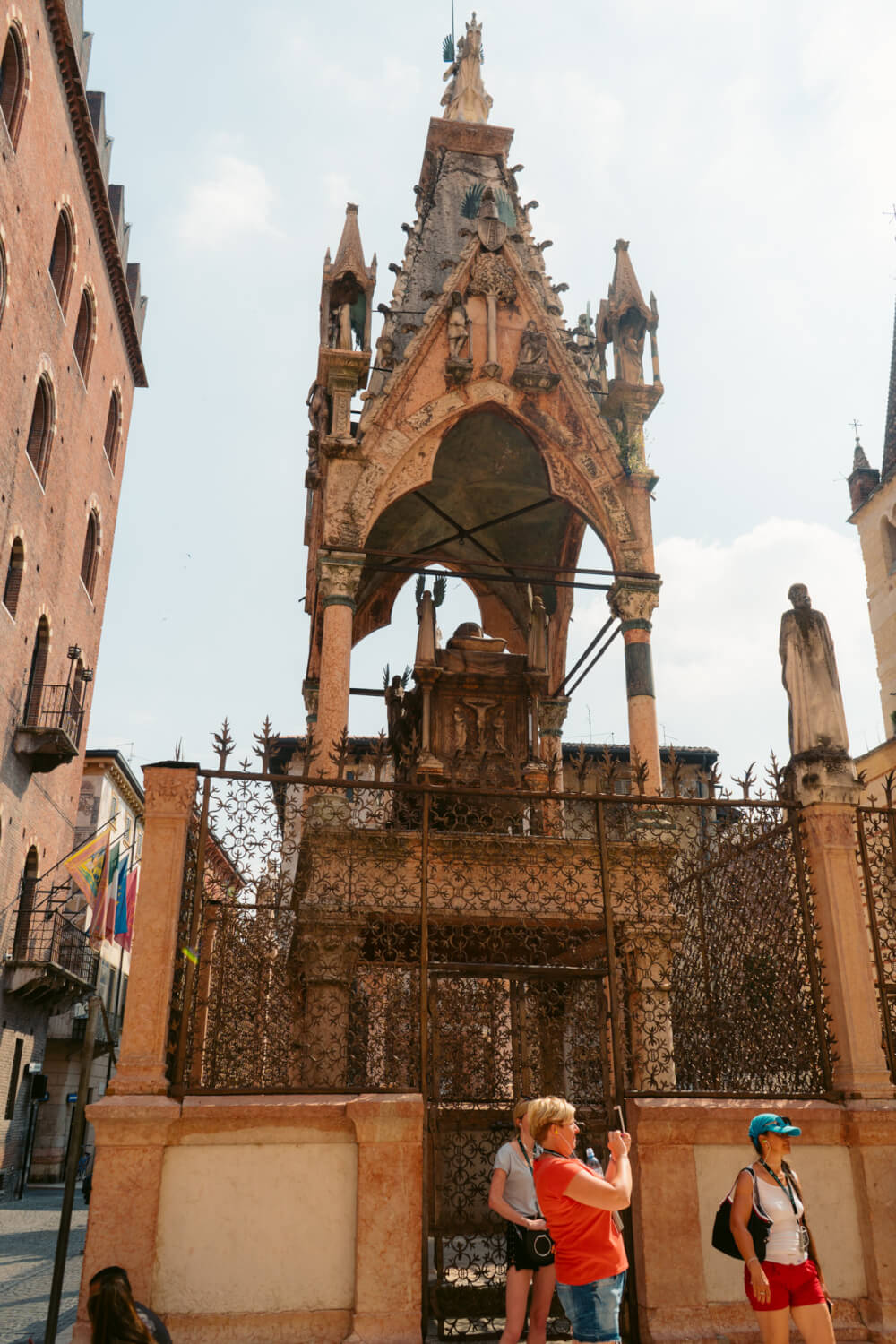 10. Enjoy some truly incredible handmade pasta
Alright, let's move onto some delicious foodie things to do in Verona. We'll start with my favourite affordable must do: at La Bottega della Gina you can eat some of the freshest and most drool-worthy handmade pasta you've probably ever had.
Even though it's kind of a snack-bar style place, the quality of the pasta and the friendly service of the staff will have you coming back for every meal in Verona.
Seriously, the tortellini is so good, I was ready to propose.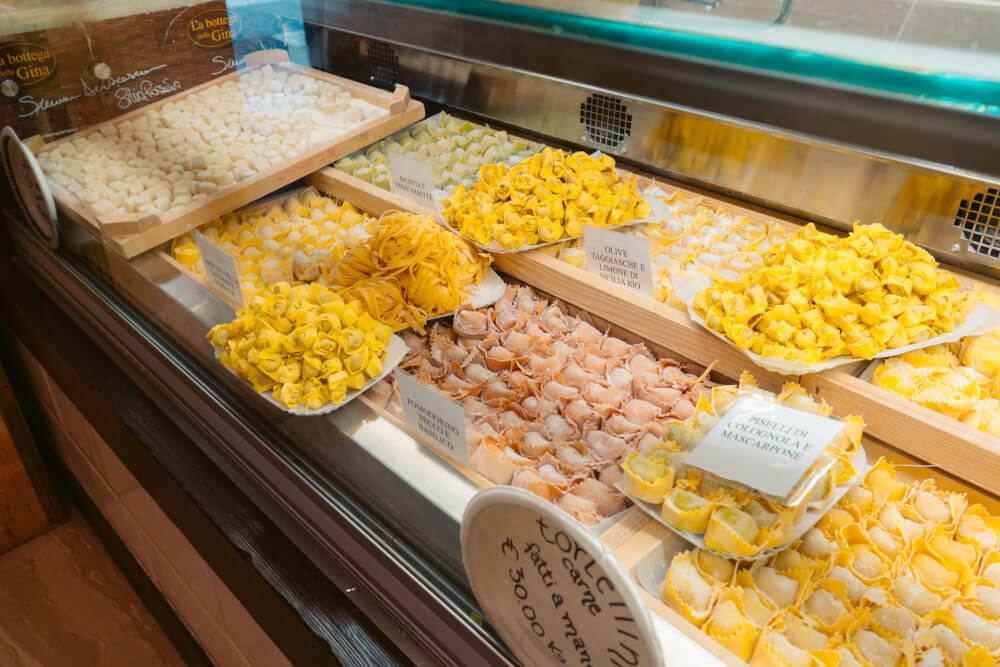 11. Sample other local Verona foods – some more adventurous than others
As with any place in Italy, there are plenty of delicious options to choose from in Verona, but while here, you should make sure you try some specialties of the Veneto region in particular.
After all, Italian cuisine is surprisingly diverse, so be sure to step out of the usual tourist routine of pasta + pizza, and try some of these Veronese specialties…
Risotto all'Amarone: Risotto made with local red wine
Bollito e pearà: Boiled meat served with a peppery and creamy sauce
Sfogliatine di Villafranca: A sweet puff pastry
Potato Gnocchi: Often paired with a horse meat sauce in some restaurants, if you're feeling adventurous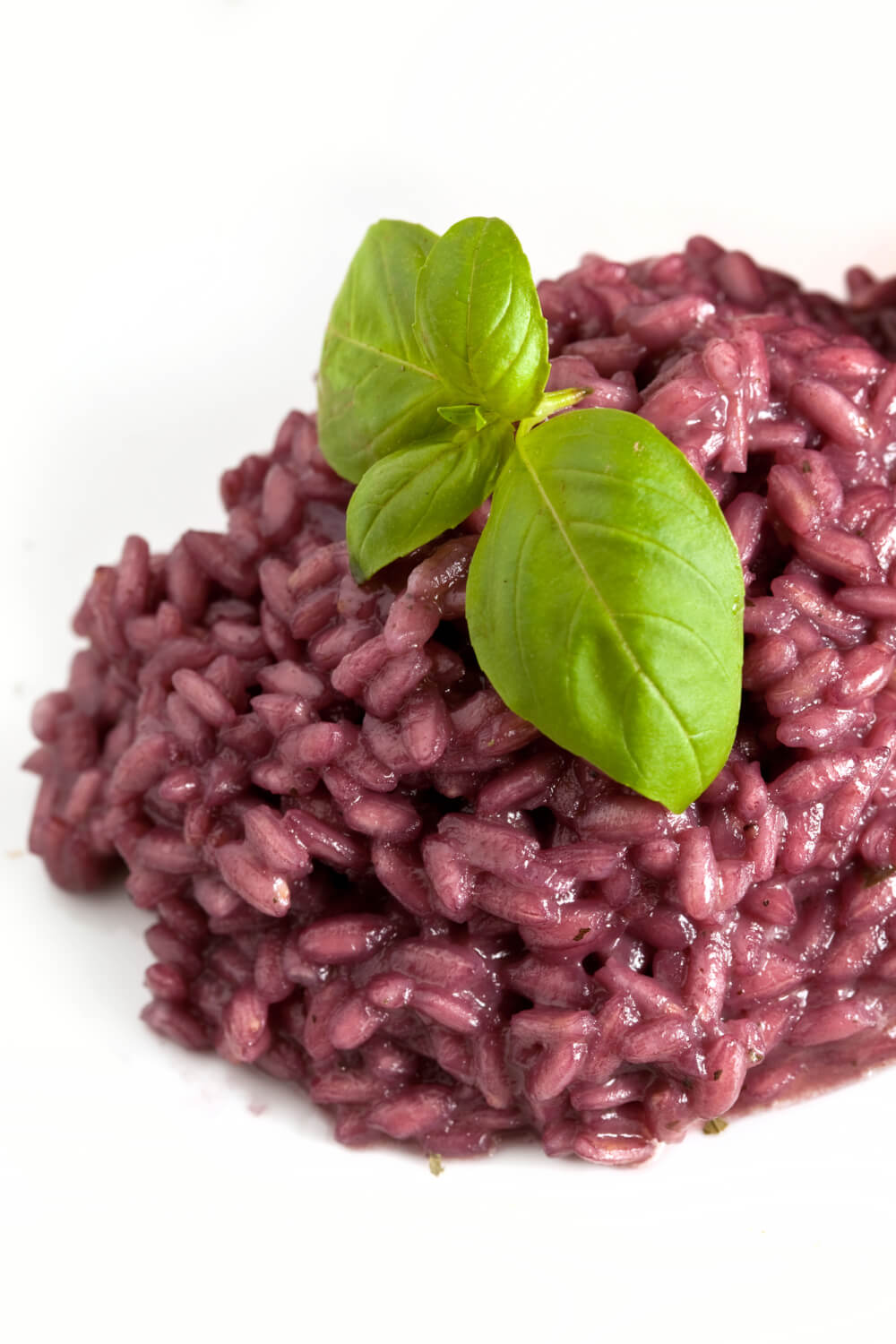 12. Savour a delicious food tour
One of the first world problems that visitors face in Verona is simply that their stomach space isn't sufficient for all the delicious foods they want to try.
Luckily, an easy solution for that is a food tour, where you get to try bite-sized portions of things while learning more about them as you go.
Food tours are one of my favourite activities when I travel, and this three hour one covers a lot of Veronese classics like codfish, pastissada (polenta), and risino (a rice-based dessert).
Click here to check reviews and availability.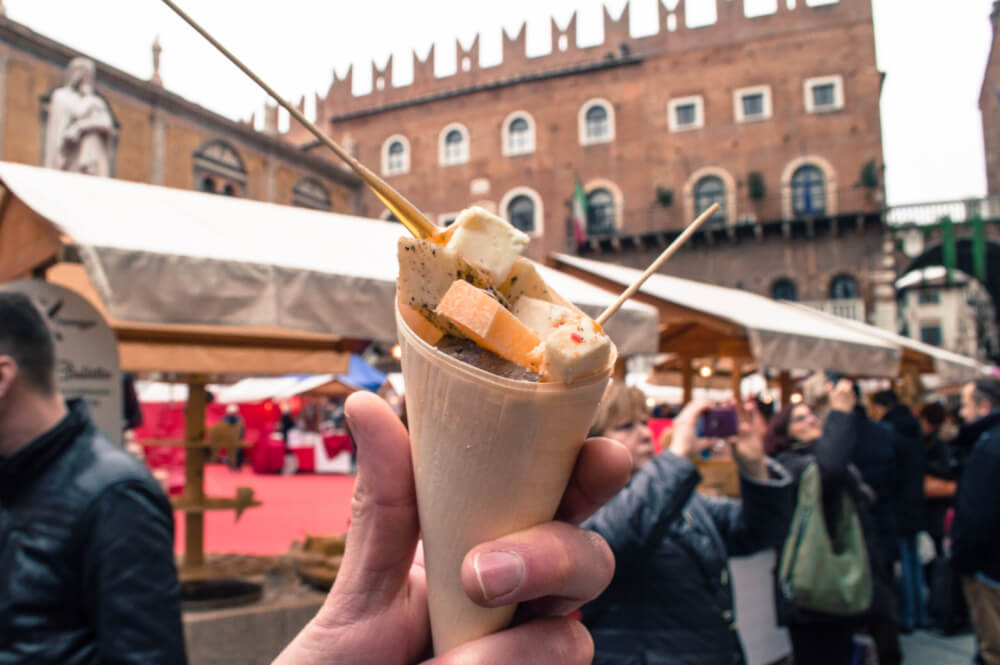 13. Go hunting for whale ribs
Looking for something a bit quirkier and offbeat to do in Verona? Well, one of the city's weirdest sights is the whale bone that can be found hanging from the Arco Della Costa. It's weird partly because Verona is nowhere near the sea, but also because nobody seems to know how or why it got there!
It's believed that this bone is a rib and it has been hanging from a metal chain at this spot since at least the 1700s.
There are a few different myths and legends surrounding why it's there but the truth is nobody really knows. Regardless, it's worth tracking it down to have a look and try to figure out the mystery.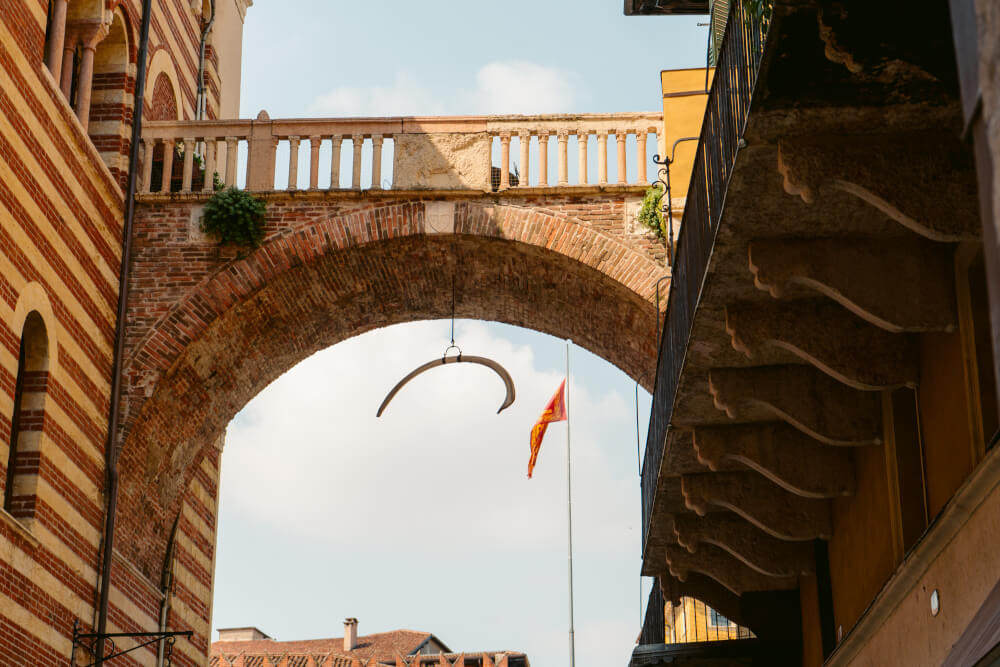 14. Hike up to an alternative viewpoint at Santuario della Nostra Signora di Lourdes
The views from Castel san Pietro over Verona are great, but if you want another stunning viewpoint that's not quite as touristy then head to the Santuario della Nostra Signora di Lourdes.
That mouthful translates to the Sanctuary of the Madonna of Lourdes, and after a 30-minute hike up a hill, you'll come to the beautiful sanctuary with even more incredible views.
It's a fairly steep walk at the end but you're rewarded by both a pretty church to explore and a truly breathtaking view over the city of Verona. It's a quiet spot and there's also a pretty garden that's perfect for relaxing while enjoying the solitude.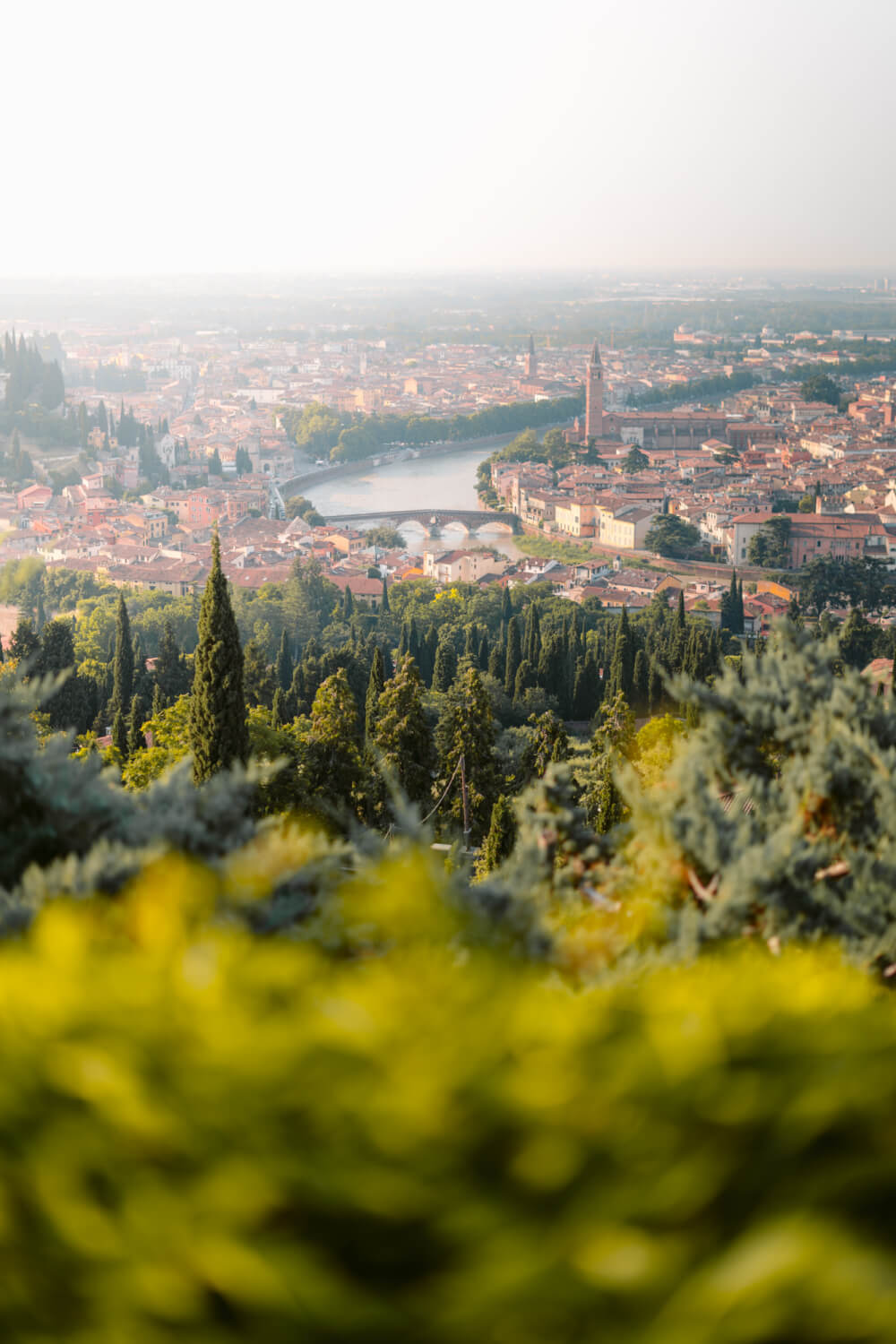 15. Explore Castelvecchio
Castelvecchio (Old Castle, in Italian) is a castle that was the most important military building built during the Scaliger dynasty – remember the big dog guy? Yeah, it was built by him.
Nowadays the castle is a museum, and visiting the interior is well worth it for history buffs (especially since it's included with the Verona Card). The castle itself is a good example of Gothic architecture, with seven towers, an elevated keep and four buildings within the walls.
If you like exploring castles then it's very fun to explore the museum and all the fine art on display.
There are some beautiful frescoes here, as well as lots of gold pieces, ceramics, ancient weapons, paintings, statues, sculptures and even old bells.
Most of the sculptures date back to the Romanesque period, including works by Tintoretto, Veronese, Andrea Mantegna, and Pisanello… so it's well worth it if you're in search of historical and cultural things to do in Verona.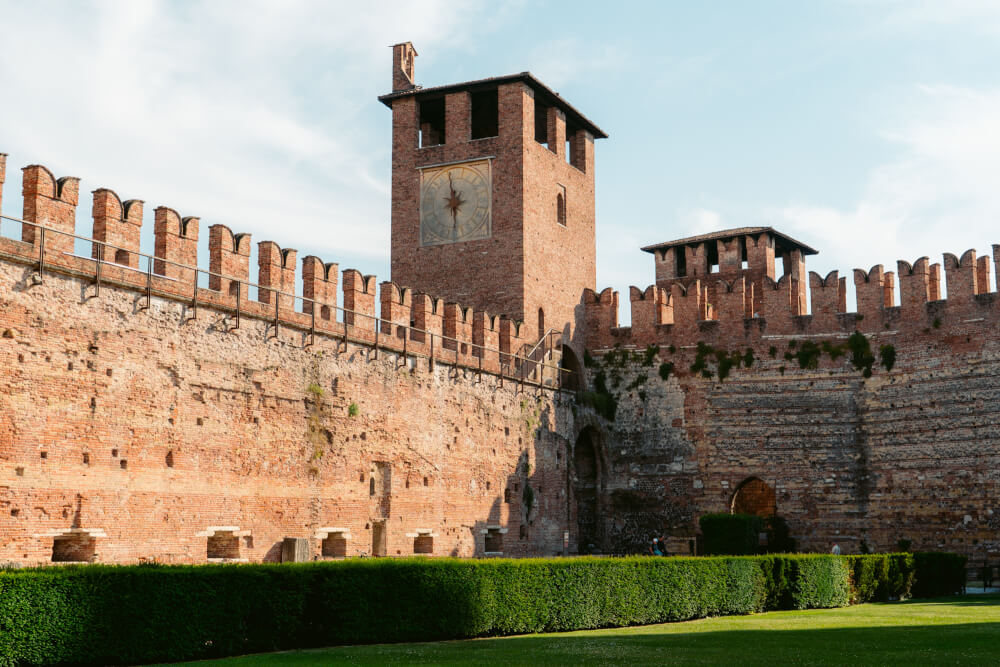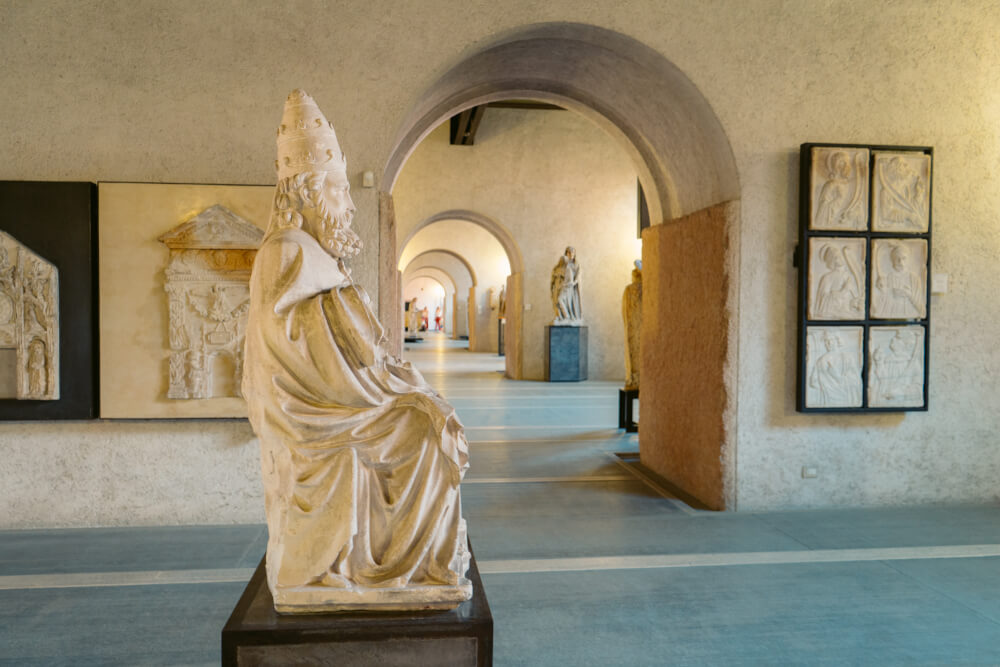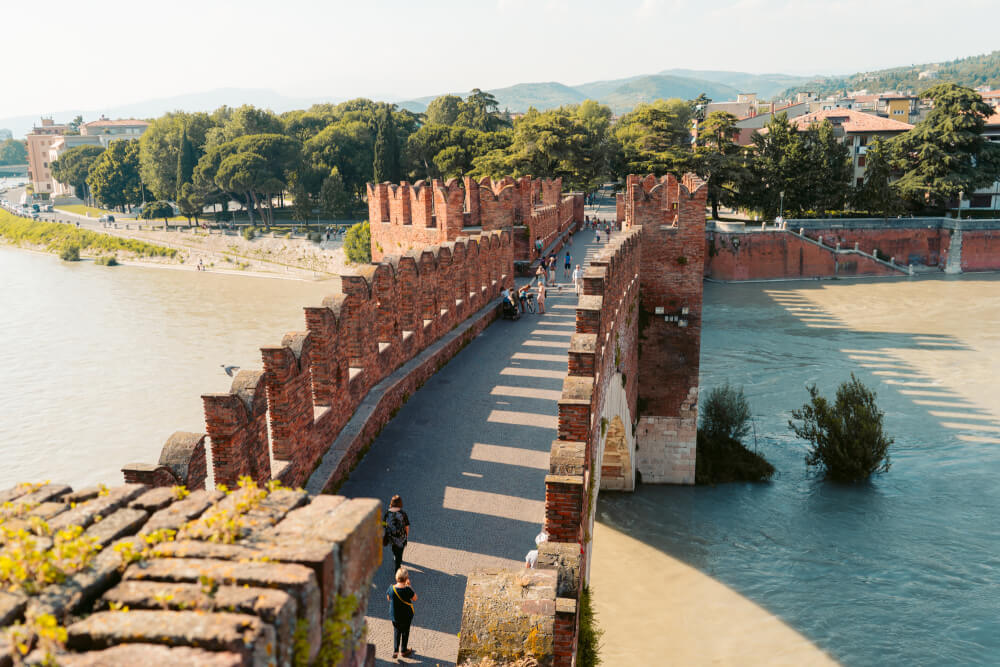 16. Look for a gaping hole in the street with Roman ruins
One of the weirdest sights you might stumble across while walking through Verona is a literal gaping hole in the street (at Porta dei Leoni) where you can look down on some Roman ruins.
Luckily for the clumsy, there are now viewing platforms and railings surrounding it so you can easily have a look without taking a historic tumble.
Of course, this is where the remnants of the historic Porta dei Leoni are located, showing that this huge fortified gate would have also had two defensive towers and an inner courtyard.
Pretty impressive to look at while just having some lunch!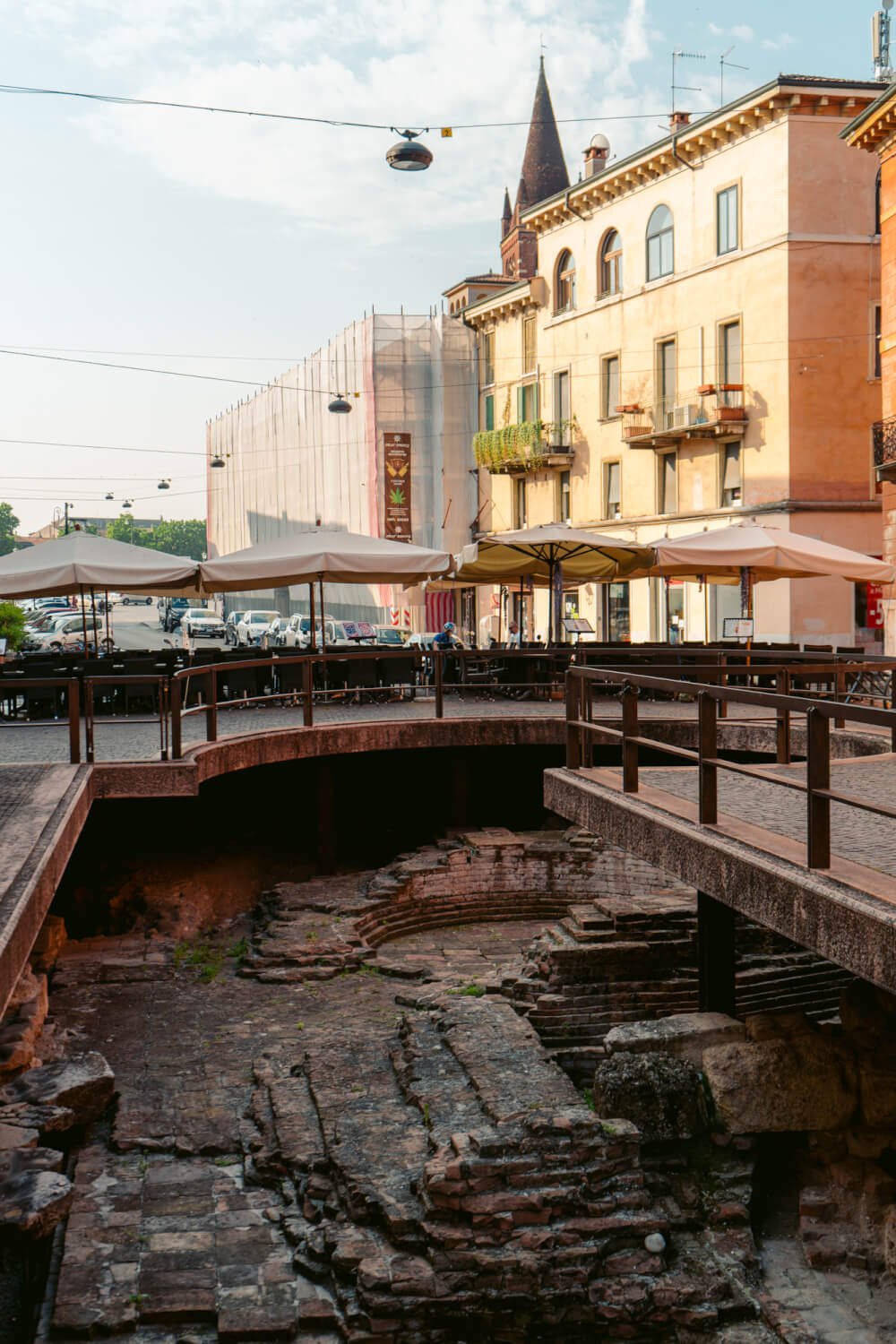 17. Enjoy the peace (and beautiful hidden viewpoint) at Giardino Giusti
If you're looking for a true hidden gem in Verona, the Giardino Giusti Palazzo is a 16th-century palace and garden that is unbelievably gorgeous.
Located in the Veronetta area on the left bank of the river Adige, it's easily walkable to get here from the city centre but once you're in the garden, it feels completely removed from the tourist chaos in the center.
The garden is generally considered to be one of the finest examples of an Italian renaissance garden, featuring beautiful statues, topiary, a maze and even a little tower leading to a secret viewpoint over the city.
It may cost €10 to enter the gardens, but you'll feel like you've left behind all the hustle and bustle of the tourists as you wander along pretending that you live here, and I'd highly recommend it if you're looking for a calmer and more peaceful Verona activity.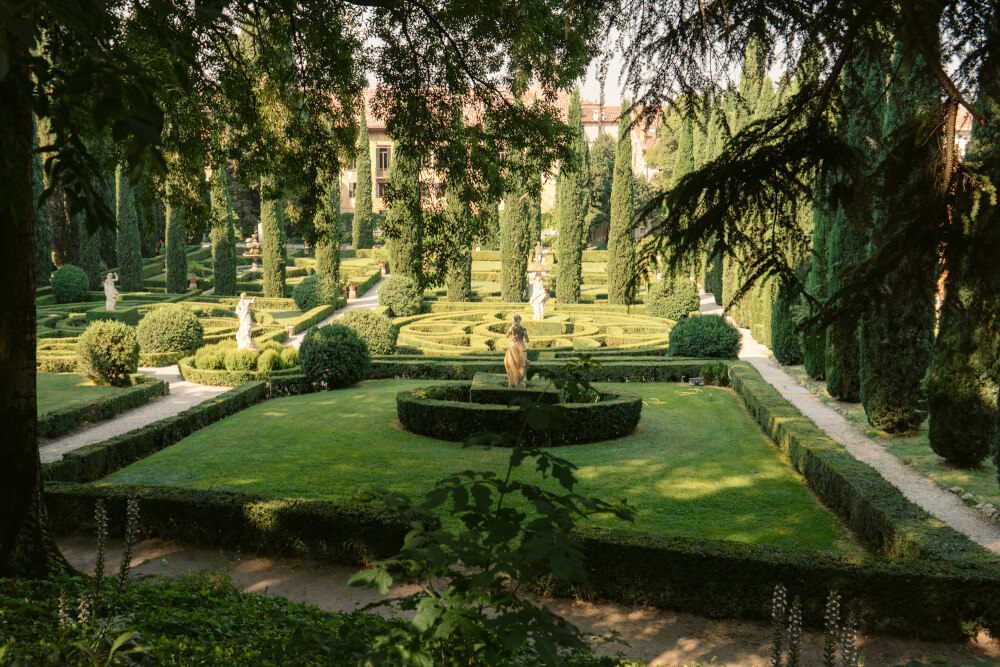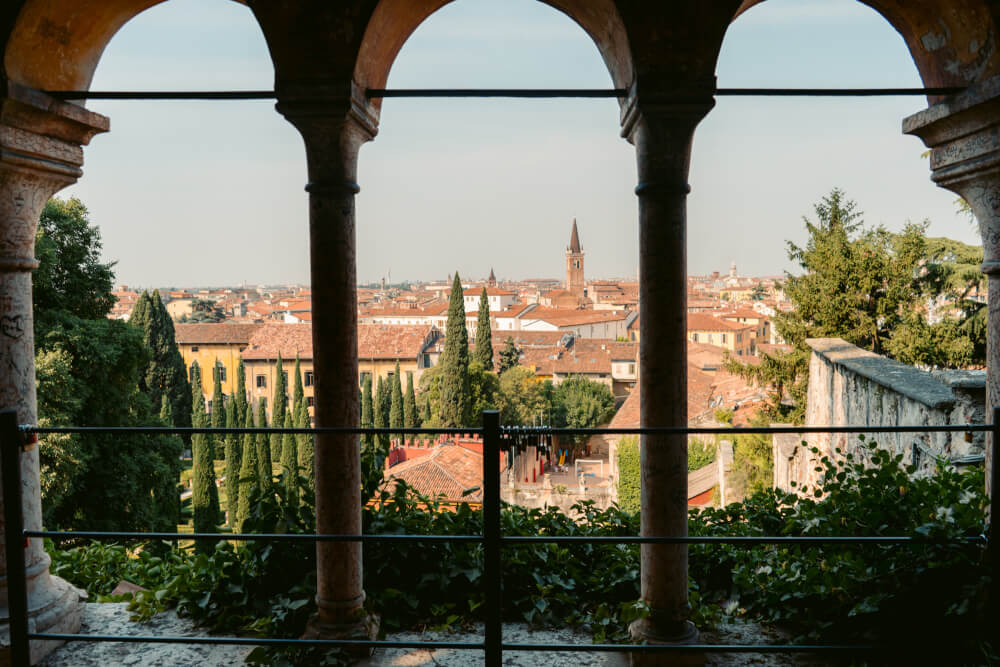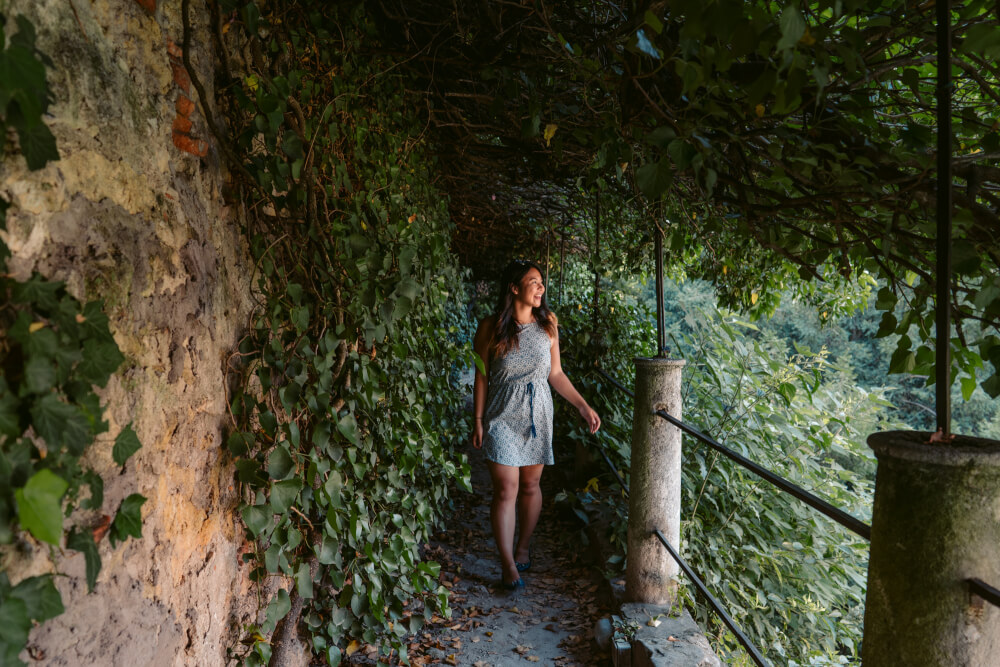 18. Visit the supposed oldest library in the world
I mentioned Biblioteca Capitolare briefly already, but it really deserves its own entry. The Verona Cathedral Chapter Library has been named the "Queen of ecclesiastical collections" due to the many important ancient Roman and early Christian texts it still houses.
It's arguably the oldest working library in the world (some other libraries may still be fighting for that crown) while the likes of Dante and Charlemagne's son have even studied here.
Over the years, this library has withstood an earthquake, the plague, Napoleon, floods and bombs, so if you're even slightly interested in books and history, you're going to want to visit, although beware of their limited opening hours: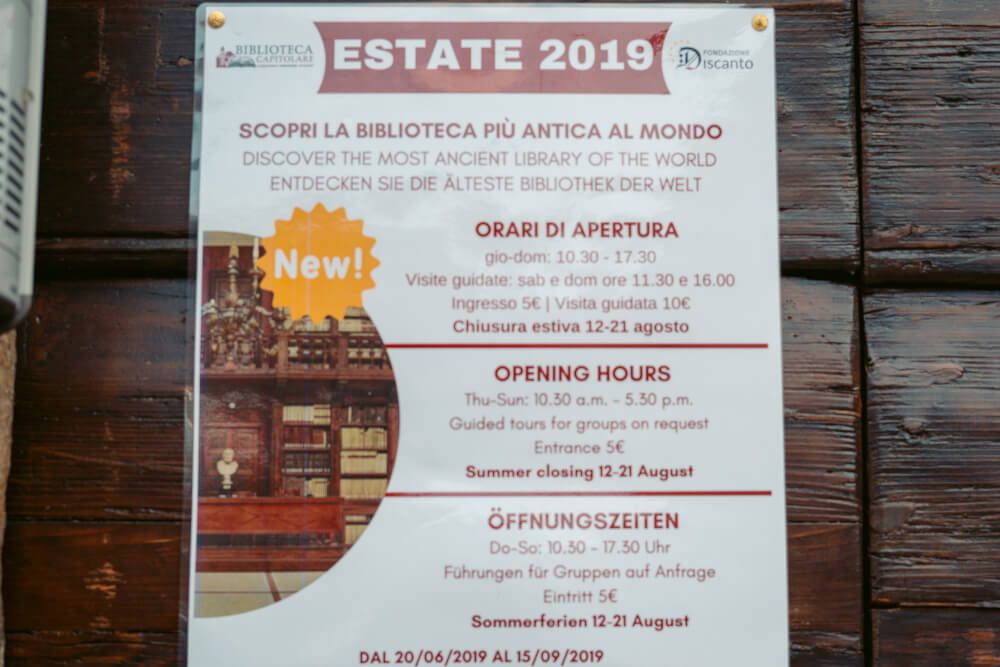 19. Trace the city's ancient gates and walls
Did you know that part of the reason Verona is a UNESCO World Heritage Site is because of its walls and fortifications? No brainer then that another Verona must-do is checking some of them out!
As the Romans conquered the Italian peninsula, Verona was in an important strategic location for controlling routes to the Balkans and Danube provinces, not to mention the bridge over the River Adige being a very handy asset.
So the Romans made sure the city was well fortified. As did later occupiers such as Venice and Austria.
Today, visitors can't see much of the Roman walls apart from two main gates, the Porta Borsari and the Porta dei Leoni, but both locations are worth a quick look while you're exploring town.
NOTE: History nerds like me can enjoy walking a route put together by Verona's Tourism board that will take you all over the main wall locations and ruins.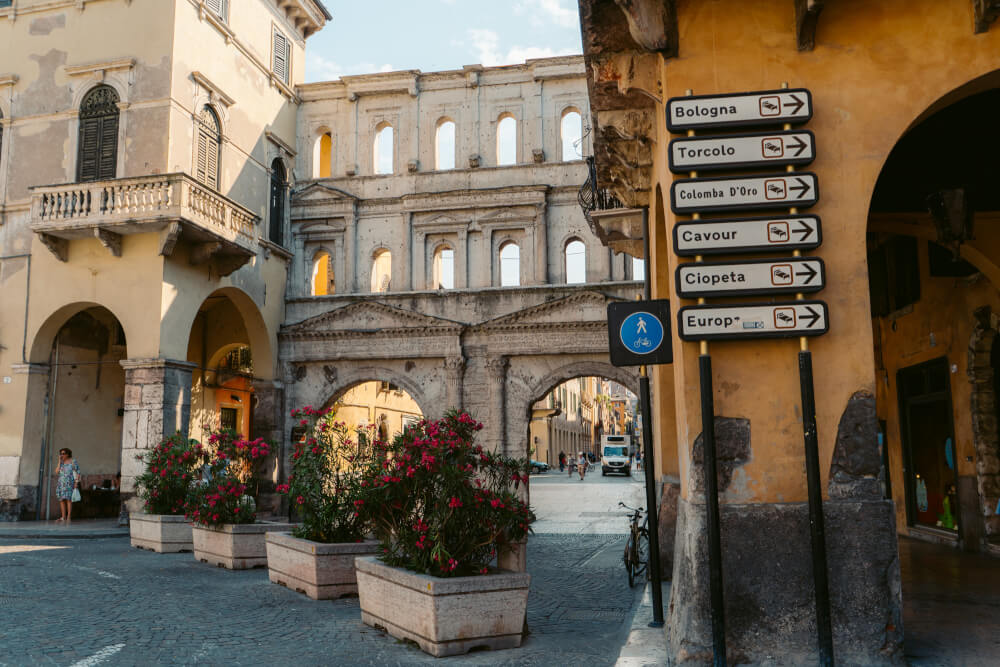 20. Visit the Roman Theatre
While the Arena di Verona is no doubt the most amphitheatre in town, there's another theatre that's often missed by visitors: the Roman Theatre or Teatro Romano.
Built in the 1st century BC, today only a portion of the theatre remains, but luckily you can still identify the most important parts, such as the stage, orchestra, and auditorium.
Despite its scenic location near Ponte Pietra, this is one of the quieter and lesser-known tourist attractions in Verona, so I'd recommend stopping by if you need a break from the crowds, and want to venture a bit more off the beaten path.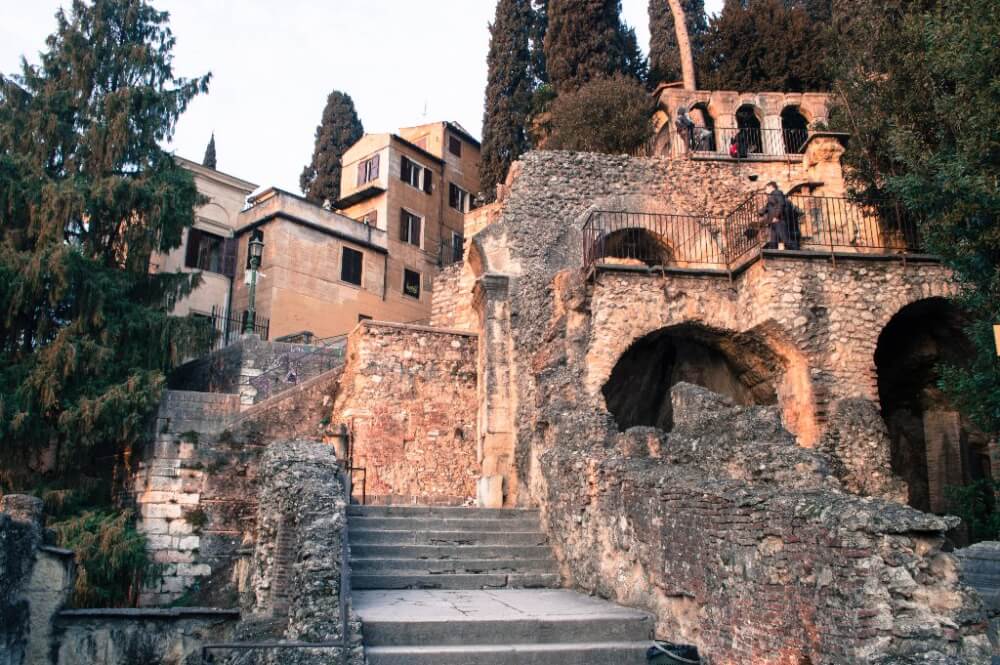 21. Enjoy a sunset stroll along the Adige
A lot of people make the mistake of missing sunset in Verona because they're having a meal or taking a break at their hotel.
Don't let this be you!
Golden hour is one of the most special times to be exploring Verona, especially if you go for a stroll along the river.
I can't emphasize how important this Verona must-do is if your goal is to fall in love with the city. Do it please. And take pictures. And send them to me on Instagram. Thank you.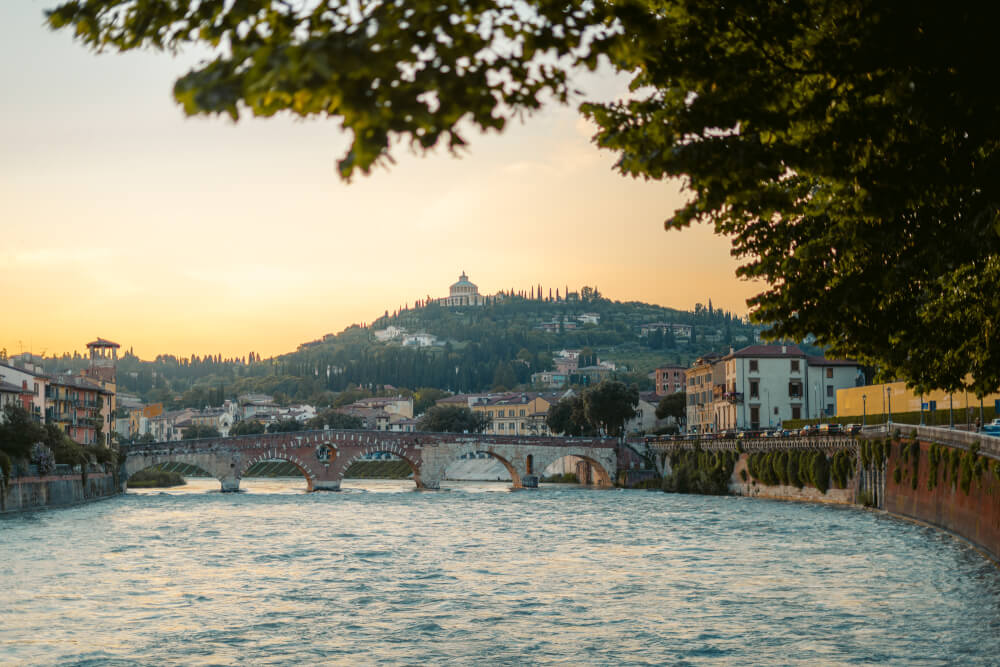 22. Take a cooking class
Sure you can stock your suitcase full of magnets and postcards, but the best souvenir you can take home from Verona is (honestly) the ability to make your own pasta and tiramisu from scratch!
For those interested in foodie things to do in Verona, this 3.5 hour cooking class is a must-book. I did a similar one in Bologna and still use those skills every time I'm in the kitchen.
Click here to check prices and availability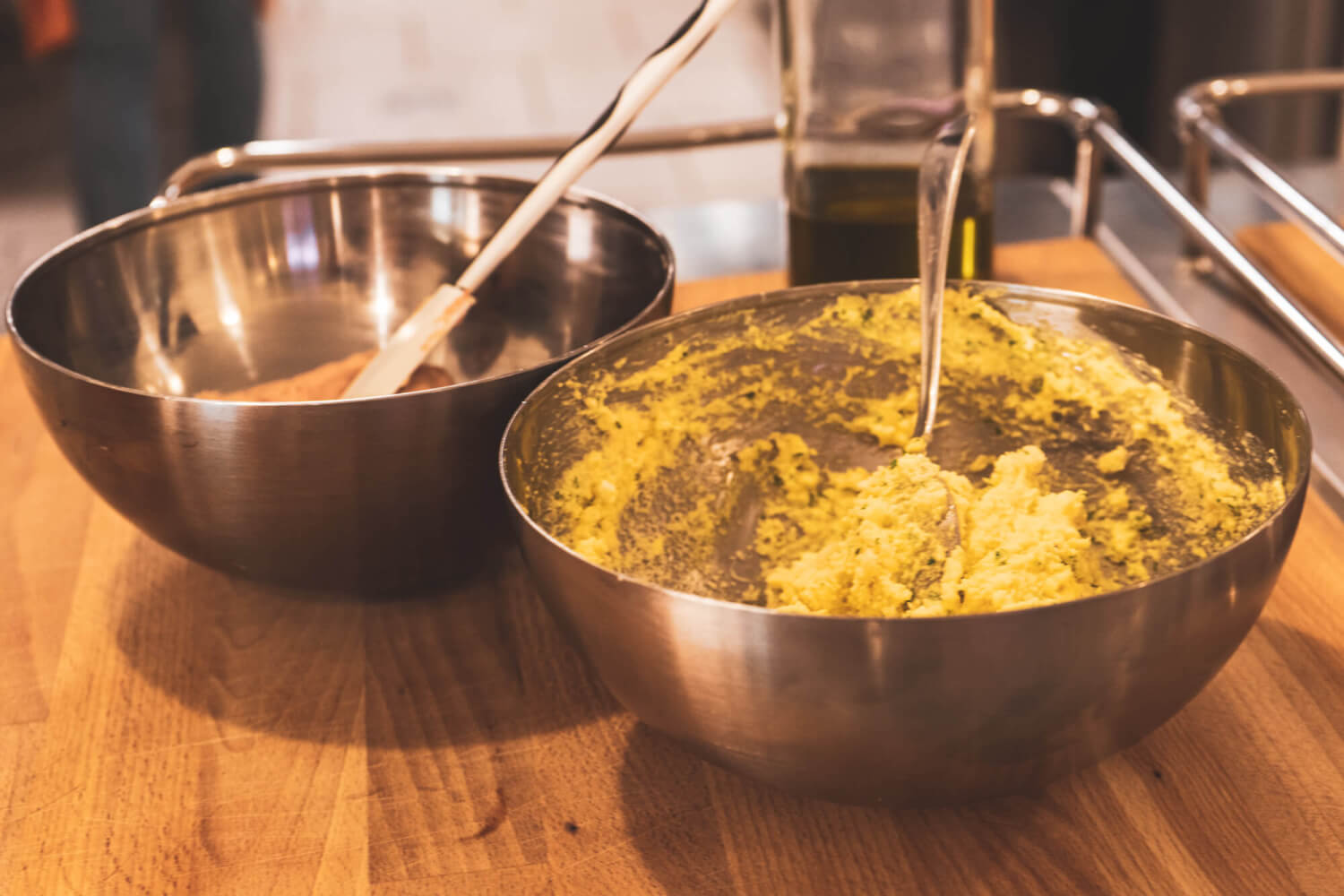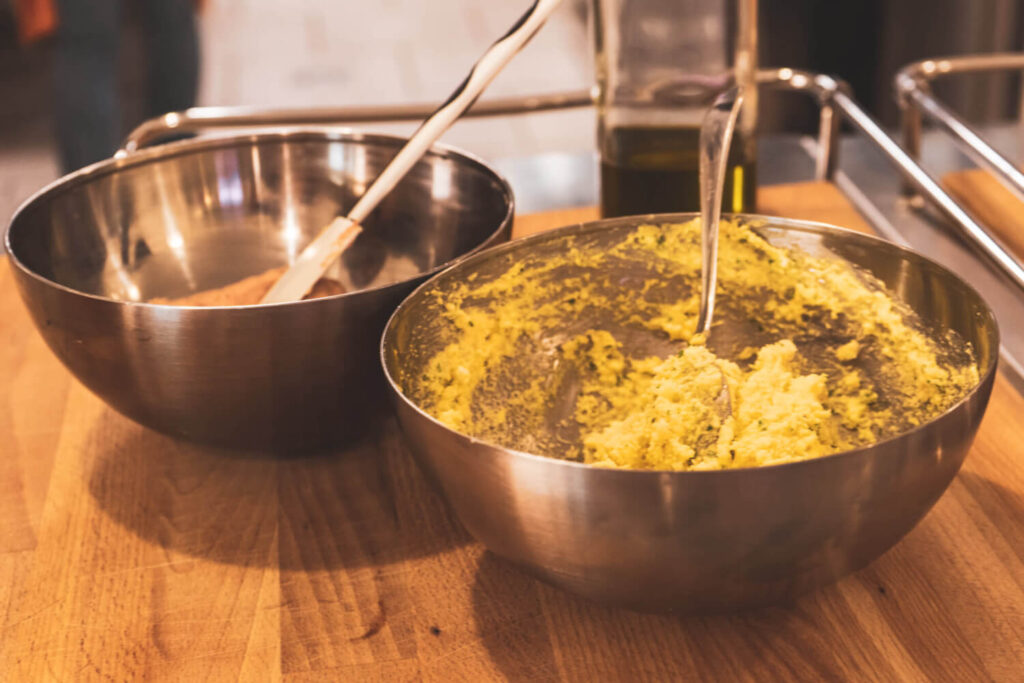 23. Go for a day trip to wine country
It should be no surprise that there's quite a few things to do in Verona for wine lovers, but one of the more special ones (if you have the time) is a day trip out to the nearby wine region of Valpolicella valley.
In this four hour stress-free tour, you get picked up/dropped off in Verona, and get to visit two typical wine cellars, while learning the secrets of Amarone wine. This is an ideal way to go if you're not driving on your own, and want the ease of having a guide bringing you around.
Click here to check prices and availability.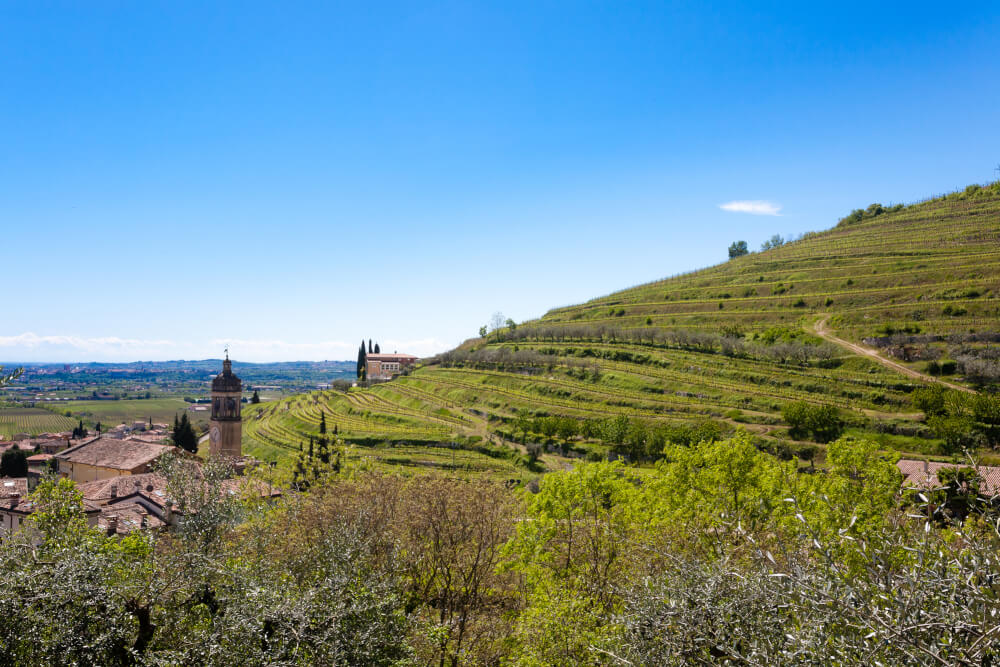 24. Go truffle hunting and sample regional products
Another unforgettable foodie thing to do in Verona is going on a truffle hunting tour… which, in case you were wondering, is indeed a real thing!
In this 2 hour tour, you set out with an actual Italian Tartufaro in search of truffles, and then get to enjoy some truffles paired with local wine and other regional specialties.
Click here to check reviews and availability on this experience
25. Learn how to make your own gelato
An inevitable thing that will happen during your Verona trip is that you will eat the equivalent of five dumptrucks worth of gelato.
Another inevitable thing is that you will dream about said gelato for years to come… so why not bring a piece of the magic home with you by learning to make your own? For those with a sweet tooth, this is one foodie experience in Verona that cannot be missed.
Click here to check prices and availability.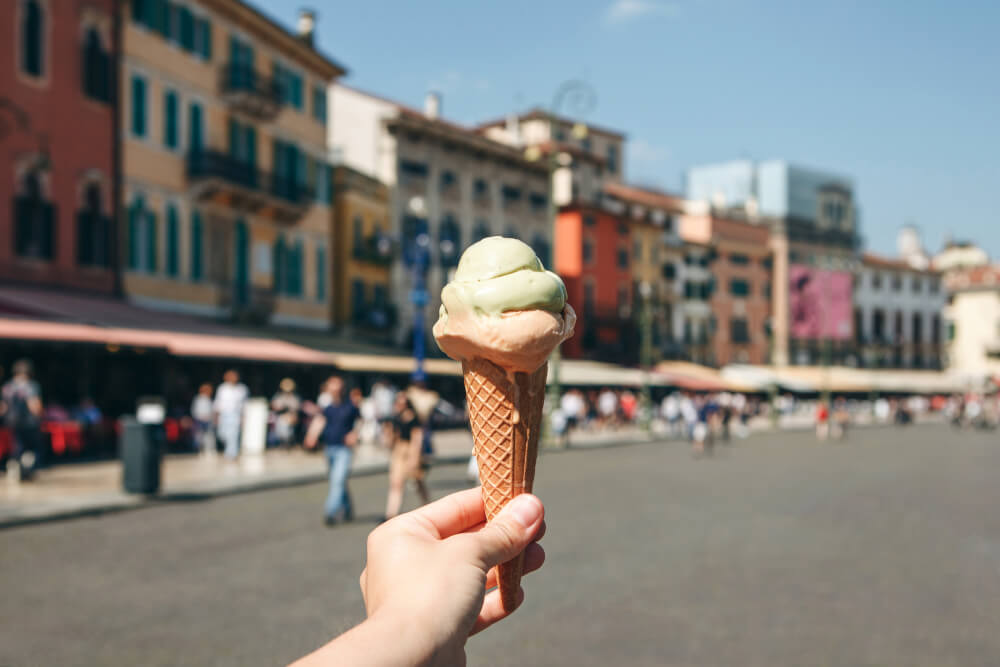 26. Enjoy a half-day tour out to Lake Garda
With any city break, I always find it's a nice idea to get out of the city and enjoy some surrounding nature, when possible. This allows you to develop a full appreciation for the region and everything it has to offer.
In the case of Verona, Lake Garda, one of Italy's most beautiful lakes is within day trippable distance, making it a no-brainer if you have the time for it.
If you prefer a guided experience, this half-day tour includes a boat trip, guided walking tour, and roundtrip transportation from Verona.
Click here to check prices and availability.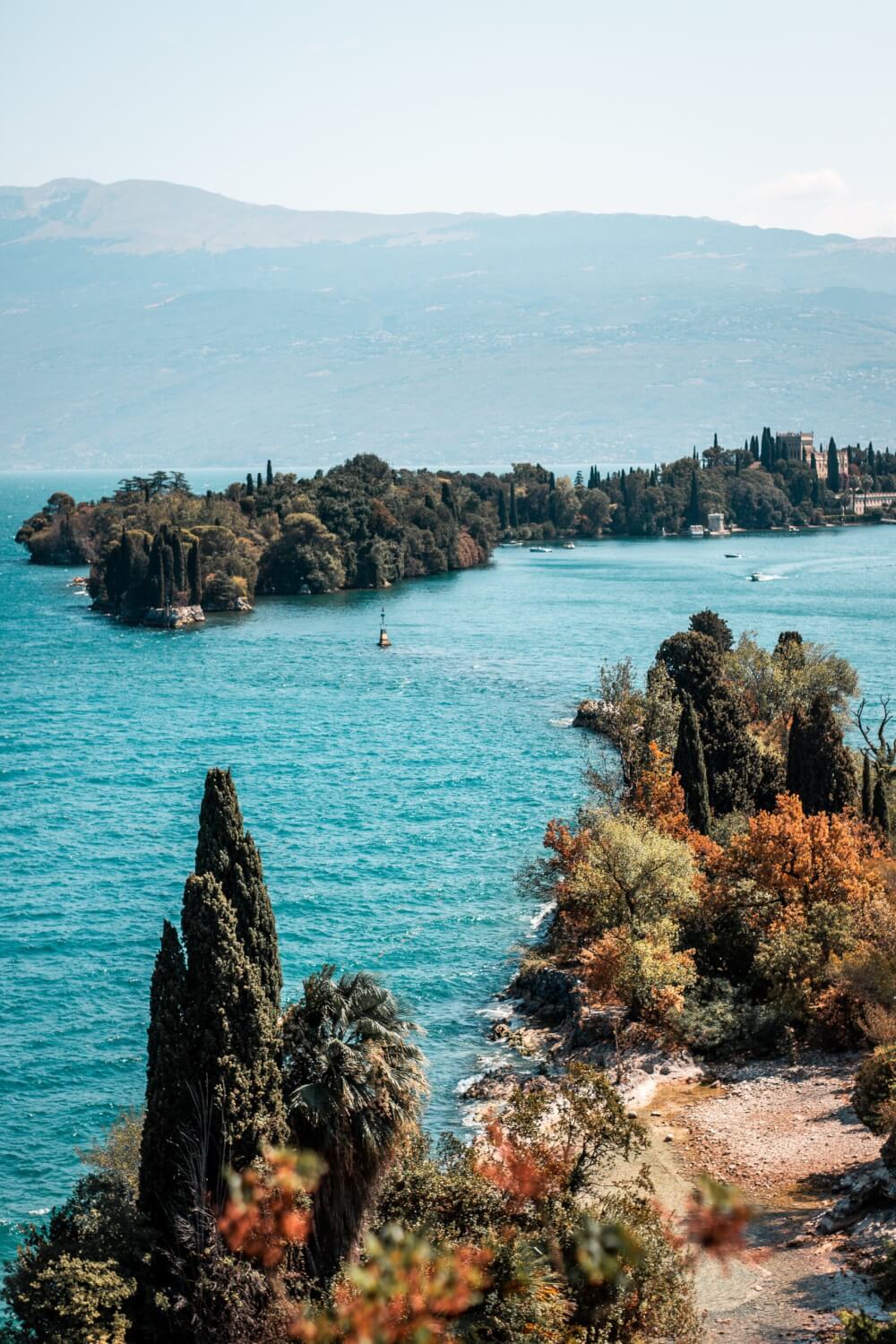 27. Go cycling around wine country
If you'd like to burn some calories while also recklessly consuming them, this E-Bike tour around the Valpolicella Valley sounds like a perfect fit.
Famed for its tasty wine and picturesque rolling hills, this region is one of the most popular day trips from Verona, and for good reason.
Click here to check prices and availability.
28. Visit "Juliet's Tomb" and its fresco museum
Alright, so most people know that one of the top things to do in Verona is Juliet's house… but remarkably few tourists know of another Juliet-centric attraction in the city: fair Juliet's tomb.
Beneath the former Monastery of San Francesco is a tomb that, according to Shakespeare's play, was where Romeo and Juliet were laid to rest. After the play became so popular, a sarcophagus was placed here for fans to come and visit, which (fun fact) was also the same sarcophagus used in the 1937 film version.
Even famous fans have visited this spot, like Napoleon's wife Marie-Louise of Austria. Today visitors can also get married here.. you know, if you're really looking for a morbid place to start your new life together.
Of course, there is also a museum here, the Museo degli Affreschi, which opened in 1975 and houses some beautiful 16th – 18th century frescoes from the palaces of Verona.
While I admit this is kind of a morbid and offbeat thing to do in Verona, it is free entry with a Verona Card, so it's worth checking out if you get one.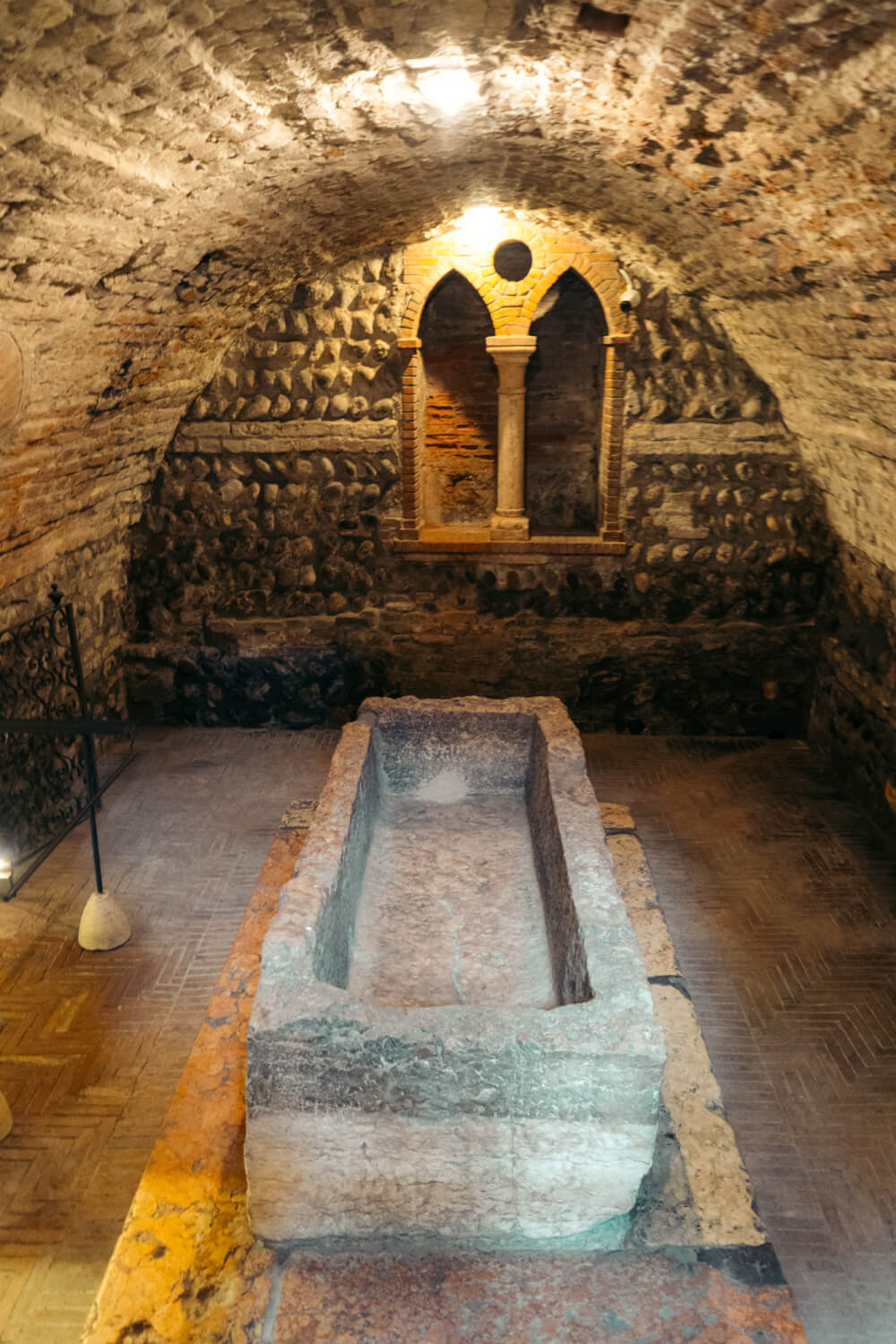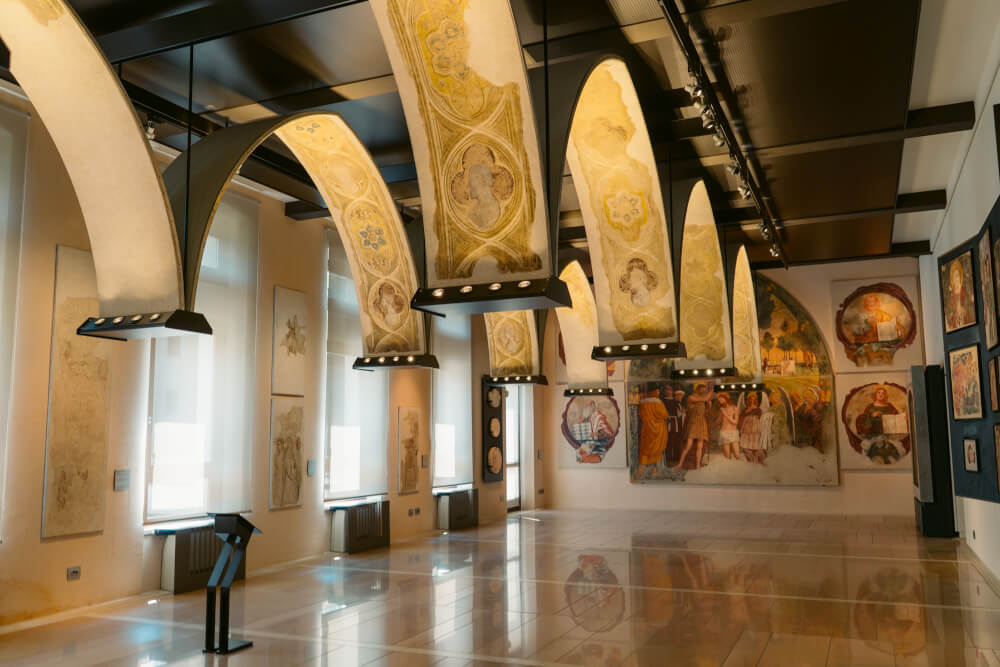 29. Shop on Via Mazzini
Via Mazzini is the main street between Piazza Brá and Piazza del Erbe, which is verrry popular with those looking to burn a hole in their wallet.
What used to be lined with barracks and warehouses is now home to the most expensive Italian stores, which are usually filled with ambling packs of tourists.
Shopping isn't usually my top choice when it comes to Verona activities, but in case you're looking for a place to shop around during your visit, this is a good bet.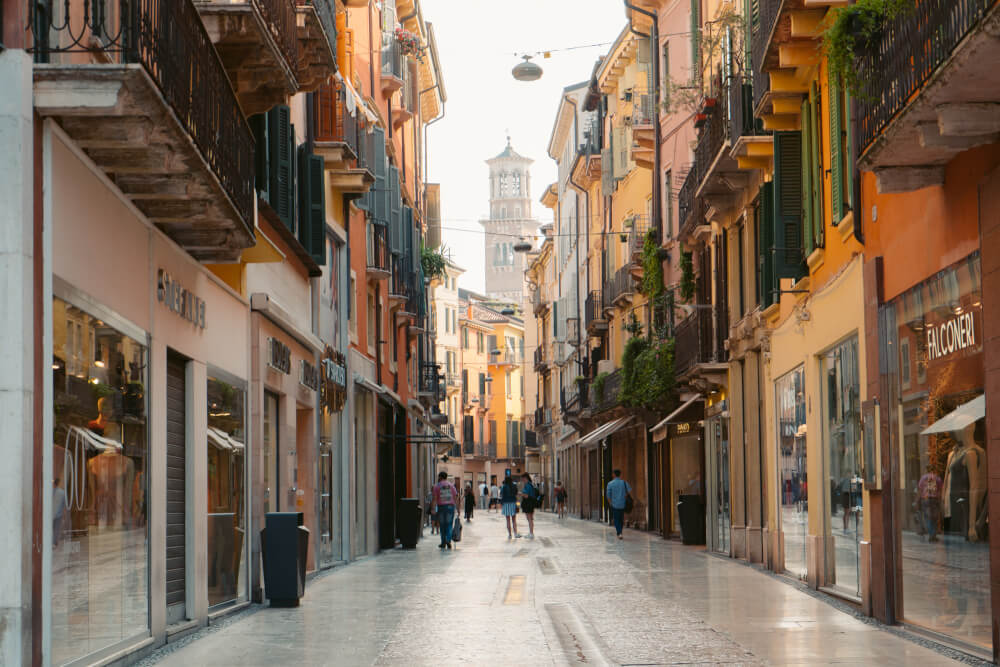 30. Savour some drinks with an epic view
Imagine sipping a goblet of wine while overlooking the Verona Arena, and try not to get giddy about it.
Seriously – what a way to feel like you own the place, right?
Luckily, there's a place you can experience exactly that – the Terrace Arena Sky Bar. Sure, it won't be the cheapest drinks you've had, but remember: you're paying extra for the view, the memories, and the immaculate main character energy.
31. Enjoy an elegant (splurgey) meal
Verona has some truly outstanding restaurants, so if you're looking for something romantic or memorable to do during your trip, then treating yourself to a nice sit-down meal might be worth scheduling.
And while I'm usually more of a "inhale pot of pasta on the street" kind of girl (see my La Bottega della Gina recommendation), I do actually have a fancy restaurant recommendation for Verona, because I went there by accident.
Picture this: it's pouring rain, you're starving, every place you've been to is fully booked, and your last resort is a crinkly map your BNB host gave you, with a restaurant starred as his favourite.
That's what led me to Ristorante Maffei, a beautiful restaurant just off of Piazza Erbe. The food was delicious. The restaurant was beautiful… and (despite being absolutely broke students that were way underdressed) we enjoyed our experience a lot.
Plus… you get to walk in on a literal red carpet, so that's fun.
32. Watch Letters to Juliet and hunt for filming locations
Lastly, please allow me to get on my soapbox and announce that I think Letters to Juliet is a criminally underrated masterpiece of a rom com.
If you're looking for a fluffy watch that will get you absolutely jazzed for your Verona trip, make sure it's this one. The best part is, it features many of Verona's most iconic locations, so you're sure to see a lot of them as you explore!
And, if you really want to get into the rom com mood, there's also Love in the Villa, which is funny in a very cringey and predictable way.
Did I miss any of your favourite things to do in Verona?
Let me know in the comments, and I hope you have an amazing trip!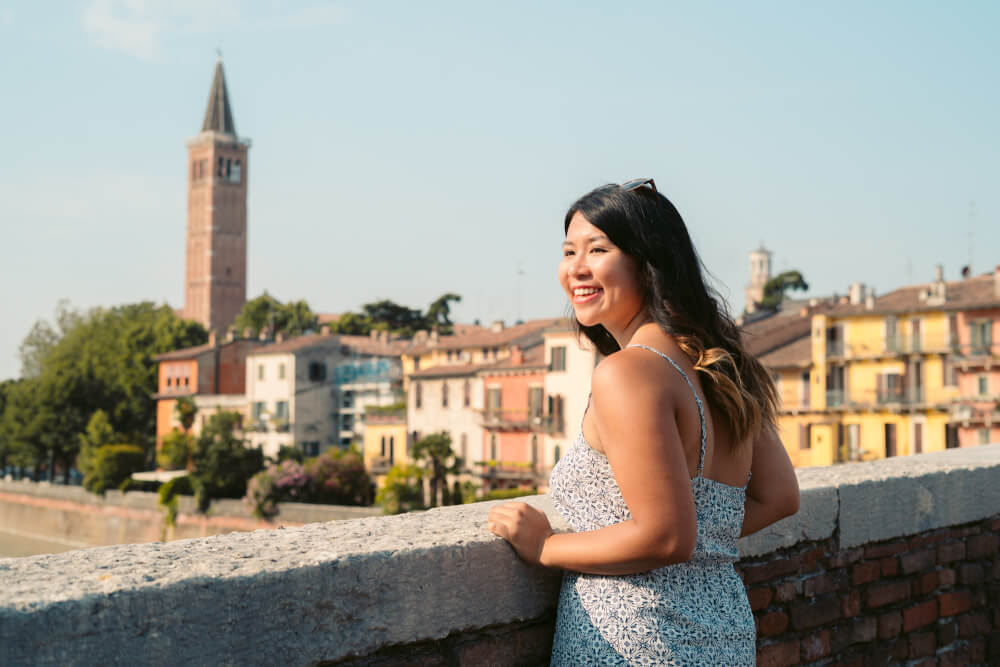 ---
Watch my most popular YouTube video this week:
---