*FYI - this post may contain affiliate links, which means we earn a commission at no extra cost to you if you purchase from them. Also, as an Amazon Associate I earn from qualifying purchases. Check out our Privacy Policy and Disclosure. for more info.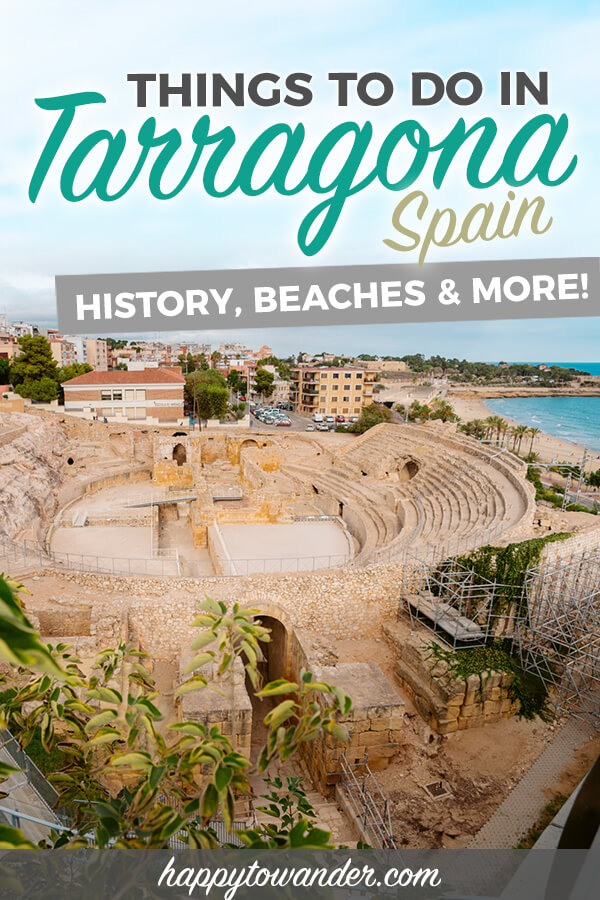 This list of things to do in Tarragona was created in partnership with Movie Travel, the Tarragona Film Office, and the Tarragona Turisme. I hope you enjoy it!
If there's anything you should know about me, it's this: I love to travel, but I'm 100% an enraged grandma when it comes to crowds. You could show me the most magnificent views and the tastiest cuisine, but the second I'm swallowed by a tourist mob, I'm ready to head home.
So, when I recently visited the Spanish city of Tarragona (about an hour-long train from Barcelona), you can say I fell in love.
Picture Roman ruins, glossy gold beaches and fresh seafood, all magically without tourist masses. It's little wonder why this city is so beloved among film crews, with Tarragona immortalized in dozens of film productions over the years…
And guys, I cannot emphasize enough how wonderful it was to prance around my own film set without getting smacked in the eye with a selfie stick.
In all its crowdless glory, I got to experience what makes Tarragona so special: its effortless ability to fuse 2000 years of history with the ever-changing present. From old Roman vaults housing modern storefronts to medieval streets posing as canvases for street art, Tarragona is full of surprises, as you'll soon see.
Below, I'll share with you some wonderful things to do in Tarragona, with a little something for everyone, from history nerds and foodies to sunshine seekers in want of bronzing. Enjoy!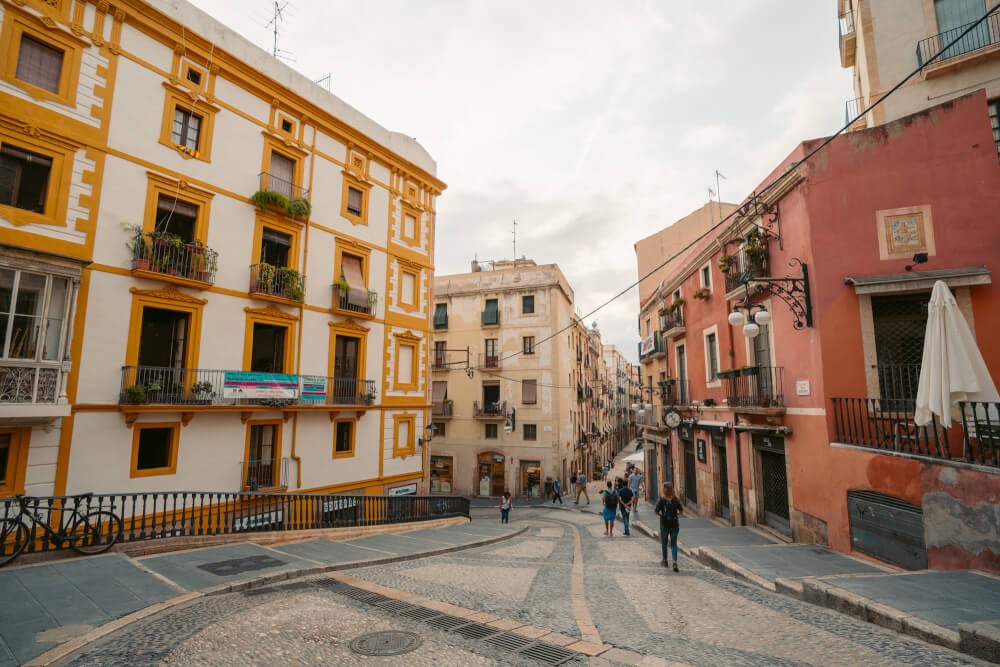 ---
---
Historical Things to do in Tarragona
Once upon a time, Tarragona (then known as Tarraco) was the capital of the Roman province of Hispania Citerior. So significant were those Roman roots that since the year 2000, many of the city's Roman ruins have been protected as UNESCO World Heritage under the Archaeological Ensemble of Tarraco. So, let's start this list with the obvious: historical activities in Tarragona that you can't miss.
1. Explore the Roman Circus and Pretori Tower
Of all the monuments belonging to the Archaeological Ensemble of Tarraco, perhaps no sight commands as much 'wow factor' as the Roman Circus, occupying the heart of Tarragona since the 1st century.
In Ancient Tarragona, this massive complex was where chariot races would take place, a refined contrast to the brutal Gladiator games relegated to the city's Roman Amphitheatre. In its heyday, the Circus would have held over 30,000 spectators.
Today, Tarragona's Roman Circus is unique in the world for its spectacular level of preservation, dazzling the flurry of visitors who come by daily to explore the circus' expansive tunnels, learn more about the city's history at the Tarragona History Museum, and of course, admire the view from Torre del Pretori, one of the most famous landmarks of the city. Beyond offering some of the best views in town, this tower also boasts its own film credit, as it featured in the Spanish film, Sonata for Cello (2015).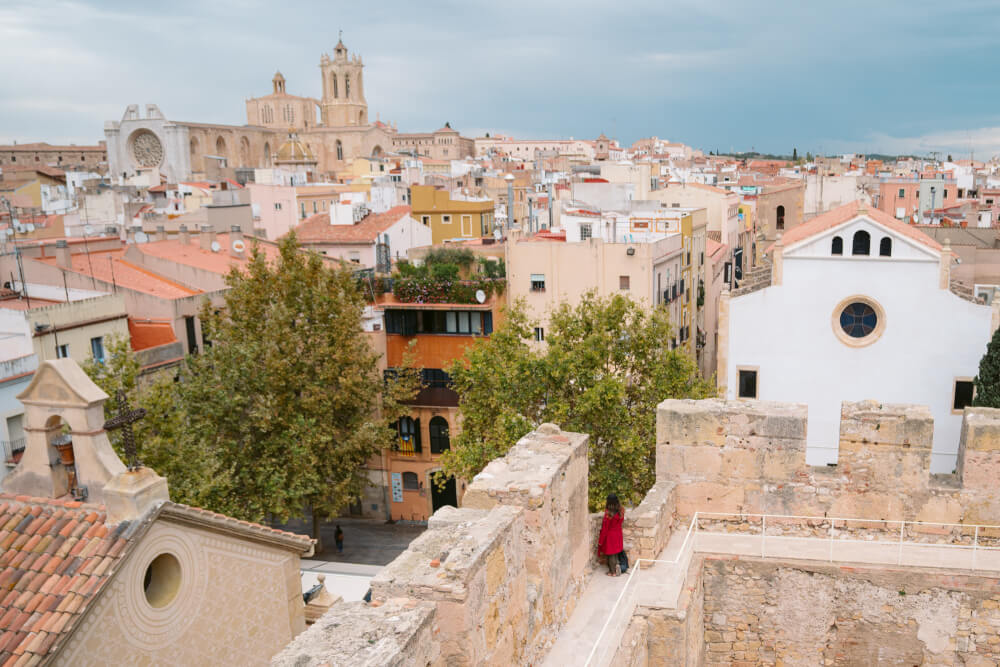 ---
---
2. Visit the Roman Amphitheatre
Another gem of the UNESCO Archaeological Ensemble of Tarraco is Tarragona's Roman Amphitheatre, the glorious seaside setting for bloodbaths, executions and (on a slightly cheerier note) fun Roman re-enactments in the present day.
If you love history, a visit here is non-negotiable. After all, this amphitheatre has seen plenty of action over the years, starting in the 2nd century as a stony backdrop for gladiator fights and public executions. Since then, its function has morphed endlessly, from hosting churches and a convent, to even a prison in the 18th century. Today, its scenic location by the crashing waves of the Mediterranean makes it a unique historical must-see.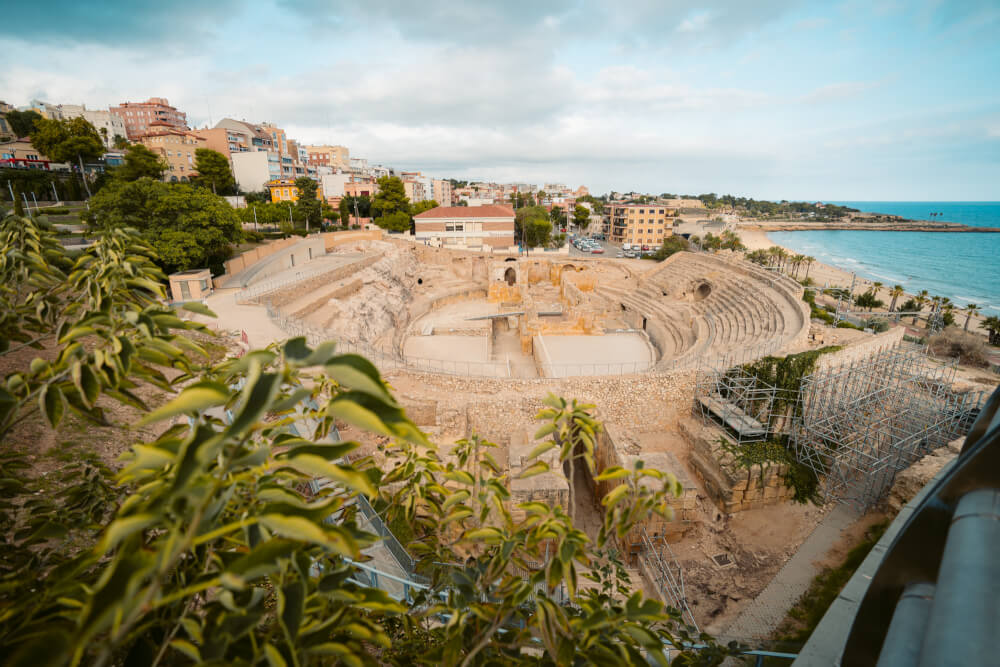 ---
---
3. Walk the Archaeological Walk
Of course, Tarragona's historical heritage is far more than just the stuff of legend. Here, you're invited to walk the walk…. Literally.
One of the premiere attractions of the UNESCO Archaeological Ensemble of Tarraco is something they call 'the Archaeological Walk', which brings visitors alongside the best preserved portions of the old city walls, built between the 3rd and 2nd century BC. About a third of the original walls remain, and today you can step back in time yourself and walk these walls as the Romans did, of course with much prettier landscaping and gardening 😉
Fun fact: The walls here in Tarragona are actually the oldest Roman walls outside of Italy.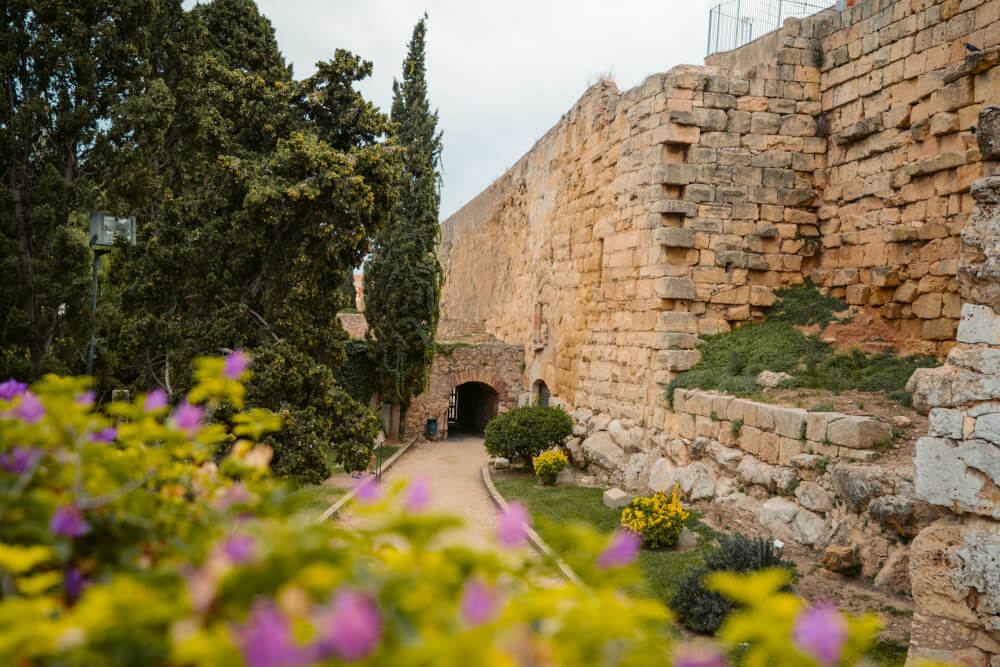 ---
---
4. Explore the Medieval Quarter of Tarragona, Part Alta
While Tarragona is a place inextricably linked to its Roman heritage, there's no denying the enchanting magnetism of the city's Part Alta (Medieval quarter) with its intriguing maze of narrow streets and stunning world-class monuments.
It's perhaps this mysterious ambiance that lends the neighbourhood so well to cinematic mystery. Much of the 2013 Catalan thriller Fill de Caín (Son of Cain) for example shot in the streets of this medieval district, turning iconic spots like the Carrer de a la Merceria and Placa de la Seu into real life film sets. Today, no visit to Tarragona is complete without getting a little (or a lot) lost in the mysterious streets of this neighbourhood, probably my favourite part of the city.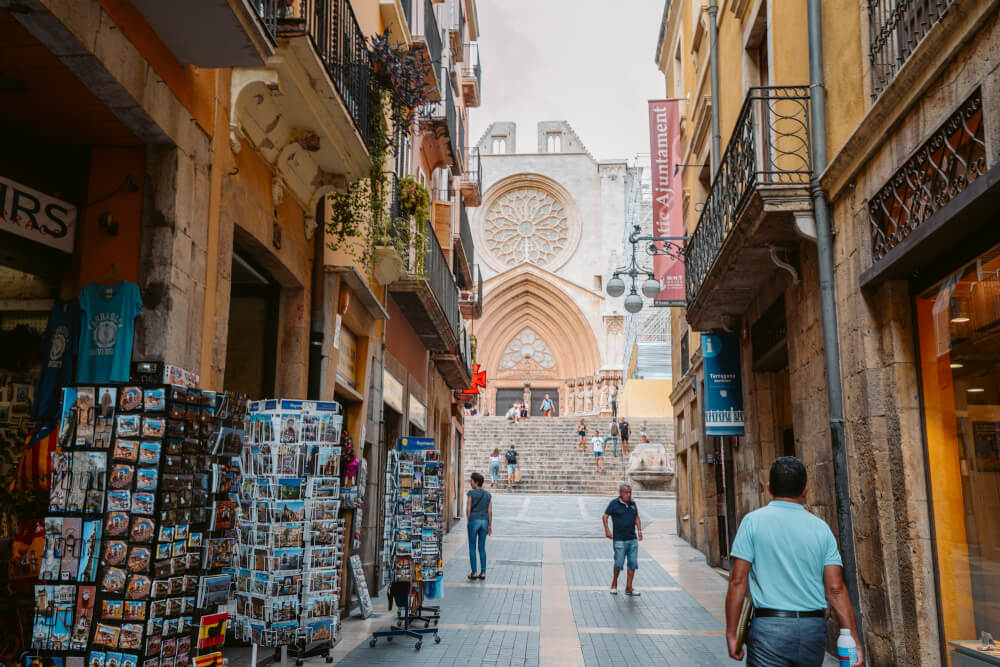 ---
---
5. Visit Tarragona Cathedral and relax in its cloisters
The crown jewel of Tarragona's medieval quarter is undoubtedly the towering Tarragona Cathedral, built on the ruins of former religious sites, including a Roman temple dedicated to Augustus. Declared as a national monument of Spain in 1905, this church boasts a beautiful aesthetic combining elements of Romanesque and Gothic architecture, with highlights including a large rose window in the front entrance and a 70m bell tower with 19 bells, one of which (the Capona) weighs over 5000kg.
And while the facades and cathedral interior are well worth a visit, for me personally, the star of the show here were the cathedral cloisters, which offer a beautifully peaceful escape from the bustle of the city, and also the best vantage point from which to appreciate the grandeur of the cathedral's design. Don't miss them!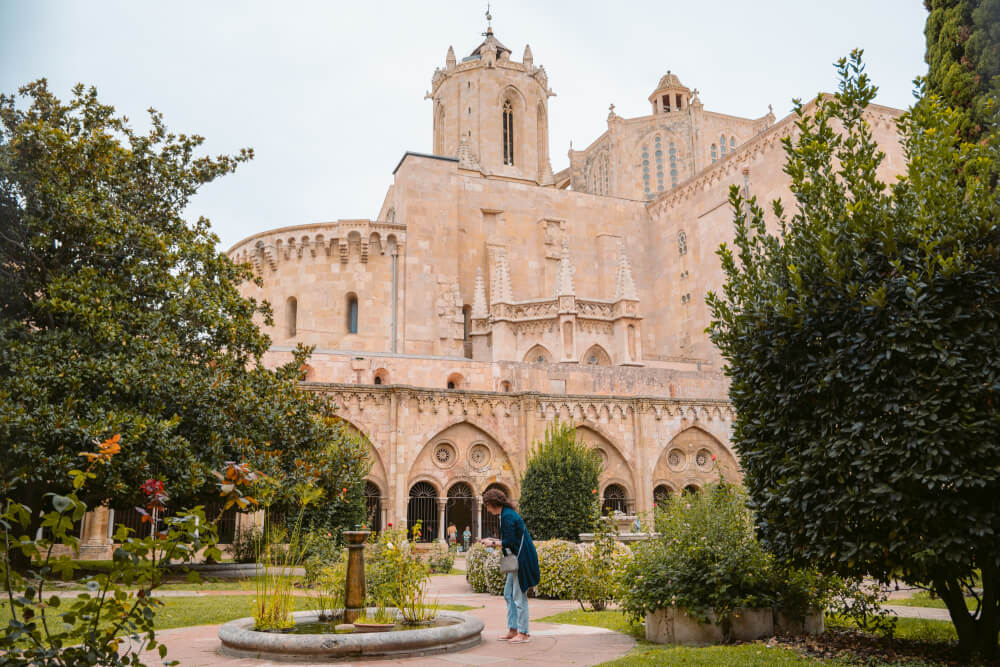 ---
---
6. Be wowed at Tarragona's Paleochristian Necropolis
Last but not least, the most surprising discovery for me this trip was the city's Paleochristian Necropolis, arguably one of the lesser known members of the UNESCO Archaeological Ensemble of Tarraco, located on the outskirts of the city. This site marks a former burial ground/cemetery that offers a unique glimpse into how Romans at the time dealt with death and the afterlife… with a small, but incredible museum housing some incredibly preserved relics discovered at the site, including intricately carved coffins and other burial objects.
The highlight for me though? A beautifully carved ivory doll that's over 1500 years old, which, as my guide joked, marks perhaps one of the oldest Barbies of all time.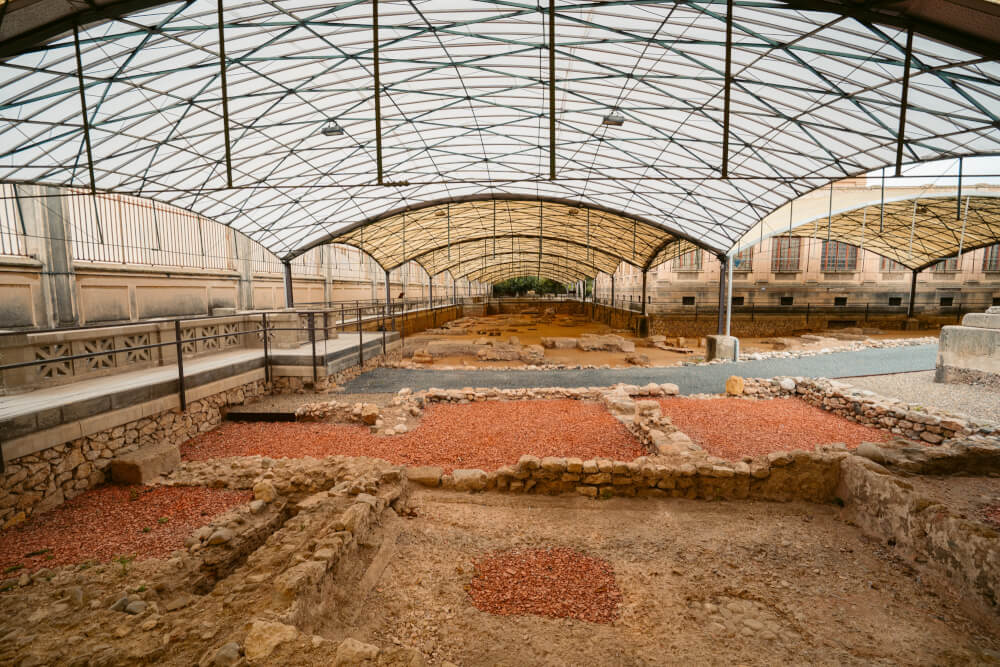 ---
---
Fun, Quirky & Offbeat Things to do in Tarragona
One of the things I loved most about Tarragona was its ability to merge the historical with the modern, the grandiose with the fun, and… well, the occasional surprise or two. Here are some other fun things to do in Tarragona, beyond tracing history.
7. Shop for candles in Catalonia's oldest shop (and one of the oldest in Europe!)
Steps away from Tarragona Cathedral, you'll find one of the best kept secrets of the the city: Casa Corderet, the oldest shop in Catalonia, and perhaps among the oldest in Europe. Continuously open for business since 1751, this bite-sized candle shop, conceals an astounding amount of secrets, from hidden passageways and centuries-old Roman inscriptions, to a film set (and star!) of its own. In fact, Casa Corderet is home to the clandestine chess academy seen in the film Fill de Caín, and the owner even played a role… as himself!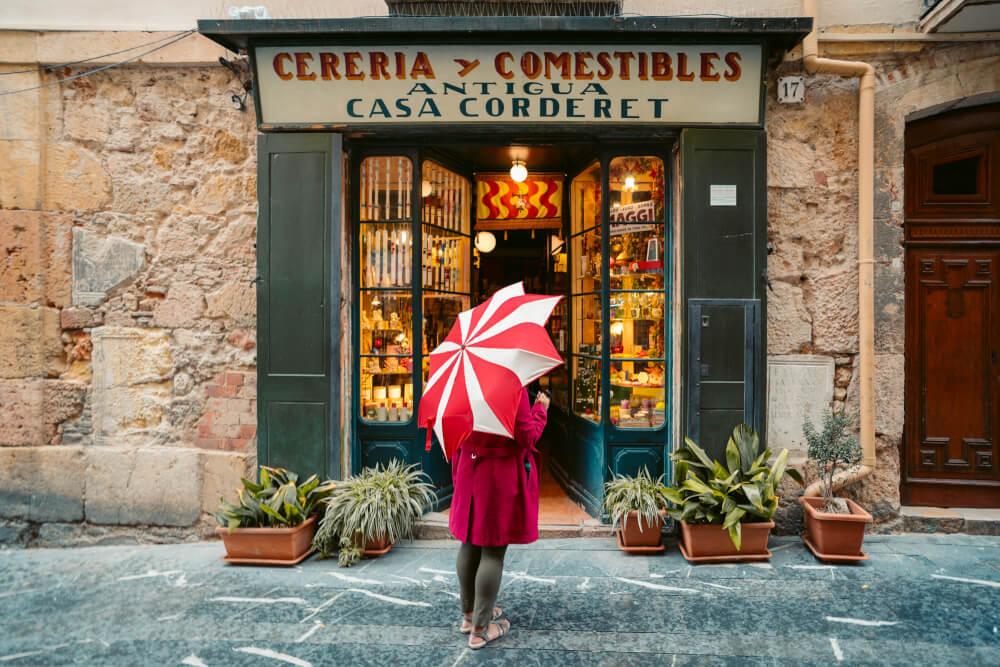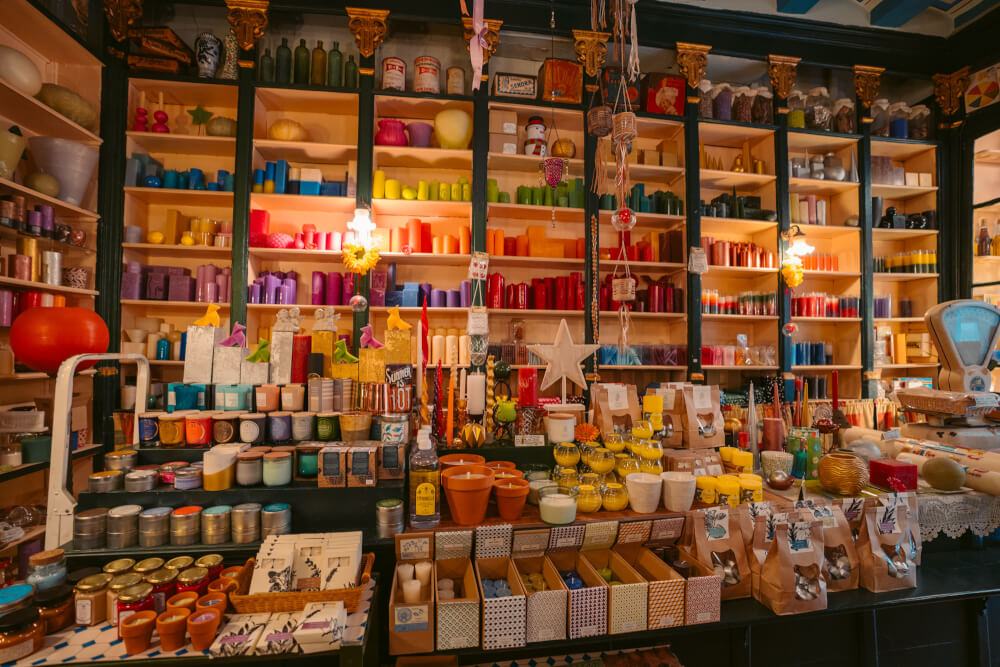 ---
---
8. Sprawl out on Platja Llarga
Of course, with its ideal location on Spain's Costa Daurada (Golden Coast), one of Tarragona's strongest bragging points is a surplus of dreamy, sandy, golden beaches… some easily accessible from the city center within 30 minutes.
One of the most beloved of these beaches? The stunning Platja Llarga, AKA Long Beach, with a sprawling length of 675 metres, and a soft sand bank that makes for the perfect swim. This beach's strategic position surrounded by shady pine forests is what makes it such a peaceful and (relatively quiet) secret away from the tourist masses, and also what makes it such an appealing and versatile film set. In fact, walk down the beach long enough and you'll discover the Bosc de la Marquesa, a leafy green oasis which stood in as Menorca in the film Second Origin.
Fun fact: the quarry just at the end of the beach was used by the Romans to build many of the UNESCO World Heritage monuments you see around the region today, including the famous Les Ferreres Aqueduct (Pont del Diable).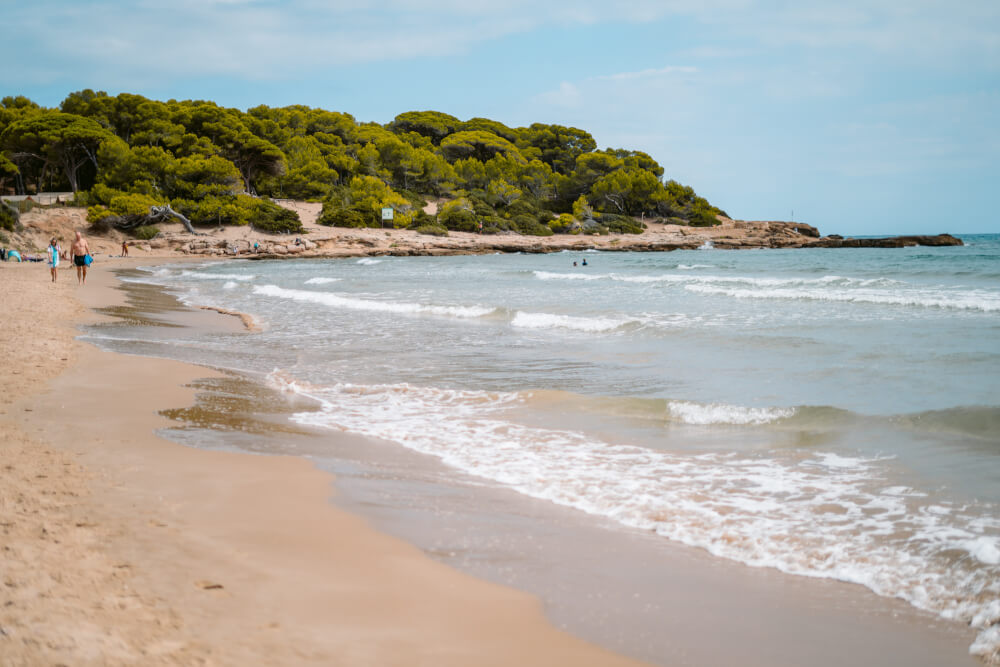 ---
---
9. Marvel at one of the world's only seaside beach castles
And speaking of beaches, of all the golden platges near Tarragona, none boasts a more majestic crown jewel than the Platja de Tamarit (Tamarit Beach), with its imposing golden castle that towers above the sea.
Once used as a defensive stronghold against invading Berber and Ottoman pirates, the lengthy history of this castle dates as far back as the 11th century, and involves a varied list of residents and owners, including counts, lords, and archbishops. Known for its ornate church and spectacular Romanesque design, today, Tamarit Castle is a premiere venue for weddings, with a star-studded clientele including world-famous footballers.
And while the castle was digitally removed in post-production, eagle-eyed fans might recognize this beach as a filming location from the Netflix series, Cathedral of the Sea (2018).
---
---
10. Take a stroll down La Rambla Nova towards the Balcó del Mediterrani
Barcelona's La Rambla may be world-famous, but Tarragona has a Rambla Nova of its own, with all the surprises and gems of its Barcelona counterpart, but only a fraction of its buzzing crowds.
Linking the Balcó del Mediterrani (Mediterranean Balcony) with the Imperial Tarraco Square, this bustling 2km strip is often considered to be the vibrant heartbeat of Tarragona, with an endless parade of retailers, local businesses, cafes and eateries dotting the way. No matter the time of day, you'll find La Rambla Nova buzzing with people, making it one of the preferred hangout spots in town for both locals and visitors alike.
For those paying enough attention, you might even notice some familiar filming locations along the Rambla Nova. The neoclassical Banco de España building for instance was featured in the 2016 dramatic film, Secuestro (Boy Missing), where it appears within the film's first ten minutes.
TIP: The views from the Balcó del Mediterrani are amazing, so be sure to walk the Rambla Nova all the way to the end.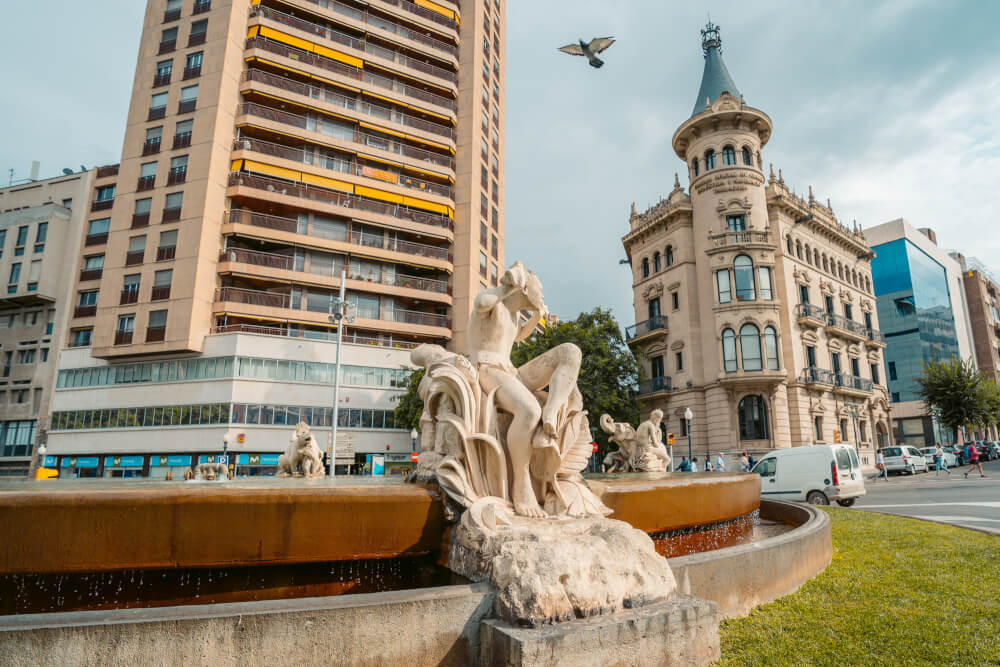 ---
---
11. Watch human towers be constructed before your eyes
Catalonia has many cultural traditions, but none is more famous than the region's Castellers, who construct impressive multi-level human towers, typically at festivals or local events. If you are lucky enough to be in town during a Casteller event, be sure to attend! For a current list of Casteller events in Tarragona, visit the official Tarragona Turisme website here.
NOTE: if all else fails, there is a permanent sculpture depicting Castellers that you can marvel at instead. It's called the Monumento a los Castellers, and you can find it on the Rambla Nova.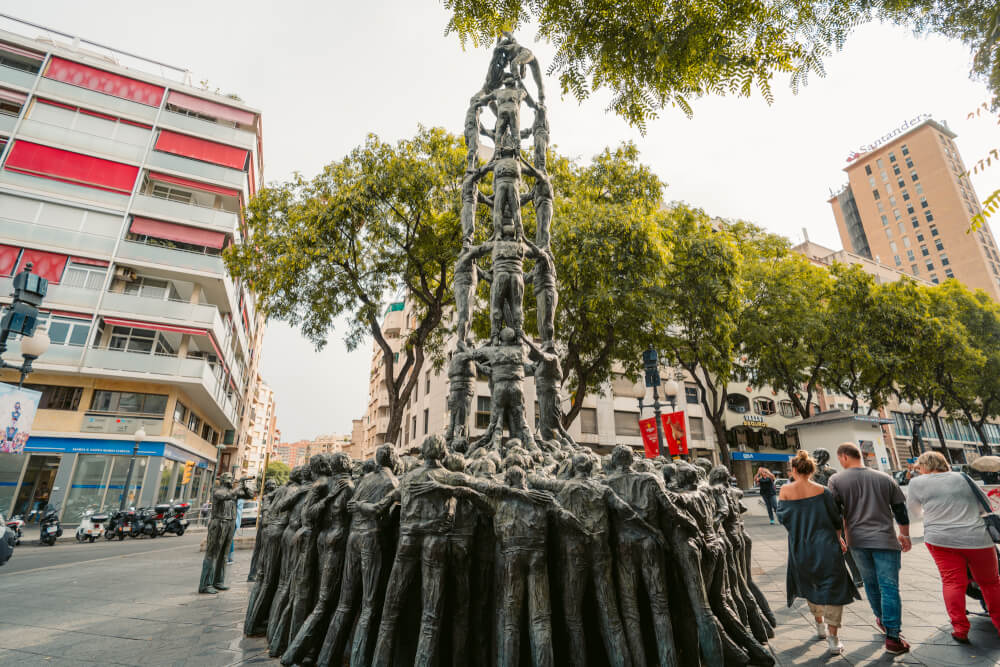 ---
---
12. Marvel at an open air art gallery of painted pilons
One of the more peculiar (but nonetheless adorable) Tarragona activities I enjoyed during my trip was a trip to El Carrer Comte, AKA Pilon's St, home to a colourful array of painted pilons in every possible theme you can imagine, from Harry Potter to avocados. I was told a street party takes place every July during which waitlisted painters get to repaint the pilons as they please, injecting a vibrant pop of fun amidst the old worn streets of the city.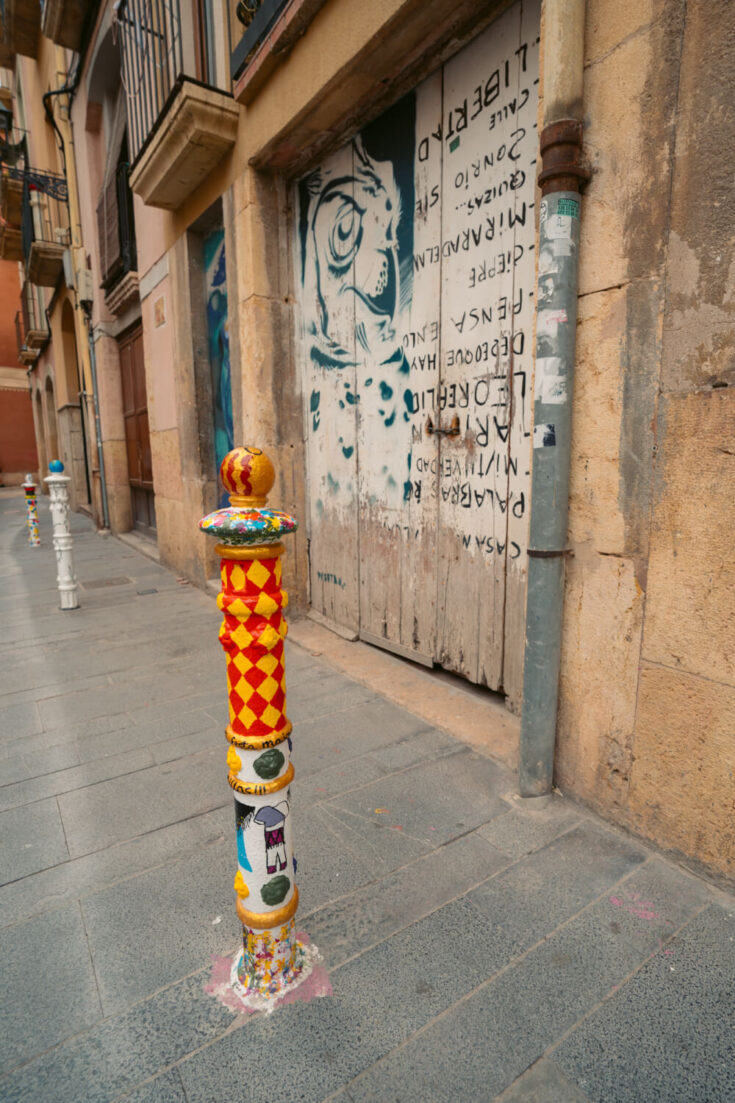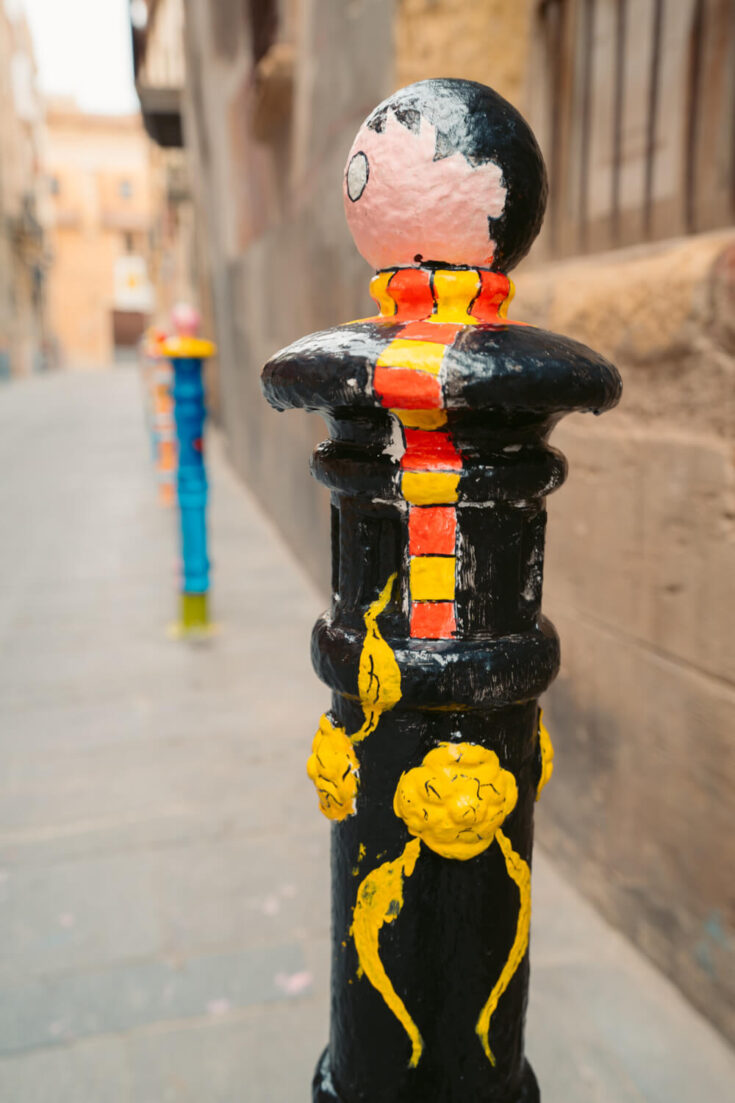 ---
---
13. Seek out colourful murals and street art
There are plenty more colourful surprises beyond pilons though – in fact, there were several times during my stay in Tarragona that I had to stop in my tracks to photograph impressive murals decorating the city's walls.. Two spots come to mind, firstly, the Carrer d'en Mediona, which runs parallel to the Pilon's St mentioned above, and the Placa dels Sedassos, which has a bright trompe d'oeil mural as its focal point.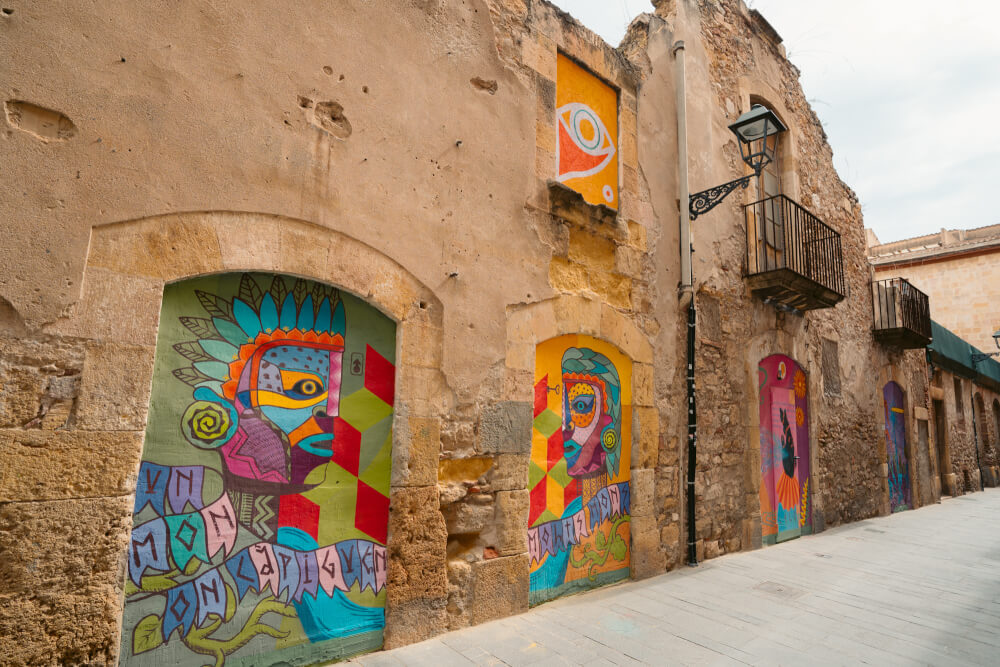 ---
---
14. Trace Tarragona's moderniste gems
Of course, while Barcelona is the Catalan city more usually associated with modernisme, Tarragona has its fair share of moderniste gems to marvel at too, including a little-known Gaudi creation at the The Sanctuary of our Lady of the Sacred Heart.
For a detailed map of the city's best examples of moderniste architecture, check out this route created by Tarragona Turisme.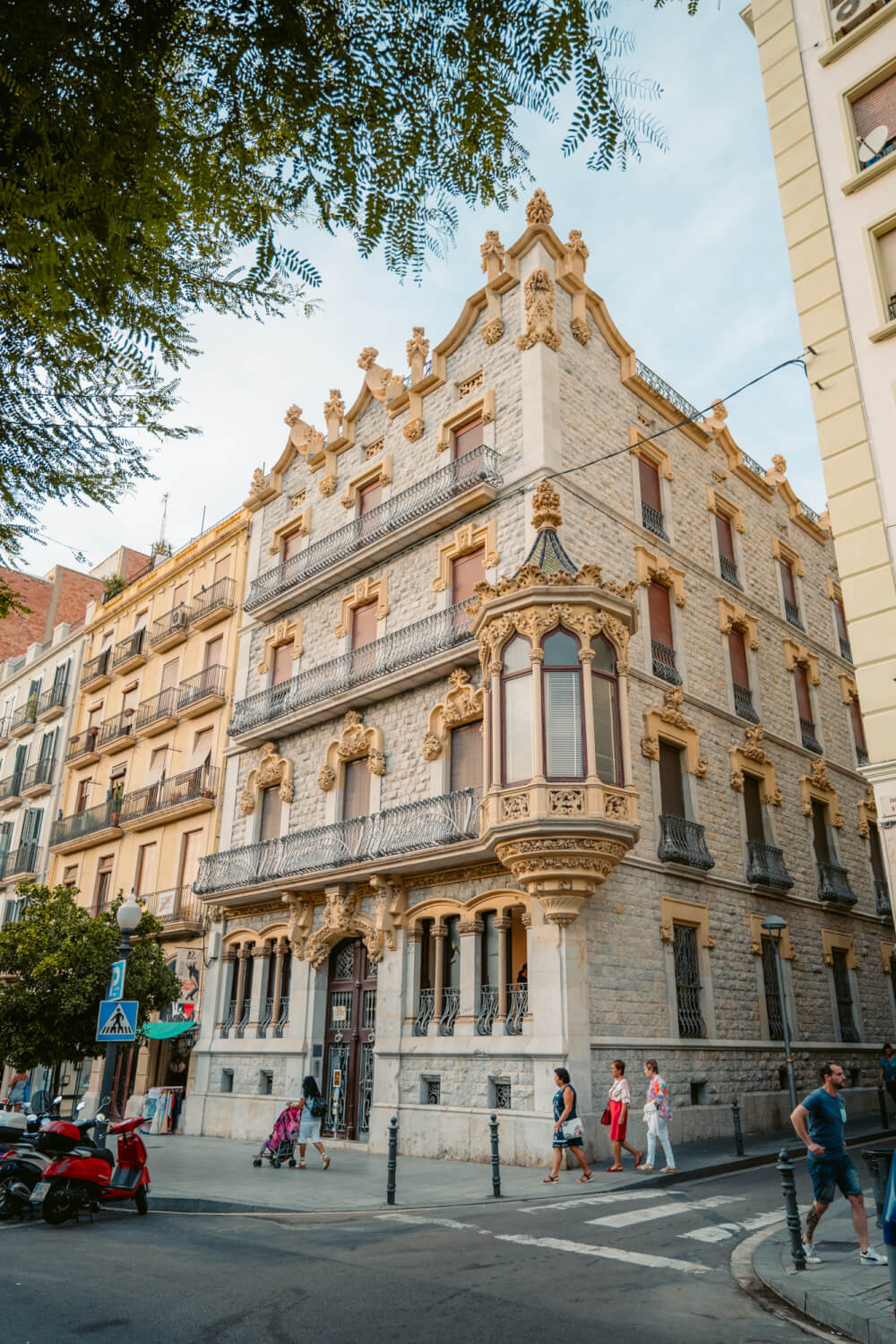 ---
---
15. Wander around the Port and the Serrallo District
A severely underrated area of Tarragona is its port/El Serrallo District, AKA the fishermen's district, with a newly completed promenade that allows for the perfect sunset walk, breezy palm trees included. From lively fountains that light up rainbow at night, to some of the top fish restaurants in town, this is an excellent spot to explore if you're eager to get a bit off the beaten track in Tarragona.
PS: It also makes a wonderful place to spy on swanky super yachts!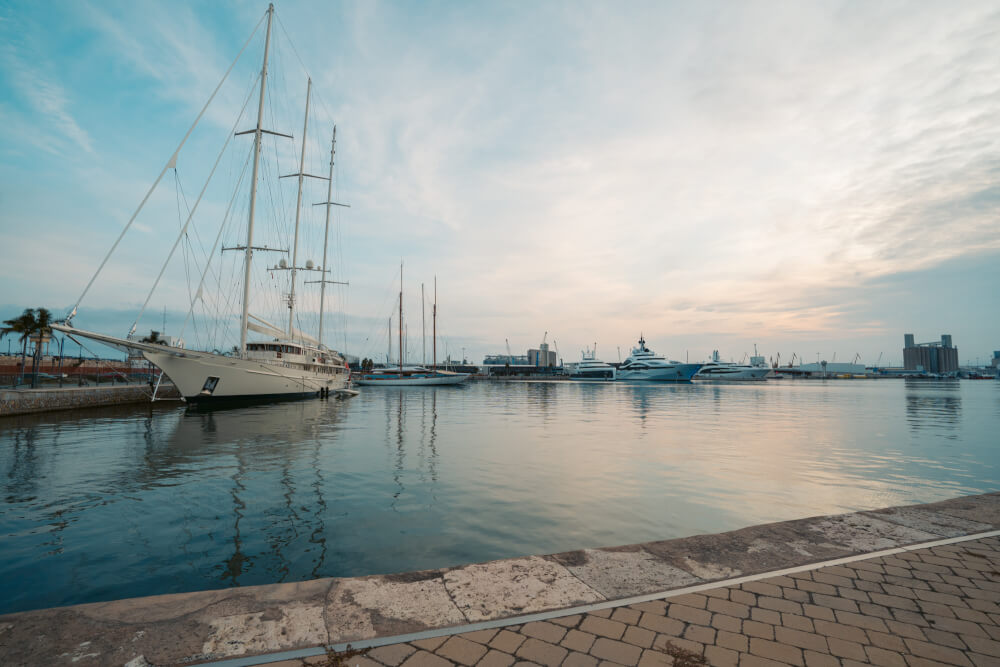 ---
---
Foodie Things to do in Tarragona
Last but not least, we have my favourite part: the food! As a seaside city, you can expect Tarragona to have a buzzing foodie scene where fresh seafood is the star of the show… so, be sure to add these foodie experiences to your Tarragona bucket list.
16. Dine among Roman ruins
If you want to continue your Roman adventure even as you liberally stuff your face, I'm happy to report that this is a possibility in Tarragona! Located in the heart of the city, the Restaurante les Voltes is a wonderfully atmospheric restaurant that serves affordable local cuisine in a venue built from arches belonging the ancient Roman Circus. So, if you've ever wanted to taste the flavours of Catalonia while sitting amidst Roman ruins, this is the place you have to visit. At lunchtime, their menu deals are highly affordable.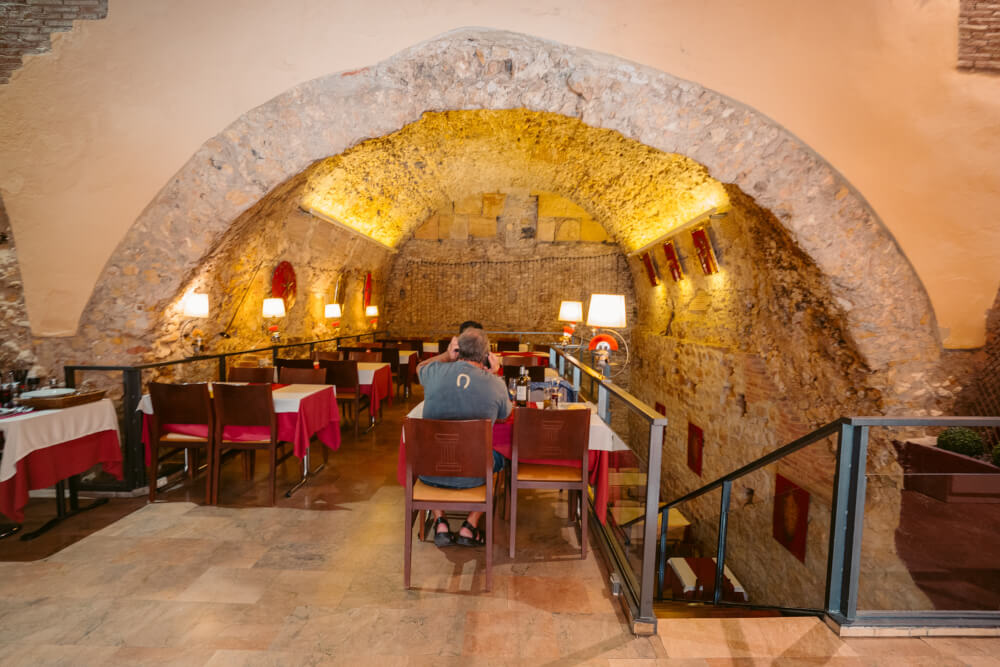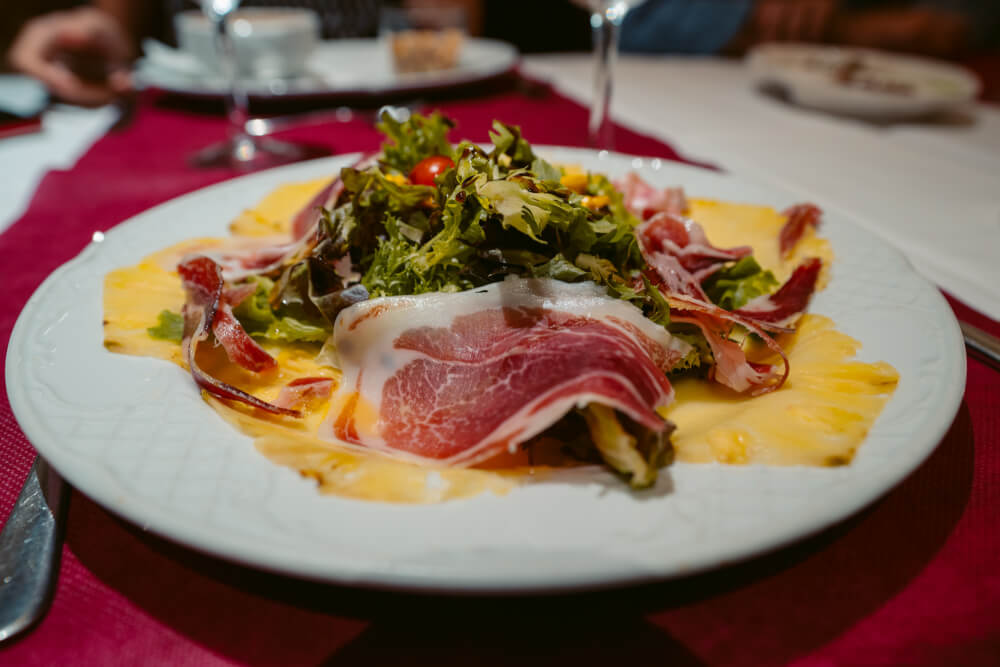 ---
---
17. Gorge on fresh seafood and rice
You can't come to Tarragona without sampling some local cuisine, and given the city's proximity to the water, seafood of course reigns supreme. Naturally, the restaurants in El Serrallo (the fishermen's district) are a perfect place to get a taste of Tarragona's best. We went to El Pòsit and had a delicious meal right by the water. My personal favourite selection of the night? Arròs negre, a savoury rice cooked to perfection with squid ink and topped with juicy bits of seafood. I still dream about this dish sometimes. No lie.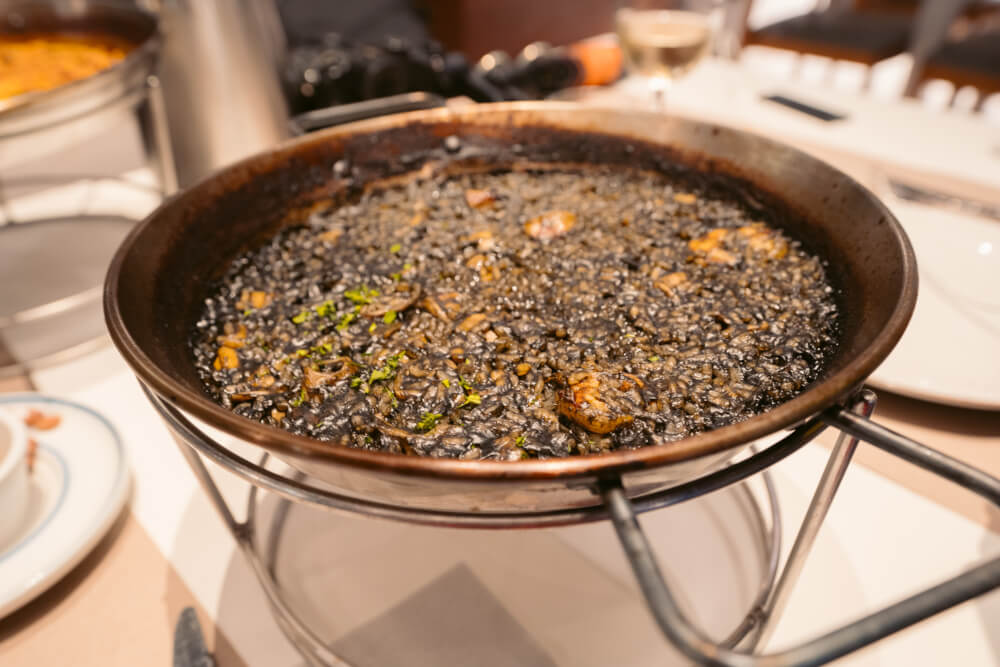 ---
---
18. Visit the Central Market
And finally, if it's a bit of food shopping you're after, you can't pass up a visit to Tarragona's Central Market. Located in the center of the city, this moderniste market is the perfect place to get acquainted with the fresh produce and products of Tarragona, while of course indulging your inner foodie.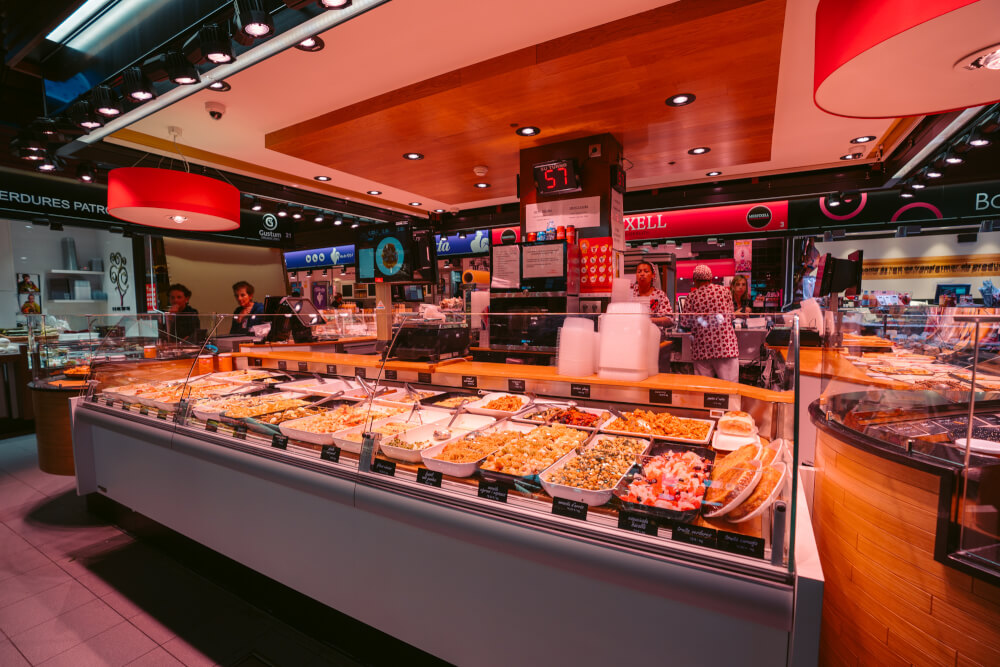 ---
---
Any more questions about things to do in Tarragona?
I hope you enjoyed this roundup of all the best things to do in Tarragona! If you have any more questions or suggestions, be sure to let me know in the comments. Have a great trip!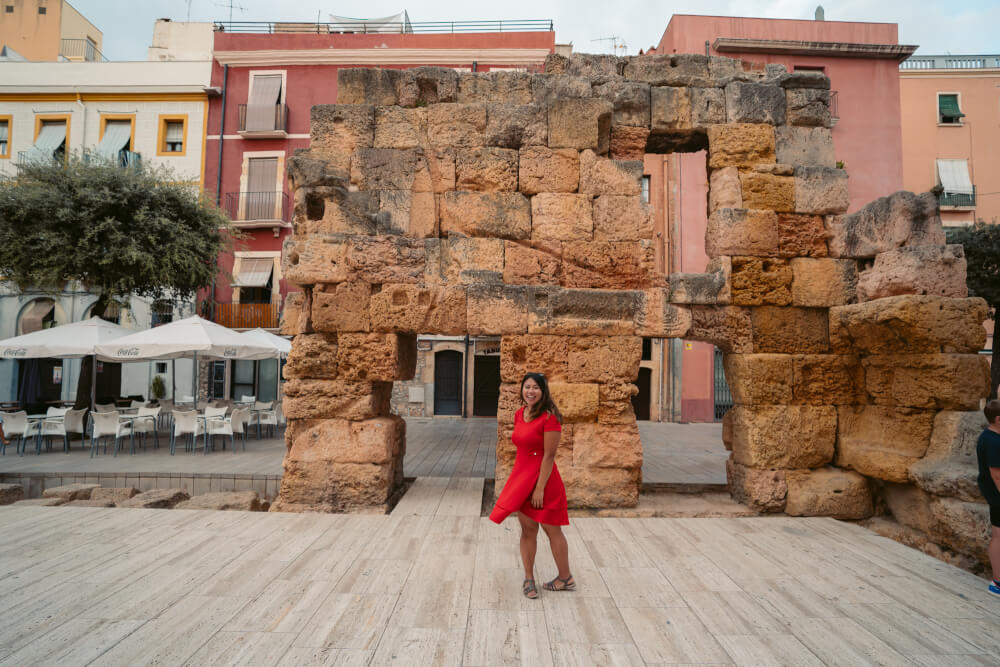 ---
---
---
Watch my most popular YouTube video this week:
---