*FYI - this post may contain affiliate links, which means we earn a commission at no extra cost to you if you purchase from them. Also, as an Amazon Associate I earn from qualifying purchases. Check out our Privacy Policy and Disclosure. for more info.
Upon any visit to the Channel Island of Jersey, most visitors will find themselves at some point in St Helier, wondering what there is to do in the island's bite-sized capital.
Home to a ferry terminal, a handful of museums and (above all else) many a hotel for eager sunseekers, St Helier is a pretty little town offering plenty of activities, whether you're in town for just the day, or basing yourselves there during a longer Jersey stay as we did.
So what is there to do in St Helier, Jersey? From tidal castles to charming local markets, read on for some of my top picks.
1. Stop by Elizabeth Castle
Hands down, the best thing to do in St Helier for history buffs is a visit to Elizabeth Castle, accessible by foot in low tide or via quirky amphibious ferry.
This castle has long been a fortress to defend the island against possible French invasion, first built during the reign of King Henry VIII. Located on a tidal island called Saint Helier's Rock, the causeway connecting it to the rest of the island is covered by water when the tide is high.
Today it's home to a museum all about the history of the castle and island. Jersey Heritage manages the castle, organising events throughout the year, along with the interactive exhibits that provide a deeper understanding of the castle's history.
The best part? They even do themed tours with actors depicting historical figures who show you around, like Charles II (who also appears in the castle's historical explainer videos). And let me tell you: they commit to the role. I was ready to hand out Oscars.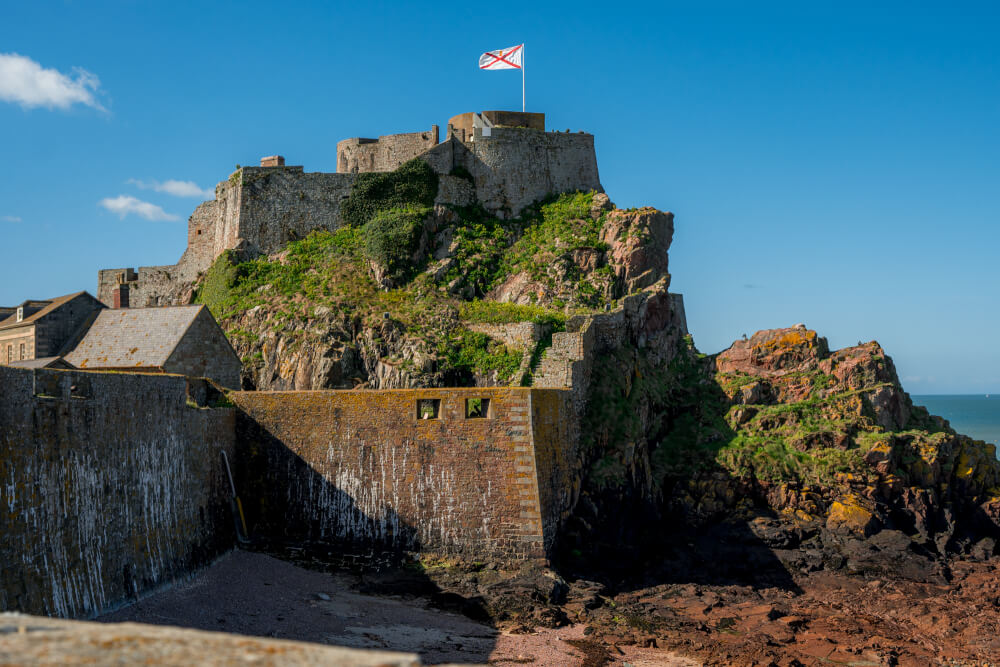 2. Visit the Maritime Museum & Occupation Tapestry Gallery
One of my personal favourite things I did in Jersey was visit the Maritime Museum, specifically the Occupation Tapestry Gallery, which is home to a large-scale textile work that tells the story of Jersey's occupation by German forces during World War II.
The Maritime Museum component of the institution focuses on Jersey's rich maritime history, which is deeply intertwined with the sea due to its island location. The Occupation Tapestry Gallery is a significant part of the museum and houses the Jersey Occupation Tapestry, one of the island's most notable historical artworks.
This awesome tapestry was created by islanders to commemorate the 50th anniversary of the liberation of Jersey in 1995. It consists of numerous panels, each depicting different scenes and aspects of life during the occupation.
Despite the small size of the room, I was easily in here for an hour – and that was me rushing! Each tapestry is unique and packed with detail that is beautifully explained through interactive screens in front of each panel.
There's also a series of short films running in a small theatre off to the side, which offer more insight into different aspects of the tapestry.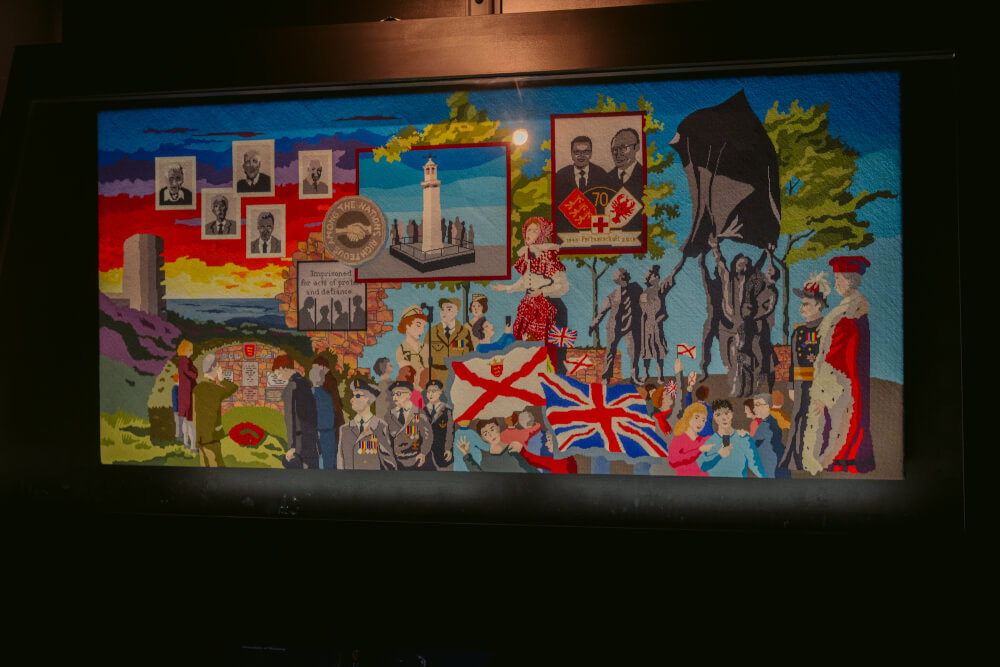 Of course, the adjacent Maritime Museum is also worth a browse (though it's definitely more of a kids' museum). Inside, you'll find interactive exhibits, displays of historical artefacts, and multimedia presentations to engage visitors and help them understand the island's maritime history.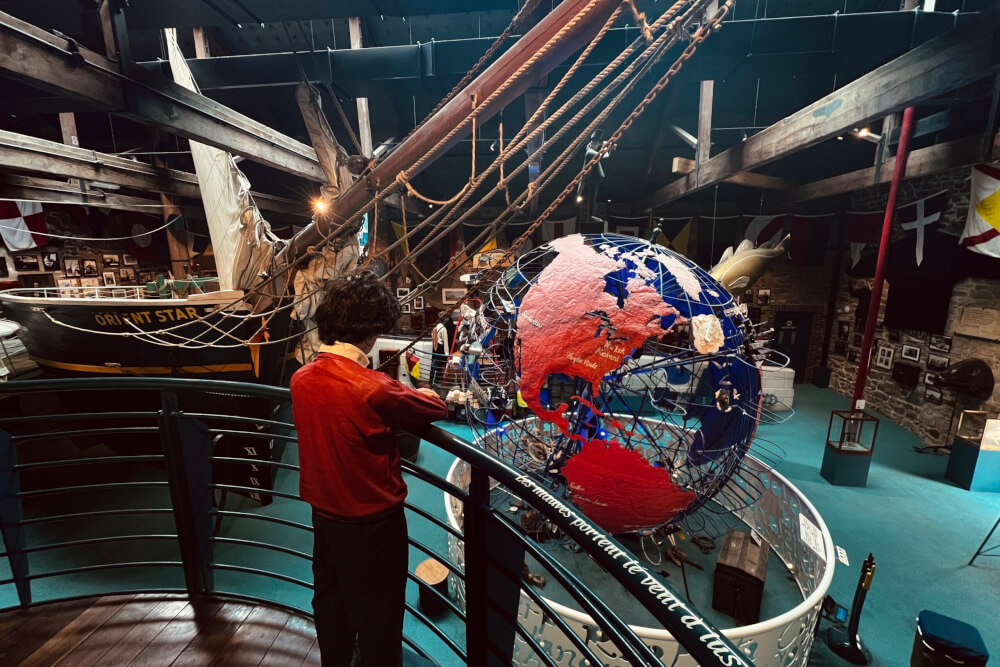 3. Visit Liberation Square
Of course, no visit to St Helier is complete without a stop in its central square, aptly named Liberation Square as it was opened to coincide with the 50th anniversary of Jersey's liberation from German forces during WWII.
The centrepiece of this square is the Jersey Liberation Sculpture, a statue which depicts a group of island locals releasing a flag into the air. The island of Jersey was occupied by the Germans for five years during the war, so their liberation at the hands of the British Army in 1945 was obviously a huge cause for celebration.
Today, Liberation Square is also home to a number of Jersey's top tour operators (who have stalls eager to sell you tickets for day tours) and a handful of nice cafes/bars.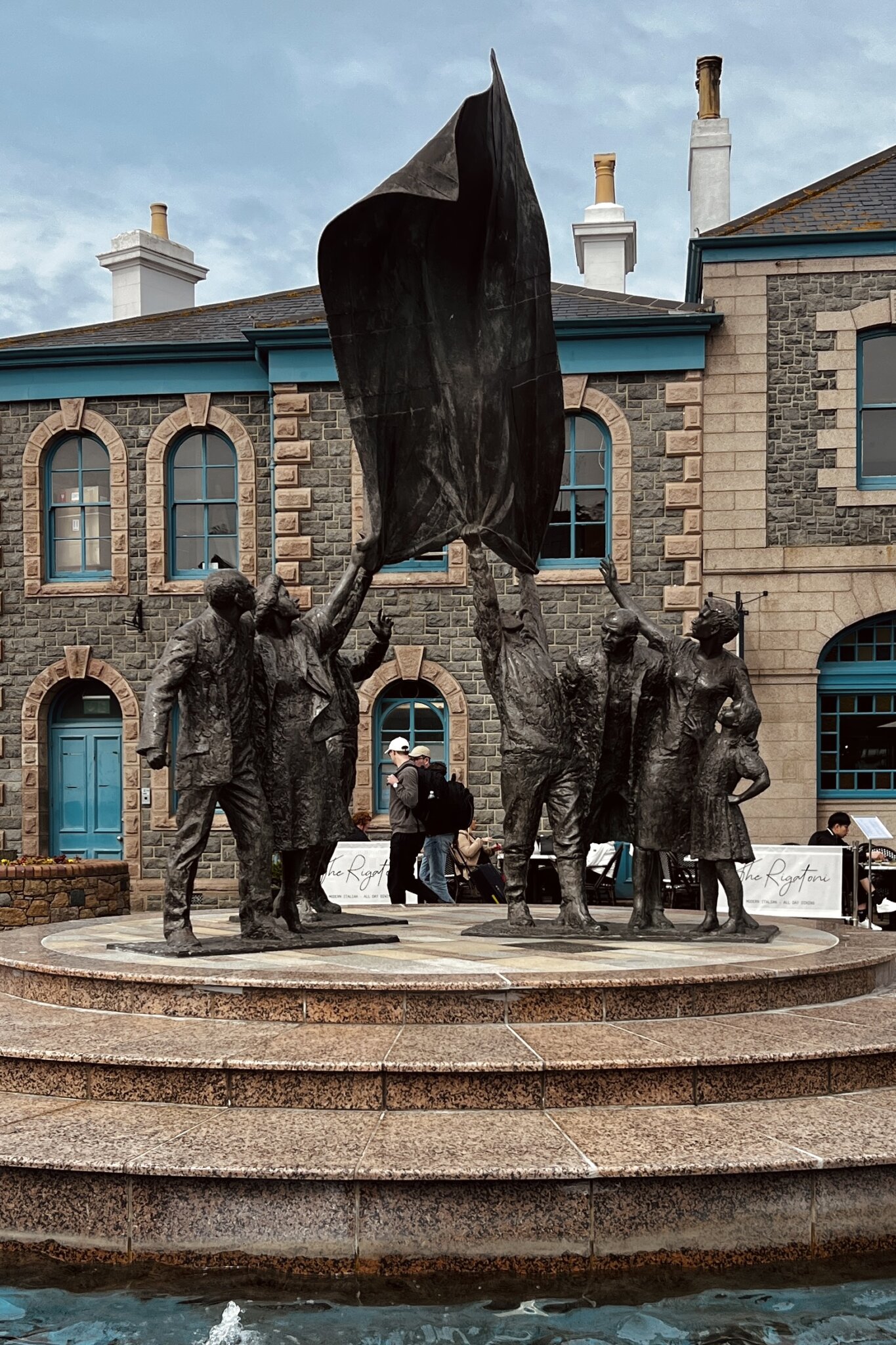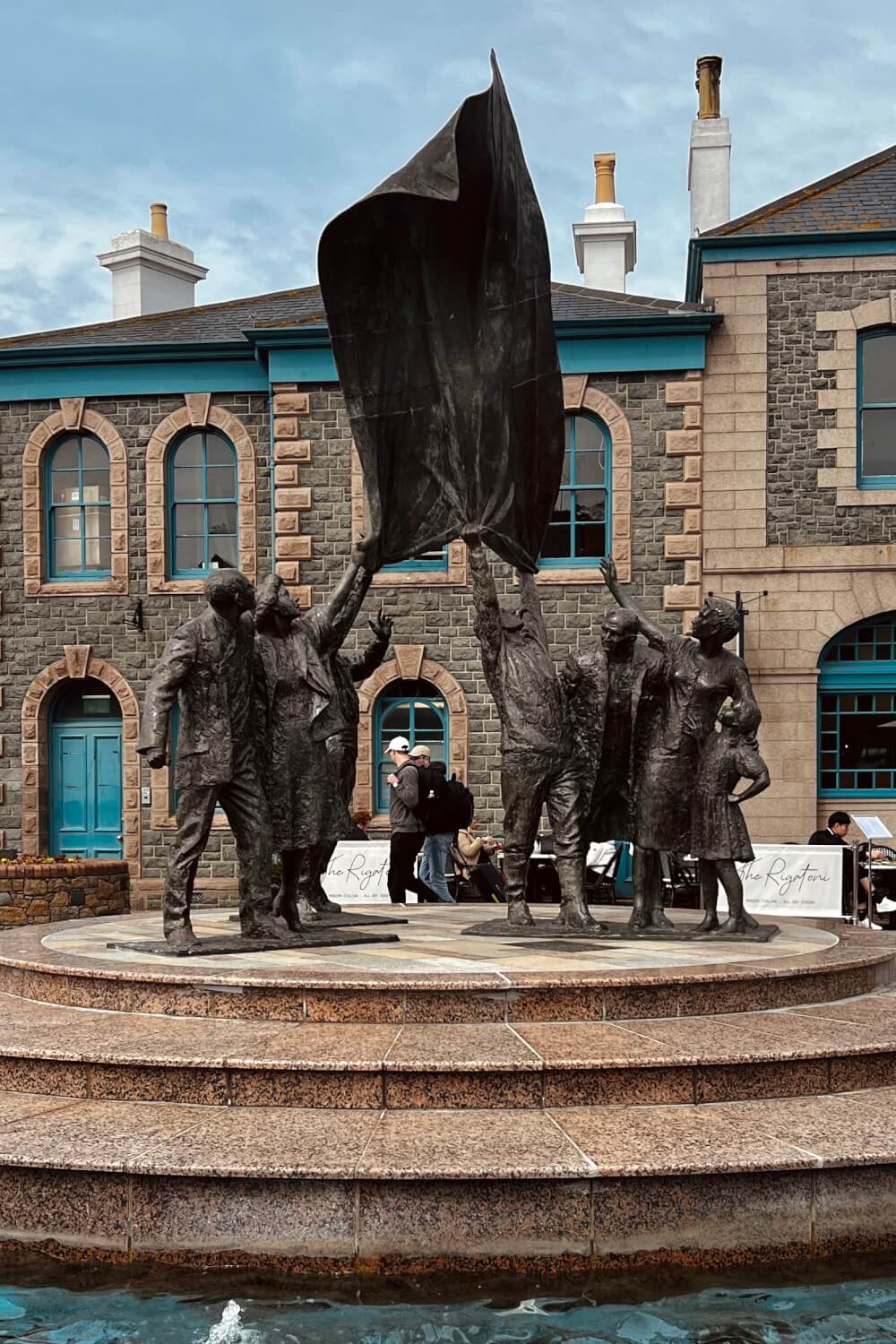 4. See the Jersey Museum, Art Gallery and Victorian House
Looking for educational things to do in St Helier? Definitely add the Jersey Museum and Art Gallery to your list.
This museum is split into a few distinct areas: the Jersey Museum (which tells the island's story from 250,000 years ago to present day), the Victorian House (which showcases a Victorian family's abandoned home, as it looked when they fled to France and left their belongings up for auction), and additional exhibitions/galleries showcasing art.
This museum is a must-visit for history buffs. Knowing very little about Jersey prior to my visit, I found the displays in the Jersey Story section to be organized in a really interesting way, helpfully providing context to the island through chronological 'eras'.
The Victorian House (which is atmospherically gas-lit) was very cool to see as well, providing insight into how a well-to-do family may have lived back in the day… although it's the story of the house's sudden abandon that I found most intriguing. I won't spoil it here, but definitely put this museum on your Jersey bucket list!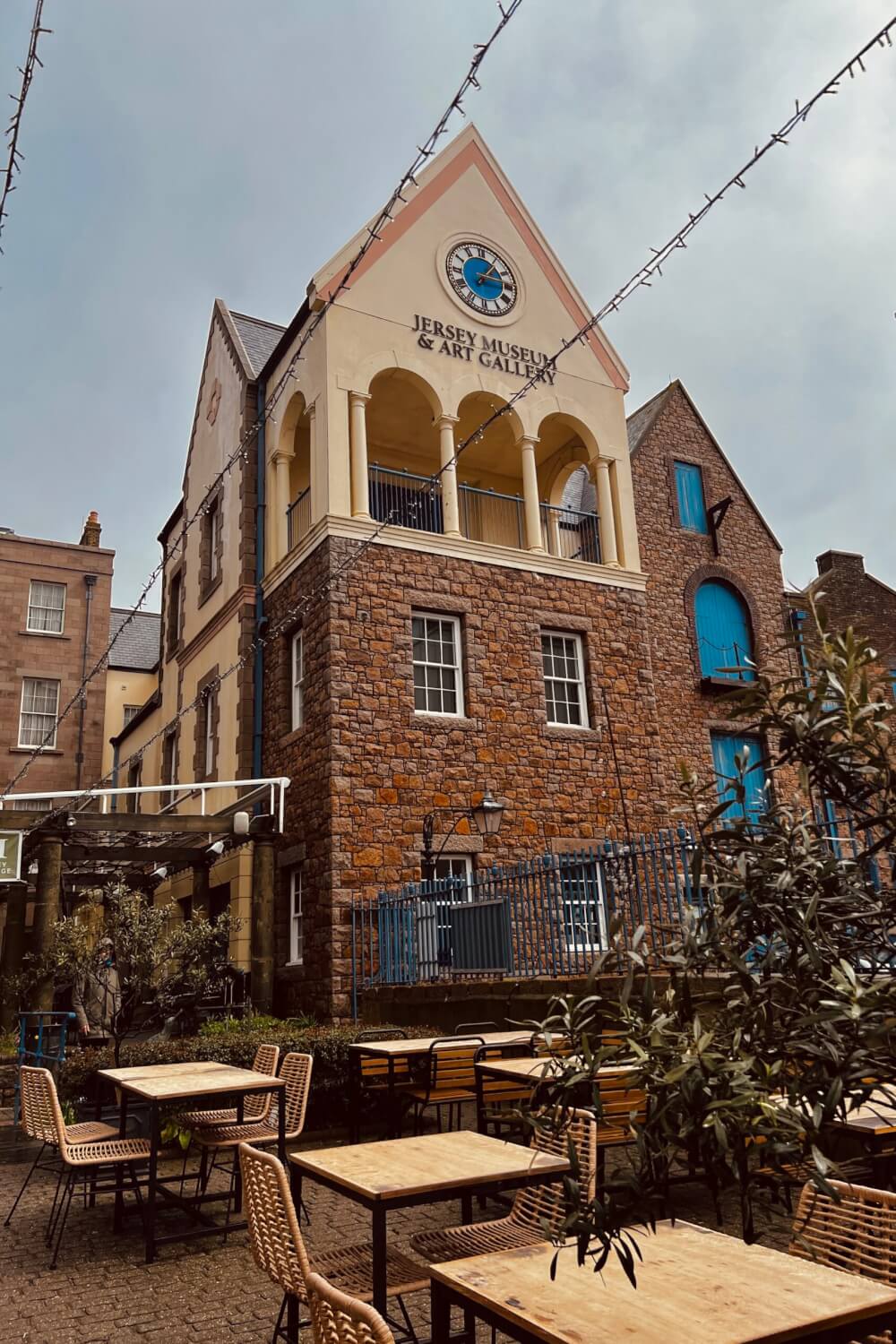 5. Enjoy some shopping at Liberty Wharf Shopping Centre
Liberty Wharf is a contemporary shopping centre in St Helier, housed in what was once an abattoir, although it's much nicer now than its pre-conversion self.
One of the main attractions of Liberty Wharf is its location along St. Helier's waterfront, offering scenic views of the marina and the sea. The shopping centre features a diverse range of shops, boutiques, and stores, along with some cute little cafés and restaurants.
The outdoor seating areas and promenade, in particular, provide a pleasant place to relax and enjoy the surroundings. Make sure you also keep an eye out for the pretty bunting hanging from the ceiling!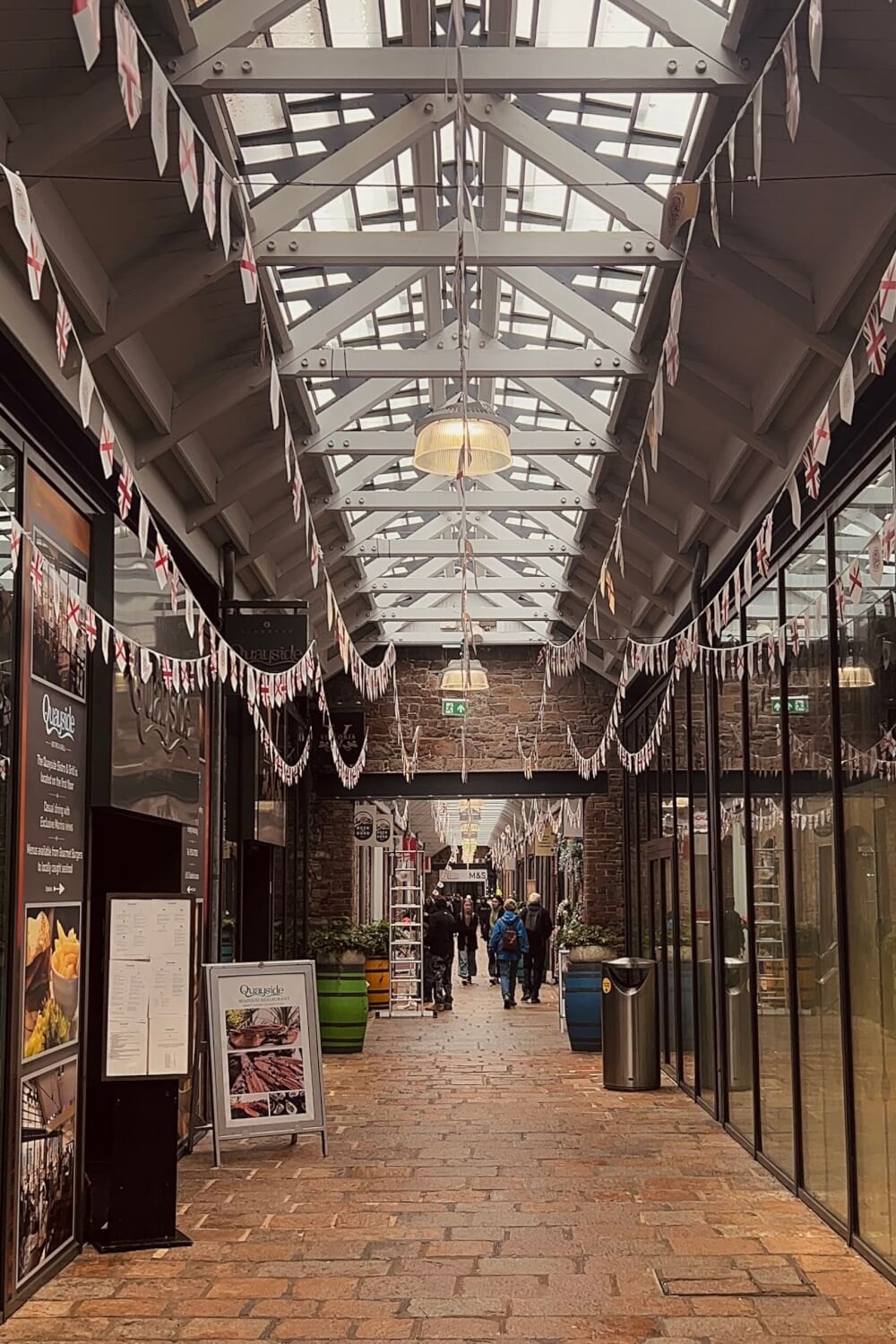 6. Admire the Rivoli Jewellers Revolving Clock
In the heart of St Helier, you'll find another one of the city's quirkier attractions: the Rivoli Jewellers Revolving Clock.
At the top of the hour every day from 10am to 6pm, this clock is the setting for a peculiar changing over ceremony, where it'll rotate to reveal another Jersey-themed scene representing one of the island's main industries: tourism, agriculture, and finance.
It's a fairly small ritual that goes unnoticed by most passerbyers, but still a fun one to observe if you happen to be in the area.
NOTE: I did notice that the scene seemed to change more frequently than the top of the hour, but that's what all the official sources say, so I'd time my visit for then just in case.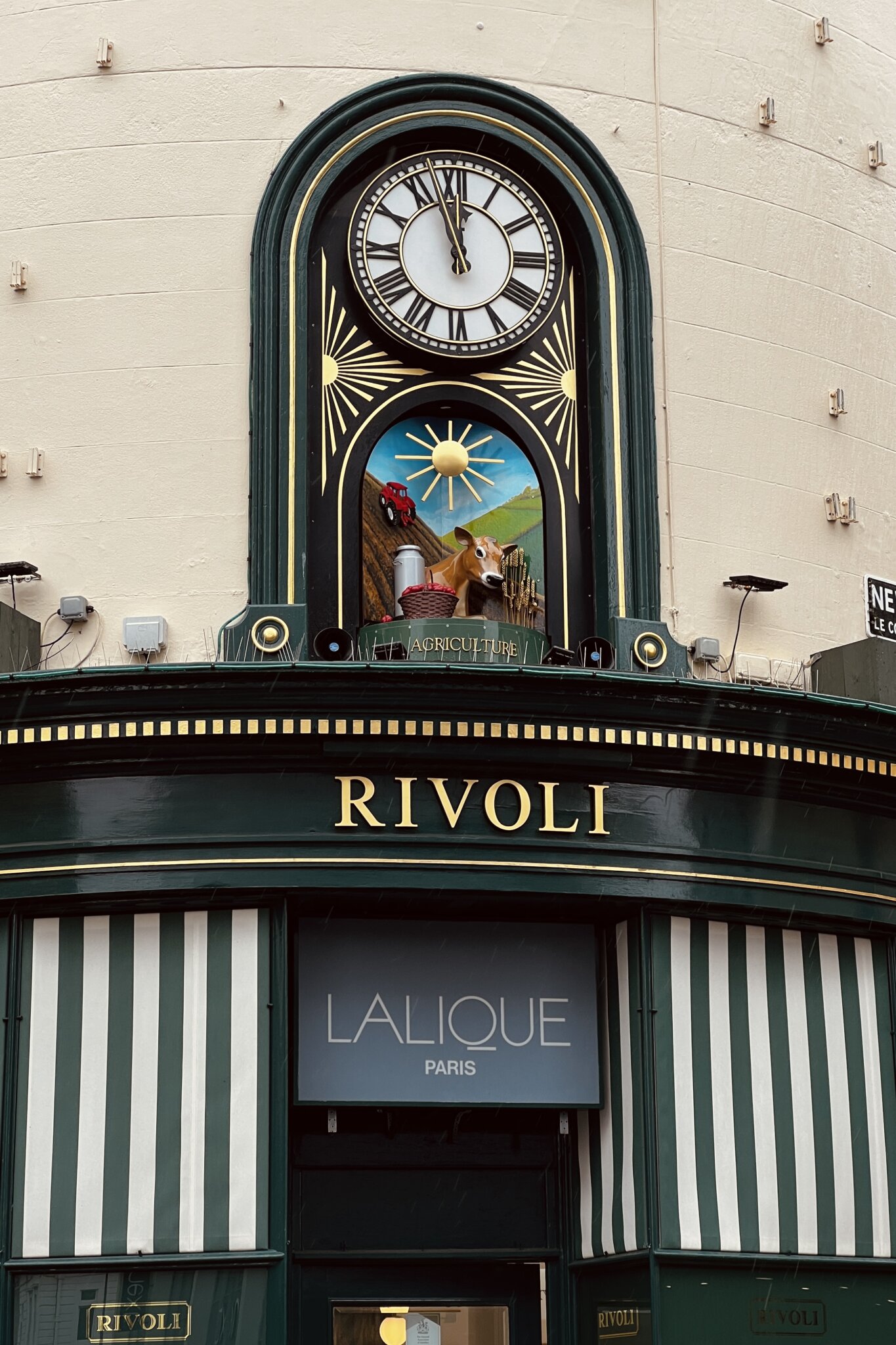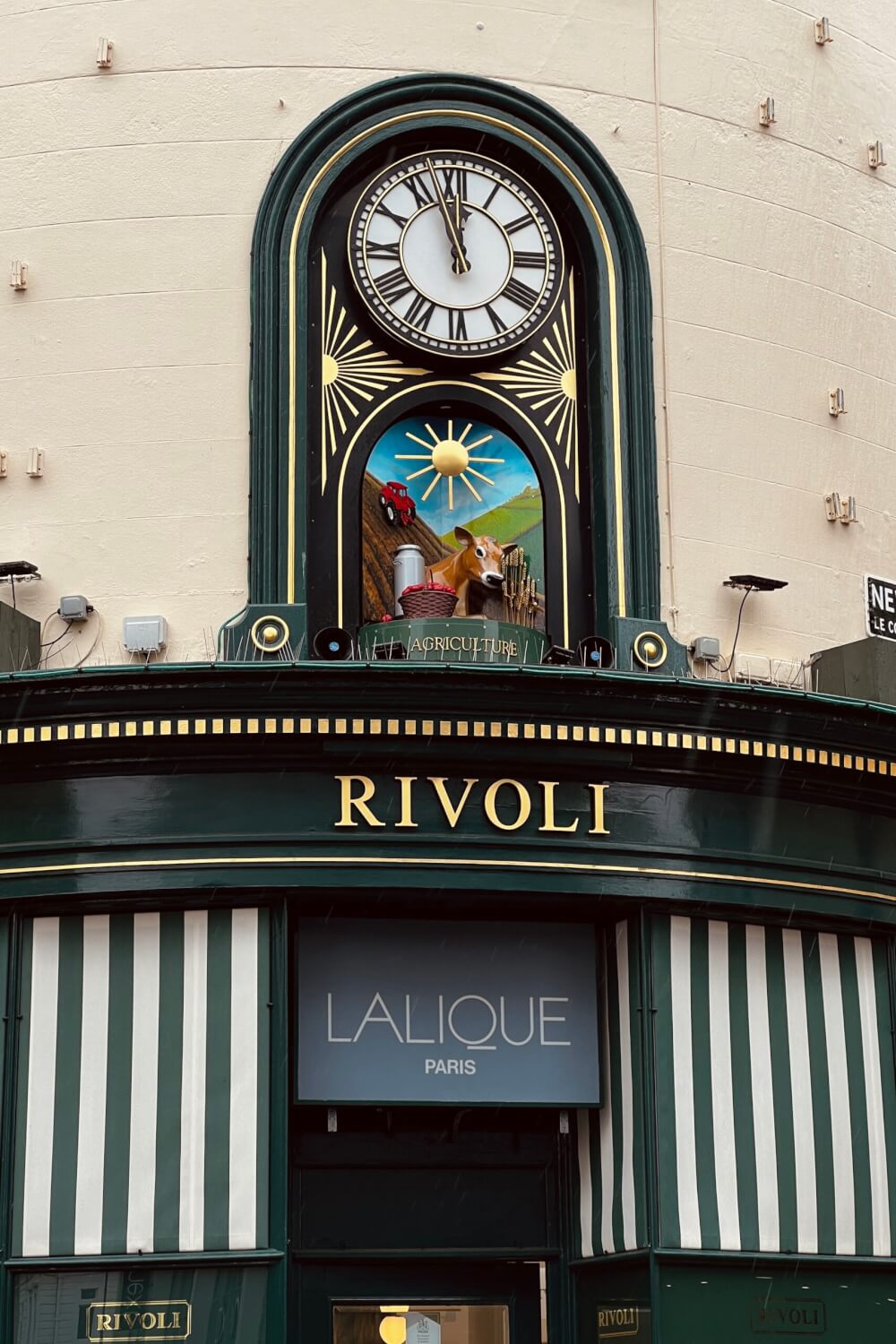 7. Stop by St Helier Central Market
For one of the prettiest places to visit in St Helier, make a beeline for the city's gorgeous central market.
This market has been around since 1881 and it's an integral part of Jersey's heritage. There are over 50 independent traders here, selling everything from fresh produce to gifts, flowers and antiques.
There are also quite a few food stalls, cafés, restaurants and bakeries selling plenty of delicious treats, so it's a great spot for lunch!
The setting is beautiful as well, with its original cast-iron columns and a gorgeous fifteen-foot-high fountain in the centre. The building is Grade One Listed since it's an excellent example of Victorian architecture, so be sure to stop in for a snoopy peek.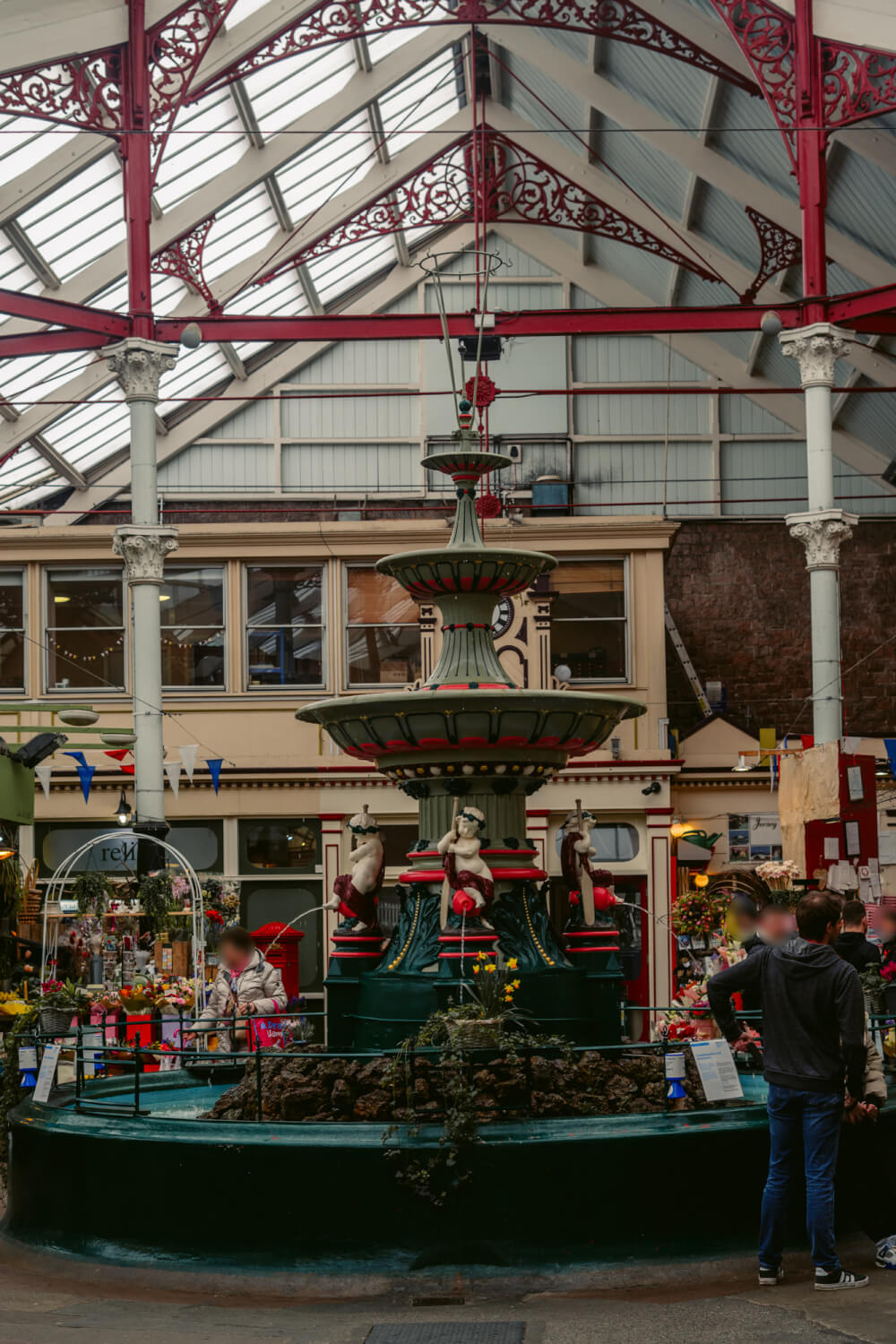 8. And pop into Beresford Market
While not as elaborate as the nearby Central Market, another nice market to visit in St Helier is Beresford Market, home mainly to a select few seafood/food stalls.
This was the site of the original fish market, located just a few yards away from the main produce market. It was originally constructed in 1841 and is still the place to get fresh seafood in St Helier. It's also the location of a very nice French restaurant, along with the other sit-down seafood places.
I did spot another cute boutique in here selling unique souvenirs, so it's definitely worth a browse even if you're not in the mood to buy a bucket of oysters.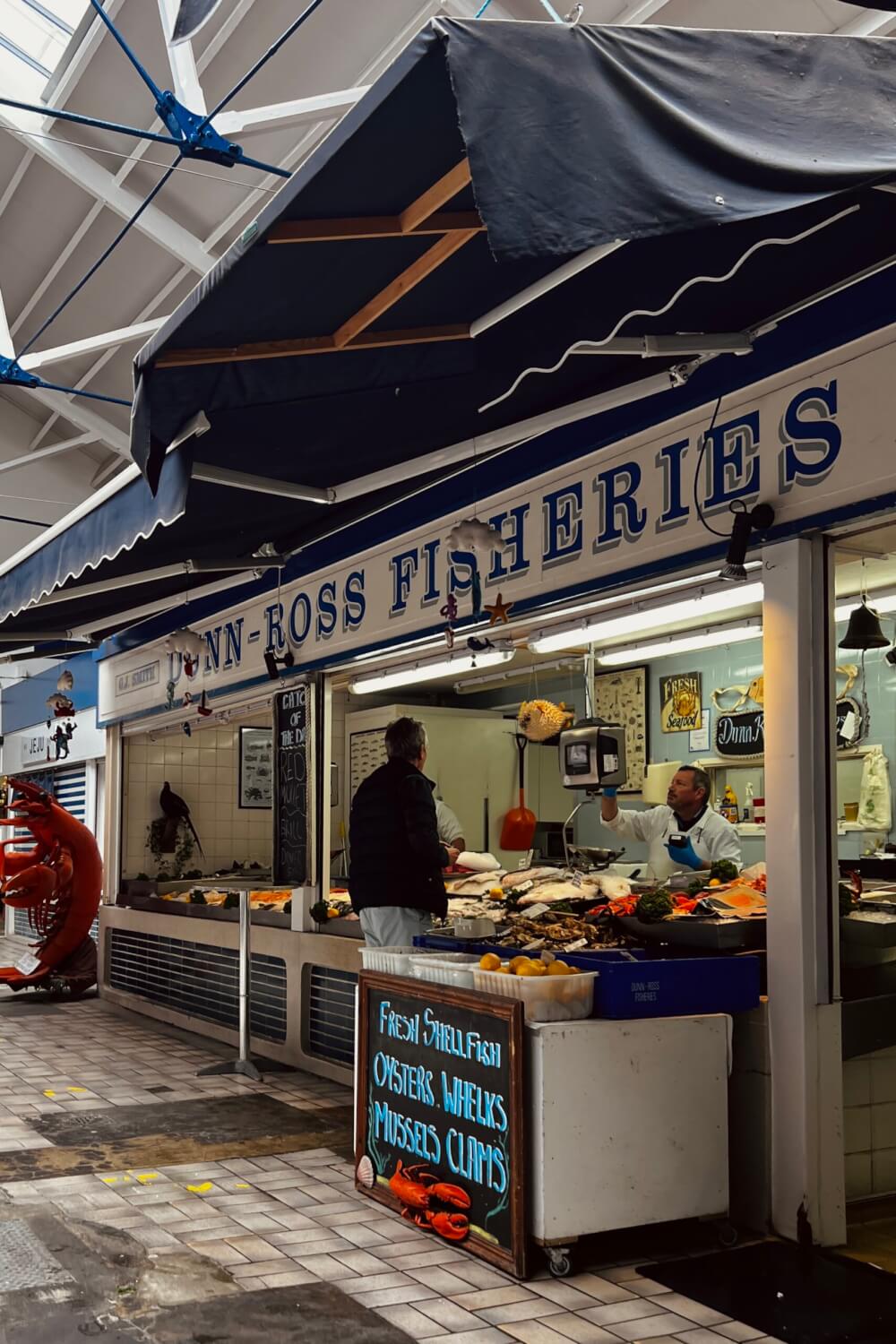 9. Shop at De Gruchy
Another beautiful shopping destination in St Helier can be found at De Gruchy, a luxury department store that's known for housing big brands like Gucci, Michael Kors and Vivienne Westwood.
Originally founded in 1810 by Abraham de Gruchy, De Gruchy is one of the oldest department stores in the whole United Kingdom, and the largest in all the Channel Islands. Located inside a huge landmark building on the main street, De Gruchy contains 76,000 square feet of fashion, beauty and homewares.
Of course, no epic shopping trip should be undertaken without fuel, so there's also a brasserie and a café within De Gruchy where you can get some refreshment in between shopping up a storm!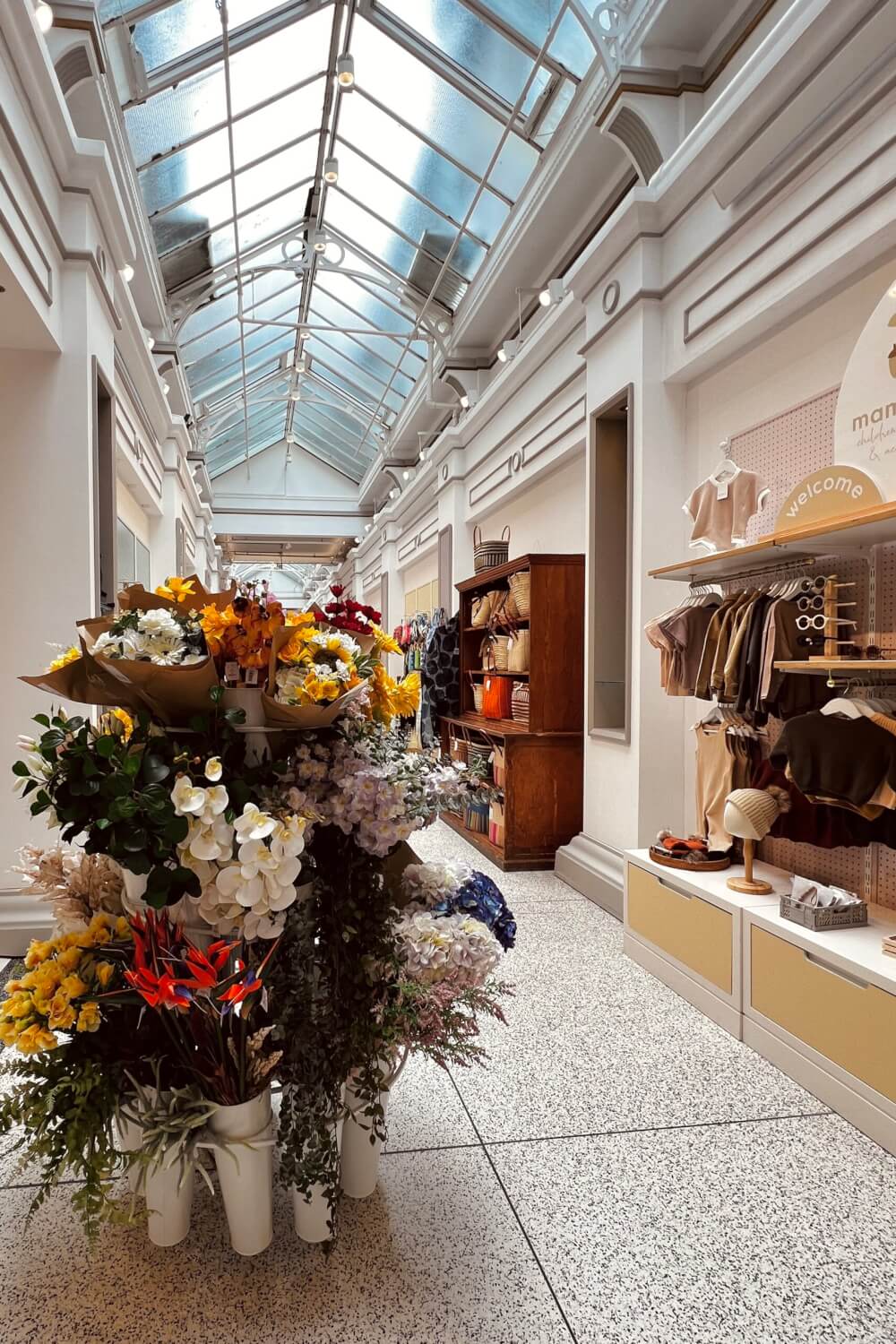 10. Visit the Georgian House Museum
Another fun St Helier activity for history buffs is a visit to the Georgian House Museum at 6 New Street.
This museum provides a glimpse into life during the late 18th century in Jersey, with the house showcasing typical Georgian architectural features, including elegant symmetry, sash windows, and decorative elements.
The rooms here are furnished and decorated to resemble how they would have looked in the late 18th century, so it's a bit like a stepping back in time for your own special period drama.
For especially keen visitors, the museum provides a guided tour experience, allowing guests to learn about the history of the house, its former residents, and the Georgian era on Jersey.
Sadly, this museum wasn't open during our visit in April, but please go and let me know how it is!
11. Do some people watching in Royal Square
Another one of my favourite spots in St Helier was Royal Square, a spot not often mentioned in guidebooks but one definitely worth seeing, especially for history buffs and lovers of beautiful architecture.
Lined with restaurants and picturesque buildings, Royal Square is where Charles II was once rebelliously proclaimed king 11 years before he actually took over the throne. At the center of the square, you'll find a statue of George II, which was erected in the 18th century and commemorates the British monarch's reign.
The square is surrounded by picturesque Georgian-style buildings, some of which house government offices and businesses. If you happen to visit Jersey during special events, such as Liberation Day celebrations or cultural festivals, Royal Square is often at the center of the festivities.
It's also a great place to people-watch, enjoy a coffee or meal, or simply soak in the atmosphere of this historic location.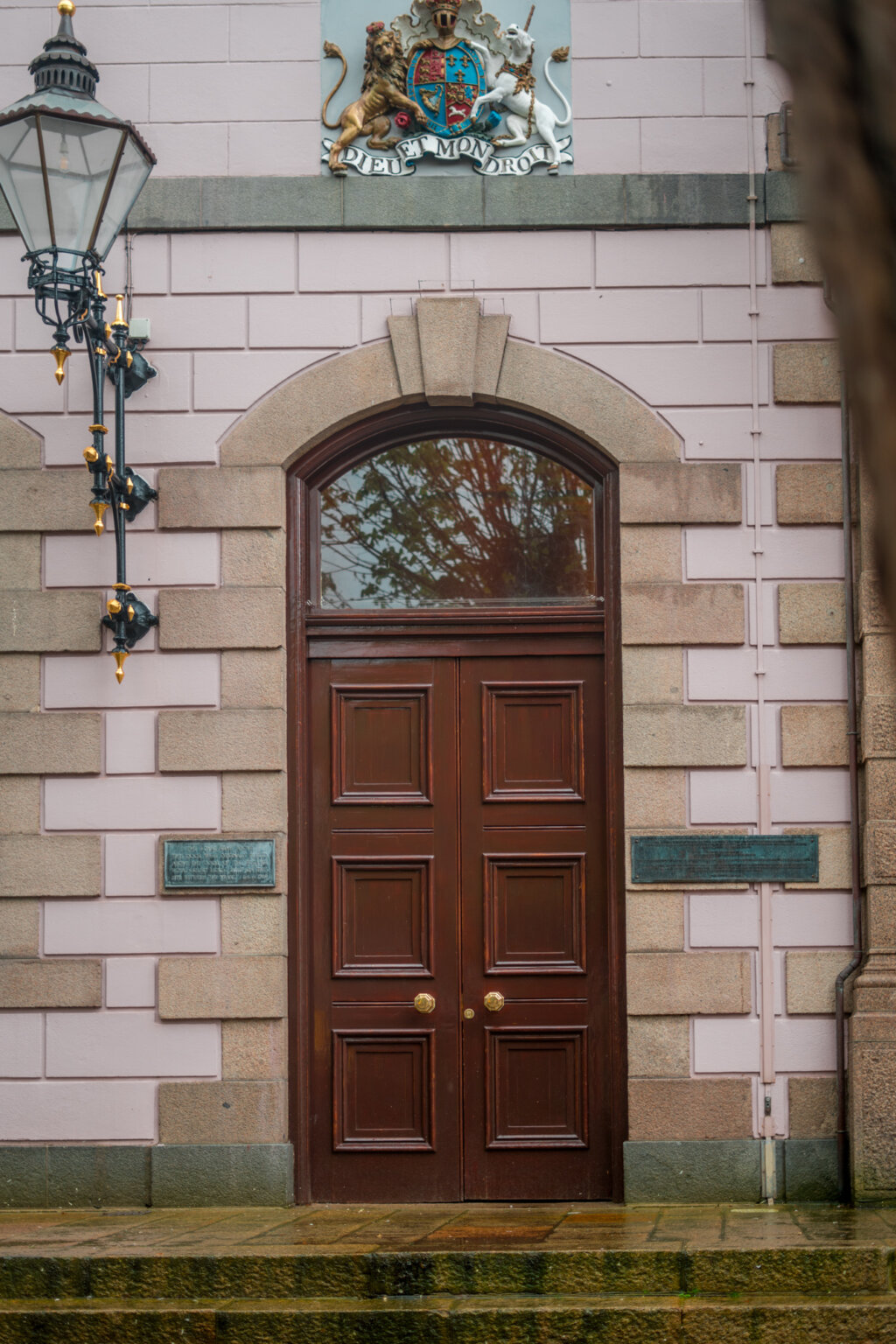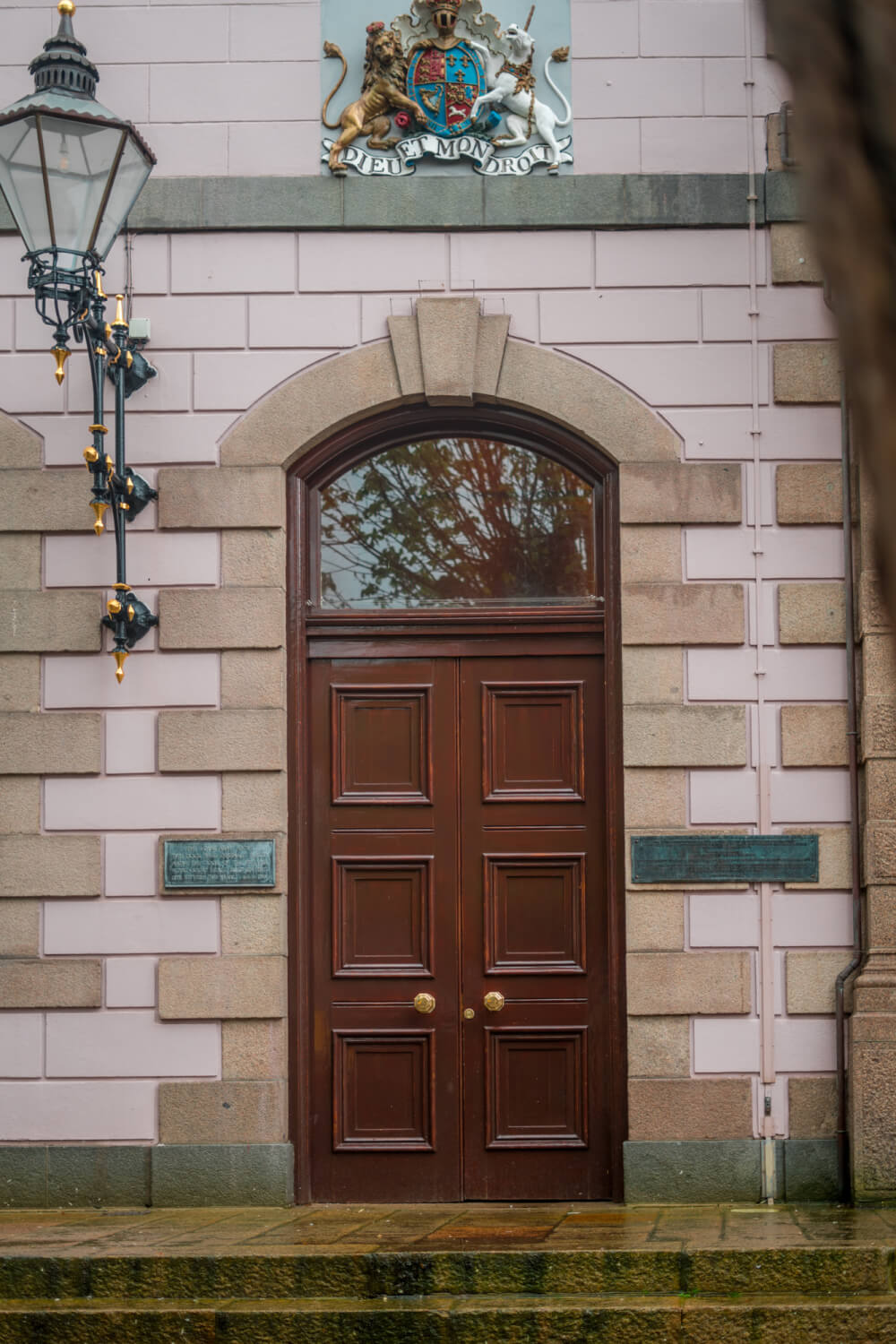 12. Venture over to Havre des Pas
Havre des Pas is a picturesque coastal area and beach located on the outskirts of St. Helier. It's a popular destination for both locals and visitors, offering a range of recreational activities and scenic views.
The main attraction here is the sandy beach, a great place to relax, sunbathe, and enjoy the coastal environment. This area is also known for its historic seawater bathing pool, often referred to as the "Havre des Pas Lido." This open-air pool is filled with seawater and has been a popular spot for swimming and relaxation for many years.
Havre des Pas features a seawall and promenade that stretches along the coast, providing a pleasant pathway for walking, jogging, or cycling. Of course, there's plenty of beautiful sea views to be enjoyed here as well, making it a favourite spot for leisurely strolls.
NOTE: If you find yourself in this area, make your way over to Henri's for a nice casual spot for a drink/takeaway. I went on a Friday (fish and chips day) and they were delicious. They also do hot meal specials other days of the week and I thought they were just the loveliest, most adorable people, so please go support them!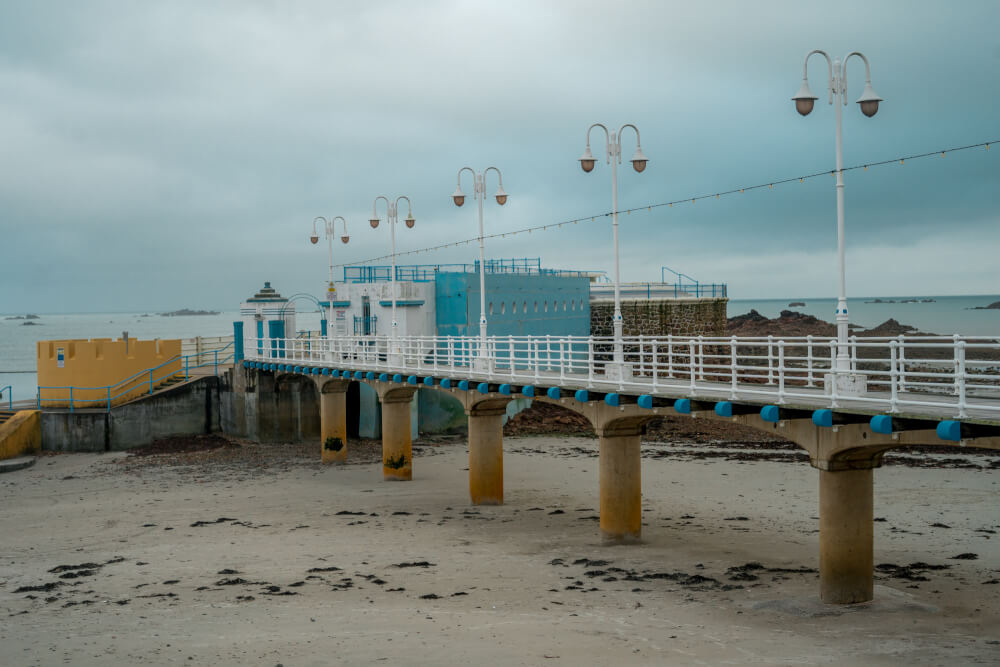 13. Indulge in the local food scene
And speaking of food, it's worth mentioning that one of the best things to do in St Helier is… eat!
There are tons of great restaurants to enjoy in the city, so exploring the local food scene is definitely one of the top must-dos. I've already mentioned a few places but here are some more to add to your list.
If you're looking for a quick and tasty lunch, Market Kitchen in the St Helier Central Market was amazing – they do tasty wraps, sandwiches and salad boxes. Bloomers Bakery is also an excellent choice here, and really affordable.
Or if you're looking for a sit-down Italian meal, the pizzas from Pizzeria Famosa were outstanding.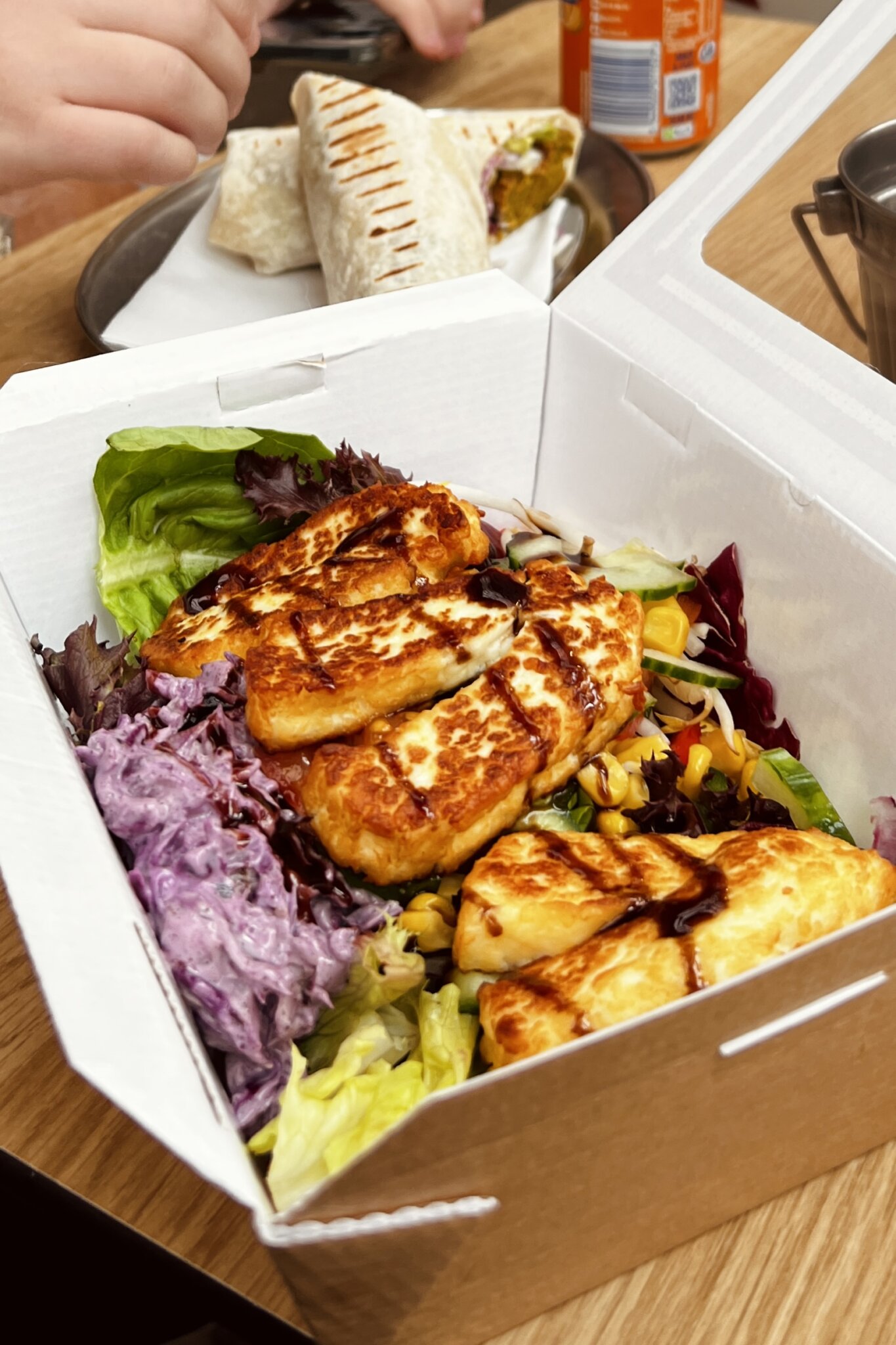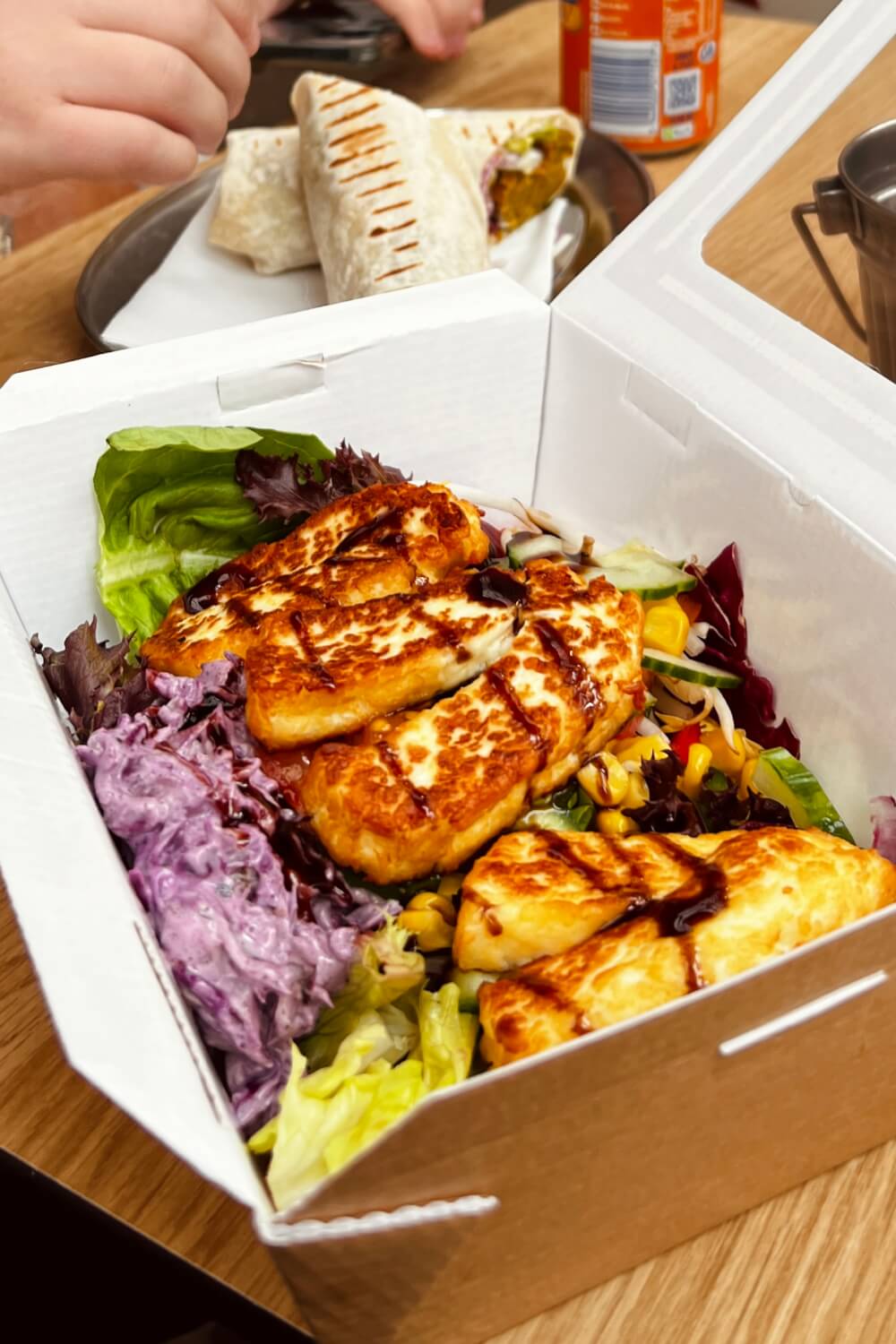 Did I miss any of your favourite things to do in Jersey?
Let me know in the comments! I hope you enjoyed this roundup of the best Jersey activities. Hope you have a great trip!
My Go-To Travel Favourites: