*FYI - this post may contain affiliate links, which means we earn a commission at no extra cost to you if you purchase from them. Also, as an Amazon Associate I earn from qualifying purchases. Check out our Privacy Policy and Disclosure. for more info.
Best known for its potatoes, dairy, and a US state by the same name, the Channel Island of Jersey is a destination often missed by overseas visitors.
… which is a shame, really, because it's full of historic destinations, glistening bays, and a host of unique attractions, all in one scenic, compact package.
For those who don't know, Jersey is the largest of the Channel Islands, an archipelago that sits partway between England and France. At only 5 miles long and 9 miles wide, it's a fairly small place, but nonetheless one with its own unique language (Jèrriais) and cultural identity.
I found myself here recently on a one week trip in the Channel Islands, fuelled by a curiosity about this piece of the British Isles I knew so little about. As a history nerd who loves inhaling salty sea air, it was the perfect escape.
So, to show you what to expect, in this post I'll be sharing some of the best things to do in Jersey, from activities I've personally tested myself, to other must-dos I didn't have time for. I hope you find it useful for your research!
1. Explore St Helier
For visitors arriving by ferry, their first impression of Jersey will likely be St Helier, the island's capital.
This is where we based ourselves during our time in Jersey, a solid decision I'd recommend if you're more into the history/culture side of Jersey rather than the 'laze on the beach like a walrus' side of Jersey.
There are many things to do in St Helier, but here are a few highlights to take note of:
Maritime Museum and Liberation Tapestry: For fascinating displays about the area's rich maritime history, and some truly spectacular wall tapestries.
Jersey Museum, Art Gallery and Victorian House: Historical exhibits about the history of Jersey Island along with beautiful artworks.
Liberation Square: A lovely city square home to a huge sculpture that commemorates the liberation of Jersey by the British Army from the German forces which occupied it for nearly five years during WWII.
St Helier Central Market: The city's (very pretty) central market & a great place for shopping.
Elizabeth Castle: A unique castle on a tidal island – more on this below!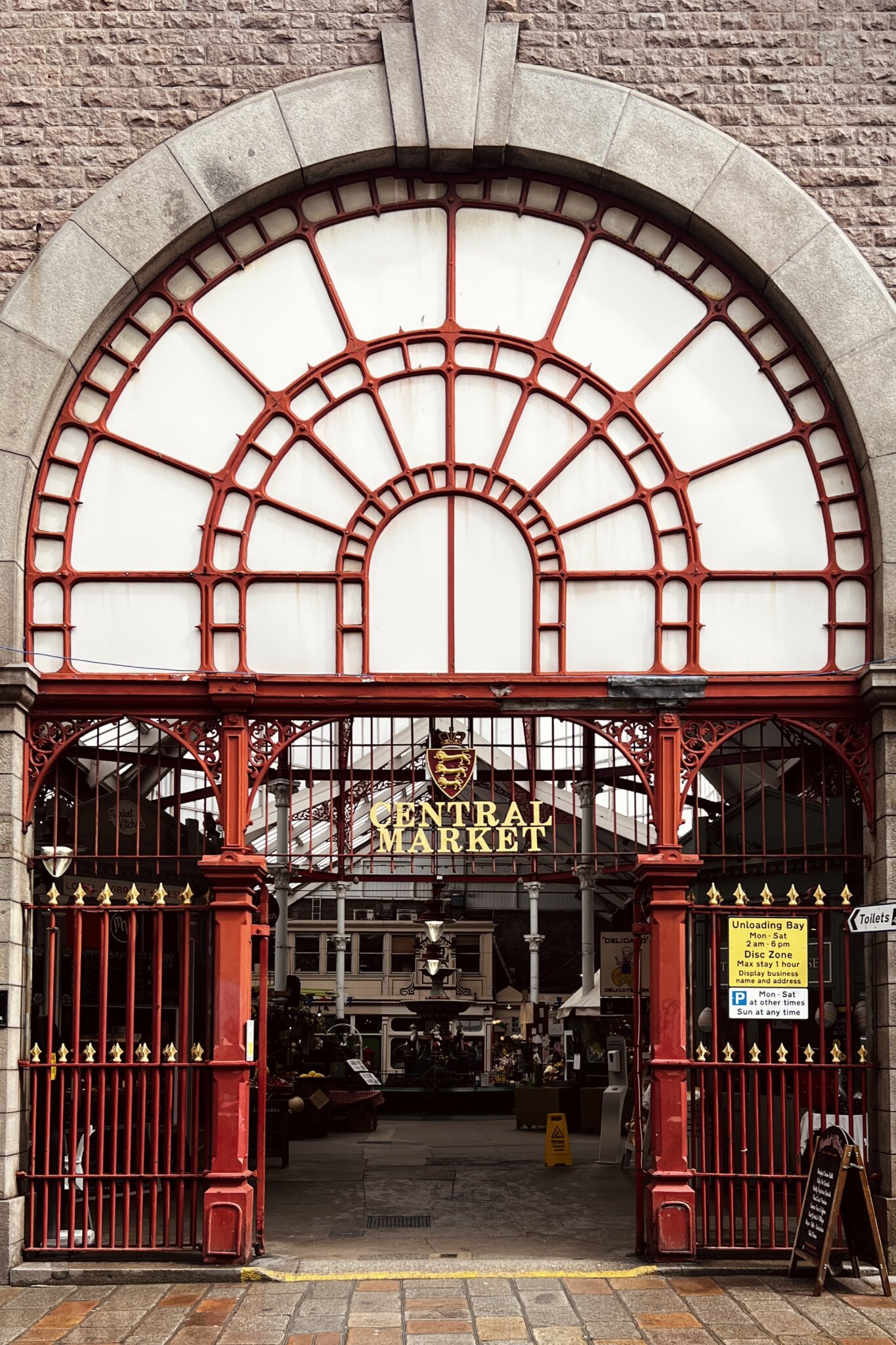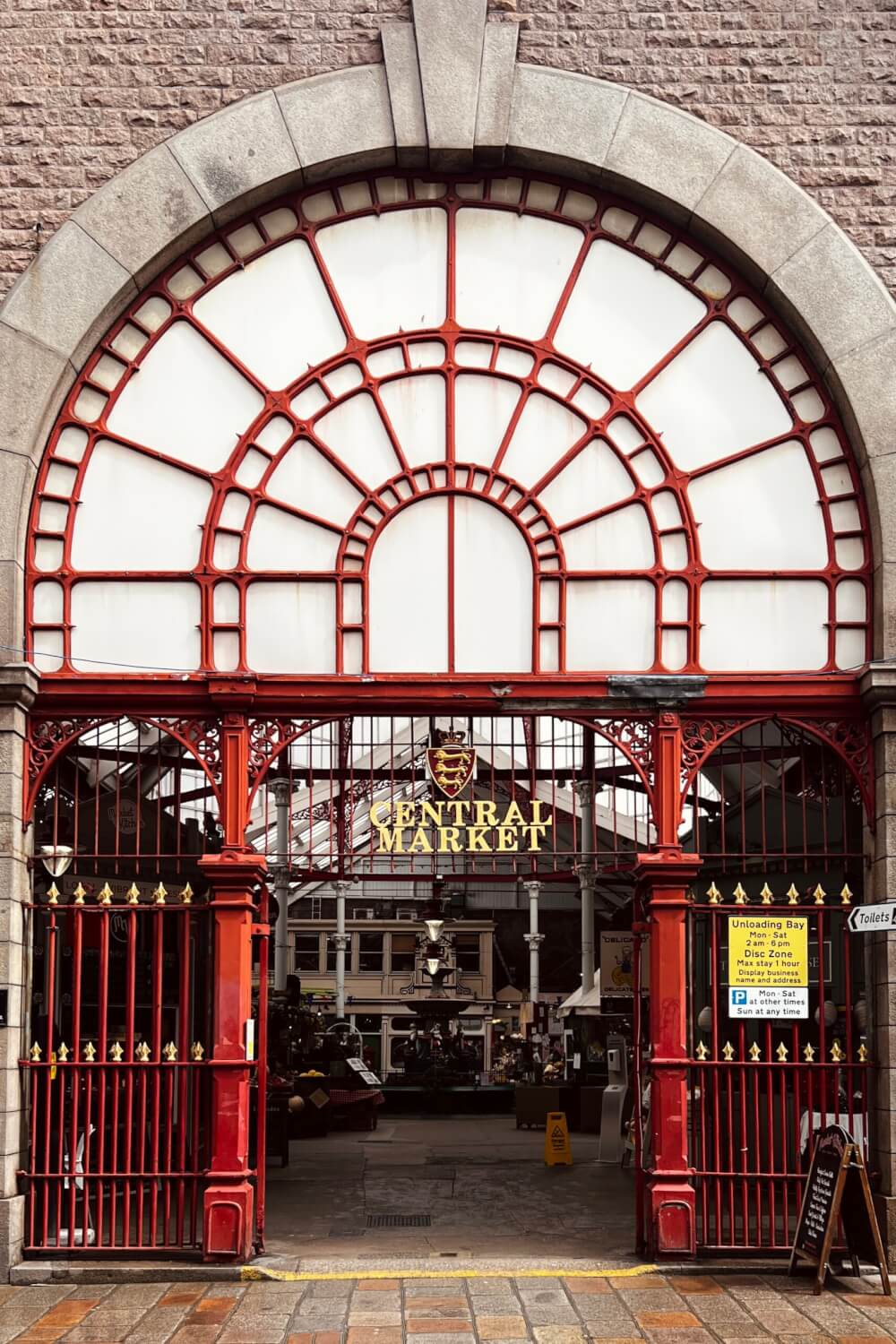 2. Visit Elizabeth Castle
While located in St Helier, no list of things to do in Jersey would be complete without a shoutout to Elizabeth Castle, so let's brag about her now.
Elizabeth Castle is a historic fortress located on a tidal island known as Saint Helier's Rock, situated in St. Aubin's Bay on the island of Jersey. It was originally built as a defence against French invasion during the reign of King Henry VIII.
Today the castle site is home to a museum that provides insight into its history, the military significance of the island, and the role it played during various conflicts and wars. You can explore other historical buildings as well, including the Governor's House, the barracks, and the bunkers.
NOTE: This unique tidal castle can only be accessed by foot in low tide – otherwise you'll need to catch a fun little amphibious ferry.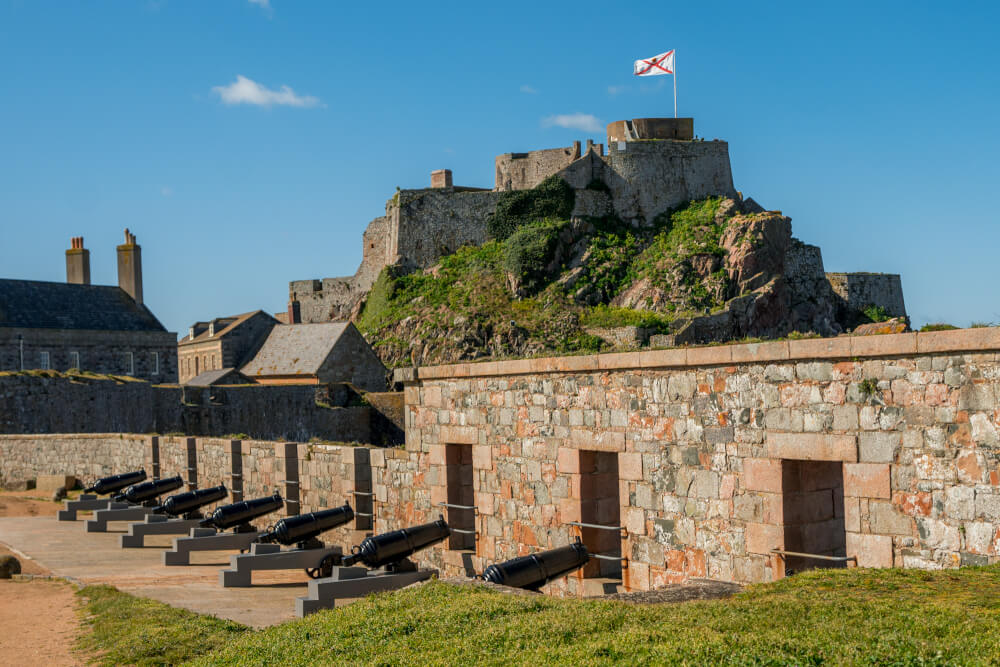 3. Hop on a tour around the island
One of the more challenging parts about our stay in Jersey was that we didn't have a car.
While the bus network around Jersey is fairly reliable, it's less ideal for getting to many attractions as a tourist in a short amount of time, so I'd highly recommend renting a car during your time in Jersey.
… Or you can do as we did, and book a bus tour that gives you an overview of the island!
We booked an all day island tour with this company and loved getting an overview of Jersey's most scenic sights. Luckily, the weather was on our side as well!
If you're short on time and want to see Jersey's top sights in just a day, I can highly recommend booking this tour. There's so much more to the island than just St Helier.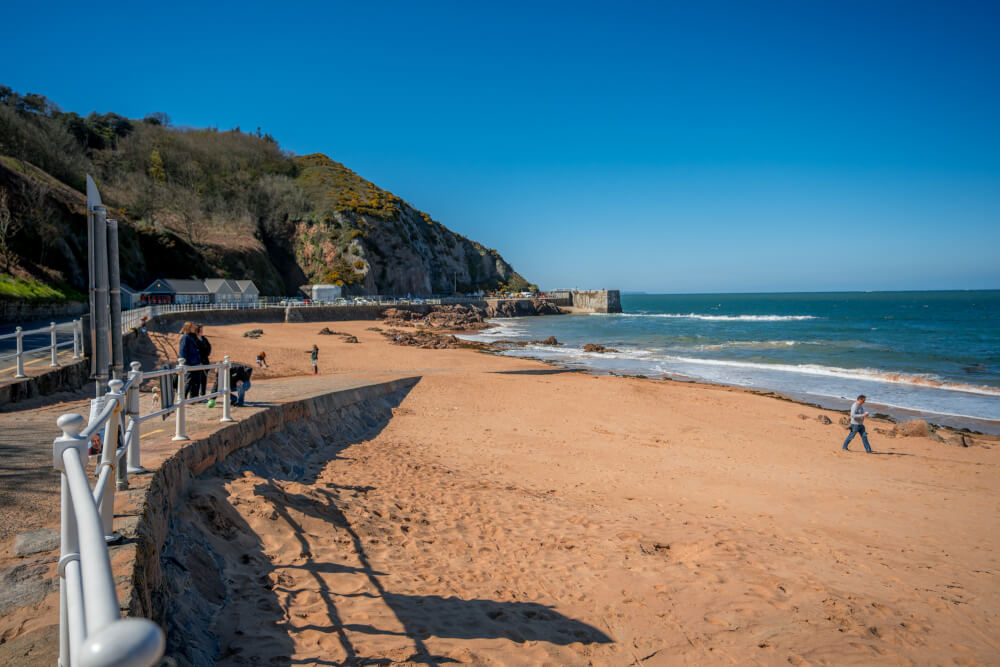 4. Stay overnight at a tidal fortress
For the adventurous, one of the most unique things to do in Jersey is sleeping in a defensive fortress two miles offshore... that's completely surrounded by the sea two times a day!
Seymour Tower is a historic coastal defence tower located on a tidal island off the southeastern coast of Jersey, known as L'Avarizon. It was originally constructed in the early 18th century (around 1782) as part of Jersey's coastal defence system and named after Sir George Seymour, the then-Governor of Jersey.
In recent years, Seymour Tower has undergone restoration efforts to preserve its historical significance and maintain its structural integrity. Today, the tower serves a unique purpose – it has been converted into self-catering holiday accommodation that visitors can rent for overnight stays.
Staying at Seymour Tower provides a one-of-a-kind experience, allowing guests to immerse themselves in history and enjoy the tranquil surroundings. Learn more about the property here.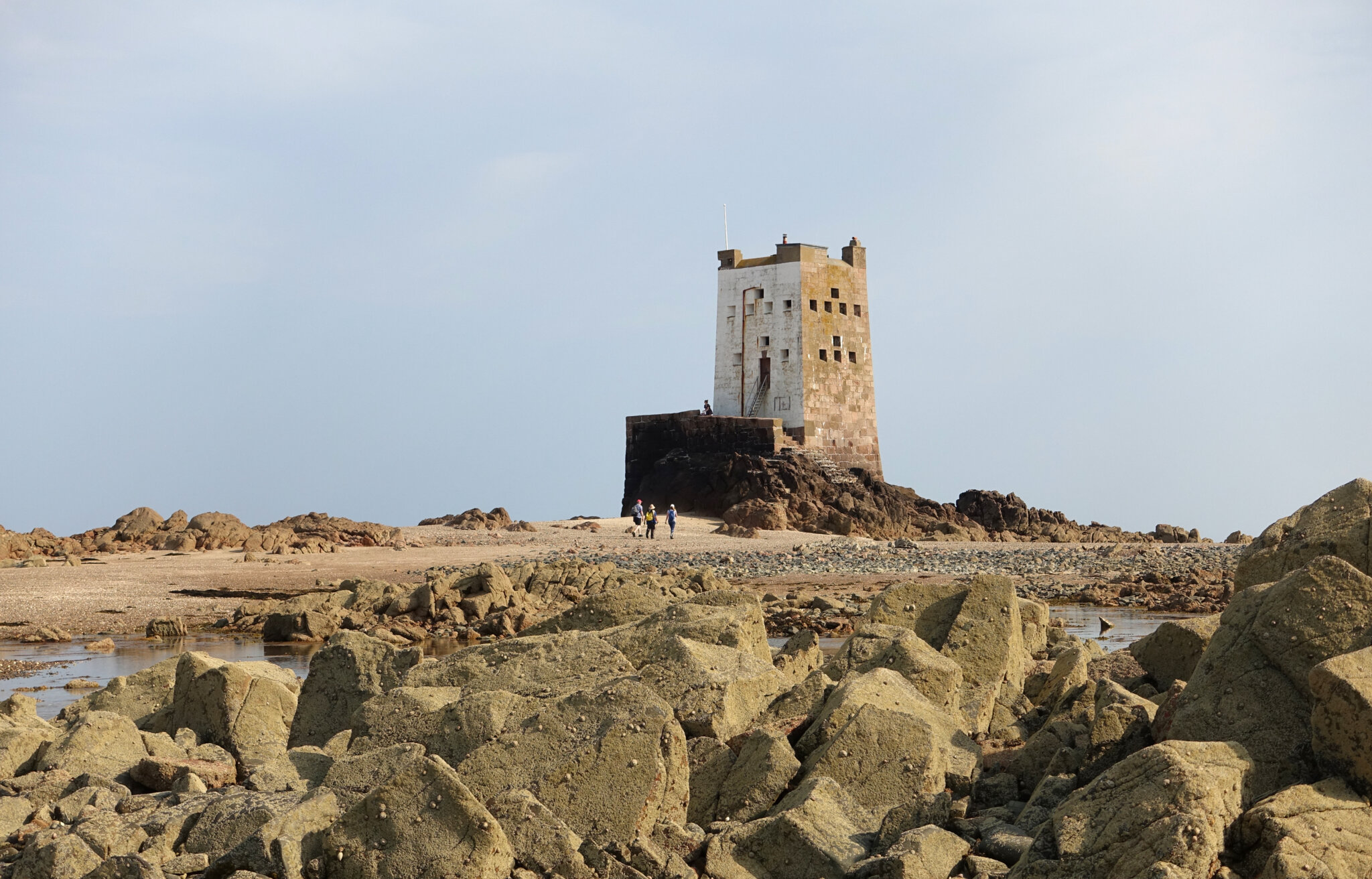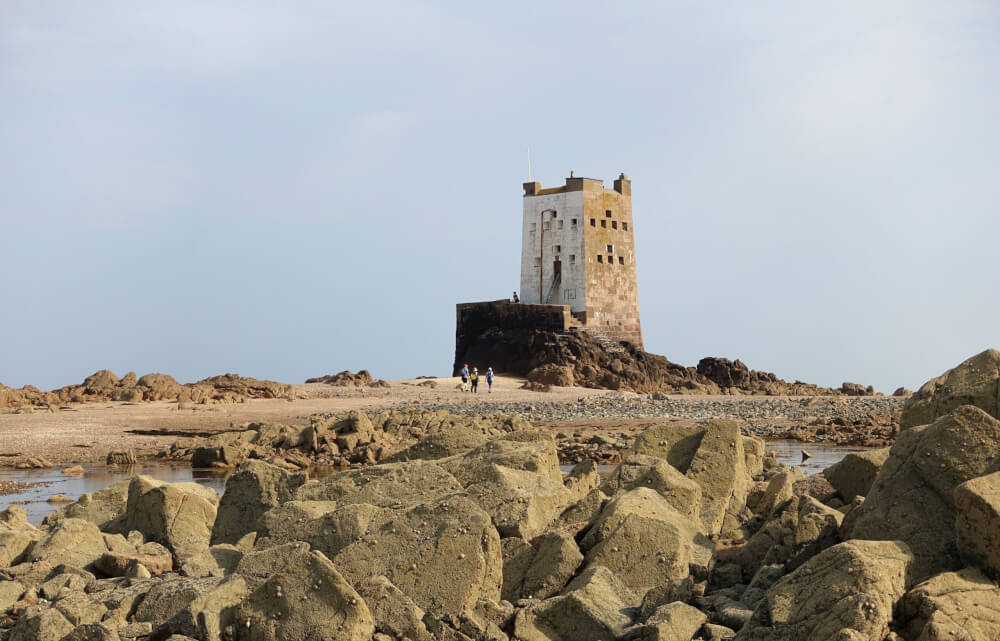 5. Admire Mont Orgeuil Castle
Mont Orgueil Castle, also known as Gorey Castle, is a historic fortress located on the east coast of Jersey, overlooking the harbour of Gorey.
It was built shortly after King John lost control of Normandy to the French in 1204, and the Channel Islands, including Jersey, became more isolated from mainland Europe. The primary purpose of Mont Orgueil Castle was defensive, serving as a stronghold to protect the island against potential invasions from the French and other hostile forces.
Today, visitors to the castle can enjoy guided tours, interactive exhibits, and special events that bring the history of the castle to life. One of the highlights of visiting Mont Orgueil Castle is the opportunity to enjoy breathtaking views of the surrounding landscape, the coastline, and the sea.
Of course, it's also quite breathtaking to see the castle from down at sea level, as it towers over the cute town and bay.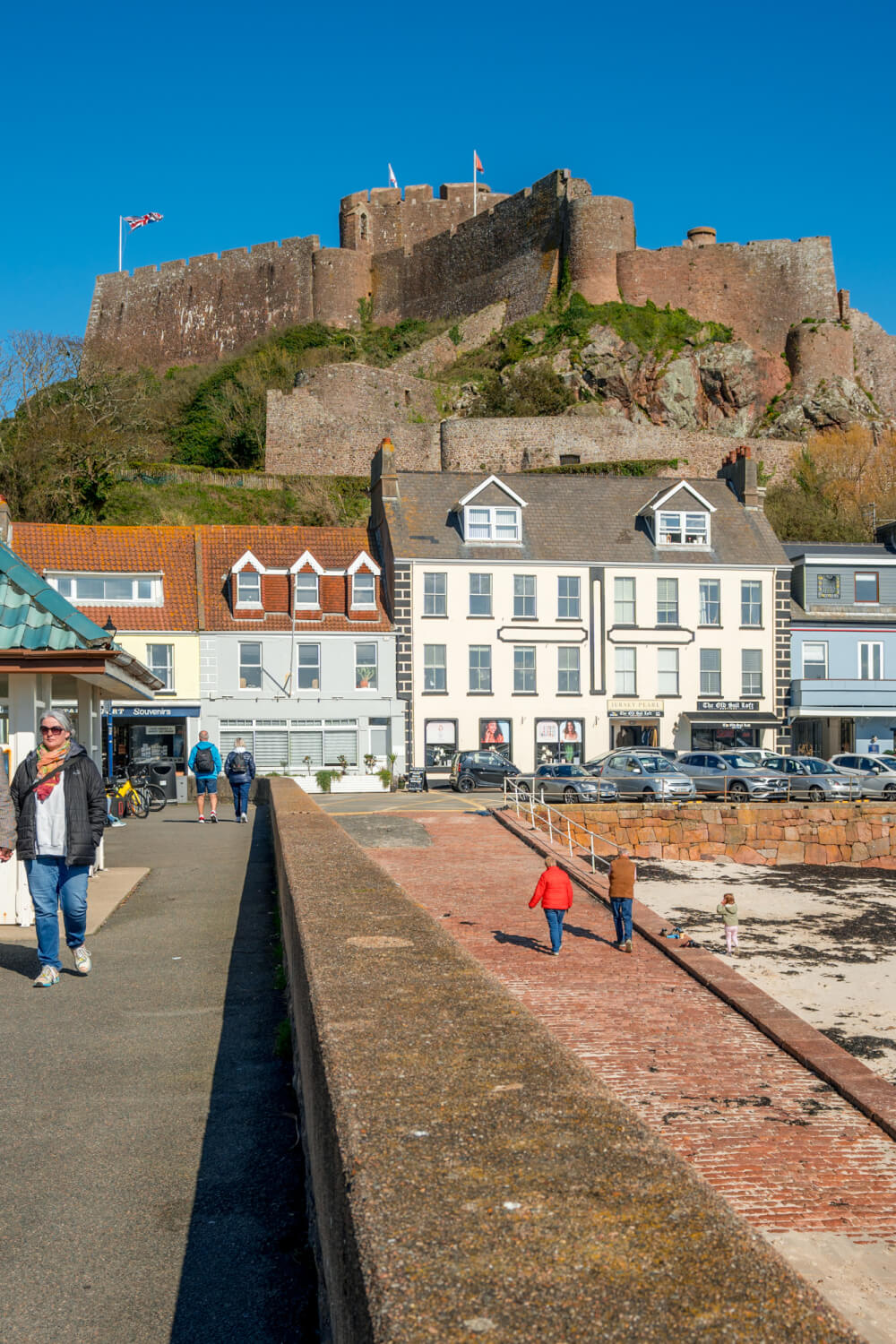 6. Visit the Jersey War Tunnels
The Jersey War Tunnels, officially known as the "Jersey War Tunnels – German Underground Hospital," is a historical site and museum located in St. Lawrence.
The Jersey War Tunnels were originally built by German forces during their occupation of the island from 1940 to 1945. The tunnels were intended to serve as an underground hospital and were dug into the island's hills to provide shelter from air raids and bombings.
Today, the Jersey War Tunnels serve as a museum and educational centre, providing visitors with insights into the history of Jersey during the German occupation.
The museum features exhibitions that focus on various aspects of life under occupation, including the experiences of local residents, the role of the tunnels, and the broader impact of the war on the island.
7. Head to La Hougue Bie
For history buffs who are into something even older than WWII, there's always La Hougue Bie, a Neolithic monument that holds significant historical and archaeological importance.
La Hougue Bie is a Neolithic passage grave and mound that dates back over 5,000 years. Built by the island's prehistoric inhabitants, the site has had various uses over the centuries, including being used as a burial chamber, a religious site, and a place of pilgrimage.
In medieval times, a chapel was built on top of the mound at La Hougue Bie, adding to the site's historical layers. The chapel was associated with Christian worship, and the site became a place of pilgrimage. The chapel is still present and is known as the Chapel of St. Magloire.
Today, La Hougue Bie is managed by Jersey Heritage and features a visitor centre and museum. The museum houses a collection of artefacts related to the site's history, as well as exhibits that provide insights into Neolithic life, burial practices, and more.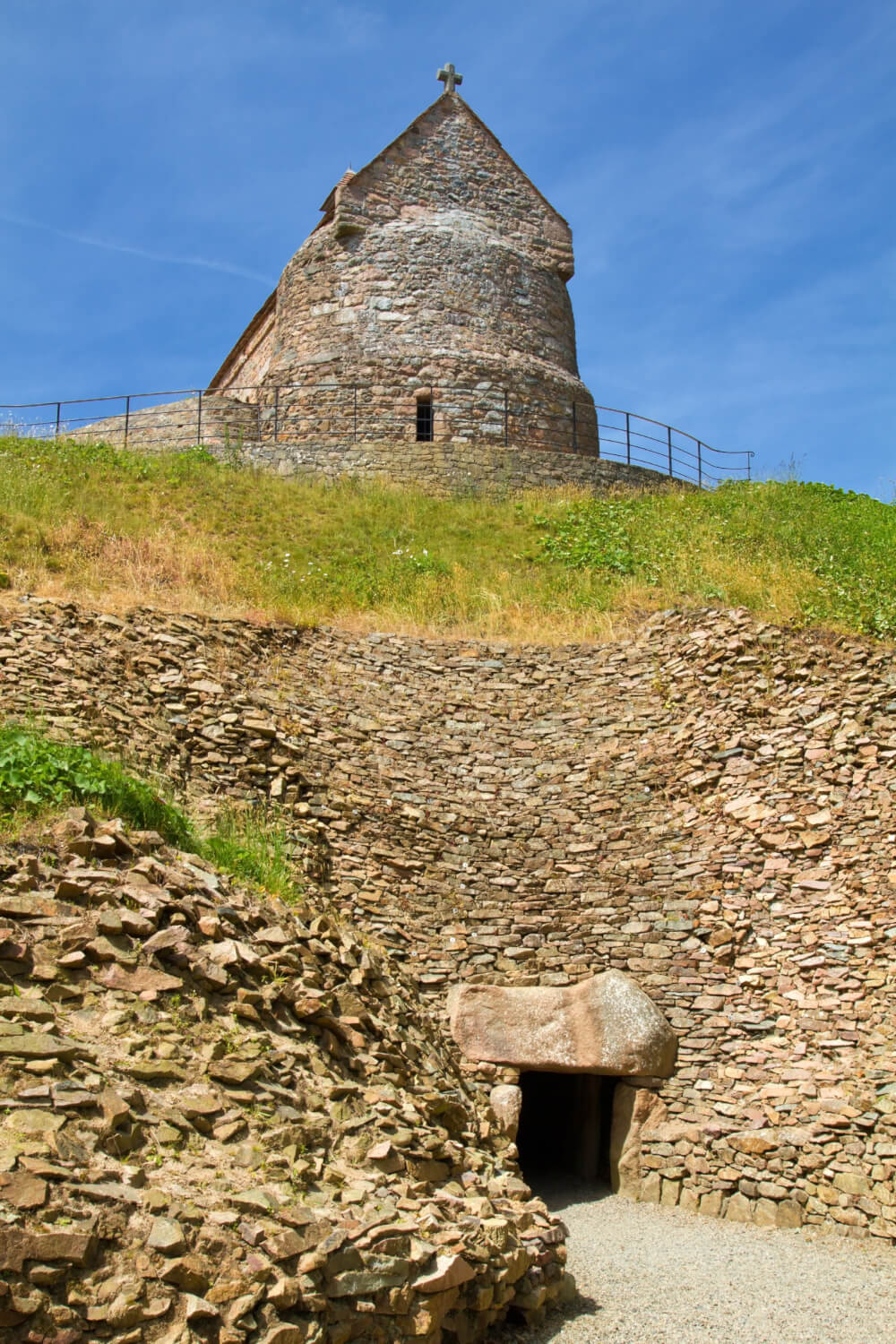 8. Check out the Channel Islands Military Museum
Inside one of the German bunkers in St. Ouen is the Channel Islands Military Museum, which gives lots of information about the German occupation of Jersey.
One of the most unique aspects of this museum is that it was originally created by one man who started collecting items relating to the German occupation at the age of 7 – and there are still new items being added to the collection all the time!
This museum is small, but it's absolutely packed with interesting items, including models and dioramas showing how the space was used during the war.
NOTE: The museum is only open between Easter and the end of October but during that time it's open every day from 10am until 5pm.
9. Enjoy a tasting at La Mare Wine Estate
La Mare Wine Estate is one of the Channel Islands' leading producers of wines, spirits, and other artisanal products.
It's located in the western part of Jersey, near St. Mary, surrounded by lush countryside and farmland. The history of La Mare Wine Estate dates back to the 16th century when monks first began cultivating vines on the estate's land, using them to produce wines for sacramental use.
Today, La Mare Wine Estate produces a range of wines, including white, red, rosé, and sparkling wines. They also produce a variety of spirits and liqueurs like brandy, gin, vodka, fruit liqueurs, and creams. Visiting for a tour and tasting is surprisingly affordable, and delightful!
There's also a café and a shop if you want a meal or just to grab some lovely artisanal products such as jams, chutneys, chocolates, biscuits and Jersey black butter (which is actually an apple preserve).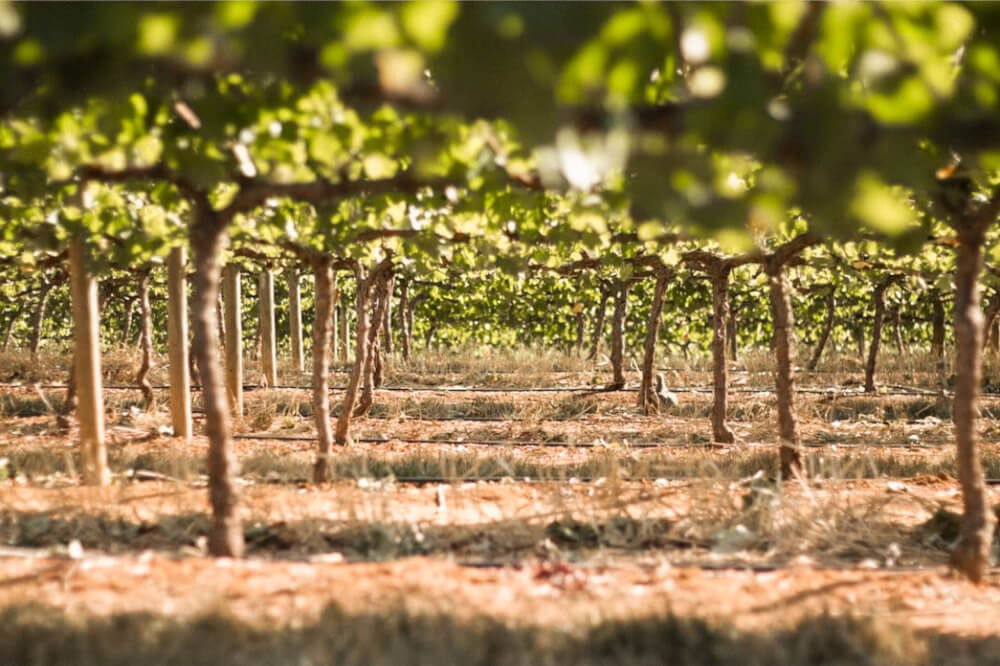 9. Admire La Corbière Lighthouse
La Corbière Lighthouse is located on the southwestern tip of Jersey, near the parish of St. Brelade. It's one of Jersey's most iconic landmarks and a popular tourist destination.
Built in a Victorian style, the lighthouse was completed in 1874 and was designed by Sir John Coode, a prominent engineer of the time.
Most interestingly, the lighthouse is connected to the mainland through a causeway that becomes submerged during high tide, making it an iconic scene when the waves crash against it. Visitors can access the lighthouse and its surrounding area by walking along the causeway during low tide.
Regardless of when you visit though, it definitely makes for a beautiful photo opp!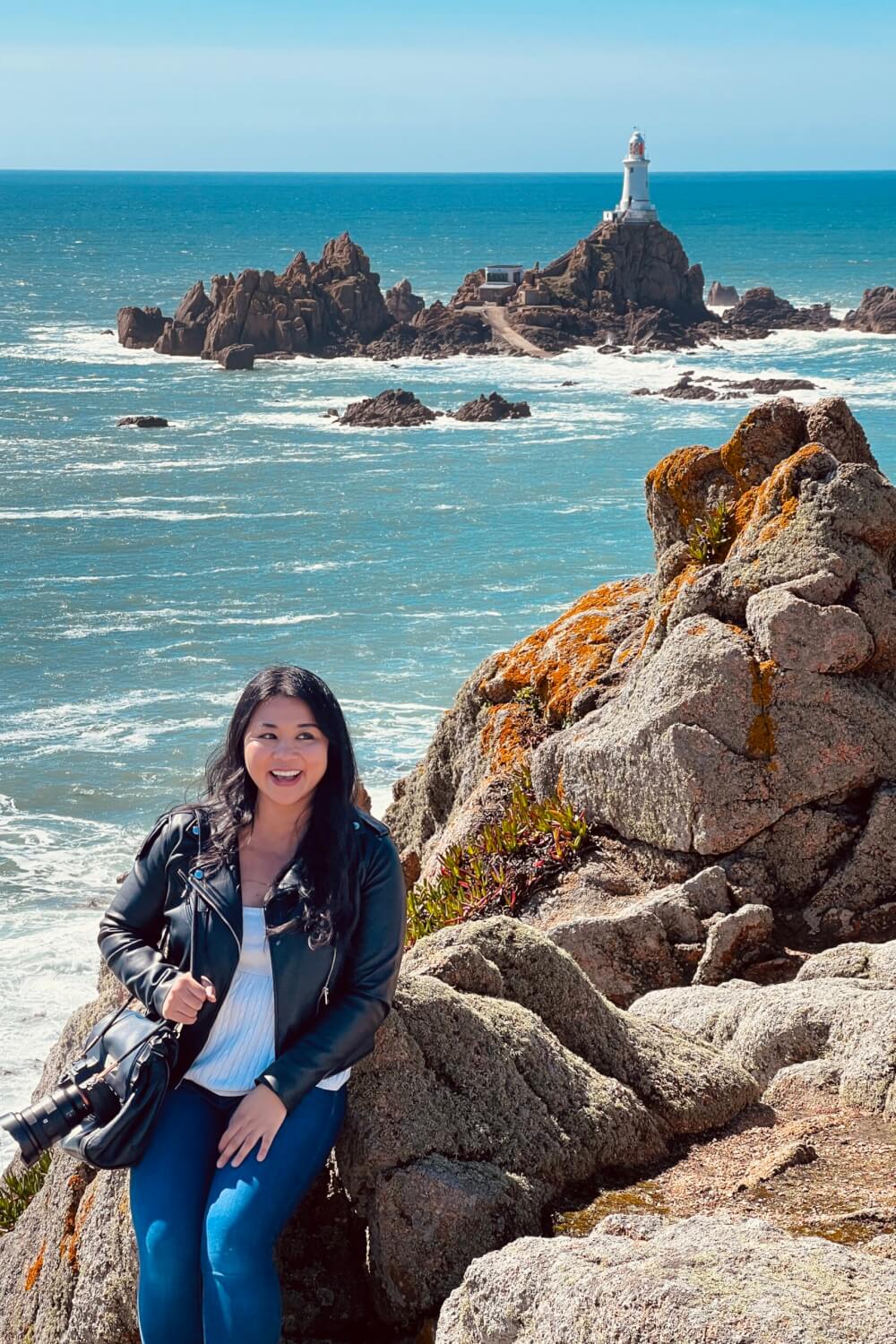 10. Join Bay Watch
If you're looking for sunny, beachy things to do in Jersey, then you're in luck – there are dozens of beautiful bays scattered around the island.
Here are some of the best-known:
St Ouen's Bay: Great for surfing, kite-surfing and paragliding since it's on the western (Atlantic) coast side of the island.
Archirondel Bay: A sheltered bay on the eastern side of the island, with a lovely little pebble and sand beach. Known as a very safe swimming area.
St. Brelade's Bay: One of the most popular beaches on the whole island, with safe waters, yellow sands and many waterside places to eat or shop.
Ouaisné Bay: Adjoins St Brelade's Bay, but is a bit wilder. The two beaches connect at high tide, or you can walk across the sea-wall which goes behind the former German gun battery on a headland.
NOTE: If you find yourself in St Brelade's Bay – don't miss Solshine Cafe. Their sausage rolls were absolutely incredible.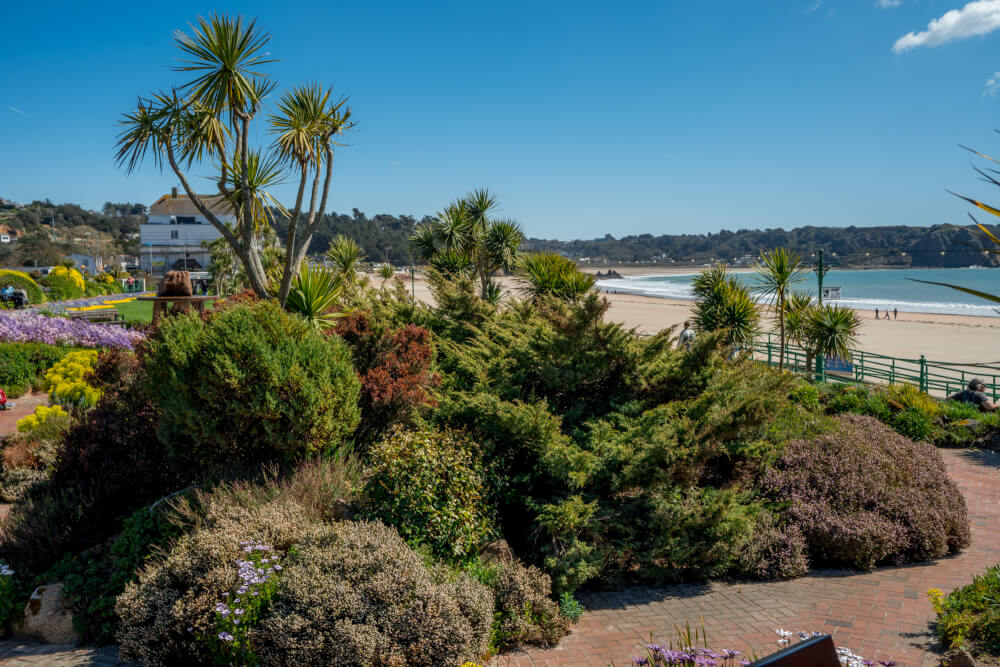 11. Visit the Botanic Gardens at Samares Manor
Samares Manor is a historic estate located in the St. Clement parish in Jersey, dating back to the 17th century. The estate's Botanic Gardens are the major drawcard here, offering a peaceful and enjoyable experience for nature enthusiasts, garden lovers, and those seeking a tranquil retreat.
The gardens are organized into various themed areas, each featuring different types of plants, flowers, and landscaping. One of the highlights of the Botanic Gardens is the Japanese Garden which features traditional Japanese design elements, including bridges, ponds, and carefully placed plants.
There are also stunning rose gardens, an orchard, one of the most spectacular herb gardens in Britain, a special bee garden and some cute donkeys and horses! Best of all, visitors can even stay overnight on the property, visit the onsite café for delicious crepes and other French treats or join a guided tour of the manor house.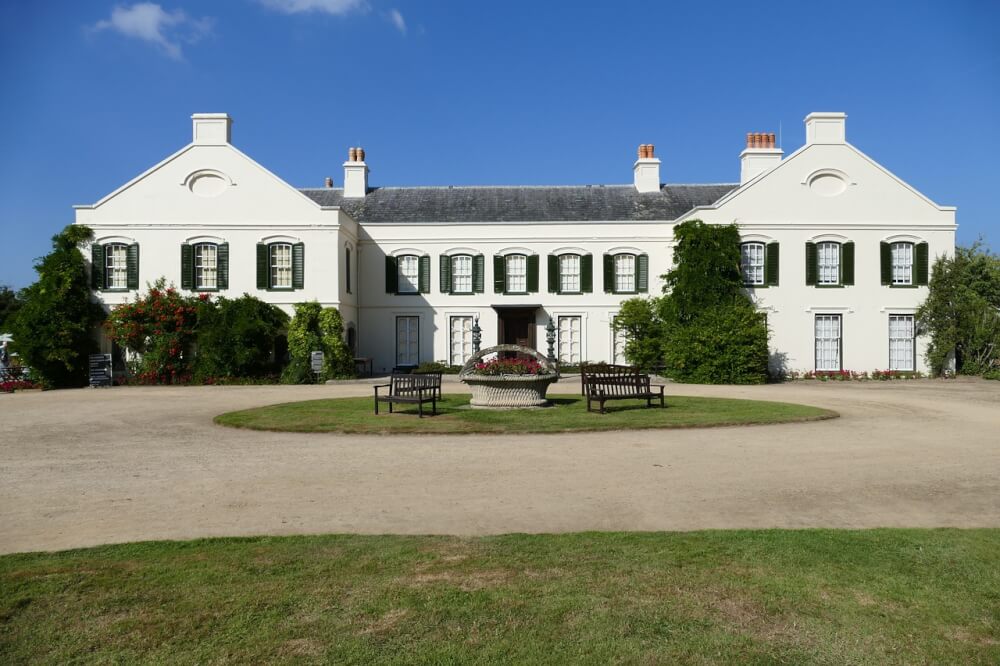 12. Stop by Judith Queree's Garden
If you're into gardens, make sure you also stop by the small but delightful Judith Queree's Garden in St Ouen.
This garden only covers about a quarter of an acre but it contains many rare and unusual plants from all over the world. Even in the smaller space, Judith Queree has managed to fit in a bog garden – which is actually filled with beautiful colourful flowers (not a swampy bog as it sounds) and a woodland garden.
There are also lots of sculptures dotted throughout the garden to keep an eye out for. These include some gorgeous animals as well as plants and even some of the ceramic poppies that were installed outside the Tower of London in 2014 to mark the centenary of the outbreak of the First World War.
13. Do a bunker tour
One of the most intriguing parts of Jersey's history is its occupation during WWII.
During World War II, Jersey, along with the other Channel Islands, was occupied by German forces from 1940 to 1945. The German occupation of the Channel Islands was significant because they were the only part of the British Isles to be occupied during the war.
The German forces heavily fortified the Channel Islands, including Jersey, with bunkers, coastal defences, and other fortifications as part of the German Atlantic Wall defence line, intended to deter an Allied invasion. There were different types of bunkers on the island, such as machine gun positions, observation posts, anti-aircraft emplacements, and underground command centres.
Today, the bunkers have been converted into a number of things, but some remain as they were decades ago. For those interested in seeing this part of Jersey, there are tours you can book to get up close and personal.
This tour takes you around to bunkers that aren't ordinarily open to the public, making it a true must-do in Jersey for history buffs. Be sure to book in advance though because they fill up quickly!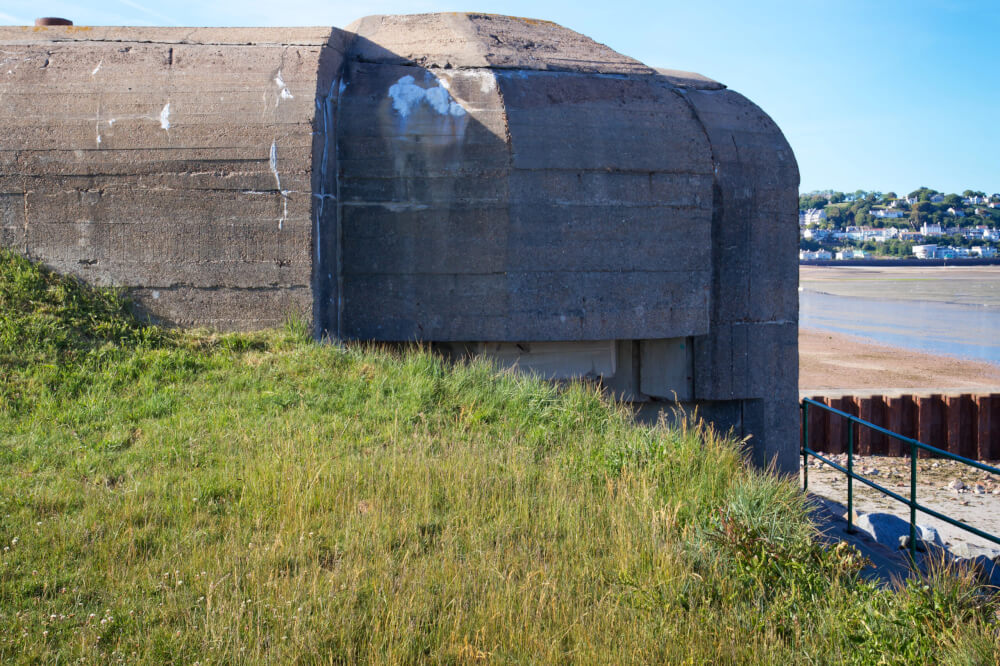 14. Look at giant puffin sculptures
It's possible to see adorable puffins on the Channel Islands, although their numbers have dwindled on Jersey. However, campaign group Birds on the Edge and the National Trust of Jersey commissioned a pair of giant puffin sculptures that you can visit!
Overlooking Plémont Beach on the northwest coast, these two 'kissing' puffins are made from forged steel and willow, standing four metres high. Getting a photo with the puffins is a must-do but if you walk along the cliff-track between Plémont Beach and Greve de Lecq you may see real ones nesting too.
It's very sad that puffin numbers on the island have decreased so dramatically, with only around four breeding pairs thought to be left, so make sure you don't disturb any live ones if you do get to see them!
15. Meander through the Arboretum – Forgotten Forest
Jersey is home to some lovely gardens, as I've already noted, and it's also home to a magical tree forest – or Arboretum – known as the Forgotten Forest.
The Forgotten Forest, also called the Val de Mare Arboretum, was created by the Moores family in 1975 with tree species from around the world, although it later became neglected. Jersey Trees for Life and Jersey Water stepped in to rejuvenate these gardens in 2021 making it once again a lovely spot for a wander.
While visiting you will be able to see unique tree varieties from as far away as Australia and New Zealand, Japan, China, the Mediterranean and North America. Keep an eye out for fine specimens of eucalyptus, giant redwood, Korean birch and Japanese cedar.
16. Visit the Pallot Steam Museum
The Pallot Steam, Motor & General Museum, often referred to as the Pallot Steam Museum, is a unique attraction on Jersey that showcases a collection of artefacts related to transportation and machinery.
Located in Trinity, this museum was founded to preserve and display a variety of historic steam engines, motor vehicles, and machinery, showcasing the island's industrial heritage. The museum's collections include a diverse range of exhibits, from vintage steam engines and tractors to classic cars, motorcycles, and other mechanical equipment.
Some of the steam engines and machinery are occasionally operated, allowing visitors to witness working demonstrations that showcase the mechanical processes. The museum is very family-friendly, so it's a great choice for visitors with kids who are interested in machinery, particularly cars and trains.
17. Wander around Grosnez Castle
Grosnez Castle is a historic ruin located on the northwestern tip of Jersey Island, overlooking the rugged coastline and the sea.
The exact date of construction is uncertain, but it's believed that Grosnez Castle was built in the 14th century during the reign of Edward III. The castle's military importance declined over time, and it eventually fell into disuse.
Today, the site is in ruins, with remnants of the walls, towers, and some architectural features still visible. However, it's still an interesting and picturesque spot to visit. Visitors can walk through the ruins and climb the remaining tower for panoramic views of the coastline. Best of all, it's totally free to visit!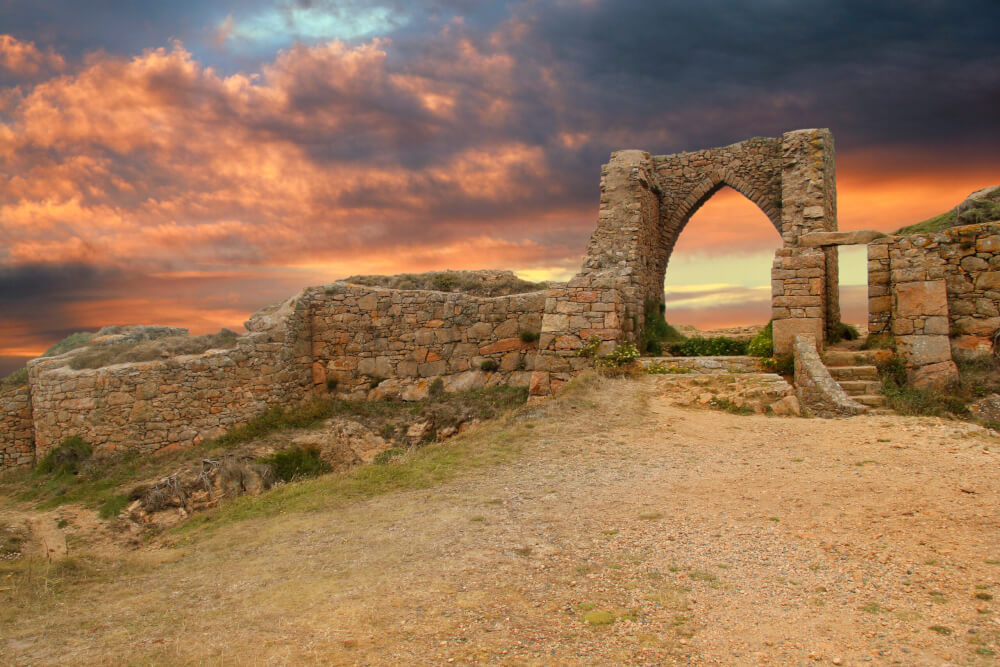 Did I miss any of your favourite things to do in Jersey?
Let me know in the comments! I hope you enjoyed this roundup of the best Jersey activities. Hope you have a great trip!
My Go-To Travel Favourites: