*FYI - this post may contain affiliate links, which means we earn a commission at no extra cost to you if you purchase from them. Check out our Privacy Policy and Disclosure. for more info.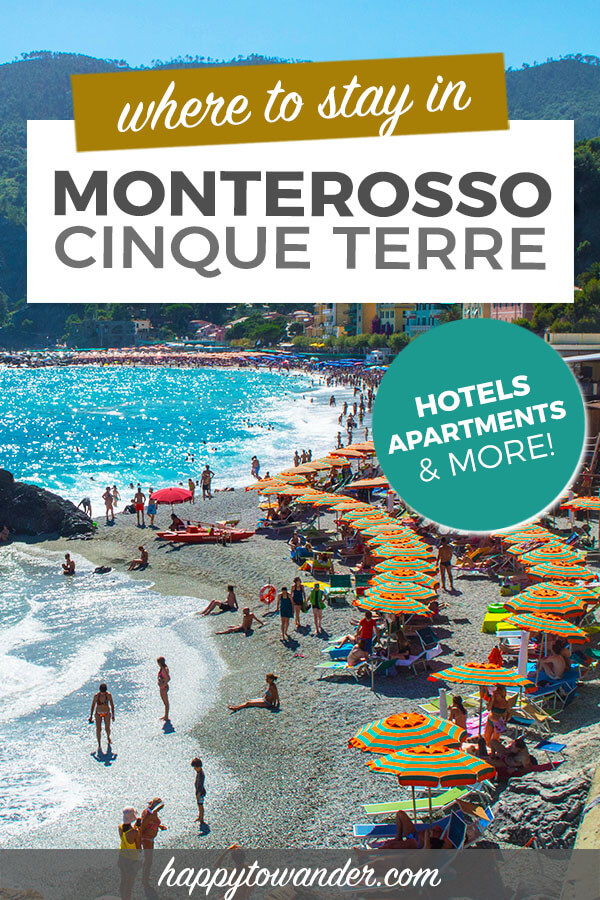 Monterosso al Mare (or just Monterosso) is one of the most popular towns of the Cinque Terre, with the area's sandiest stretch of beach and a happy, resort-y feel that's perfect for families and those looking for a livelier atmosphere.
Finding a good place to stay in Monterosso though can be a challenge, especially on a budget. Decent accommodation books up quickly, and can cost an arm and a leg, certainly in peak season. To help you make up your mind about where to stay in Monterosso though, my team and I have gathered a list of top-rated, central properties to help you with your search, so, without further ado, here's your Monterosso accommodation guide for every budget!
NOTE: While I of course haven't stayed at all these places (I wish!!), they've all been heavily researched and vetted by my team for crucial factors like high ratings (none of the options below have less than an 8/10 on Booking.com!), location (none of them are too far away from the action), and cleanliness (based on analyzing reviews across multiple platforms). I hope this guide will help you narrow down the best Monterosso al Mare accommodation for your trip!
---
---
A Quick Note on Monterosso Accommodation
Around the Cinque Terre, and even in its most resort-like town of Monterosso al Mare, conventional hotels with a big lobbies, sprawling buffet breakfasts, 24/7 check-in and amenities like pools and fitness centers aren't in abundance… and they aren't always the best place to stay anyway.
Instead, many of the best accommodation options in Monterosso are known as Affittacamere, basically extra rooms in apartments/buildings that locals rent out for some extra dough.
These charming guesthouse are comfortable, but definitely not the most modern or luxurious of accommodation, so if you're used to modern hotels with tons of amenities, Monterosso accommodation might have a "homier" feel than you're used to… so keep that in mind when browsing accommodation in Monterosso, and don't fixate too much on how many of the rooms seem a bit dated.
PS: Monterosso is one of the most popular villages in the Cinque Terre, so accommodation here does book up VERY far in advance, with prices skyrocketing accordingly, so if you see something you like for your dates, I highly recommend you reserve them as soon as possible. Airbnb is always a great first place to check because their prices tend to be a bit lower – click here to check!
You can even click here to save big on your first booking.

---
---
1. The best bang for your buck in Monterosso
Recommendation: La Rosa Dei Veinti
If you're after a nice place to stay in Monterosso without breaking the beak, La Rosa Dei Veinti is the place to be. This clean, top-rated guesthouse offers double rooms with free WiFi, a flat-screen TV, a safe and of course, private bathrooms with hairdryers and free toiletries. Located just a 5 minute walk from the beach, you're close enough to the action that you can tan and take a dip anytime it strikes your fancy, plus you can take advantage of the free beach towels provided by the property. If it's clean, quiet, and comfy you're looking for, this is one good option that won't cost you your life savings.
Click here to check reviews and availability
---
---
2. For a luxurious getaway in Monterosso
Recommendation: Hotel Porto Roca
If it's a luxurious escape you're after, soaking in the infinity pool with sea views at Hotel Porto Roca might be right up your alley!
While it's perched high above town (which means a bit of walking, which can be tough if you have a lot of luggage), those who work for it are rewarded with panoramic views from the hotel's clifftop location with an elegant garden and terrace that overlooks the sea. Feeling extra swishy? You can even book a room with a private balcony with sea views! With all the standard amenities like AC and satellite TV, Hotel Porto Roca goes a step further than most Monterosso hotels by offering an indulgent buffet breakfast, on-site seafood restaurant and even its own beautiful pool and sun loungers.
NOTE: The rooms and decor are a bit more old-fashioned and can seem a little dated, but in terms of amenities and views, this is your best bet for a luxurious feel in Monterosso al Mare.
Click here to check reviews and availability
---
---
3. For the cheapest place to crash in Monterosso
Recommendation: Affittacamere Sull'Arco
If you're traveling (more or less) on a budget, Affittacamere Sull'Arco is a solid option. It's located in the center of the old Monterosso village, but still only a few minutes away from the beach, a stone's throw from a lot of bars, restaurants, shops and the departure point for Monterosso boat rides. With all the typical amenities you need like free WiFi, a flat-screen TV, a safe, a fridge plus a private bathroom, this homey option is ideal for those on a budget, with rooms as low as $70 a night if you book far enough in advance (an absolute BARGAIN price in the Cinque Terre).
Click here to check reviews and availability
---
---
4. Monterosso accommodation with outstanding hospitality
Recommendation: Affittacamere alle 5 Terre
Affittacamere alle 5 Terre is one of the few Monterosso accommodation options out there that provides not only a shuttle service (the host can pick you up in their car/help you bring your bags to the apartment), it also includes a hot breakfast and free refreshments like water and juice. In terms of Monterosso hospitality, that's pretty out of the norm and going above and beyond! This top-rated family-run guesthouse is located in the higher part of the city, which means a bit of a leg workout, but the reward is sweeping views of Monterosso and the sea. You can also of course expect all the standard amenities you need like free WiFi, a flat-screen TV, a kettle, a fridge and a safe.
Click here to check reviews and availability
---
---
5. For a romantic escape in Monterosso
Recommendation: Da Vice Rooms
If your trip to Monterosso is a romantic getaway, then Da Vice Rooms might be a nice accommodation option. These cozy and cutesy rooms all come with a welcome basket of local products and free drinks (!!!), along with a gorgeous sunny terrace that overlooks the village, ideal for romantic wine sipping. Plus, the location couldn't be better – you're only 200m away from a sandy beach and 400m away from the train station, which means less stress and more time to cuddle!
Click here to check reviews and availability
---
---
6. For Monterosso accommodation that's family-friendly
Recommendation: Appartamentino Nadia
Traveling with your family? Appartamentino Nadia, a spacious 50m2 apartment located in the center of Monterosso al Mare, might be a perfect choice. You can squeeze up to five people into this apartment, which has one bedroom with a twin bed and a queen bed, one living room with a sofa bed, and a fully-equipped kitchenette (with a washing machine, fridge, and oven included). If needed, it's even a pet-friendly apartment which means your best friends can come along for the ride.
Click here to check reviews and availability
---
---
7. For modern and cool accommodation in Monterosso
Recommendation: La Casa di Zuecca
Modern and cool furnishings aren't easy to come by in the Cinque Terre, but if that's the feel you're going for, La Casa di Zuecca in Monterosso is a good fit. Their classy, deluxe double rooms all have free WiFi, a flat-screen TV and a mini-bar, along with access to shared lounge and a rooftop terrace where you can enjoy your (free!) breakfast in the sunshine. Weary after a day of walking around? You can even book massages here if you want! Conveniently located a 10 minute walk from the Monterosso train station, this guesthouse is a great choice if you're looking for something clean, bright and modern.
Click here to check reviews and availability
---
---
Looking for other Monterosso Accommodation Options?
If you're still hunting for the perfect place to stay in Monterosso, make use of the interactive map below to search availability for your travel dates!
---
---
Want to travel smarter and more often?
Join over 80,000 followers who love what I have to say! Enter your email here & you'll gain instant access to my special VIP zone, featuring freebies like checklists and printables... plus exclusive content, tips and updates!
---
Watch my latest video:
---