*FYI - this post may contain affiliate links, which means we earn a commission at no extra cost to you if you purchase from them. Also, as an Amazon Associate I earn from qualifying purchases. Check out our Privacy Policy and Disclosure. for more info.
While it's a well-known fact that all the villages of the Cinque Terre are eye-gougingly beautiful, Riomaggiore has always been a favourite of mine, second only to my beloved Manarola.
With its single main street, rocky little harbour and scenic cluster of colourful houses, Riomaggiore is everything I love about the Cinque Terre. In fact, one of my fondest travel memories was watching sunset here after a long day of hiking, returning at the request of my boyfriend, who deemed this sleepy fishing village his official favourite.
… He abandoned me to cliff jump a few minutes later. So romantic!
Save this post on Pinterest for later: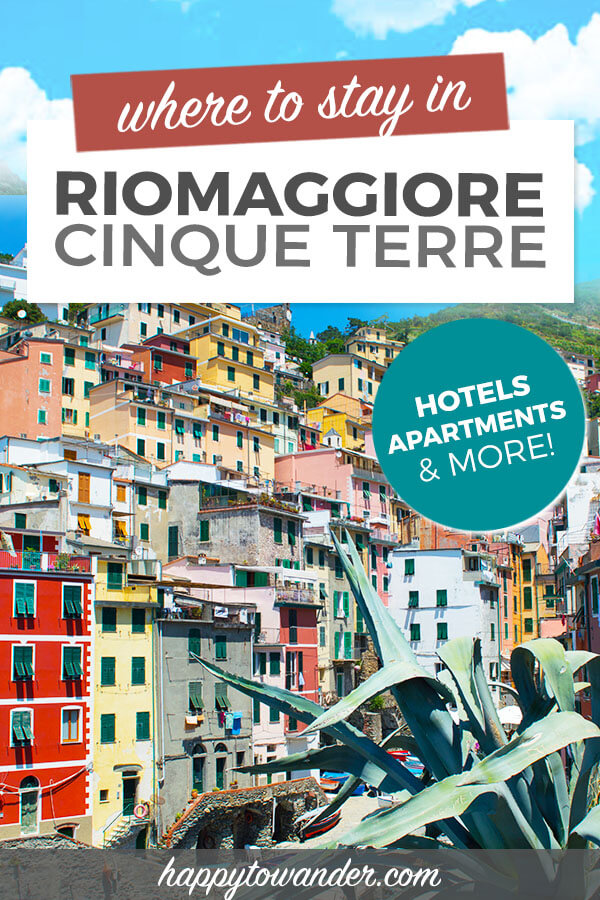 And while Riomaggiore (in many ways) embodies the charm that makes the Cinque Terre such a wonderful place to visit, accommodation in this town can be scarce, expensive and underwhelming. As the first village of the Cinque Terre (when coming from the La Spezia direction), many choose to base themselves here for the relative quiet and great hikes. Especially in peak season, finding a good place to stay in Riomaggiore can be tough… SO, let me help! Below you'll find a list of accommodation options to help make your search a little easier.
NOTE: While it goes without saying that I haven't stayed at all of the places listed below, they've all been heavily researched and vetted by my team for important factors such as high ratings (none of the options below have less than an 8/10 on Booking.com!), excellent location (all options are central), and cleanliness (based on analyzing reviews across multiple platforms). Hopefully, this guide will help you nail down the best possible Riomaggiore accommodation for your upcoming trip!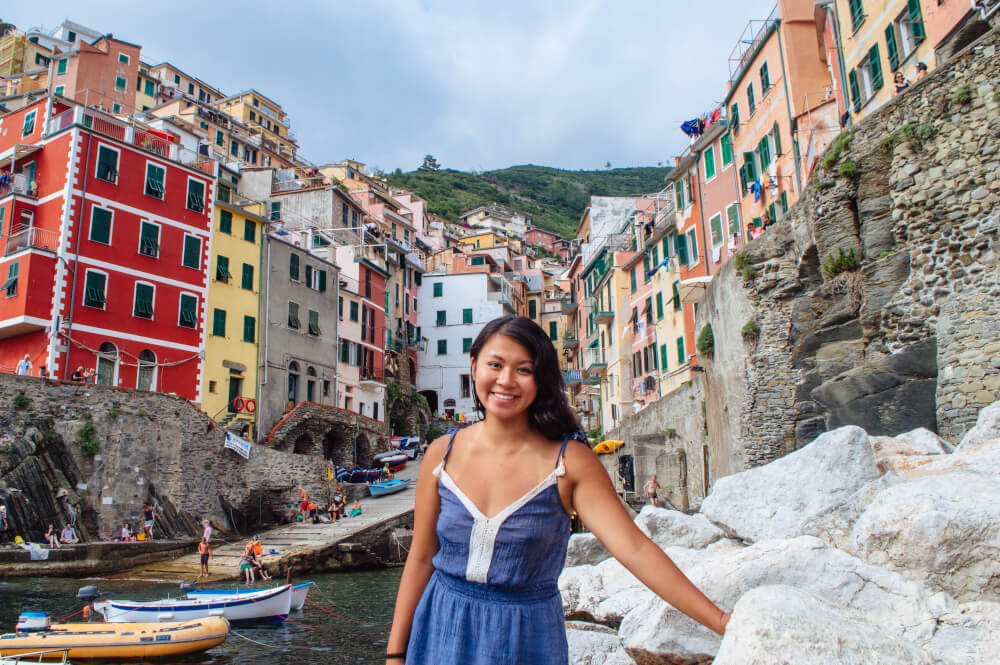 ---
---
A quick note on Riomaggiore hotels and apartments
Broadly speaking, you should know that Riomaggiore (and the Cinque Terre in general) won't be the kind of town where you'd find an abundance of big-box hotels with standard features like a large lobby, 24/7 check-in, pools, spas, etc.
Instead, many of the accommodation options around the Cinque Terre, and certainly in Riomaggiore, are known as Affittacamere, extra rooms in local apartments/buildings that are rented out to tourists for some extra moola.
These guesthouses are usually homey and comfortable, but definitely not a standard hotel like you might expect in a big city. Instead, it'll feel like you're renting out a local's apartment (which you pretty much are). SO, just keep that in mind during your hunt for accommodation in Riomaggiore, and remember that these properties won't necessarily be as 'chic' or modern as you might expect from a hotel in this price range.
PS: Remember, accommodation in Riomaggiore books up VERY far in advance and prices can get fairly steep the longer you wait, so if you see something you like for your dates, I highly recommend you make a booking ASAP! AirBNBs tend to be the cheapest option so I would check there first – click here to check!
You can even click here to save big on your first booking.
Anyways, enough yapping. Here are some Riomaggiore accommodation recommendations for you!
For the best bang for your buck in Riomaggiore
Recommendation: Hotel del Sole
Located on the main street of Riomaggiore, a short few minutes away from Fossola Beach, Riomaggiore Castle, and the train station, Hotel del Sole is a great value-oriented choice for a place to stay in Riomaggiore. You get all the standard amenities in each of the seven rooms, including free WiFi, AC and fridge, plus extra perks like a terrace, free toiletries, a lounge/bar area and even parking on-site. If you plan to drive to Riomaggiore, this makes Hotel del Sole the perfect choice. PS: Breakfast is included, and reviews say it's amazing!
Click here to check reviews and availability

---
---
For a luxurious Riomaggiore getaway
Recommendation: The First – Riomaggiore 5 Terre
If you want THE best possible view in town, book yourself a stay at The First – Riomaggiore 5 Terre. This luxury honeymoon suite (although being newly married isn't a requirement!!) is located in the heart of Riomaggiore, a stone's throw from all the main sights including the beach, Riomaggiore Castle and the local church. The suite offers free WiFi, AC, and a nice, fully equipped kitchen, but its key selling point is its balcony with an amazing sea view! Plus, if you're keen to get around with total freedom, you can even rent a car at the property!
Click here to check reviews and availability
---
---
For the cheapest place to crash in Riomaggiore
Recommendation: Martinei
On the other hand, if you're traveling Riomaggiore on a budget, check out Martinei, a small apartment with all the perks you need for an amazing stay, at a fraction of the cost of other properties! Here you'll have access to a lot of homey amenities including a fully equipped kitchen, free WiFi and free toiletries, all with the happy bonus of a low price tag and a mega-central location in the center of Riomaggiore. Did we mention you get sweeping balcony views?
Click here to check reviews and availability

---
---
For something cheap and central in Riomaggiore
Recommendation: Sottocoperta
If budget and location are your priority, check out Sottocoperta, a homey guesthouse located in the center of Riomaggiore. This excellent value-for-money option has a variety of rooms, including double rooms and an apartment, all equipped of course with free WiFi, AC, desks, flat screen TVs and private bathrooms. Guests most of all praise the helpful owners, who are happy to provide tips on making the most of your time in Riomaggiore. With its combination of cheap prices and impeccable reviews, Sottocoperta is definitely a great option for those seeking great value in Riomaggiore.
Click here to check reviews and availability

---
---
For a cute homey option with sea views
If you'd like a perfect view over the sea from your own window, then check out Rifugio degli Innamorati, a modern apartment located right by the water in Riomaggiore, offering gorgeous views of the iconic harbour houses. With a nice seating area, a fully equipped kitchen, a bathroom with a shower and bidet, and of course, free flat-screen TV and WiFi, this apartment offers everything you need for your vacation. NOTE: Reviews often say that the stairs are steep and not recommended for those with huge suitcases, so keep that in mind!
Click here to check reviews and availability
---
---
For a romantic Riomaggiore escape
Recommendation: Mare Amore @ Riomaggiore
Hoping to crank up the romance in Riomaggiore? Then Mare Amore @ Riomaggiore might just be the place. Besides having the word love literally in their name, their ideal location near the beach/train station, along with their cute apartments, offer the perfect backdrop for a romantic getaway! Staying at Mare Amore means you're only a short distance away from all of Riomaggiore's restaurants and shops, plus there's the swoonworthy decor featuring exposed brick elements and elegant archways. If you're looking for the perfect base to open up a bottle of wine (or five) after a long day of sightseeing, this is a great option.
Click here to check reviews and availability
---
---
For something family-friendly in Riomaggiore
Recommendation: Rifugio dei Pescatori
If you're travelling with a family in tow, then you might be looking for something a bit more spacious. In this case, check out Rifugio dei Pescatori, an apartment with two bunk beds and a queen bed, plus a small kitchenette with a fridge and an oven for you to prepare your own meals as well as a separate dining area. As a bonus, the stone walls in this space really give the apartment an irresistibly cozy vibe, don't you think?
Click here to check reviews and availability
---
---
For a hilltop escape from the crowds in Riomaggiore
Recommendation: Locanda Ca Da Iride
If you want a quieter escape and don't mind an uphill trudge, Locanda Ca Da Iride is a great guesthouse offering double rooms with free WiFi, flat-screen TVs, fridges, minibars, and private bathrooms, all with the bonus of an amazing view high above Riomaggiore. Sure you'll be a bit farther from town, but you'll also be farther away from all the crowds, which means you can enjoy your getaway in peace! Does this sound like your jam? Then….
Click here to check reviews and availability

---
---
For the best balcony views w/ tasty perks
Recommendation: Locanda Ca Da Iride
Located a short walk from the beach and train station, Affittacamere le Giare is a cool guesthouse located in Riomaggiore, with a helpful owner who gets frequent rave reviews from guests. Again, its (leg numbing) uphill location brings one amazing perk: stellar views with a sunny terrace overlooking the entire town. Plus, we hear they have cookies and other snacks on offer as well.
Click here to check reviews and availability

---
---
Looking for more Riomaggiore accommodation options?
Check out the interactive map below for the availability on your travelling dates!
---
---
---
Watch my most popular YouTube video this week:
---