*FYI - this post may contain affiliate links, which means we earn a commission at no extra cost to you if you purchase from them. Also, as an Amazon Associate I earn from qualifying purchases. Check out our Privacy Policy and Disclosure. for more info.
Ohhh, Montréal.
There are some cities in this world that leave a lasting impression on you… and this foodie paradise is at the top of my nostalgia list.
Why? Well it's simple. It was in this beautiful Canadian city that I was introduced to the love of my life.
Brunch.
I apologize for sounding hopelessly basic right now, but let us all get one thing straight: brunch is much more than just a meal… Brunch is love at first bite – the flawless combination of comforting food, sparkling drinks and of course, guilt-free day drinking time with with friends.
For these reasons and many more, I love brunch like I would love a person.
And, although I only spent about a week in Montréal last February, I had the pleasure of checking out three incredible brunch spots that were heavily praised by locals. Needless to say, they got me. There was no looking back.
This is by no means a comprehensive list of best brunch spots in Montréal, but it's three places that I enjoyed immensely. Without further ado, here they are!
1. Beautys Luncheonette – 93 Avenue du Mont-Royal E
Established in 1942, Beautys is a Montréal institution that serves up breakfast/brunch classics in a deliciously nostalgic diner setting.
Popping in on a Saturday morning around 10:30, there was already a bit of a lineup. We were seated pretty quickly though, and soon enough, I found myself in a blue vinyl booth, surrounded by the simple and comforting ambiance of the 50s.
After hearing my friends gush about the unreal milkshakes, I made it my personal mission to test one for myself. I perused the simple menu and quickly decided on the Beauty Breakfast Melt (BBM) and Moccachino Royale Milkshake.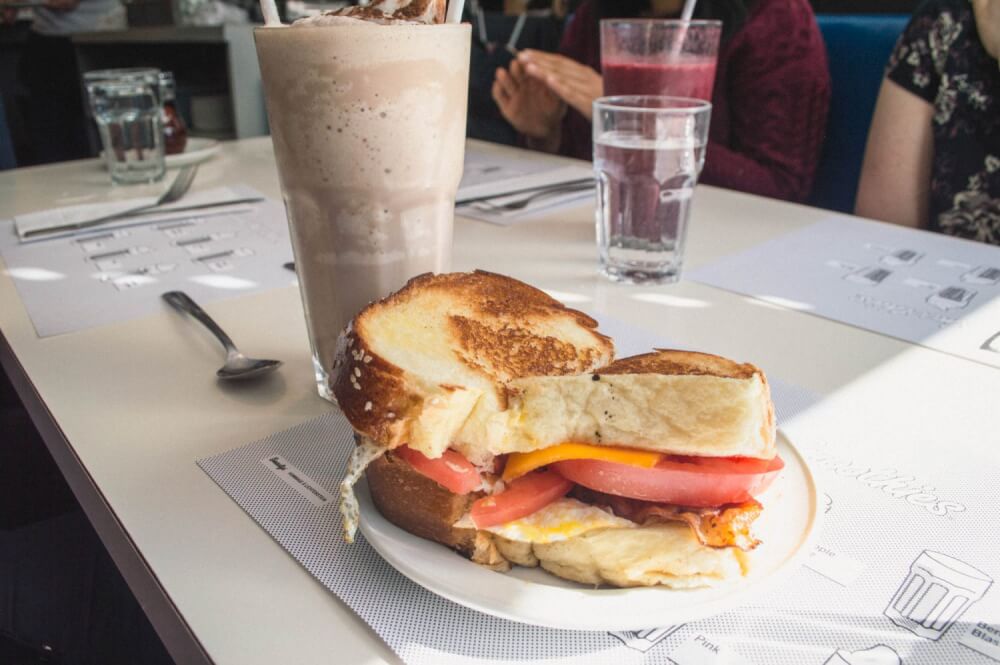 That milkshake was love. at. first. sip.
Deliciously chocolatey with a jolt of coffee, it helped start my day with a sugar high for the ages.
The breakfast melt was delicious too… simple, but filling, with eggs, cheddar, bacon and ham sandwiched between two crunchy pieces of bread.
Although it's nothing fancy, Beautys is certainly worth a visit if you're in the area. They even have their own line of merchandise for the die-hard fans. *puts on Beautys t-shirt*
2. Fabergé – 25 Avenue Fairmount W
Nestled in the Mile End neighborhood of Montreal, Fabergé is a hip brunch joint that serves delicious breakfast goodies all day.
With a funky vibe and comfortable furniture, Fabergé emits a soulful and young ambiance in contrast to Beautys classic nostalgia. Visiting on a weekday, it was also substantially less busy than Beautys, which allowed for a quieter dining experience.
Now, Fabergé goes down in history for me because it is the first place I ever tried smoked salmon eggs benedict, which is now my brunch dish of choice.
I used to be the pickiest eater when I was a kid, and avoided salmon like the plague. BUT, I had heard so much praise for smoked salmon that I took the plunge and decided to try it.
The Smoked Salmon Eggs Benedict at Fabergé is served with a side order of potatoes and a small tin of fruit (to justify all that indulgent hollandaise sauce mm mm).
Two words: gobsmackingly amazeballs. The hollandaise was a nice creamy consistency, and made the perfect blanket for the poached eggs & potatoes.
The smoked salmon and cream cheese together was like a dream, and no joke, I think I might have actually been speechless after my first bite. Needless to say, it was a sure winner for me.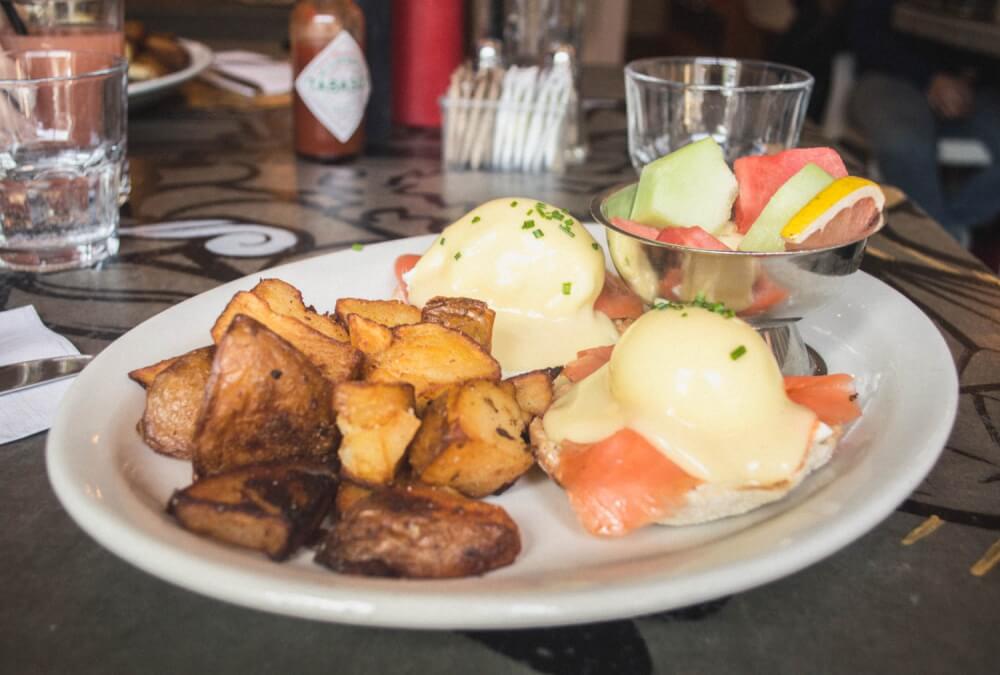 3. L'Avenue – 922 Avenue Du Mont-Royal E
Last but not least, there was L'Avenue.
As it's a super popular restaurant among locals, you should expect a long wait for a table, especially on weekends.
My friends and I got up a bit earlier to lessen the wait, and to our surprise, we only had to stand in line for about 5 minutes. I was told by friends that this was an unusually short wait though.
We were seated right by the window, which was pretty fun because the entire time, we were burnt with the envious stares from the hungry lineup outside. Dasss right, suckas.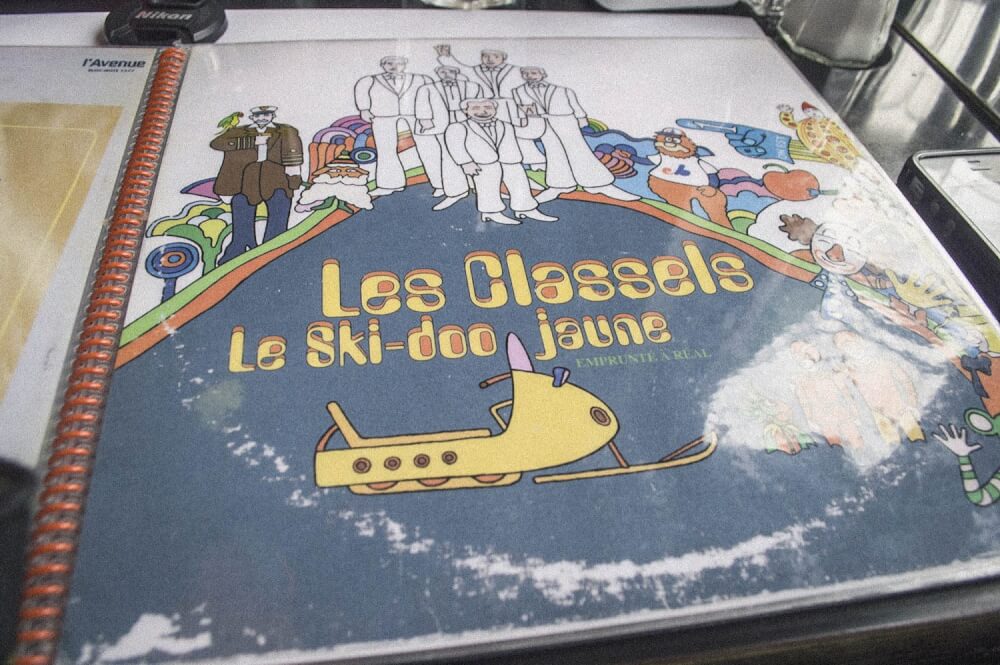 Although the seating space was a bit cramped, I was too drawn in by the design of the place to mind!
With spray painted art on the walls, even a motorcycle hanging from the ceiling and a menu design inspired by iconic album covers, I loved it all! What a fun and upbeat place.
After agonizing over their menu (everything sounded amazing), I opted for the Chorizo Eggs Benedict because how could I not? Some people had told me that L'Avenue would be the best eggs benedict I've ever had, and I can confirm that it was absolutely amazing! 
The hollandaise sauce was perfect, the saltiness and subtle spice of the chorizo complimented the dish so well, and I just. could. not. stop. eating. With the side of crisp potatoes they offer, I was stuffed.
For extra food porn purposes, pictured below is my friend's Monsieur Seguin Eggs Benedict, which has cheese, spinach and sauteed mushrooms. Mmmmm.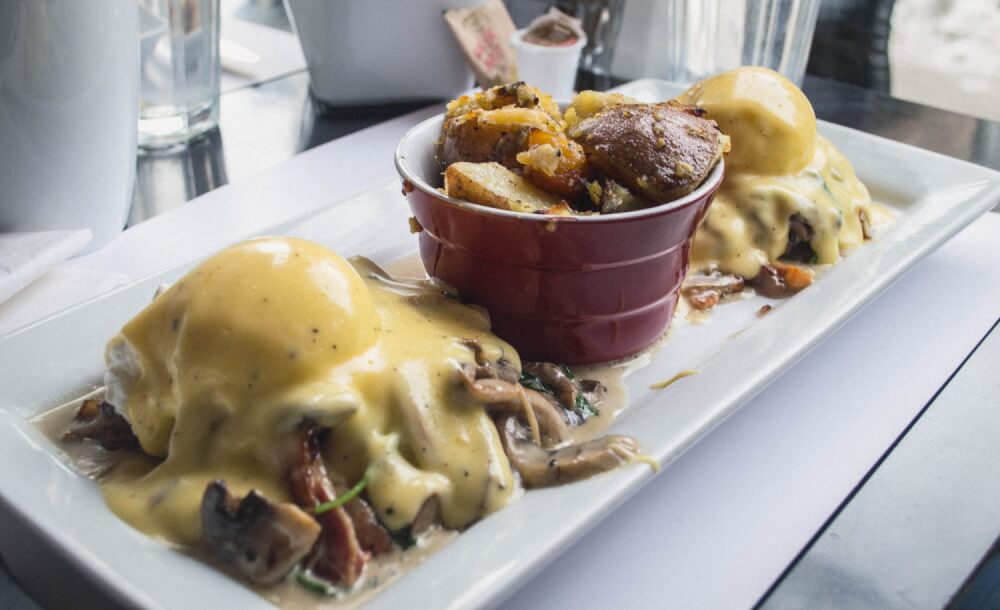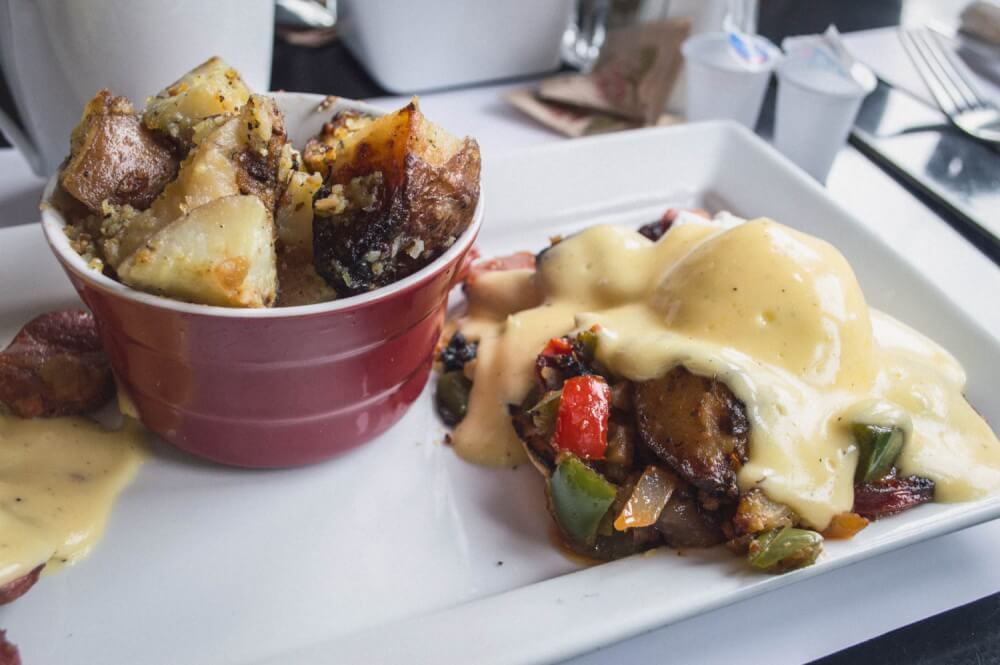 There is one last reason why I would say that L'Avenue is a must-visit if you are in Montréal and that is: the bathroom. It is seriously the coolest bathroom I have ever been in. Not convinced? Creeped out by my suggestion? You just have to go see for yourself.
And now, excuse me as I scour the streets of Vancouver attempting to find the perfect eggs benedict. Don't wait up, I might be a while.
---
Watch my most popular YouTube video this week:
---