*FYI - this post may contain affiliate links, which means we earn a commission at no extra cost to you if you purchase from them. Check out our Privacy Policy and Disclosure. for more info.
I'll be real with you: London in May is so lovely, it's borderline unbearable. Vibrant flowers assaulting you from every direction, the occasional specks of aggressive sunshine, and of course, previously green parks painted with pasty, optimistic tanners.
I'm just joking – I love it. I love it so much that I've come back for it three years in a row. London in May is the Romeo to my Juliet, the jam to my scone, and the awkward eye contact to my Tube ride. You catch my drift? London in May completes me.
Typically, my Annual May escape to London is one in which I usually empty my wallet of any savings, pad my waistline with needless indulgences and of course, give into the madness of whatever flower(s) are in bloom. By the end of it, my blood stream is half tea, and the other half, cider.
This year's visit was perhaps the loveliest of all, with wisteria out in full force and more sunshine than London has seen in…… probably ever?
Now, those of you who stalk my Instagram Stories will know that I recently had the most incredible few days in London. If you missed out on my play by play though, here's a quick recap (with plenty of photos) of what London in May has to offer:
Give in to wisteria hysteria
Wisteria hysteria is far more than a jokey hashtag, it is a VERY REAL illness that causes dramatic symptoms like incessant drool, severe shamelessness, and a sociopathic need to laugh candidly into the purple abyss.
After narrowly escaping its clutches for the past few years, 2018 was the year I succumbed.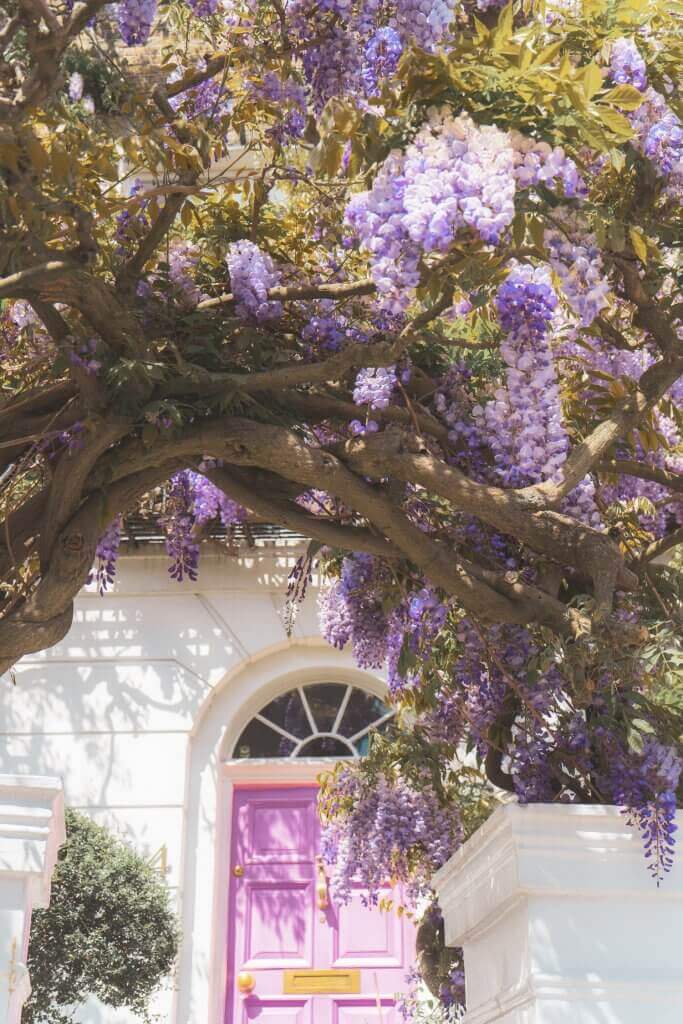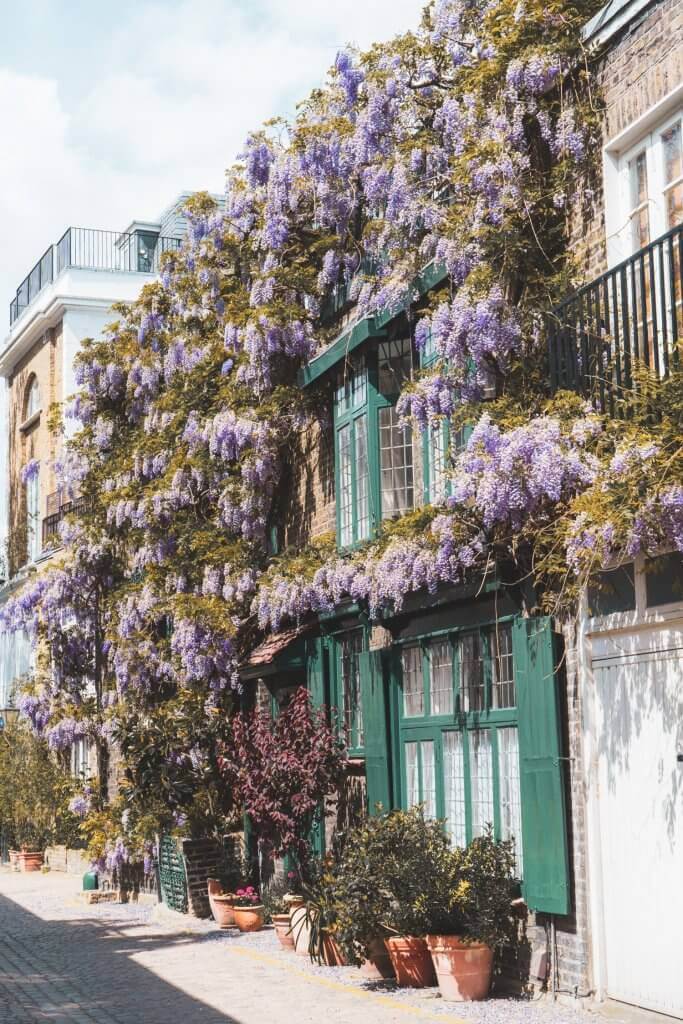 My short few days in London had their fair share of wisteria hunting, but as psycho as I was (with my location scouting and star-filled Google Maps), I was bested when I saw two girls who had hired themselves a rickshaw driver to cart them around to the best wisteria spots around Notting Hill. Genius.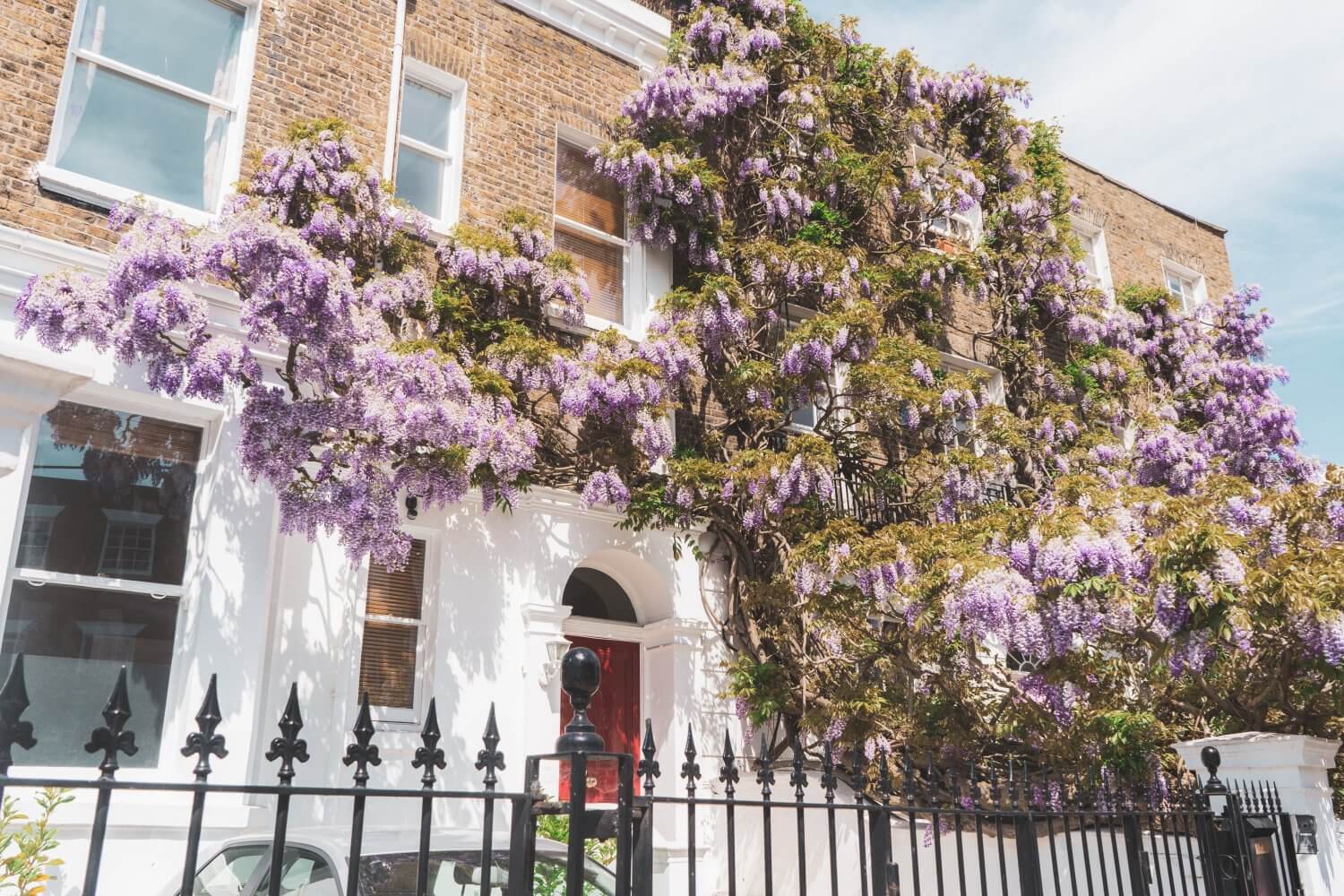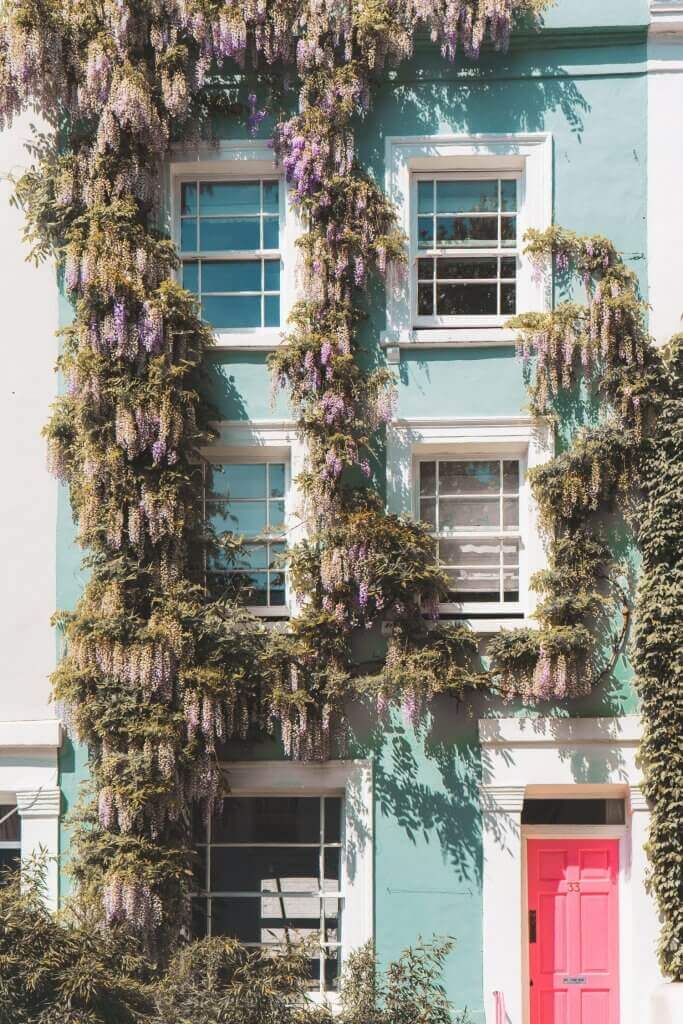 Actually, just embrace floral madness all around
On my visit last year, I had just missed the purple clenches of wisteria hysteria, but made it just in time to see roses in bloom and the beginnings of the Chelsea Flower Show & Chelsea in Bloom.
One of the most brilliant things about visiting London in May is that there's always something in bloom, turning even the simplest of walks into photogenic masterpieces (or genuine death traps if you have allergies like me). I somehow neglected to photograph all the other beautiful floral facades I encountered, so here are some photos snapped around Chelsea this time last year: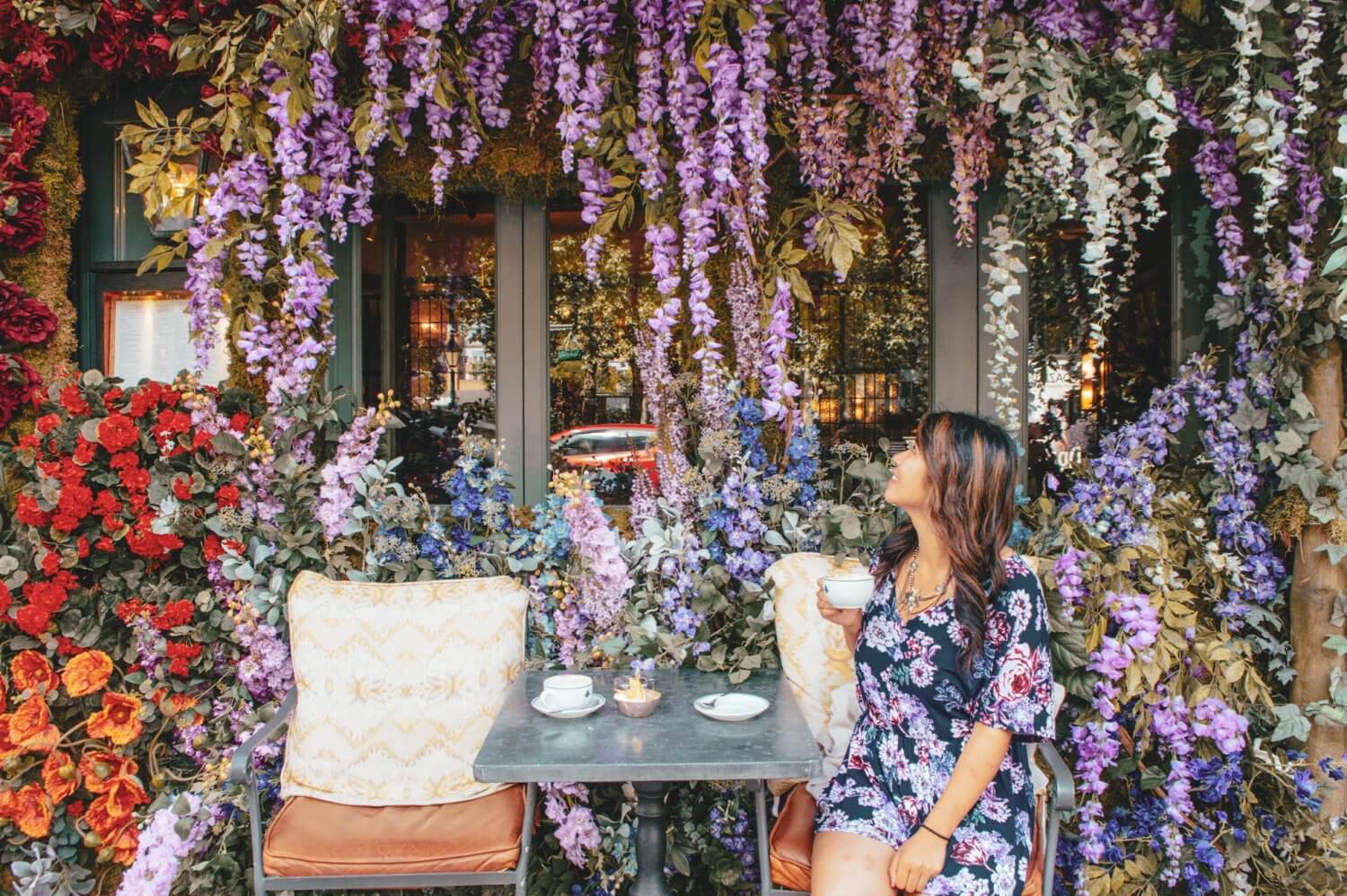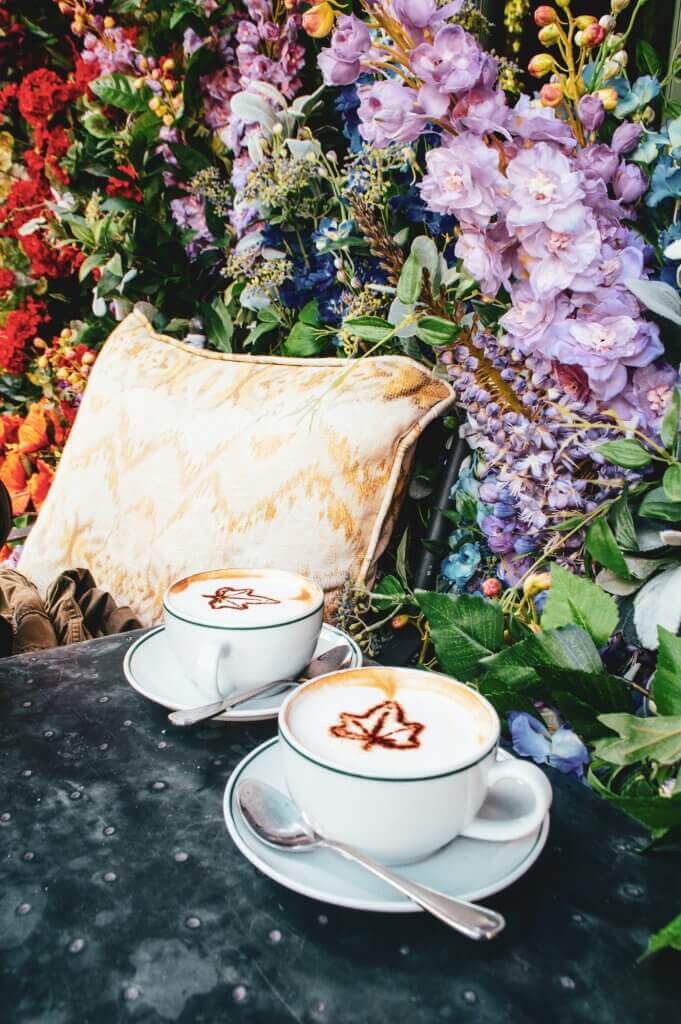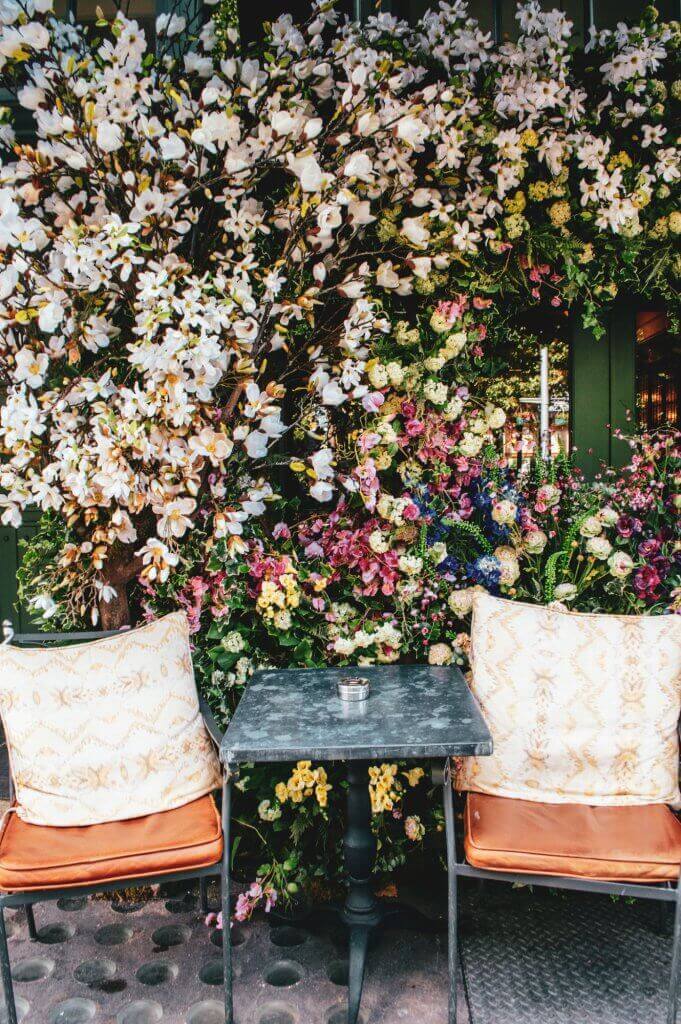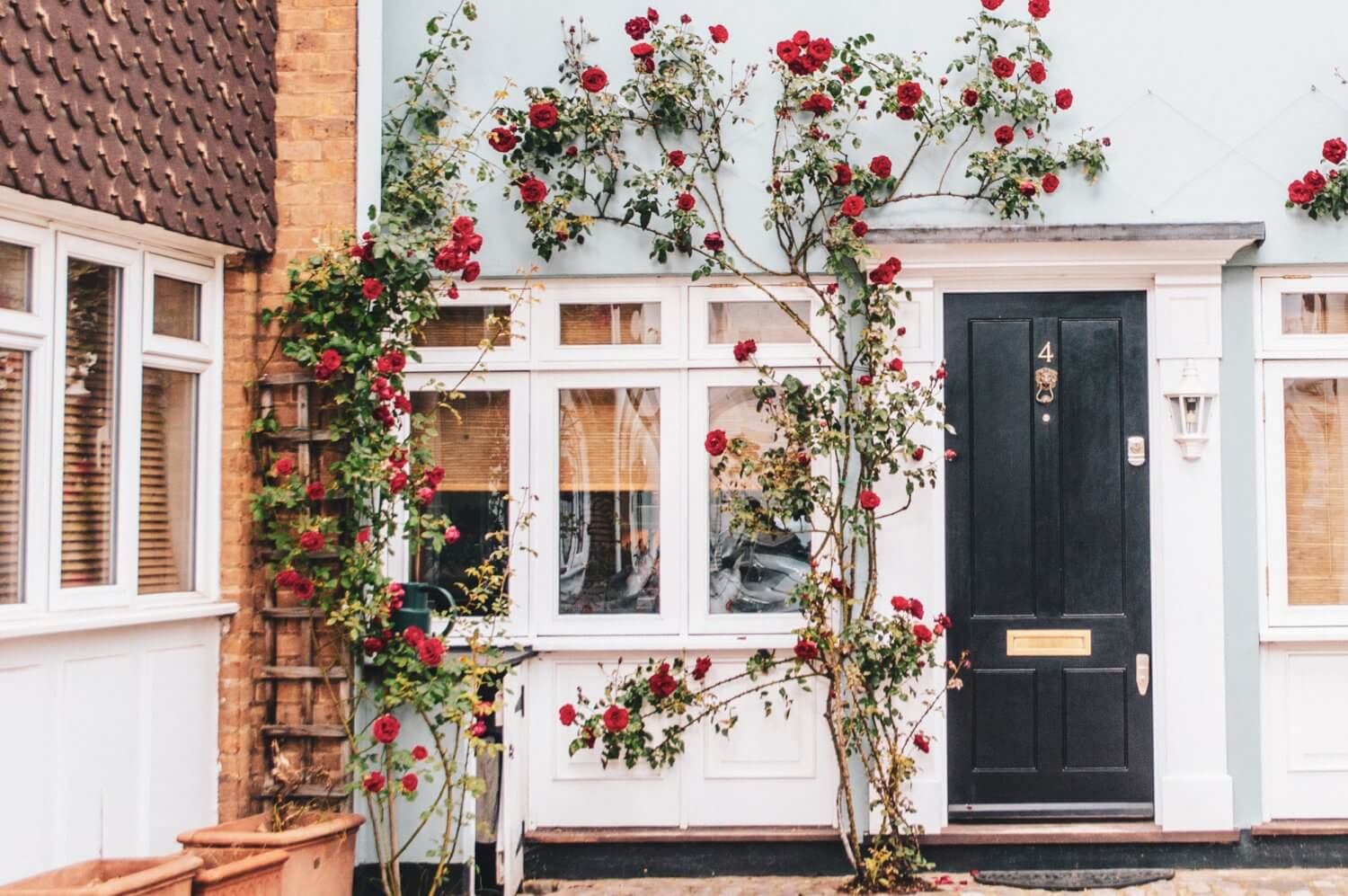 Celebrate St Pancras' 150th birthday
On October 1st, 2018, London's gorgeous St Pancras Station will be celebrating its 150th birthday. Never one to miss a party, I threw on my daintiest white dress and celebrated a whopping 3 months early. Judge me all you want, I just love cake okay?
During my short stint in London, I had the chance to attend a media preview for St Pancras' newest partnership with Fortnum & Mason, an Afternoon Tea & Tour package that first stuffs your brain with cool facts and history about St Pancras, then promptly stuffs your mouth with warm scones. Can you think of anything better?
Having crossed through this station countless times during my little London visits, I loved the opportunity to slow down and really appreciate the details I never knew were there (like Europe's longest champagne bar!), as well as learn about the station's tumultuous history. The fact that the station has public pianos and a free jukebox are of course, happy little bonuses.
I have an aggressive love for afternoon tea, and I find words sometimes fail to capture this ardent affection. That's why I'm going to literally just shout menu items at you right now: SCONES. JAM. CLOTTED CREAM. CUCUMBER AND CREAM CHEESE SANDWICHES… and a whole lot more. Fortnum & Mason do an epic afternoon tea in London, with an exclusive Saint Pancras blend that's to die for. If you're lucky enough to be in London this month, be sure to check out this limited time offer 🙂
St Pancras will be offering its 150th Afternoon Tea & Tour from May 21st – June 5th. Take a look at bookings and details here.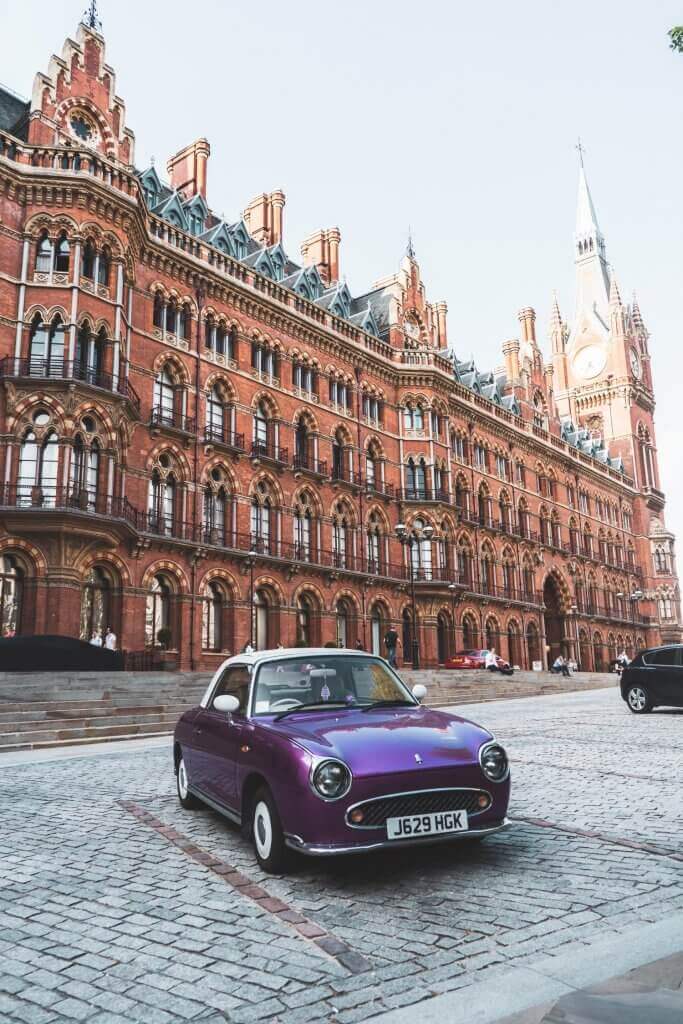 Explore London's most colourful neighbourhoods
Colourful houses are my kryptonite. Never underestimate the power of colours to turn this girl into an actual puddle of goo. Needless to say, I got my fill on this last visit…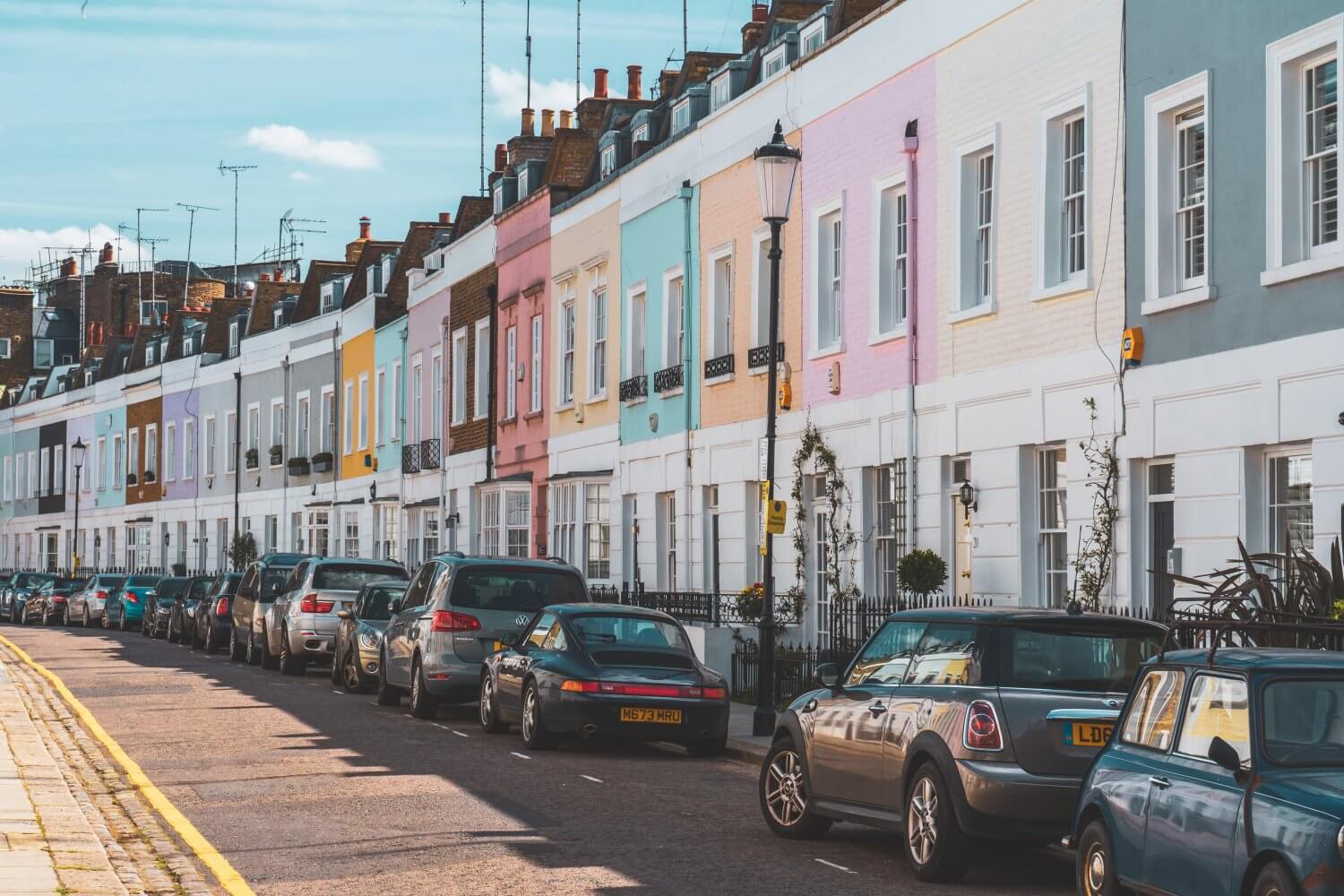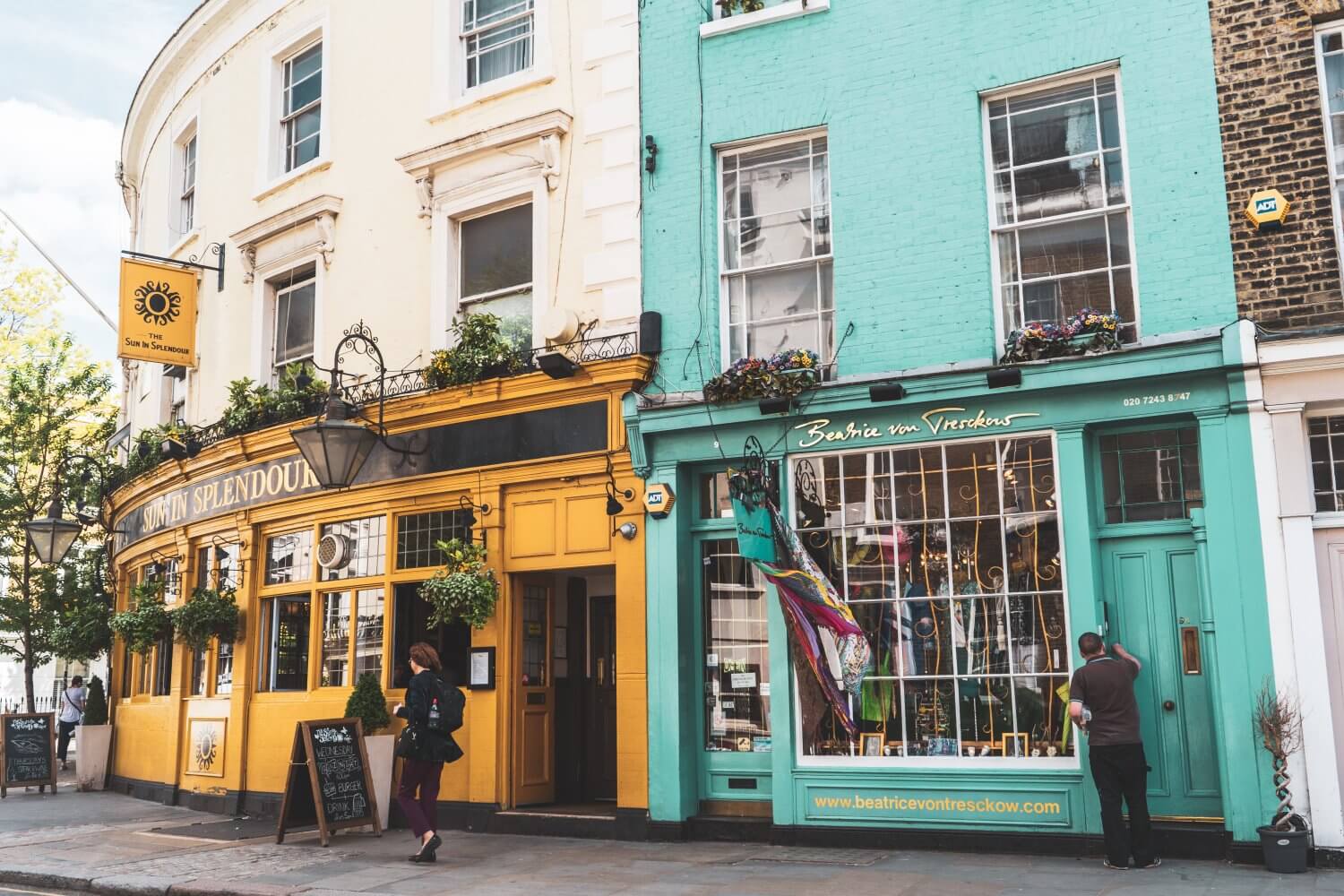 Enjoy London's green spaces
In a city known for its glorious skyline, endless attractions and stuffy Tube system, it's easy to forget that London also has its fair share of beautiful parks. I mean, I sure had no idea.
On this visit, thanks to the abundant sunshine, I got to experience London like a true local: sprawled out on the grass, desperately trying to get a tan while juggling a can of cider at the same time.
Jokes aside, there is something very liberating about visiting London after you've checked off all the touristy "must-sees". On this trip, I may not have seen Big Ben, but I did see sheep frolicking in the park… and really, you tell me – which is better?
Last but not least, dine like a millennial queen
I'm not sure what it is about London that makes me chuck any financial sensibility out the window. It's like the city has this weird power over me that whispers "speeeeend" in my ear as it slides over a plate of £10 avocado toast. Do I need rose petals in my latte? Most definitely not, but I will have it, alongside my comically small açai bowl topped with edible flowers. What's that, bank account? I can't hear you over the crunch of my hemp seeds.
Anyways, as you can tell – I had the best time ever and took way too many photos, but I hope you enjoyed that London in May photo diary! For the most candid and up-to-date scoop on my travels, be sure to follow along on my Instagram stories. I've been told they're kinda funny? Anyway, I best get back on that treadmill now, I have approximately 50 million calories to burn off.