*FYI - this post may contain affiliate links, which means we earn a commission at no extra cost to you if you purchase from them. Also, as an Amazon Associate I earn from qualifying purchases. Check out our Privacy Policy and Disclosure. for more info.
Hong Kong is a fast-moving and ever-changing metropolis full of zest and diversity. With its incredible array of cityscapes and wildlife, this destination caters to adventurous foodies, shoppers, and outdoor enthusiasts alike.
Here is an insider's guide on things to do in Hong Kong, alongside where to stay, what to eat and everything else you need to know.
This Hong Kong guide features travel tips from Nam Cheah, a third culture millennial who has spent half her life in Hong Kong and the other half in the UK. Planning to make the most out of life, she documents her passion to laugh, travel and eat on her suitably named blog: Laugh, Travel, Eat.
Armed with the knowledge of a true local, she gives insight on all the must-sees and must-dos in the city. Read on to discover how to make your trip to Hong Kong a memorable one!
---
---
PIN FOR LATER: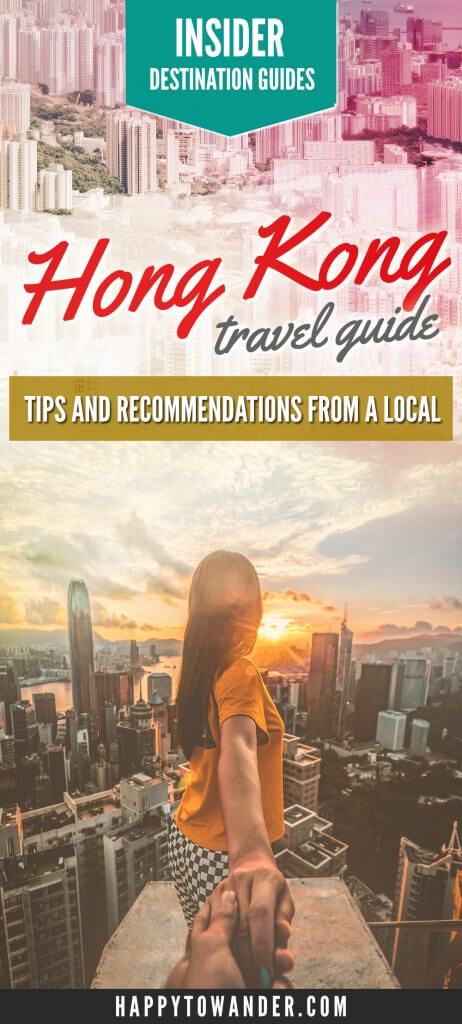 ---
Basic Facts
The best time to visit Hong Kong: The fall! (Although December can also be great if you do not mind the Christmas crowd). Due to the city's hot climate, this season still has temperatures hovering around 25 degrees Celsius.
Hong Kong is perfect for… Just about anyone! Solo travelers, couples, families… Since the city has a low crime rate, safety is not a pressing issue.
The best way to get around: The metro! We call it MTR here. The Octopus is the provided transport card. It can be used for all transport methods, and even to pay at many locations (which is great for days when you forget to bring cash!) The Octopus card can be bought and topped up at any MTR station.
Currency: Hong Kong dollars, which are not the same as RMB in China. Hong Kong is predominantly a cash based city; usually only major stores or restaurants readily accept cards. Some stores also only take card payments for purchases over 200 HKD.
Cool events and festivals to look out for: Chinese New Year! Hong Kong holds celebrations for this event, and is filled with markets, decorations, festive menus – the whole ordeal!
If you only have one day in the city, you absolutely cannot miss… the Peak! It is a definite must-see!
---
Things to do in Hong Kong (The Touristy Must-Dos)
The Peak: you cannot get a better view than at Victoria Peak, and taking the 120 year old tram up is an experience in of itself.
Star Ferry across Victoria Harbour: one of the most affordable and most amazing experiences around! For 2 HKD you can cross the harbour in style and get an amazing view in the process.
Mid-level Escalator: this is the longest outdoor escalator in the world, and leads up to the entertainment and pub district.
Ladies Market: regardless of whether or not you plan to shop, attending a hawker market street in Hong Kong is fully worth experiencing for its unique vibe.
Dragon's Back: this is one of the easiest hikes with one of the prettiest views in Hong Kong! Keep in mind that it can be crowded on the weekends.
---
What to do in Hong Kong (Off the Beaten Path)
Ten thousand Buddha monastery: while this is no longer a secret spot, its hidden location in Shatin does make it hard to find and reach. With over ten thousand Buddha statues and some cheeky monkeys, it is a lovely place to visit. Click here for a more thorough HK temples guide.
Sham Shui Po Apliu Street: an electronic market in one of the most local neighborhood in Hong Kong. If you need any electronic parts or accessories, this is the cheapest place to get them. There are also great food and fabric markets nearby.
Kwai Chong Plaza: best suited for those who like to shop, this maze of a shopping mall has four floors of tiny stores that sell everything and anything. Some delicious street food options can also be found here!
Sharp Island: an island in Sai Kung that you can reach via 20 minutes of ferry. Millions of years ago, this island was a volcano, and is now a geological park with a tombolo (a tide-dependent sand bank that connects the island to the mainland). The beautiful beach here is worth checking out!
---
What to eat in Hong Kong
Egg waffle: this is a street food that originated in the streets of Hong Kong in the 50s. It essentially consists of waffles shaped like "eggs", and comes in a variety of flavours. I recommend trying this delicious treat at Modos or Mammy's Pancake!
Bubble tea: although it was originally a Taiwanese concept, Hong Kong has embraced this drink with open arms. Bubble tea here is not limited to just tea with boba, but can take the shape of many brewed concoctions. My favourites include the hand-squeezed lemon tea from Happy Lemon and milk tea with grass jelly from Share Tea.
French Toast: It may be called French Toast, but Hong Kong has its own twist to this snack that comes with maple syrup, peanut butter, and plenty of butter. It can be bought at any cha chaan teng, though Tai Hing is a common chain that sells it.
---
Best restaurants in Hong Kong to try
Ham & Sherry:
Address: 1-7 Ship St, Wan Chai
Come here for the best Spanish dishes around! This venue also holds the largest sherry list in Asia, and has a varied menu perfect for sharing with friends. The atmosphere has a lively 'bodega' feel to it, and the open kitchen allows you to watch the chefs in action. Come try their delicious tapas!
Tim Ho Wan:
Address: 18 Hong Ting Rd
An affordable Michellin restaurant with top-notch dim sum options! Their BBQ pork buns are a must-try. The Tim Ho Wan chain holds various locations throughout Hong Kong.
Teawood:
Address: 2/F, Carnarvon Plaza, 20 Carnarvon Rd
This is a chain venue that originates from Taiwan, and can be found in different places throughout the city. Specializing in hand-made desserts, drinks, and savory meals, they offer some of the best comfort food around. I recommend trying their honeycomb toast and beef noodles!
Tai Hing:
Address: G/F, NMP, 14 Museum Road, Tsim Sha Tsui
Another chain venue with various locations, Tai Hing is a cha chaan teng restaurant that is affordable and serves delicious options. This is the place to hit up for Hong Kong style afternoon tea and roast meats!
Outdark:
Address: H8, 8 Hau Fook Street, Tsim Sha Tsui
This place has the best Korean fried chicken in Hong Kong (and trust me, I have tried many options!) Reasonably priced, Outdark is also famous for their cheesy ribs with homemade spicy sauce. This restaurant holds various locations in the city.
Click here to see more of the best restaurants in Hong Kong!
---
Best coffee shops to try in Hong Kong
Cafe Hayfever
Address: G/F, No.62-64 Flower Market Road, Prince Edward
A cafe and a florist shop in one, this is the cutest venue hidden in the flower market of Hong Kong. With great coffee, delicious cakes, and a lovely colourful setting, this gem is worth visiting!
Teakha
Address: Shop B, 18 Tai Ping Shan Street, Sheung Wan
Although pricier than the average place, Teakha serves up delicious and organic teas, lattes, and hot chocolate. They are also known for their homemade cakes; I personally adore their green tea cheesecake!
---
Hong Kong Nightlife: Where to go out!
Lan Kwan Fong (the LKF):
Located in Central, this is the main party district in Hong Kong. It is home to over 90 restaurants and bars, and hosts carnivals and major festivals throughout the year. With such a diverse atmosphere and so many options, it is hard to pick out a single spot to visit. However, Lily and Bloom is great for cocktails!
Knutsford Terrace:
The equivalent of the LKF in Tsim Shan Tsui, this is a strip of restaurants, bars, and clubs. The street is strictly for pedestrians, so instead of vehicles, the area outside venues is full of tables and chairs. With lots to explore, you are bound to have a good time!
Potato Head
Address: G/F, 100 Third Street, Sai Ying Pun
Set in an up-and-coming hip district, Potato Head is a vibrant restaurant with Bali inspired art and cuisine. Come here for a great fusion experience with delicious (and sustainable) cocktails!
---
Best Neighbourhoods in Hong Kong to Stay
Central: I think the name is self explanatory! This neighbourhood provides convenient access to nightlife, popular attractions, and public transport.
Click here to browse the best deals on central Hong Kong hotels
---
Where to stay in Hong Kong
BUDGET:
HK Peace Guest House:
Address: c6, Chungking Mansion, 36-44 Nathan Rd, Tsim Sha Tsui
Small but nice, the Peace Guest House is great for those traveling on a budget. Located inside the Miranda Mansion in Tsim Sha Tsui, it is close to public transport and many restaurants and shops. Truly, you will not find a better location for this price range. Free WiFi provided.
MID-RANGE:
Butterfly on Wellington:
Address: 122 Wellington St, Central
Down the road from Mid-Level Escalator is this little boutique hotel that offers an excellent location at an affordable price tag. A short walk away from Hong Kong's finance and entertainment centre, Butterfly on Wellington is a convenient location to explore from on foot. Free WiFi is available, and there are many great restaurants nearby.
LUXURY:
The Upper House:
Address: Pacific Place, 88, Queensway, Admiralty
Rated as Hong Kong's #1 hotel on Tripadvisor, The Upper house is a gorgeous luxury hotel located in Pacific Place. With a modern, sleek design, this is the perfect place to hit up for a relaxing stay, delicious food, and spectacular views… all from the comfort of your room. In-house restaurants and free WiFi available.
---
Where to get the best views of Hong Kong
The Peak and Lugard Road: this is hands down the best view you can get without walking too much! As you walk around this loop, you get beautiful views of tropical forests as well as a panorama of the Victoria Harbour and Kowloon.
Kowloon Peak: this is a more challenging trek, and so is great for hiking enthusiasts. At the top of this trail, you will be rewarded with a spectacular view of the Hong Kong skyline. The night view from this spot is amazing, and very popular among the locals.
---
Best places to go shopping in Hong Kong
Tsim Sha Tsui: this area has some great malls such as The One, Isquare, and Mira Mall.
Mong Kok: hit up the markets here (such as Ladies Market and Fa Yuen Street) for more authentic local products.
---
Best Day Trips from Hong Kong
Macau: A 2-3 hour ferry ride from Hong Kong, this region is best known as the "Vegas of China". Famous for its array of shows, casinos, and vibrant nightlife, this is a hotspot for anyone seeking to be entertained. Macau was also a Portuguese colony for over 300 years, which has resulted in a territory of blended cultures. Its history beautifully shows through its architecture, food, and overall ambiance. Keep in mind that this trip requires a visa to visit.
Click here to browse trips & tours to Macau
Shenzhen: Literally just a border away, Shenzhen is one of the most popular cities in China. Here you can find some of the most modern buildings worldwide, an active art scene, amazing amusement parks and beautiful botanical gardens. Some of the city's most visited attractions include the Window of the World (with replicas of the Eiffel tower, the pyramids, and Taj Mahal), the Chinese Folk Culture Village, the Safari Park, and stunning beach resorts. This trip also requires a visa.
Click here to browse trips & tours to Shenzhen
---
Extra Safety Tips for Hong Kong
Be careful of pickpockets, particularly in the Mong Kok and Sham Shui Po areas.
---
Other Tips
Keep in mind that Hong Kong, though it is part of China, has its own currency, law system, and visa requirements. Also, when buying something from hawkers by the street with no price marked, haggle!
---
ABOUT THE AUTHOR:
Nam Cheah is a third culture millennial who spent half her life in Hong Kong and the other half in UK. Planning to make the most out of life, she documents her passion to laugh, travel and eat on her suitably named blog: Laugh, Travel, Eat. When she's not doing any of that, she's either catching up on TV while online shopping or writing her novels.
Thanks for reading Happy to Wander's Hong Kong Insider Guide! Please note that this post does contain affiliate links that come at no extra cost to you, but helps net a small commission to keep the site running. Thanks as always for your support.