*FYI - this post may contain affiliate links, which means we earn a commission at no extra cost to you if you purchase from them. Check out our Privacy Policy and Disclosure. for more info.
Getting self-hosted on WordPress is way simpler than you think.
Let's be real: often when bloggers want to make the switch from WordPress.com to WordPress.org, they're terrified by the techy side of it.
And trust me, as the least techy person in the universe (next to my grandma), I understand the woes of being helpless when it comes to 'computer-ing'. Luckily, the process of becoming a self-hosted WordPress blog is actually relatively straight-forward… if you know how to do it right.
This post will show you what the difference is between WordPress.org vs. WordPress.com, the benefits of having a self-hosted WordPress, and duh, last but most importantly: how to go from WordPress.com to WordPress self hosted in a quick, simple and painless way.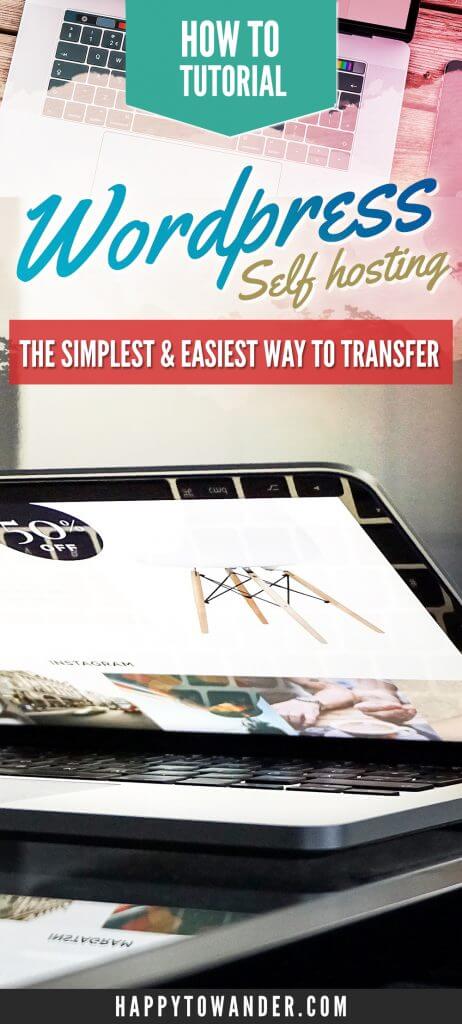 WordPress.org vs. WordPress.com
When people say they use WordPress for their blog, they tend to mean 1 of 2 things: WordPress.COM or WordPress.ORG. These sound super similar but are in fact very different. Here's how:
OPTION ONE – WORDPRESS.COM: This means a blogger is using WordPress.com to host their blog. Usually (unless they've bought a domain name), this means their blog will look like wordpress.com/THISPERSONSBLOG. This is great for beginners and hobbyists, because it's a free and easy way to get things started. That said, it limits you a lot in the sense that you can't monetize or install third party themes/plugins, unless you pay extra (up to $24 a month).
OPTION TWO – WORDPRESS.ORG: They are using WordPress as a content management system that they put on their own site, which means they have full control over everything and are able to monetize, put in ads, install plugins, etc. as much as they want.
WP Beginner has a nice post comparing WordPress.com and WordPress.org. I suggest you give it a read if you're still confused!
Why should you have a self-hosted WordPress?
As I mentioned before, WordPress.com is great for beginners. Best of all, it's free and easy to set up. That said, it's very limiting if your goal is to eventually take your blog to a more professional level. Here's a few reasons why.
Limited customization – staying on WordPress.com (unless you pay $24 a month) means that you can't use any plugins or themes from a third party. This seriously limits your ability to customize your site and make it look/function how you want.
You can't monetize – monetization isn't possible on WordPress.com unless you pay over $8 a month. Many web hosts are available for cheaper than that, and that allows you to then use 3rd party plugins/themes too.
It's harder for you to rank on Google – without getting into the nitty gritty of SEO, basically here's what you need to know: how well your site ranks on Google depends on a variety of factors, one important one being Domain Authority (DA). When you're hosted on WordPress.com for free, you don't have your own domain, hence no domain authority. The earlier you get a domain, the longer time it has to "mature", which is a major DA factor. Anyways, long story short: the sooner you go self-hosted (or at least, buy a domain name) the better.
So, if you want to eventually turn your blog into a business, or at least be more professional about it/start working with brands and the like, I highly recommend the self-hosted route. The amount of possibilities it unlocks is invaluable!
How to migrate a WordPress site: the super easy way
Alright, now the good stuff, the short cut if you will. Migrating a WordPress site is not as daunting as many would think, simply because there's a cheat way to do it.
…. and that is, to have someone else do it for you.
……… for free.
Here is how that's possible: a lesser known perk/freebie offered by web hosting services is that they'll migrate your site for your free of charge. This means they'll handle the technical headaches associated with getting your site onto their servers, all without downtime or stress on your part.
When I switched to Siteground last year, this was the perk that convinced me to go with them! They'll handle one migration for you completely free of charge, regardless of whether that's from WordPress.com to Siteground or another host to Siteground. Their team (from my experience) was really quick and communicative, and the migration worked perfectly. Other blogger friends of mine have had the same experience, so I can definitely vouch for Siteground and their ability to migrate your site for free. Their packages are really affordable too. Check them out here.
SITEGROUND DISCOUNT ALERT!
Siteground is currently offering 70% all shared hosting plans until September 6. Click here to browse packages and take advantage of the cheapest price you'll get this year 🙂
How to migrate a WordPress site: the tough way
Doing everything on your own IS possible, and seems totally do-able so long as you're careful. Since I know I'm not qualified to give advice on the way to do it manually, check out this really helpful step by step from WP Explorer.
Now pat yourself on the back and revel in that inflated sense of self-worth!
Assuming you've gotten it done, congratulations! Welcome to the self-hosted dark side. Let's get you a glass of wine 😉
This page contains my affiliate link for Siteground, which earns me a commission that helps keep the site running. That said, my opinions of them are completely honest and reflective of my own experience! Thanks as always for your support 🙂
Want to travel smarter and more often?
Join over 80,000 followers who love what I have to say! Enter your email here & you'll gain instant access to my special VIP zone, featuring freebies like checklists and printables... plus exclusive content, tips and updates!
---
Watch my most popular YouTube video this week:
---