*FYI - this post may contain affiliate links, which means we earn a commission at no extra cost to you if you purchase from them. Also, as an Amazon Associate I earn from qualifying purchases. Check out our Privacy Policy and Disclosure. for more info.
I've found that among all the beautiful towns of the Cinque Terre, none divides people more than Corniglia. Either you love it with the enthusiasm of a crazed fangirl, or you hate it just as much.
And I'll be honest: for a long time, I hated it. Maybe it's the leg-melting stairs that you need to climb to get to the top, or the fact that you can't directly access the water from it like in other towns…. OR perhaps it was the ridiculous never-on-time shuttle bus that I once waited for, sweating endlessly under the dry heat of that Cinque Terre sun.
All that said, on my second visit, while hiking, I learned to appreciate the charm of Corniglia a lot more. Thanks to those same leg-melting stairs, the visitor numbers here are far fewer than in some of the other towns.
PLUS, those charming back streets and honey ice cream from Alberto's do win you over after a while.
For some, it's these characteristics that might make Corniglia the ideal base for a Cinque Terre adventure.
BUT, the big question then becomes, where should you stay? Hopefully this Corniglia accommodation guide will help with that!
Save this post on Pinterest for later: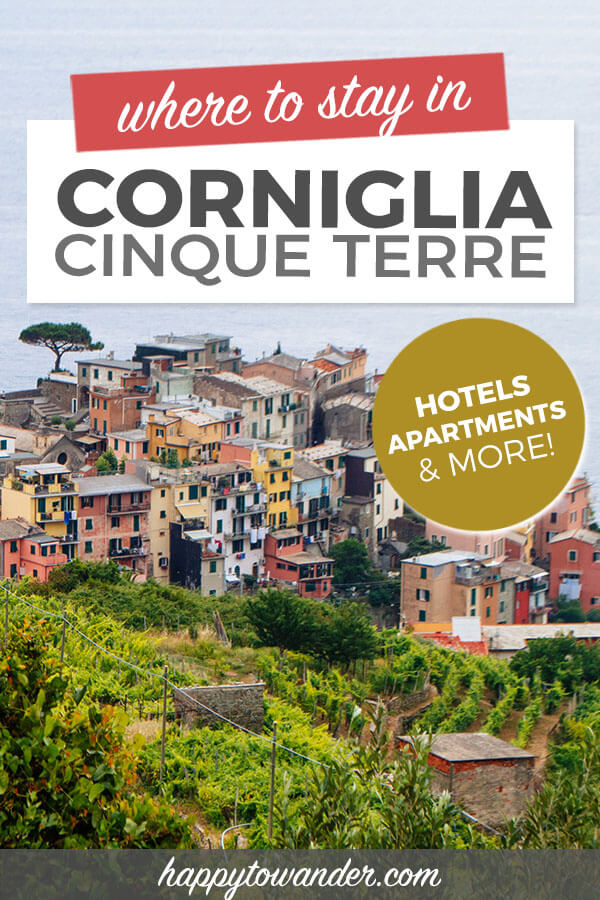 NOTE: While unfortunately, I haven't had the chance to stay at all the properties listed below, each one has been researched and vetted by my team for crucial rating factors such as excellent reviews (none of the options below fall below 8/10 on Booking.com!), excellent location (all properties are central), and cleanliness (based on analyzing reviews across platforms). It's my hope that this guide will help you find the perfect Riomaggiore accommodation for your trip!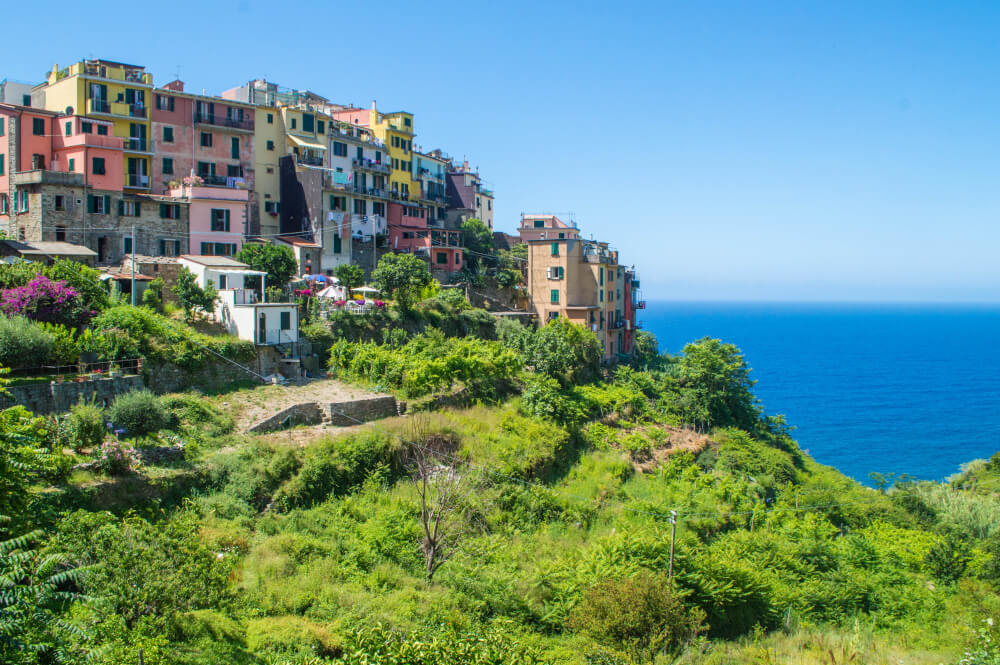 ---
---
A quick note on Corniglia hotels and apartments
As a tiny town, I'm sure it's unsurprising that Corniglia isn't the kind of place where you'd expect giant chain hotels with the usual features like a huge lobby, 24/7 reception, a glitzed out pool/spa area, and all that fun stuff. If that IS what you're expecting, boy am I about to burst your bubble!
Here's the thing: big hotels like that are rare in the Cinque Terre. Instead, you're more likely to encounter something called Affittacamere, which are essentially extra rooms in local apartments/buildings that are rented out by locals. Think sort of like an Airbnb!
These guesthouses are a common accommodation option in Corniglia and Cinque Terre in general. I actually love staying in them, but they're definitely "homier" and feel more like crashing at your aunt's house vs an actual hotel. So, be sure to keep your expectations in check, and know that your accommodation will maybe be different from what you're used to in a hotel of this price range.
PS: Corniglia is small, so accommodation options are scarce…. although this is pretty much true for the entire Cinque Terre! As such, I recommend you book something ASAP before prices skyrocket or properties sell out. I'd look on Airbnb first as prices tend to be cheaper – click here to check!
You can even click here to save big on your first booking.

Anyways, let's get to it. Here are some Corniglia accommodation recommendations for you!
---
---
The best bang for your buck in Corniglia
Recommendation: Arbanella
If you're looking for a great base in Corniglia without spending your life savings, Arbanella is a great highly-rated option that's a favourite among those visiting Corniglia.
Each room offers a balcony with a nice sea view (and sometimes a garden view), free WiFi, AC, a TV, desk, closet and a private bathroom PLUS some bonus perks like an in-room kettle and an active + helpful owner (Francesca) who's happy to give all sorts of insider tips.
Click here to check reviews and availability
---
---
For the cheapest place to crash in Corniglia
Recommendation: B&B Da Beppe
Ideal for those on a budget is B&B Da Beppe, a nice bed and breakfast offering double rooms with free WiFi, free toiletries a kettle, and a private bathroom… all for a low price!
Best of all for the budget-conscious? Your room rate includes some pre-packaged Italian products you can use for a quickie DIY breakfast too.
Between the excellent location and low rates, this is an ideal place to stay in Corniglia if you're hoping to keep costs low.
Click here to check reviews and availability
---
---
For excellent hospitality in Corniglia and sweeping sea views… on a budget
Recommendation: Affittacamere Arbasia de Ma
The fact that it's so often booked out is probably a good sign that Affittacamere Arbasia de Ma offers one of the best price-quality ratios in Corniglia.
Not only does it have incredible views over the Ligurian sea, each room has all the basic amenities you need including free WiFi, a fridge and free toiletries.
Another thing that sets this property apart though is the hospitality – staff offer a train station pick-up, and surprise: they even own the nearby bar!
Click here to check reviews and availability
---
---
Corniglia accommodation for a big family or group
Recommendation: Affittacamere Le Terrazze
If you're travelling in a larger group, Affittacamere Le Terrazze offers several apartments with multiple rooms including one with three bedrooms and a sofa bed!
Finding group-friendly accommodations of this size is a pretty big challenge in Corniglia, so if you're wanting to keep your group together, this is an excellent option.
NOTE: WiFi at this property is only available in the public areas, but if you don't mind unplugging for a bit, this is a great, comfortable and centrally located choice.
Click here to check reviews and availability

---
---
For a picture-perfect terrace escape in Corniglia
Last but not least, if you're eager to drink in views of the sea all throughout your stay, then consider Affittacamere la Torre, a nice guesthouse located in the center of Corniglia.
All the rooms offer AC, a private bathroom and free WiFi, with some others even having a sea view from the room itself! The highlight of this property is of course the incredible rooftop terrace, which overlooks the village and sea.
Click here to check reviews and availability
---
---
Looking for more Corniglia accommodation options?
Check out the interactive map below for your dates!
---
---
---
Watch my most popular YouTube video this week:
---