*FYI - this post may contain affiliate links, which means we earn a commission at no extra cost to you if you purchase from them. Also, as an Amazon Associate I earn from qualifying purchases. Check out our Privacy Policy and Disclosure. for more info.
Because one of my chief hobbies is making fun of myself, I can fully admit to you all today that in recent years, I've become that insufferable friend whose whole entire personality is that they collect points.
Seriously, the thought of a good points bonus has me practically foaming at the mouth. 3x points on food? I'll take ten courses. 2x points on travel? Flights are on me. And when I get to use my additional perks? Oh baby. I go fully feral.
One such perk I've been eyeing for years happens to be one of the least known. In addition to a selection of airport lounges around the world, the Amex Platinum also entitles you to special lounges at select sporting venues, including LA's world-famous Crypto.com Arena (formerly known, and forever known in all our hearts, as the Staples Center).
So when I planned a trip to LA with my sports-obsessed partner, we struck a compromise – fine we'd go to two sports games, but I would get to be obnoxious about the lounge access. Also, I would be gifted some hot dogs for my time.
Well, I'm happy to report that on my recent trip to LA (in April 2022), I got to take advantage of this perk twice, and have some tips to offer about getting in, maximizing your time and making the most of the experience.
So, in this post, allow me to share some insights on the Centurion Suite experience at Crypto.com Arena… well, as much as I can remember anyway. Hot dog comas are a doozy.
The Centurion Suite at Crypto.com Arena: A Brief Overview
If you have no idea what I'm talking about, or perhaps got lost while stalking my usual posts about Europe travel, I'll give you a quick summary.
The Centurion Suite (by American Express) is a suite at the Crypto.com Arena in LA open to Amex Platinum or Centurion members with a valid ticket for that evening's game.
In theory, this means that you could buy the cheapest ticket possible for the event, then enjoy it from the comfort of your exclusive lounge.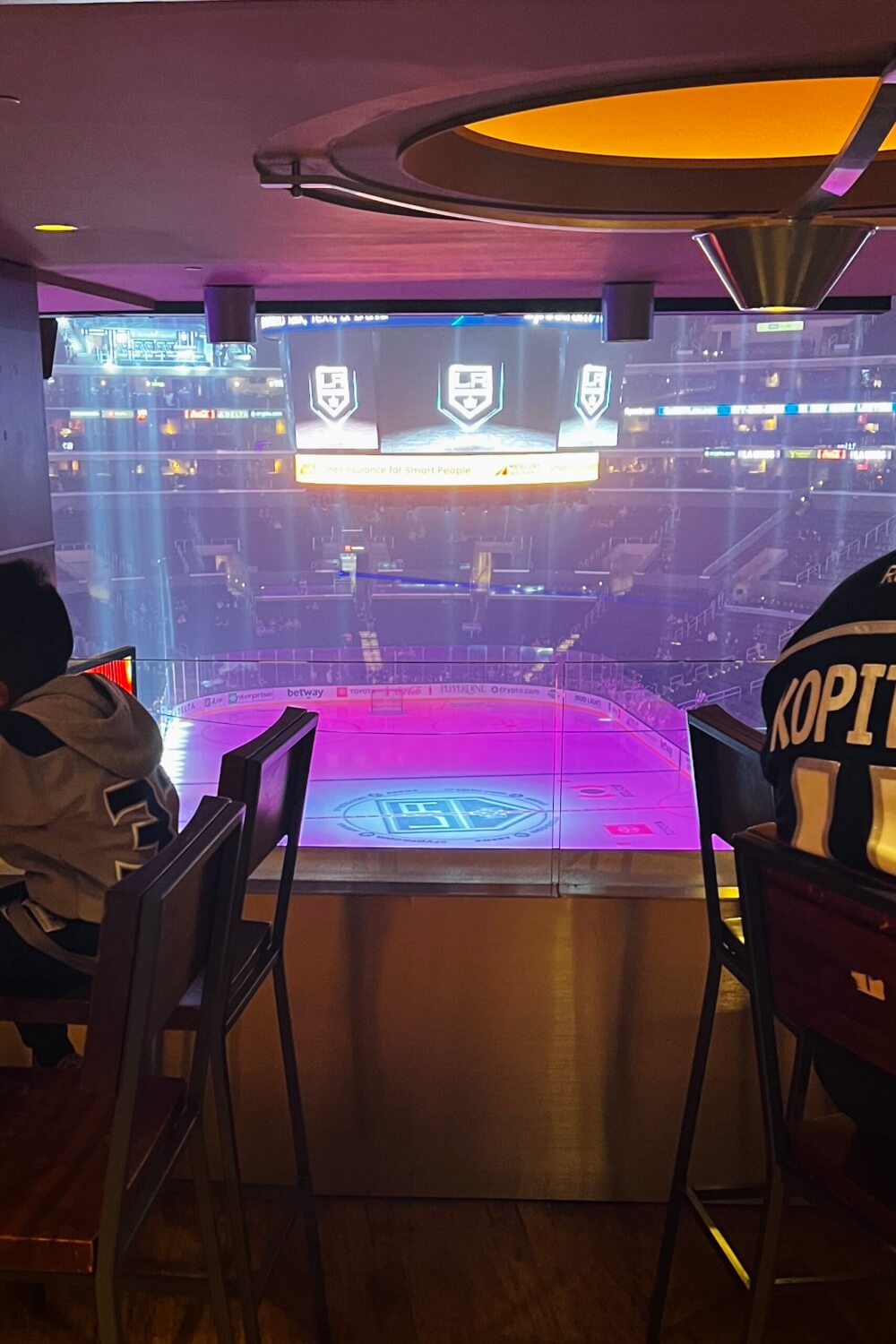 In practice however, capacity is limited, spots fill up quickly, and there's actually not enough seating in the lounge to accommodate everyone who gets in.
For the quick ones who do make it in though, you'll find a full-service bar, along with a special menu of "premium" food selections, and an array of high-top, bar and lounger seats with views from the B level Suite section of the Arena.
It's a pretty sweet deal if you've purchased cheap tickets, and are looking for a free upgrade.
Best of all? Cardholders can bring up to three guests, which means you and your best buds can be obnoxious 'lounge people' together.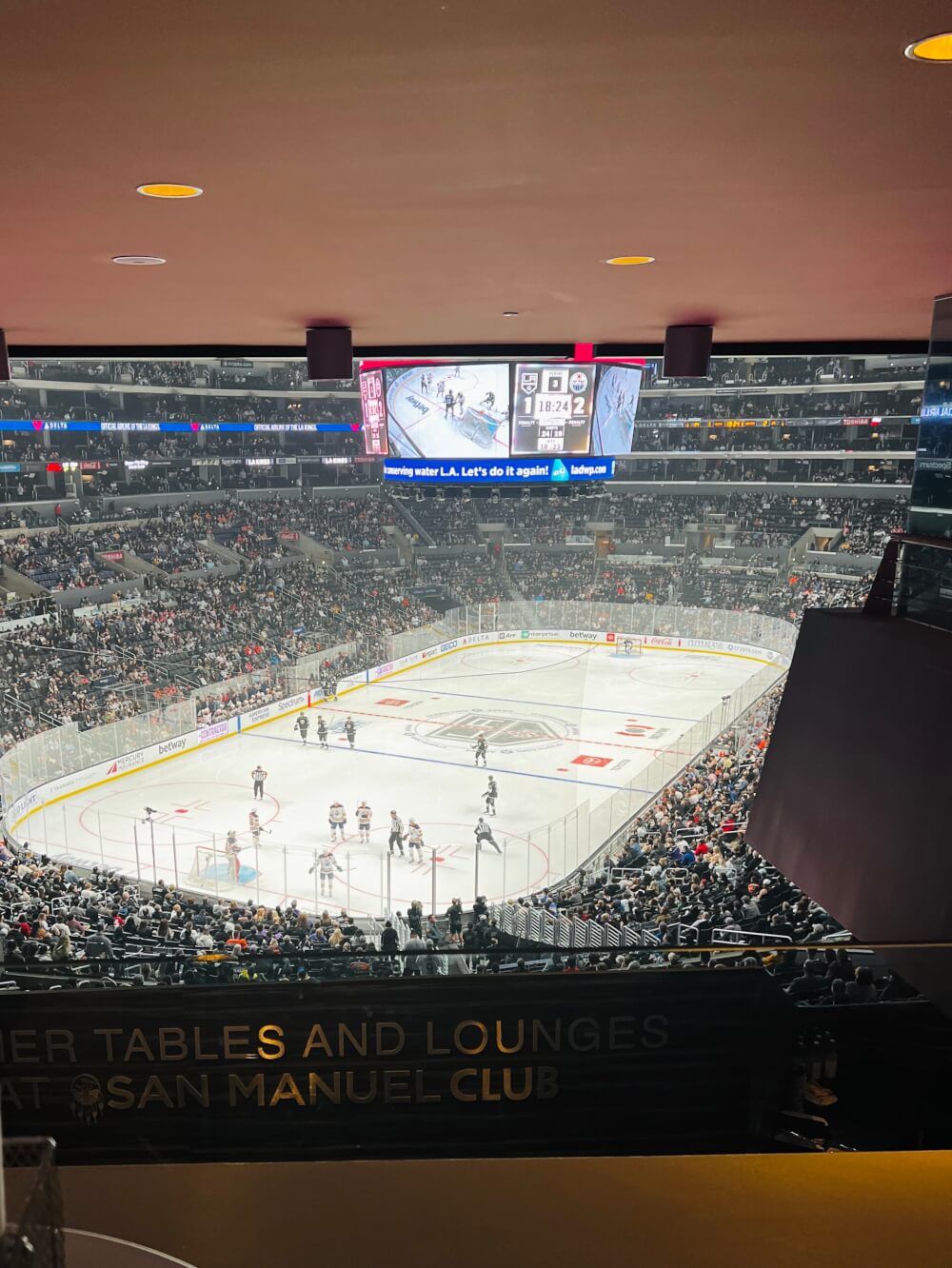 How Entry Into the Crypto.com Arena Centurion Suite Works
The Crypto.com Arena Centurion Suite opens 90 minutes before every game, at the same time that doors open to the arena.
Check in for the Centurion Suite takes place in the Main Concourse, across from aisle M22, next to the Team LA Store, and past the Impact Bar & Grill.
I strongly recommend you avoid the special American Express Cardholder entrance because this is much farther from the Suite check-in area.
Instead, I would go for the "Star Plaza Entry" next to the Impact Bar & Grill. This is the closest entrance to the Centurion Suite check-in area… unless you choose to actually enter through the Impact Bar & Grill itself. We didn't test if this was quicker, but the line definitely seemed shorter from that entrance!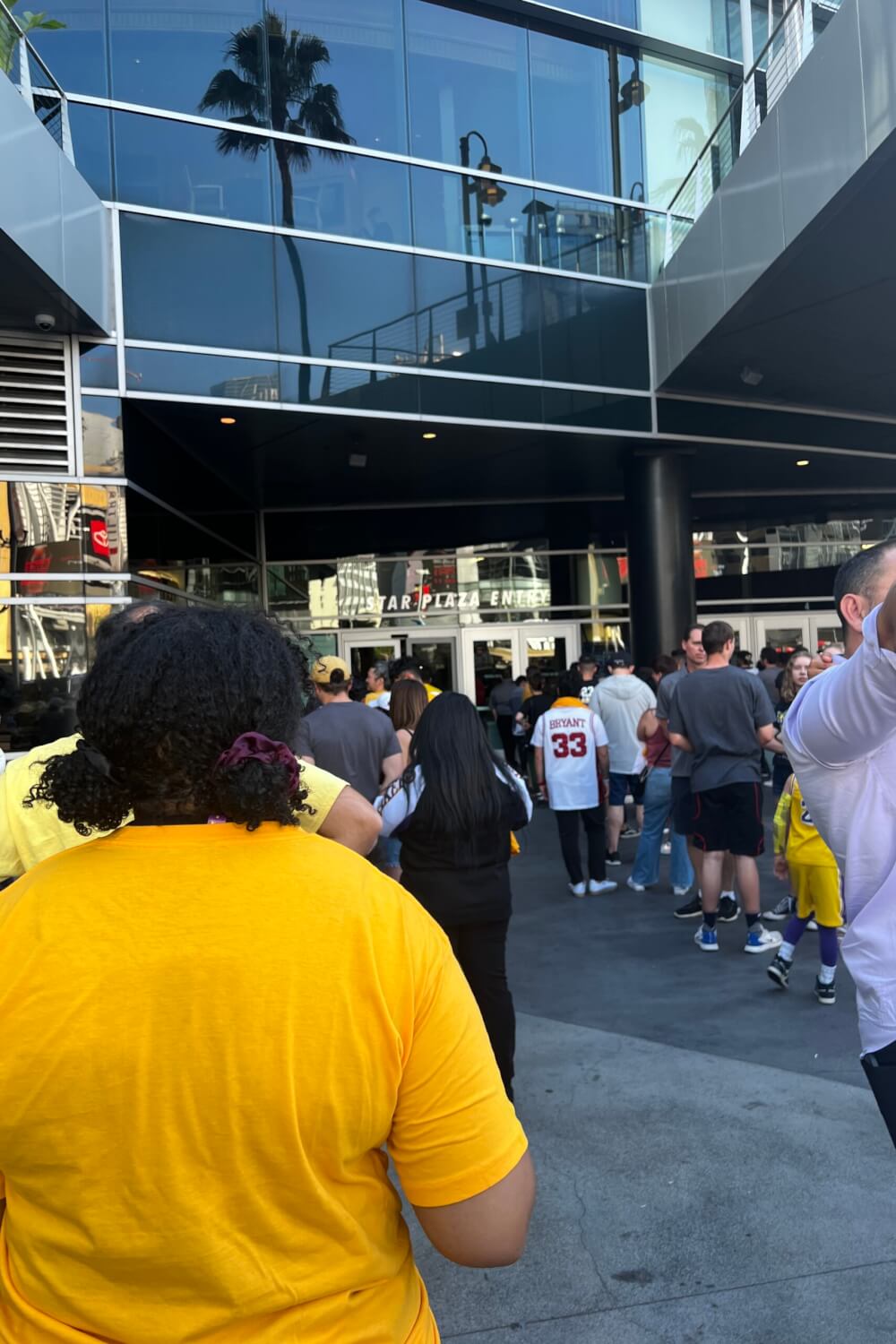 From the Star Plaza Entry, after you pass security and get your tickets scanned, you take an immediate left and the check-in area should be right in front of you.
The area is quite well marked so you won't miss it.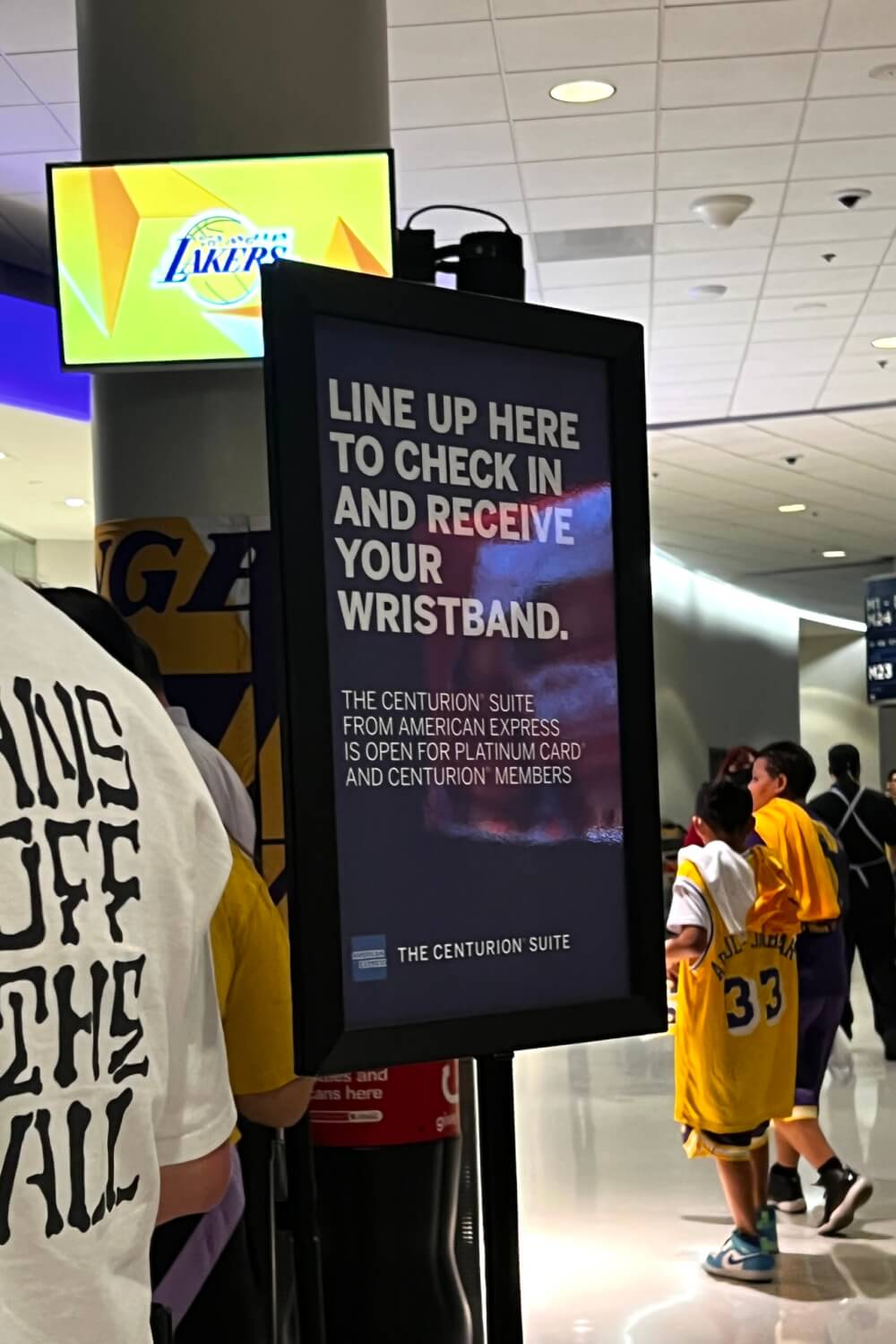 Basically, you get in line with your Platinum or Centurion card in hand, and if there's still space, you get a wristband for you and your guests.
On busy nights, they may hand you a numbered ticket which tracks your place in line. Don't be ridiculous like me and assume it's a free raffle ticket…!
Once you secure a wristband, you are guaranteed in/out Suite access, which means you can come and go as you please… although if you are hoping to snag a seat/table at the suite, you should really head straight up. Lots of people come early and save space for their friends, which means tables get snapped up ferociously quick.
We were told by the Guest Services Team Member at check-in that they only hand out 150 wristbands each evening (this means cardholders + their guests), so you need to arrive early to guarantee your spot.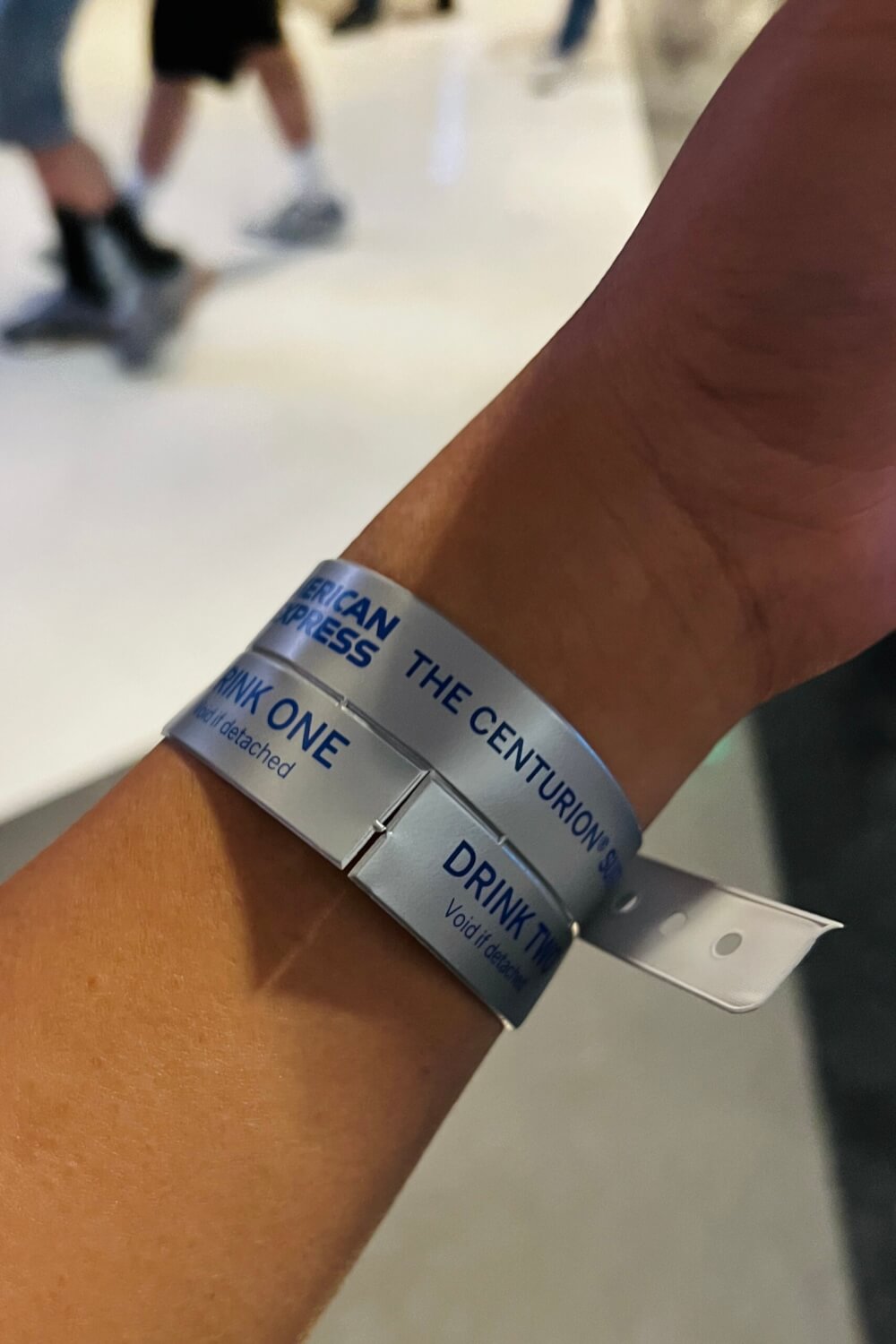 We were advised to show up at least 20 minutes before doors opened, although the competitive nature of the lounge depends a lot on the game/event itself.
On our first evening, we were going to a Kings vs. Oilers game. Since hockey games tend to be less busy than basketball, we arrived about an hour prior to the start time of the game, and still managed to secure wristbands, although there were no seats left at all in the suite.
On our second evening, we went to a Lakers vs Oklahoma City Thunder game, which happened to be the final home game of the season and therefore Fan Appreciation Night.
We were warned by a Guest Services Team Member to arrive early for this one, so we did – 20 minutes before doors even opened (almost 2 hours before game time). Even arriving this early, we were #20 in line!
If you choose to go to the Suite right away, you can go directly from the check-in area (through a fairly sterile-looking hallway) to the suite entrance.
A few escalators and some stairs later, you'll find the entrance to the Centurion Lounge.
Don't worry, if you get lost, there are lots of great staff members scattered all around who are super helpful and happy to direct you to the right place.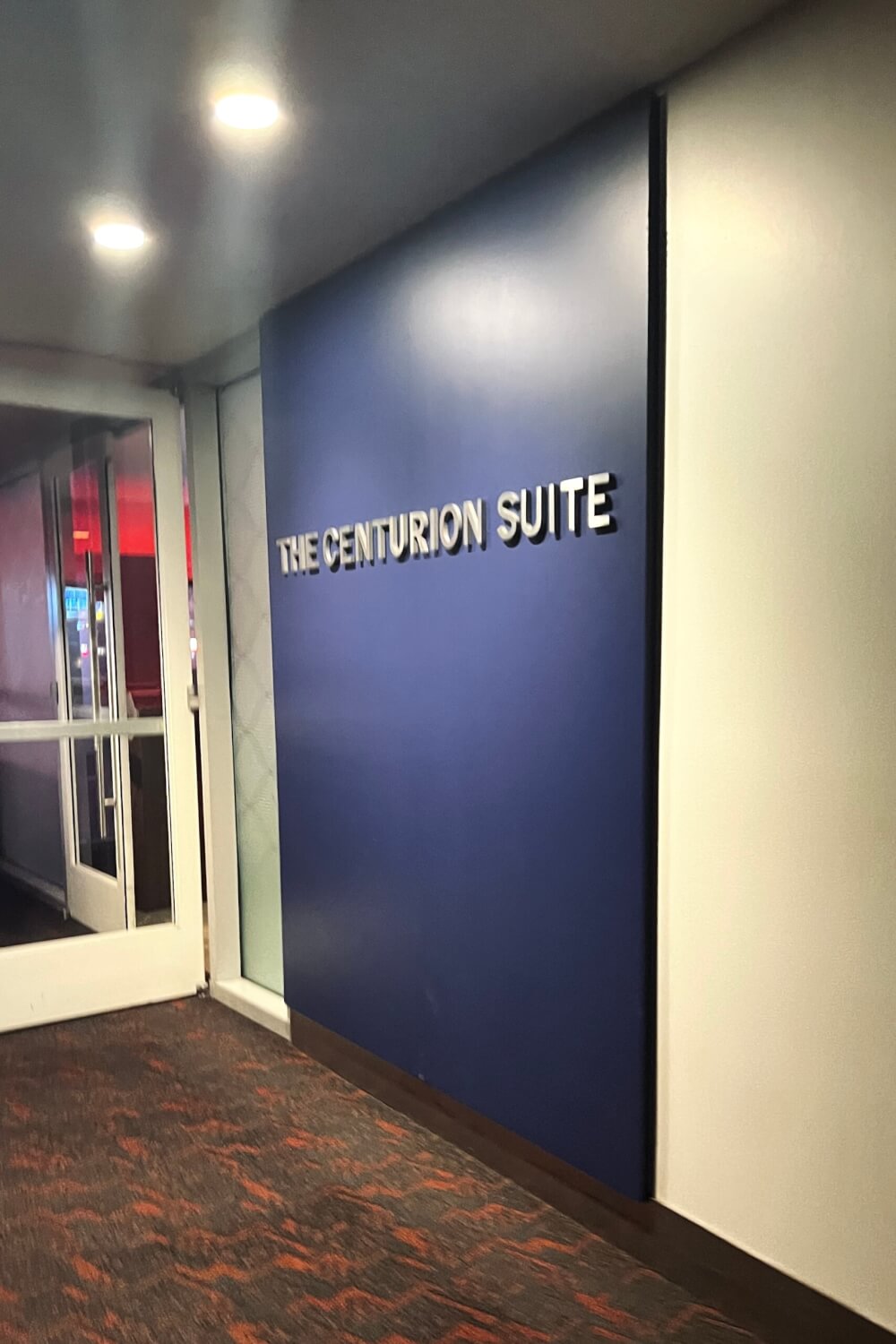 The Actual In-Suite Experience at the Crypto.com Centurion Suite
So what is it actually like inside the Centurion Suite at Crypto.com Arena? Is it worth lining up early to get in?
As someone who always imagined sporting game 'lounge people' to be perpetually in suits, shooting back tubs of caviar and bathing in champagne, I was pretty surprised to see how casual and chill this lounge was.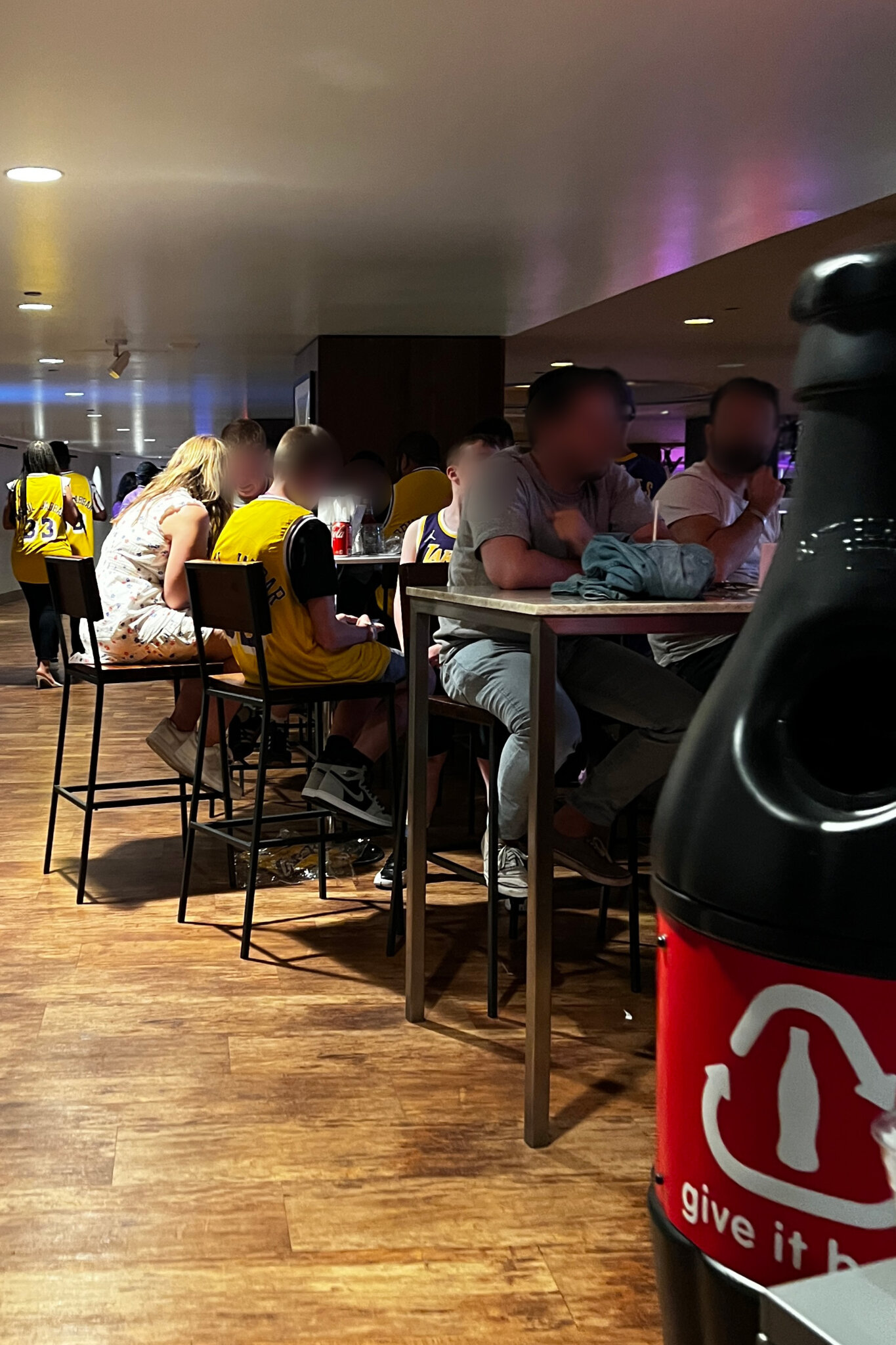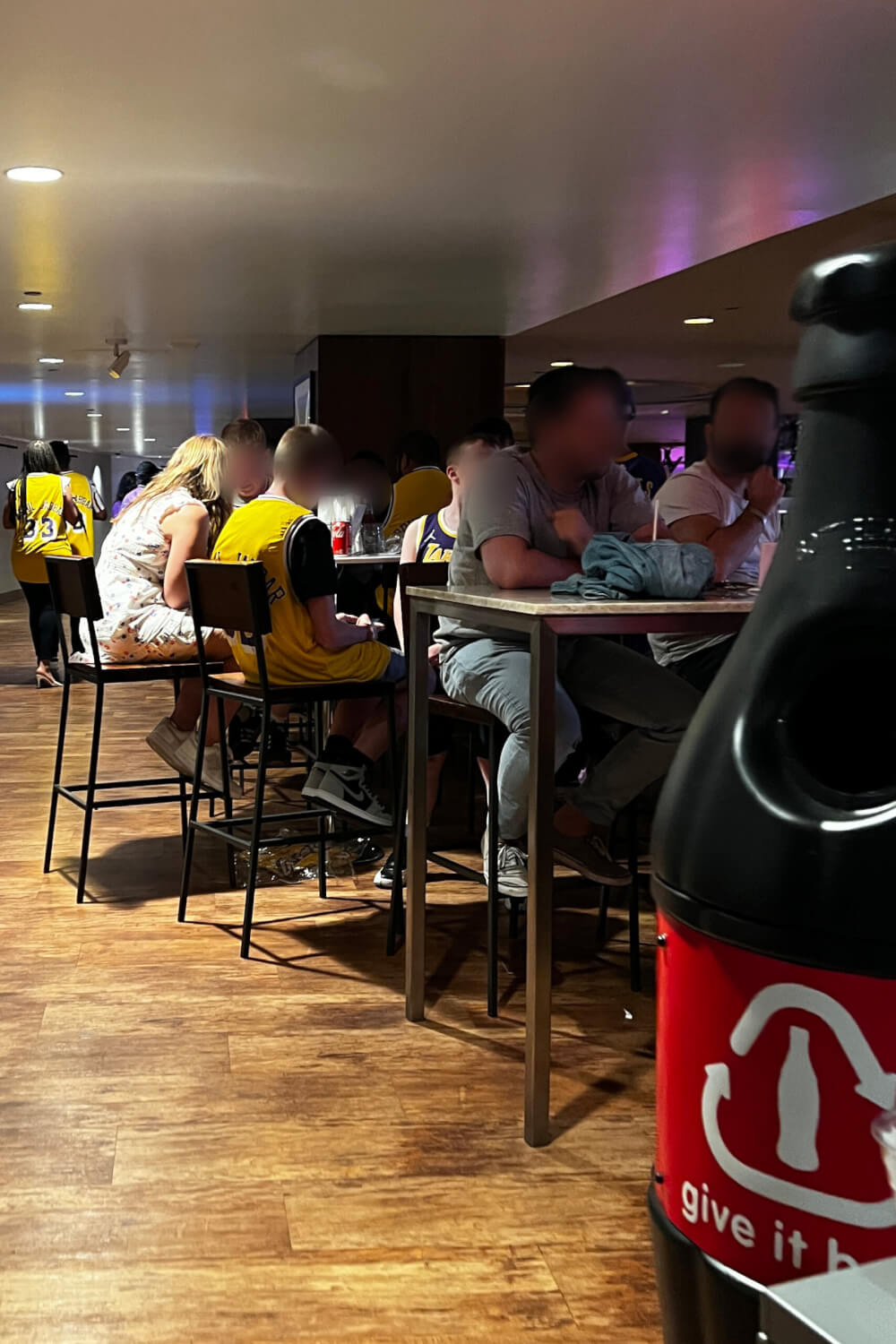 The menu is mainly comprised of standard pub grub, like chicken sandwiches and nachos, and the vast majority of seats are high top tables, so you won't exactly be vegetating in a La-Z-Boy recliner the entire time… but it's still a pretty cool perk, especially when they offer special bonuses like free drinks, which we received two of (each!) on both nights we visited.
While free drinks aren't always something that they offer at the Suite, we were lucky enough to get two drink tickets attached to our wristbands, which were redeemable for literally any drink you wanted in the Suite.
Because alcohol at sporting events = next-level extortion, this perk easily saved us over $70, making arriving early more than worth it.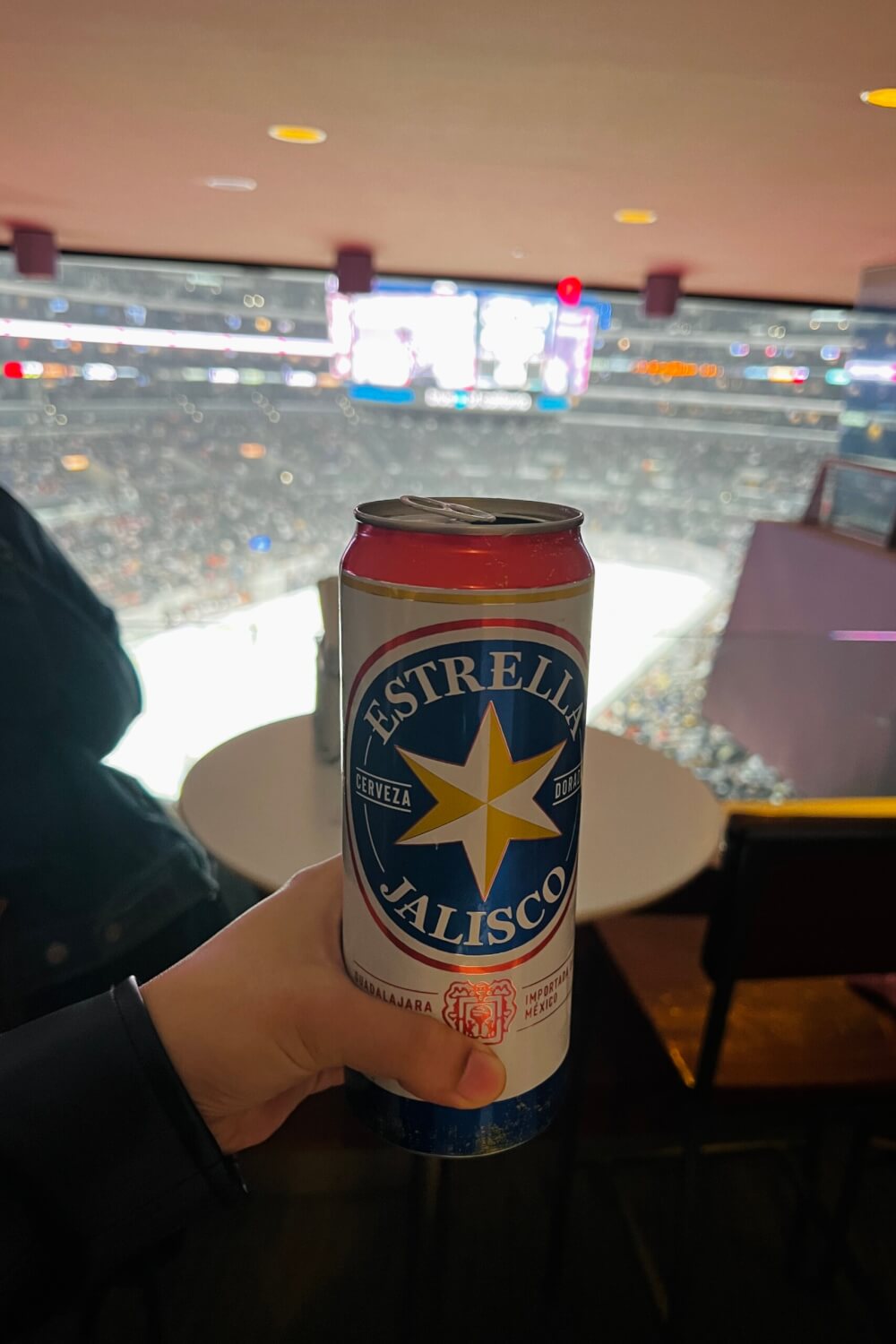 You even have the option of taking your drinks out of the lounge and to your regular seats, which was perfect because by the time we arrived on both nights, all tables and seats in the suite with unobstructed views were already taken.
While some of these folks do indeed clear out as the game starts to sit in their own seats, there's no guarantee that you'll be able to find a place to sit, so the possibility of taking our drinks with us was really handy.
We only ordered food on one of the nights (when we managed to snag a table after 2nd period), but I was actually VERY pleasantly surprised by how good our chicken sandwiches/fries were.
Having a table to eat it on (rather than hunching over in a nosebleed seat) was also quite nice… although I bet anything tastes great after consuming two giant beers the size of your head.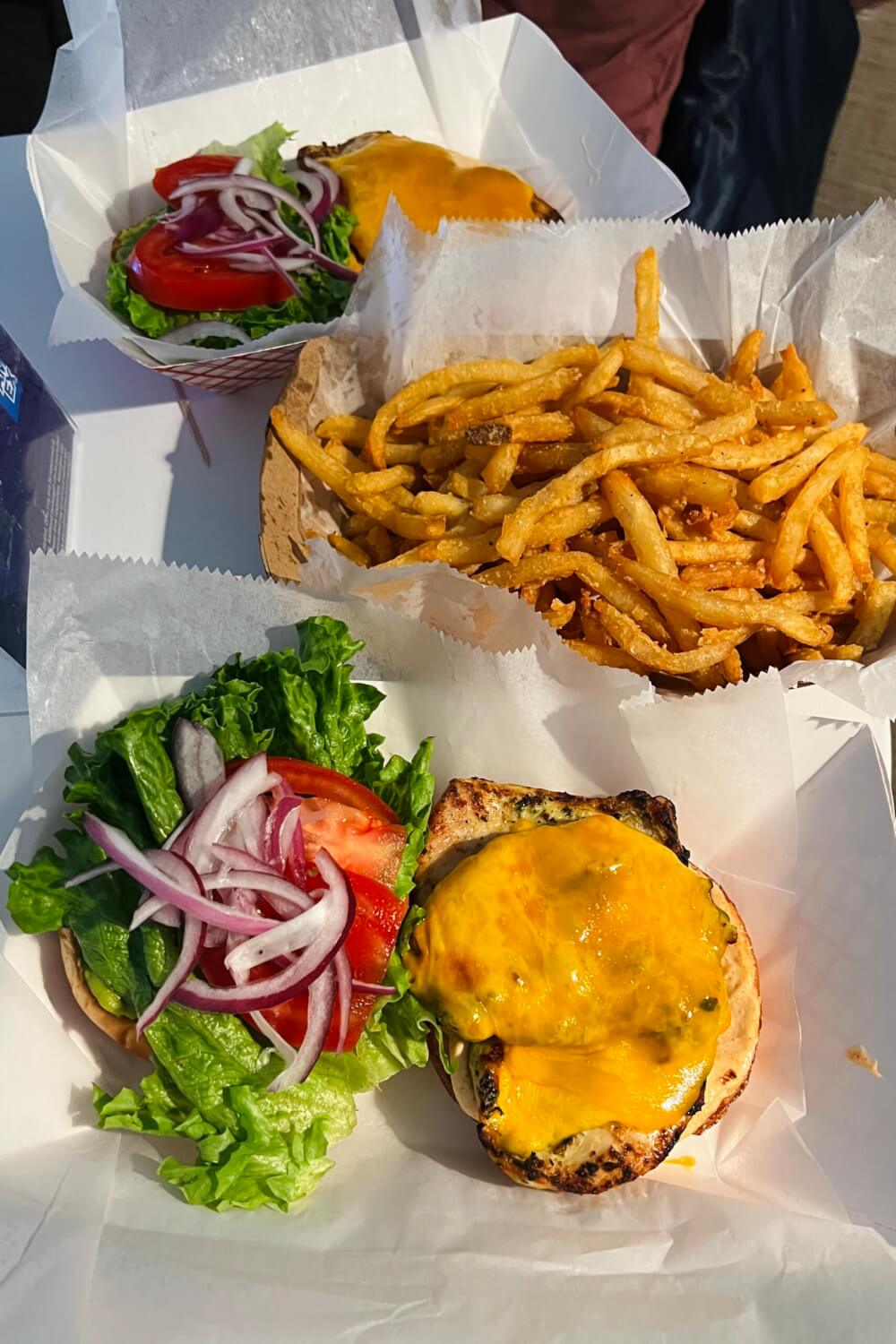 Lastly, let's talk views. The Centurion Suite at Crypto.com Arena is located between the 200 and 300 level sections, somewhat under sections 324 – 329.
This map is fairly old, but is the only one I found that marks exactly where the suite is on a map.
As you can see, the suite's location means you won't be getting center ice/center court views, but it's definitely an upgrade if you bought cheaper upper level seats.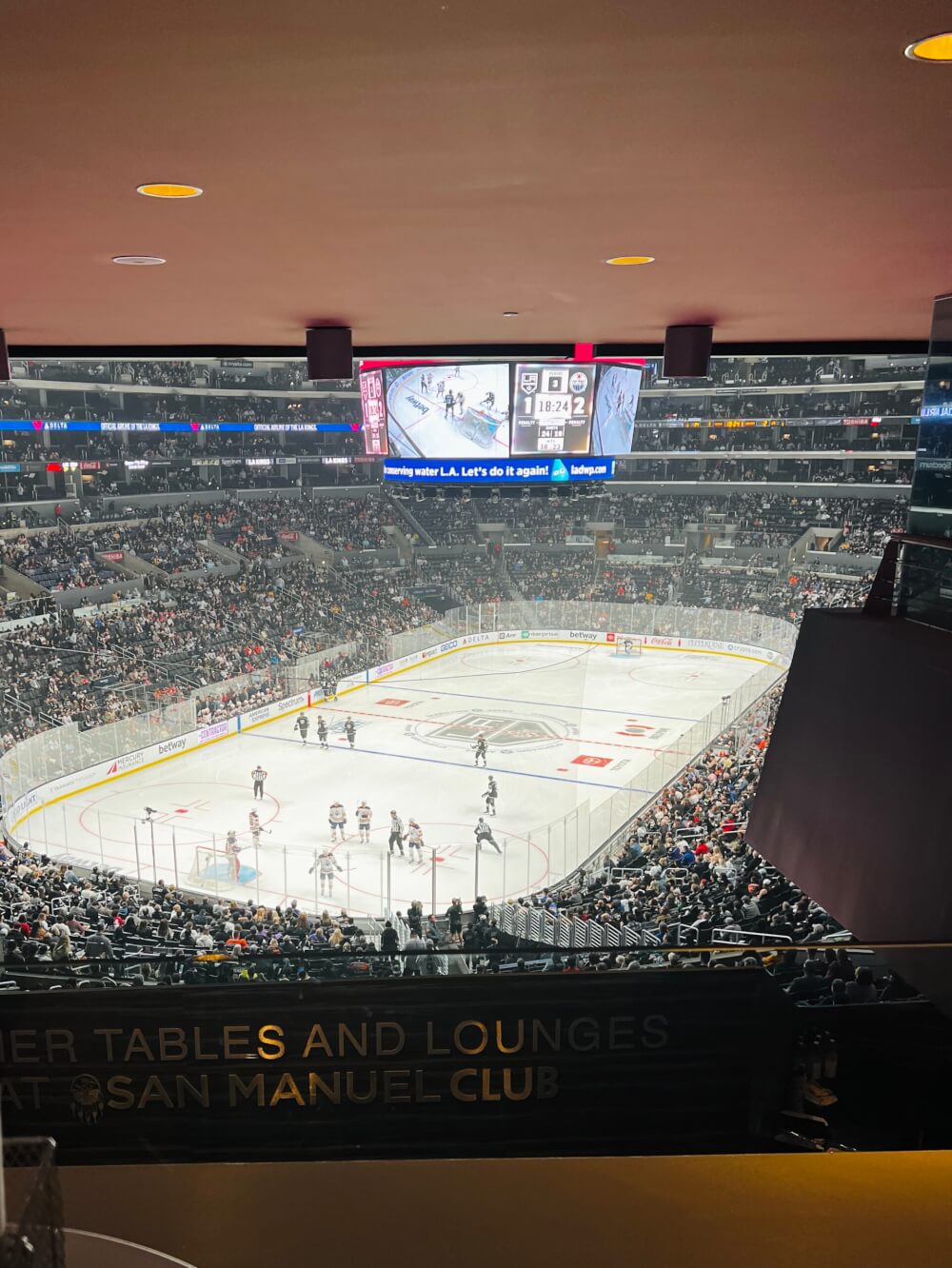 Beware that not all views in the suite are made equal, and some of the tables on the end get obstructed views thanks to columns.
That said, most of the tables and seats get snapped up quickly anyway, and it may be difficult to find space to sit in-suite unless you arrive really really early.
For us personally, we weren't bothered by this as we felt that sitting in our regular seats put us more "in the action", so were happy to only spend a bit of time in the lounge.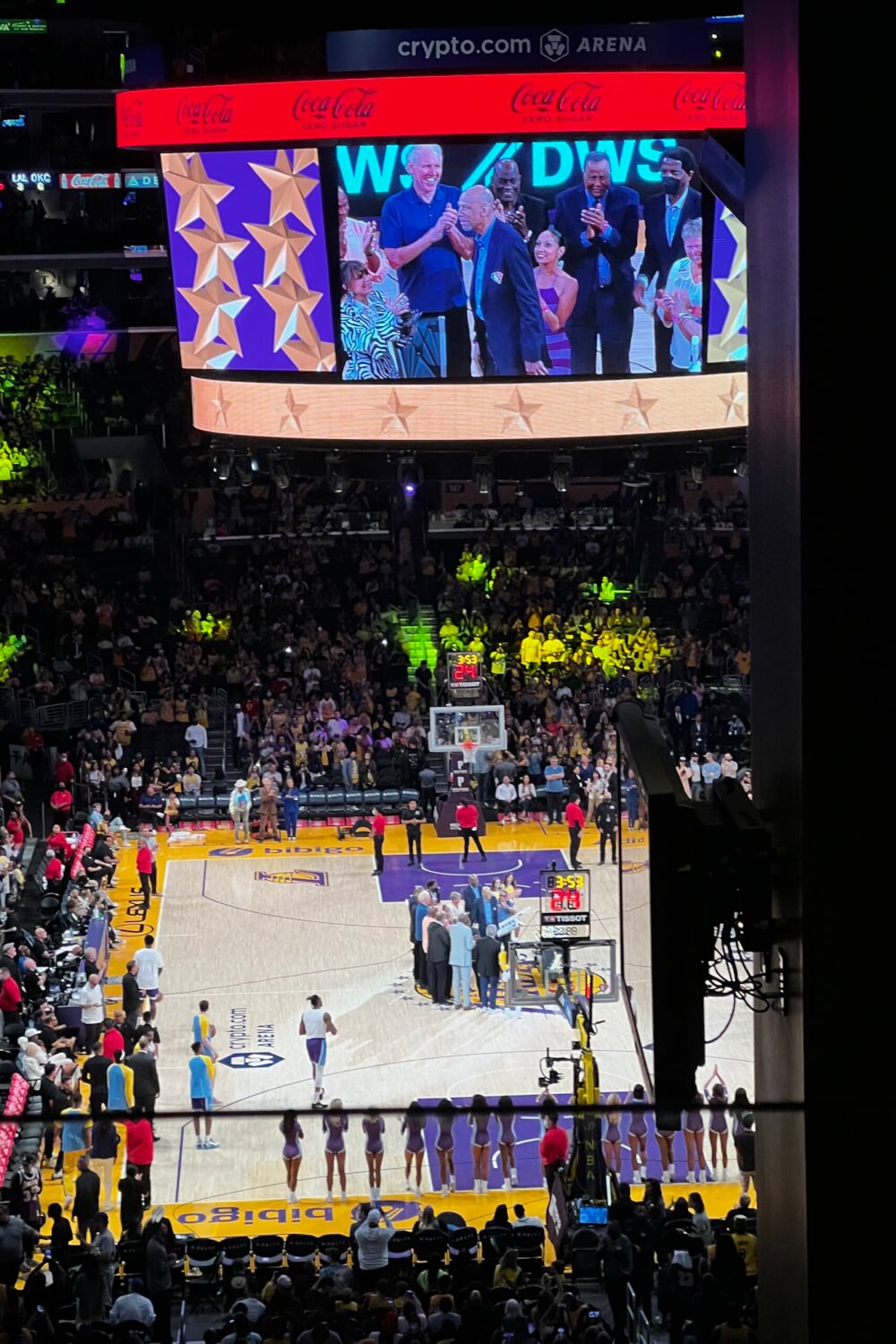 So, is the Centurion Suite at Crypto.com Arena worth the time and effort?
I'd say if you don't go to games in LA often, you should definitely show up early and give the lounge a try. It's worth at least checking out, especially if you're nosey and perk-obsessed like me.
If you don't manage to find a seat, or you don't like the view, you can always default to your original seats… which is what we did, and we still had a great time.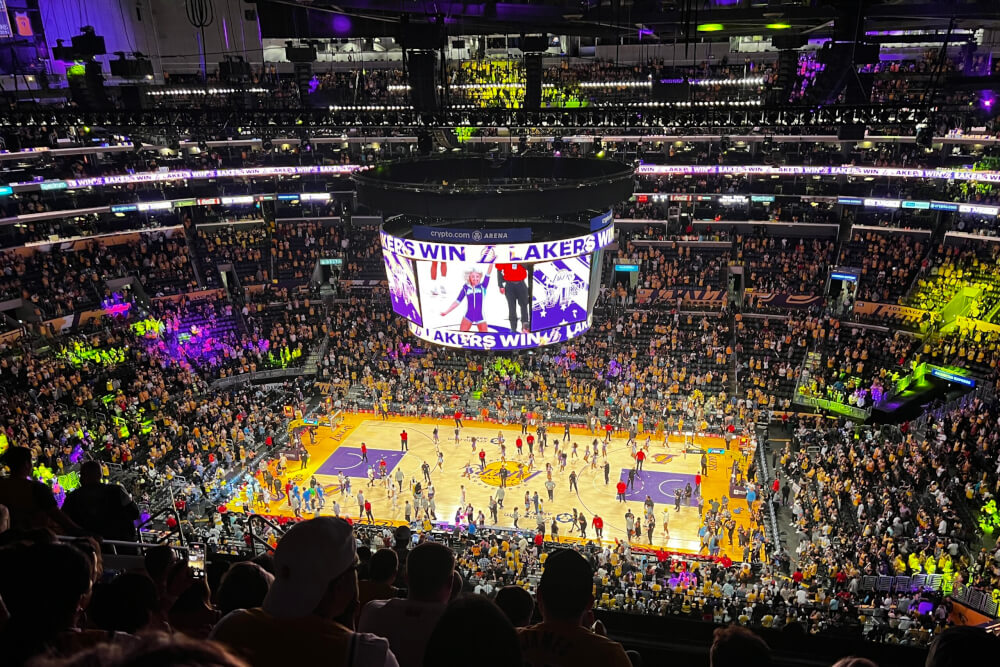 I hope you found this guide to the Centurion Suite at Crypto.com Arena helpful!
Let me know in the comments if you have any more questions about the experience.
---
Watch my most popular YouTube video this week:
---