*FYI - this post may contain affiliate links, which means we earn a commission at no extra cost to you if you purchase from them. Also, as an Amazon Associate I earn from qualifying purchases. Check out our Privacy Policy and Disclosure. for more info.
Nearly always rated as the happiest city in the UK, Bristol provides a vibrant hub of rich culture, strong history (the centre still has its medieval layout!), and amazing hilly vistas. Bristol is also the epicentre of modern British music, with world-class gig venues and festivals going on every weekend in the summer.
Wondering what to do in Bristol? Here is an insider's guide on fun things to do in Bristol, alongside where to stay, what to eat and everything else you need to know.
This Bristol guide includes travel advice from from Claire Martin from www.clairesfootsteps.com, a British blogger who lived in the city for five years before embarking on other adventures.
---
---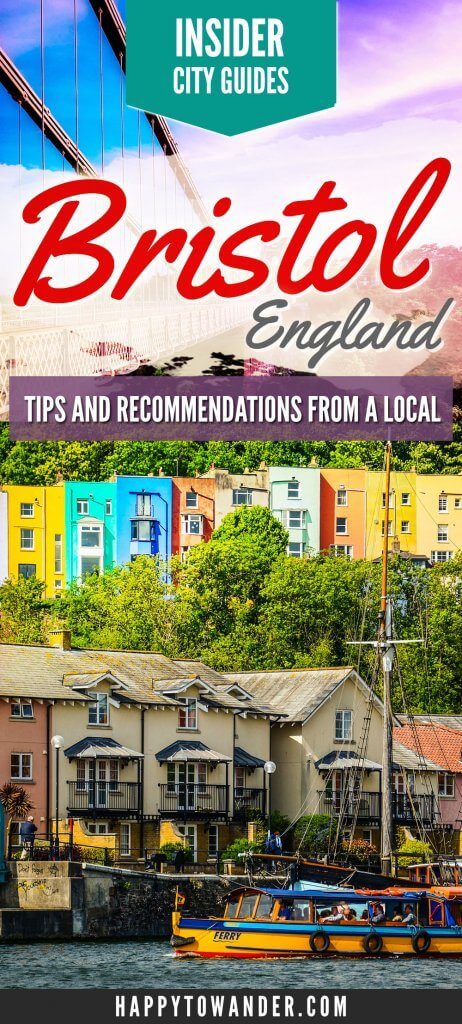 ---
Basic Facts
The best time to visit Bristol: Any season is amazing in Bristol, but summer is when the city truly comes alive. The weather is best then and people really make the most of the harbourside and city parks. It is also when a lot of Bristolian festivals are on, such as the world-famous Love Saves the Day festival and the Balloon Fiesta (when thousands of hot air balloons are released over the city!) And nothing can beat sitting back in the summertime with a cold glass of West Country cider while overlooking the Clifton Suspension Bridge…
Bristol is perfect for… Everyone! There is something for everybody in Bristol, which is why it is such a widely loved city. There are a lot of fun activities for kids and families, including various museums, gorgeous parks, and kid-friendly restaurants. There are many great pubs and bars for adults, and even nightclubs that stay open until 6am for the really hardcore travellers. Bristol is a great place to meet people; its citizens are very open (perfect for solo travellers). Lastly, couples love spending long weekends or holidays here, since the beauty of the city makes it a romantic destination.
The best way to get around: Walk! Bristol's centre is compact enough to navigate on foot. For destinations a bit further out, there is a good train service from Bristol Temple Meads (the main station). The bus service in Bristol is unfortunately notoriously unreliable.
Currency: British pounds (although there is actually a Bristol pound too – the city's a law unto itself!) Apart from the really small ones, most shops also accept credit and debit cards.
Cool events and festivals to look out for: Tons! There is pretty much a festival or event every weekend in the summer. They range from music festivals like Love Saves the Day, Tokyo Dub and Rave on Avon, to the family-friendly Bristol Harbourside Festival and the gorgeous Balloon Fiesta, to the cider festival (Bristol has the best cider in the world). We also host one of the best Pride festivals!
If you only have one day in the city, you absolutely cannot miss… Walking around Stokes Croft! From quirky artwork, to community events, to the best bars in the city… it is a fantastic area to spend a day in.
Read more about why Claire loves Bristol.
---
Things to Do in Bristol (The Touristy Must-Dos)
There are loads of fun things to do in Bristol. Here are some of the more common touristy Bristol attractions:
The Clifton Suspension Bridge: one of the UK's most famous bridges, this is an icon of the city! This bridge spans from Clifton in Bristol to North Somerset and is a great place to photograph the city from.
The Street Art in Stokes Croft: creative and thought-provoking, this area really shows Bristol for the fresh and contemporary city it is. With a wide range of styles and symbolisms, this street art is definitely worth checking out.
Clifton Town Centre: is a historic, Georgian area of the city with marvellous architecture and lots of little cafes and boutique shops.
The SS Great Britain: this was the world's first luxury cruise line! Today, it stands in a dry port in the Harbourside as a nautical museum.
Ashton Court: is a grand building with an extensive history that spans back to before the 11th century. This is a great place to visit to explore some contemporary British culture.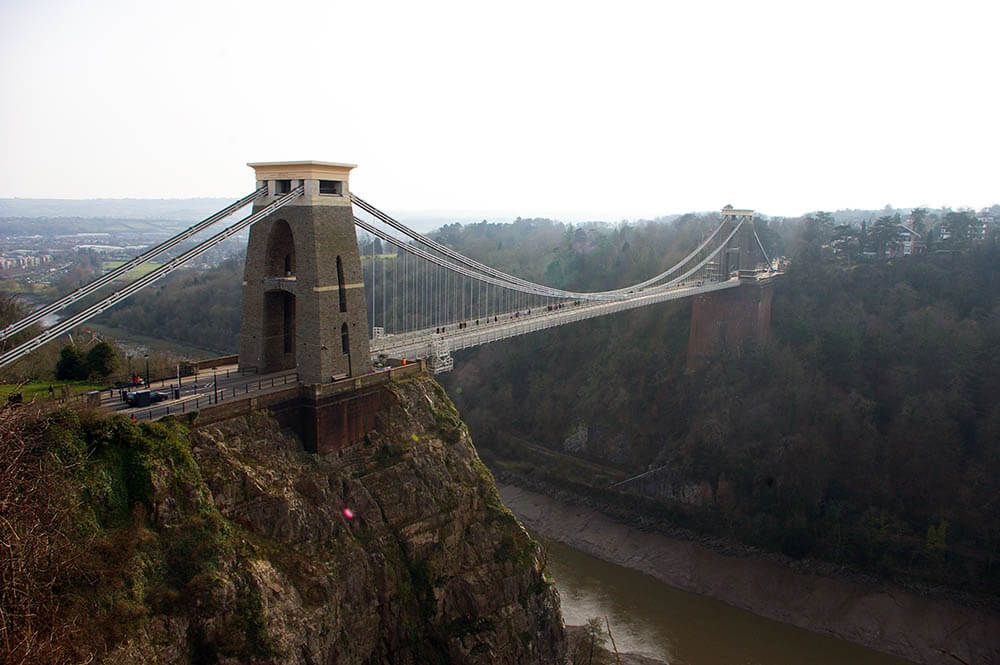 ---
What to Do in Bristol (Off the Beaten Path)
There's a lot of fun things to do in Bristol too that are more off the beaten path. Here are some of the best Bristol attractions that are a little more offbeat:
The Bear Pit: this is a roundabout underpass in the middle of the city. Somewhat of an odd attraction, it is adorned with street art and is basically an outdoor art gallery. This fantastic spot also has markets and pop up shops!
The Bristol Lido: hidden away in one of Clifton's back streets, this is a wonderful outdoor swimming pool and spa. It is a great "secret" place to do some exercise, or to simply kick back and enjoy being pampered!
St Paul's High Street: often slated for being rough, but actually quite undeserving of its
reputation, St Paul's high street is a celebration of British multiculturalism. It is lined with a wide array of cultured restaurants and bars. Whichever cuisine you fancy, St Paul's is sure to have it!
Gloucester Road: home to the world's longest line of independent shops. Here, Greengrocers and old-style bakeries function in harmony, almost giving off the feeling of another era. This road is sporadically dotted with contemporary boutique shops, but strictly holds no chain stores.
The Old City: the cobbled streets of the old city are now home to pubs, bars, and restaurants, but the whole area still echoes an air of the past. The streets continue to be in their old medieval layout, and walking around this part of Bristol literally feels like stepping back 500 years.
Also, if you are lucky enough to be there when it is sunny, make sure you have a BBQ or picnic in one of Bristol's parks – it is when the city is most alive! And even if you are not arriving by train, do check out Bristol Temple Meads station; it is a beautiful building.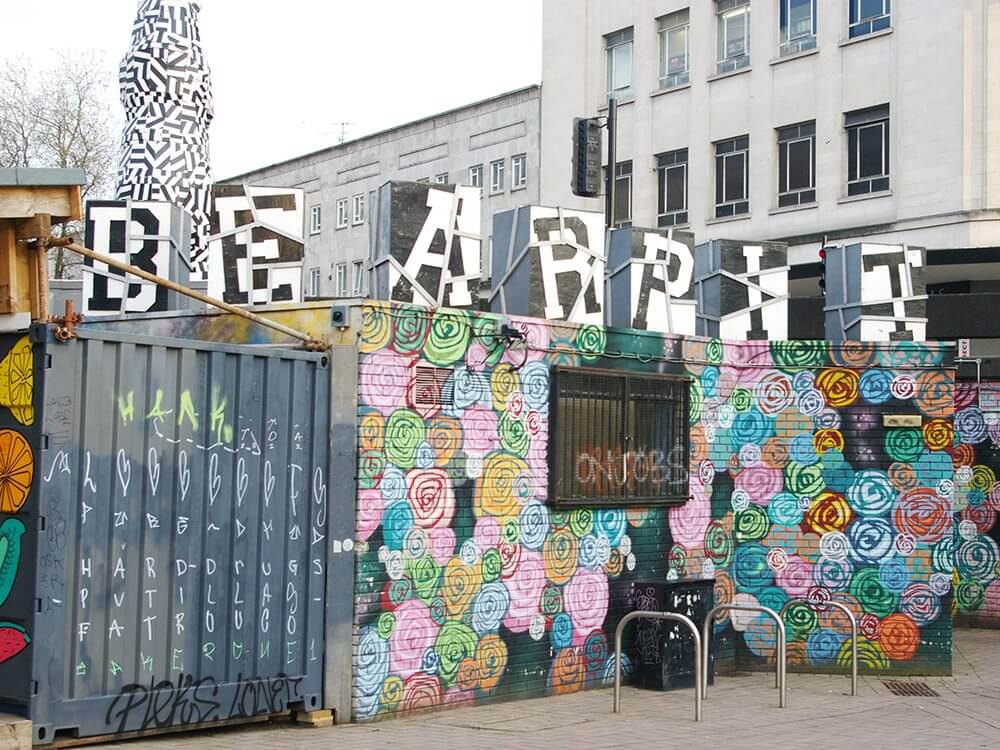 ---
What to Eat in Bristol
One of the best things to do in Bristol is eat! Here are some delicious Bristol eats you can't miss.
Bristol is where you can sample some of the country's best dishes. Try Fishers in Clifton for amazing fish and chips (they even do a gluten-free version!) The Clifton Sausage serves comforting bangers and mash, which is an ever popular British dish. And for England's favourite — a Sunday roast complete with meat or a nut roast, roast potatoes, lots of vegetables and Yorkshire puddings — head to the Kensington Arms in Redland!
---
Top Restaurants in Bristol to Try
There are plenty of amazing places to eat in Bristol. Here are a few different options for eating out in Bristol that you don't want to miss:
Atomic Burger:
Address: 189 Gloucester Rd, Avon
This is a whacky burger joint with an 80's theme! It serves amazing burgers with
creative names (such as 'Dolly Parton' and 'Elvis Presley'), and has gluten-free, vegetarian, and vegan options. Aside from the tasty food, the best thing about this venue is the retro decor: there are 80s music videos constantly playing, barbie wallpaper in the toilet, and flashing Pac-Mans on the walls!
Street Food:
Address: 39 Gloucester Rd
For authentic Thai and Vietnamese food, come to this wonderful Asian restaurant situated in Stokes Croft. It has a casual atmosphere, a small bar, and serve huge bowls of ramen and stir fries aplenty!
The Botanist:
Address: 20a Berkeley Square
A stylish upmarket pub with delicious meal options in the Clifton Triangle. They serve amazing English and international cuisine, and are also famous for their cocktails. Reservations are essential; the restaurant is (deliberately) hidden away and the staff will give you directions upon booking.
Rocotillos:
Address: 1 Queens Rd
Made famous by the popular TV show 'Skins', this venue serves the city's best milkshakes, hearty burgers, pancakes, and delicious curly fries. Stop by for breakfast, lunch, dinner, drinks, or a simple coffee!
La Tomatina:
Address: 2-4 Park St
Inspired by the Spanish festival La Tomatina, this is a wonderful tapas restaurant that specializes in all kinds of meat, fish, and veggie dishes. They also serve paella and other Spanish dishes in an authentic European setting. Check out their daily events, including live music!
---
Best Coffee Shops to Try in Bristol
With so many options for eating out in Bristol, you might forget that there are a number of wonderful cafes as well! Here are some awesome must-try cafes in Bristol city centre (and around the city).
At The Well:
Address: 145 Cheltenham Rd
A true gem, this is a mix between a cafe and a laundrette — a cute place where people can enjoy a warm beverage and get their washing done! Also serving delicious pastries and smoothies, At The Well offers a bunch of great vegan, vegetarian, and gluten-free options. Their famous Transatlantic pancakes are a must-try.
Blue Pig Cafe:
Address: 33 Colston Ave
The perfect spot to drink top quality coffee and enjoy a delicious breakfast. The Blue Pig Cafe serves a tasty array of sandwiches, salads, homemade cakes, pancakes, and other great snacks.
Cafe Kino:
Address: 108 Stokes Croft
This is every Bristolian's favourite hangout if they want to get some work done while drinking a hot beverage. This vibrant, non-profit cafe-bar is also famous in the city for providing some of the best vegan and vegetarian options. They also serve local beers, ciders, and wines! Keep an eye out for their workshops and music events.
---
Bristol Nightlife: Where to Go Out!
Looking for things to do in Bristol at night? Check out some of these spots:
Full Moon Backpacker Hostel and Attic Bar:
Address: 1 North St, Stokes Croft
These are two connected venues (the hostel above the bar) located in the vibrant area of Stokes Croft. With a unique flair, this is a great spot to check out some live music and local DJs.
Motion:
Address: 74-78 Avon St
One of Bristol's most famous venues, Motion offers DJs and live acts of all genres, from DnB to rap. In an old warehouse space by the riverside, this is the spot for any hardcore partiers who wish to attend events until six in the morning.
Kongs of King Street:
Address: 13-15 King St
This independent bar offers great food and drinks, music by local DJs, Ping Pong and foosball tables, and arcade game classics from the 80's and 90's. A great spot to enjoy a beer in the early evening, which turns into a dance bar later on.
---
Best Neighbourhoods in Bristol to Stay
Clifton Village: Home to various Bristol attractions, Clifton Village a beautiful, historic part of the city where there are lots of things to see and do! It feels like being in a small town while actually only being a half hour walk away from the city centre.
Stokes Croft: cool and contemporary, this neighbourhood has a distinct hippie vibe. Come here for entertaining and gorgeous street art!
Click here to browse hotels in Bristol
---
Where to Stay in Bristol
Looking for awesome local recommendations on where to stay near main Bristol attractions? Here are some to add to your list:
Address: 1 North St, Stokes Croft
An eco-hostel above Full Moon and Attic Bar, and overall one of the best hangouts in the city. This place offers both private and shared dorm rooms, and is situated by two bars, a club and live music venue, restaurant, and large pub courtyard. It offers a self-catering guest kitchen, free WiFi, and a common room with fun activities.
Click here to browse prices and availability
The Bristol Hotel:
Address: Prince Street
Offers fully furnished standard rooms, deluxe rooms, and suites located in the middle of Bristol's old city. Also holds in-house elegant Harbourside dining, meeting and event spaces, and free WiFi throughout the amenities.
Click here to browse prices and availability
Bristol Harbour Hotel and Spa
Address: 53-55 Corn St
Right in the centre of town, this place was formerly two iconic bank properties that have now been renovated into a luxury hotel. Aside from having beautiful architecture and great character, here you can also enjoy treatment rooms, and swimming and hydrotherapy pools, a steam room, sauna, and gym. Free WiFi available.
Click here to browse prices and availability
---
Where to Get the Best Views of Bristol
Bristol is a hilly place, so there are lots of opportunities for great views!
Clifton: anywhere from Clifton overlooking the River Avon is amazingly scenic – try from the top of the Suspension Bridge or near the Clifton Downs for unreal aerial views.
White Lion Pub: also situated in Clifton, this venue has a massive courtyard that makes you feel like you are sitting on a huge balcony overlooking the Avon.
The Avon: views from here are just as spectacular, with docked ships and multicoloured houses gleaming from the shores.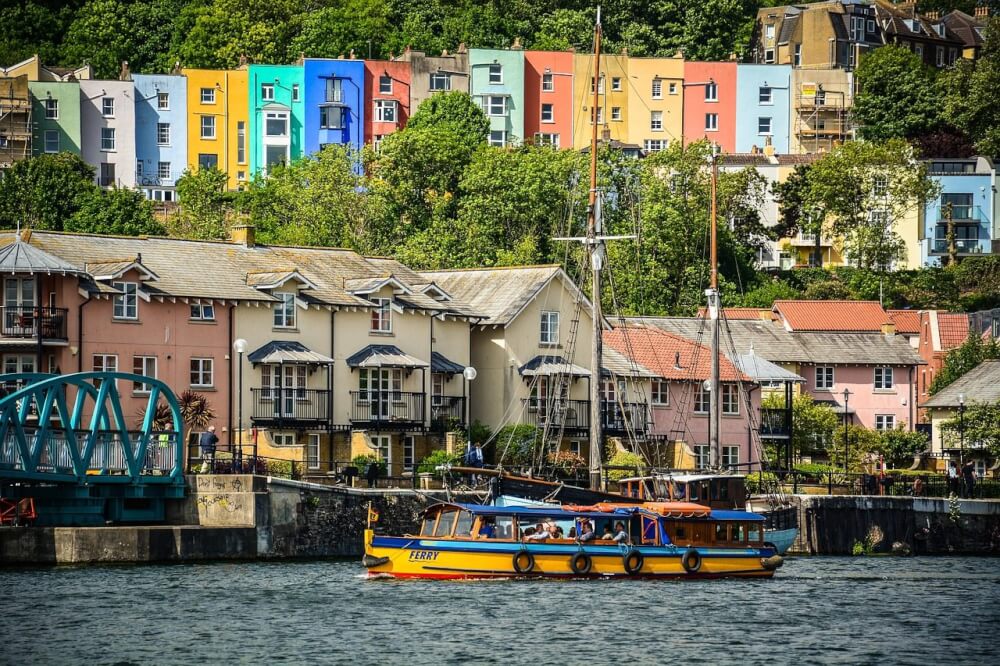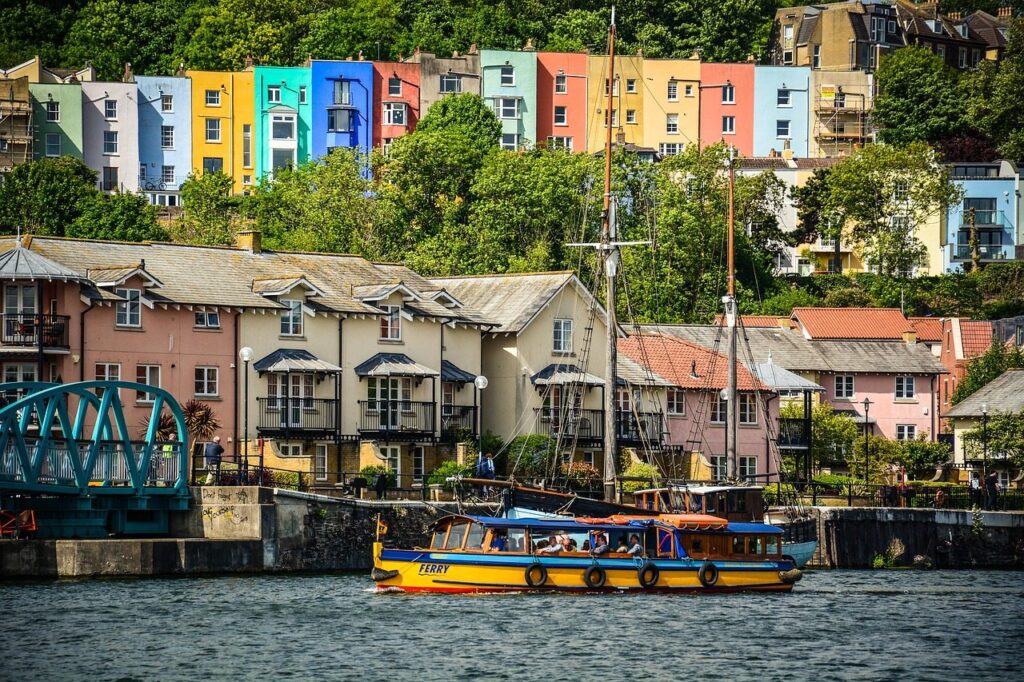 ---
Best Places to Go Shopping in Bristol
Cabot Circus is the city's shopping mall, and is home to mainly chain stores. However, my favourite shopping hangout is Gloucester Road, where most of the stores are independent and unique items can be found! There are lots of vintage clothes stores and quirky furniture boutiques to explore.
---
Best Day Trips from Bristol
There are heaps of them! The historic city of Bath is just half an hour away, with famous Georgian architecture and legendary Roman Baths. The quirky town of Glastonbury and romantic Wells are just an hour's drive away, too. There are loads of quaint Somerset villages with quintessential British scenery closeby, or, if you want to drive North, the beautiful Cotswolds are just on your doorstep. There are abundant hiking opportunities and nearby beaches… oh and London is just two and a half hours away!
Browse Bristol tours and activities

---
Extra Safety Tips for Bristol
St Paul's is best avoided at night, but during the day its absolutely fine. Bristol is on the whole a very safe city, as long as usual precautions are taken into account.
---
About the Author:
Claire is a British travel blogger on a mission to get to the heart of places by overland
adventures. She writes about eco-travel and travelling with purpose, by slow travelling and adventuring overland, on her blog. She has spent lots of time in the UK, Guatemala, and China, and is currently road tripping through Australia! Keep updated with her adventures on www.clairesfootsteps.com
Hopefully now you'll no longer need to wonder what to do in Bristol – after all, there's clearly plenty to occupy your time 😉 Can you think of other fun things to do in Bristol that I might have missed? Leave them in the comments below!
---
Watch my most popular YouTube video this week:
---