*FYI - this post may contain affiliate links, which means we earn a commission at no extra cost to you if you purchase from them. Also, as an Amazon Associate I earn from qualifying purchases. Check out our Privacy Policy and Disclosure. for more info.
Asheville, North Carolina is a mountainous city with an abundance of beautiful sights, fun activities, and hidden gems to enjoy.
The city prides itself on its friendly/creative community, and offers both incredible natural landscapes and amazing Southern cuisine.
Here is an insider's guide on top things to do in Asheville, alongside where to stay, what to eat and everything else you need to know.
This Asheville guide features advice from Amy, an avid travel blogger and photographer at Two Drifters.
Having lived in Asheville with her husband for two years (after getting married there!), she knows all the not-to-miss spots and Asheville's top hidden gems.
Read on and take note on how to plan an awesome Asheville visit!
Basic Facts About Asheville, NC
The best time to visit Asheville: Summer and Fall! While Asheville has a gorgeous climate year round, these seasons are filled with festivals and various events.
Asheville is perfect for… Young travelers, couples, and outdoor enthusiasts.
The best way to get around Asheville: Buses are great (check out maps/schedules here), but the city is really lovely to explore on foot. You can also use Uber here.
Currency: USD; all shops normally accept credit and debit cards.
Cool Asheville events and festivals to look out for: Asheville has many festivals and events to experience year-round. Apple Festivals, music festivals, and so much more. Check out this Asheville event calendar for up to date events, and even things to do in Asheville this weekend.
If you only have one day in Asheville, you absolutely cannot miss… Exploring the downtown area and all its quirky shops.
Top things to do in Asheville, North Carolina (The Touristy Must-Dos)
Let's start with the best things to do in Asheville that everyone knows about, but are well worth doing!
The Biltmore Estate
This is America's largest private home, which is a majestic mansion situated on gorgeous rolling hills.
Apart from the incredible scenery and architecture, there are many activities to take advantage of around the building's 8,000-acre backyard, including outdoor concerts, wine tastings, and trips over kayak, horseback, bike, Segway, Land Rover, and even paddleboarding (book a tour here!).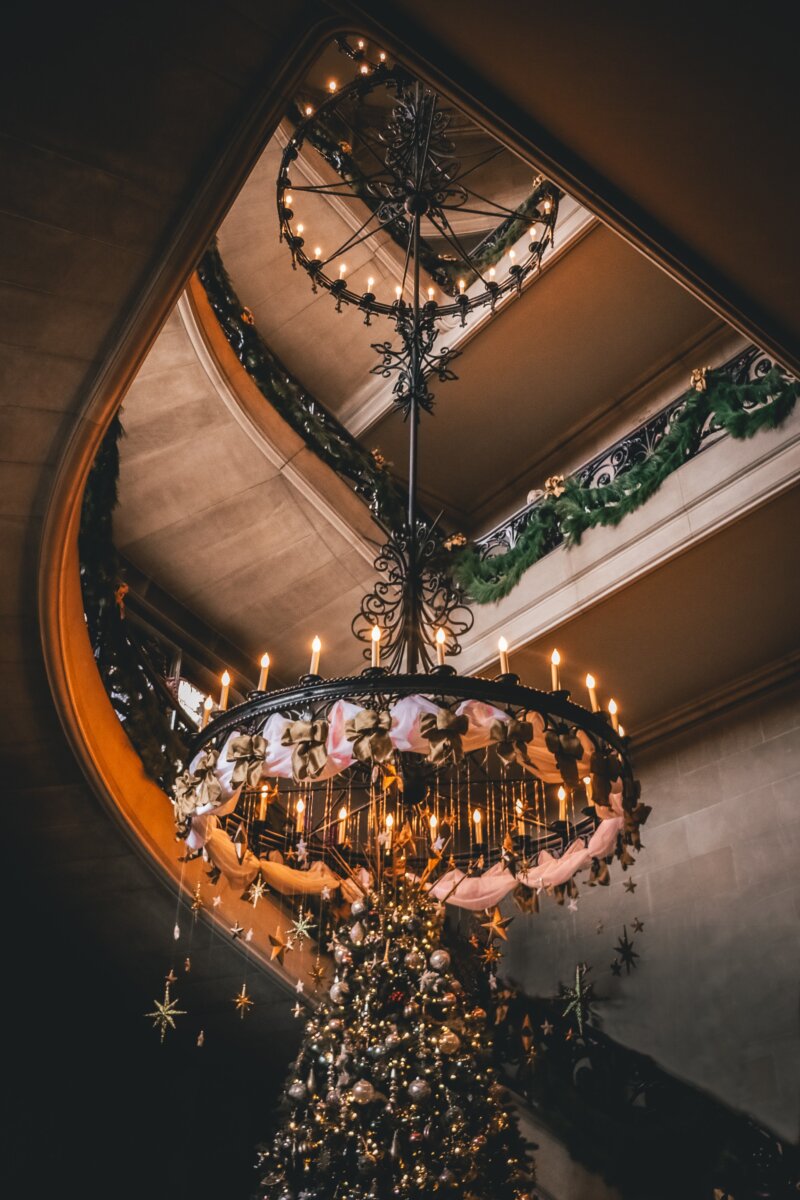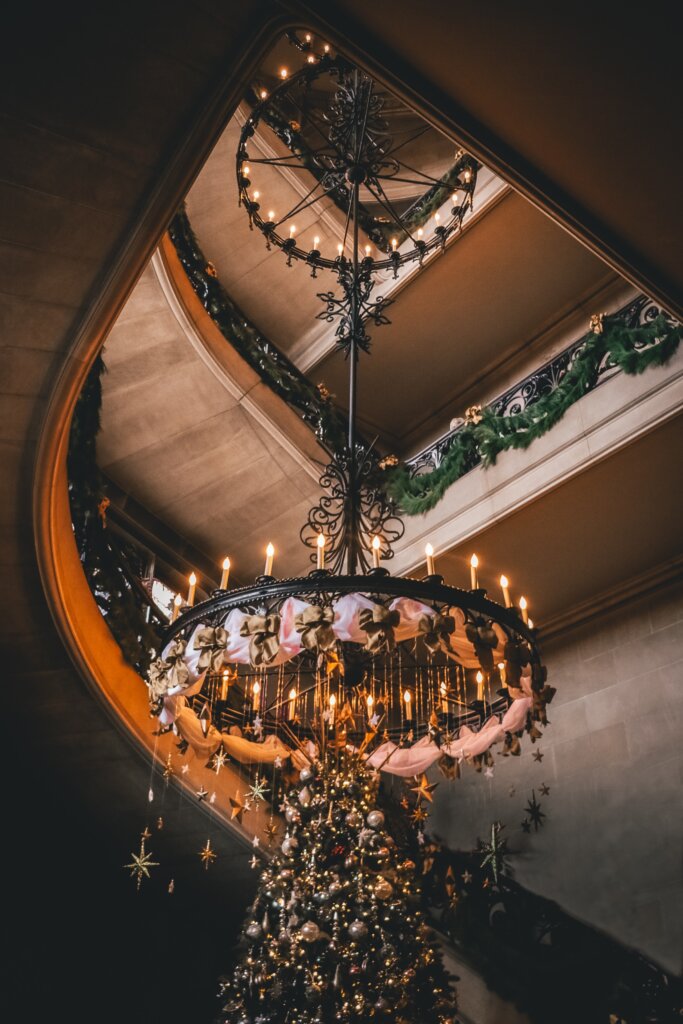 Driving the Blue Ridge Parkway
This road through the mountains is peppered with stunning vistas.
It is one of the most amazing places to take a drive through in Asheville regardless of the season.
Not keen on driving? You can book tours as well, including themed ones like photography.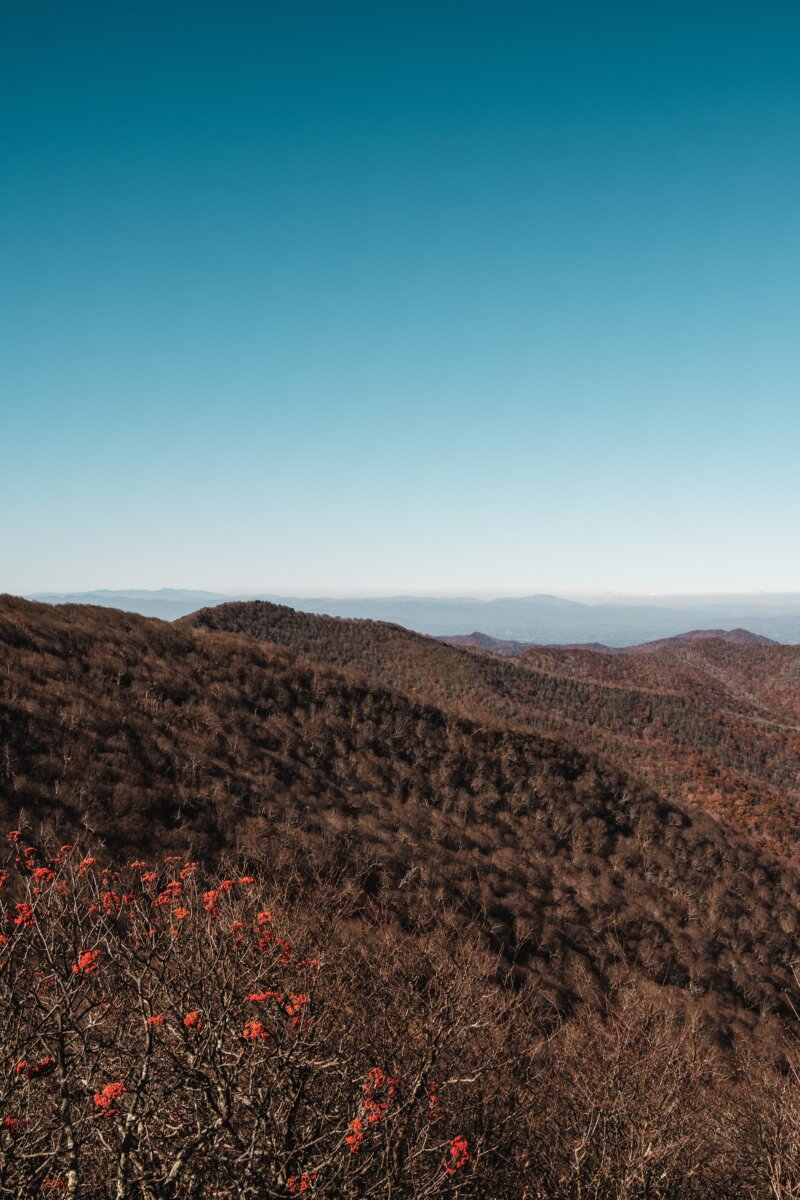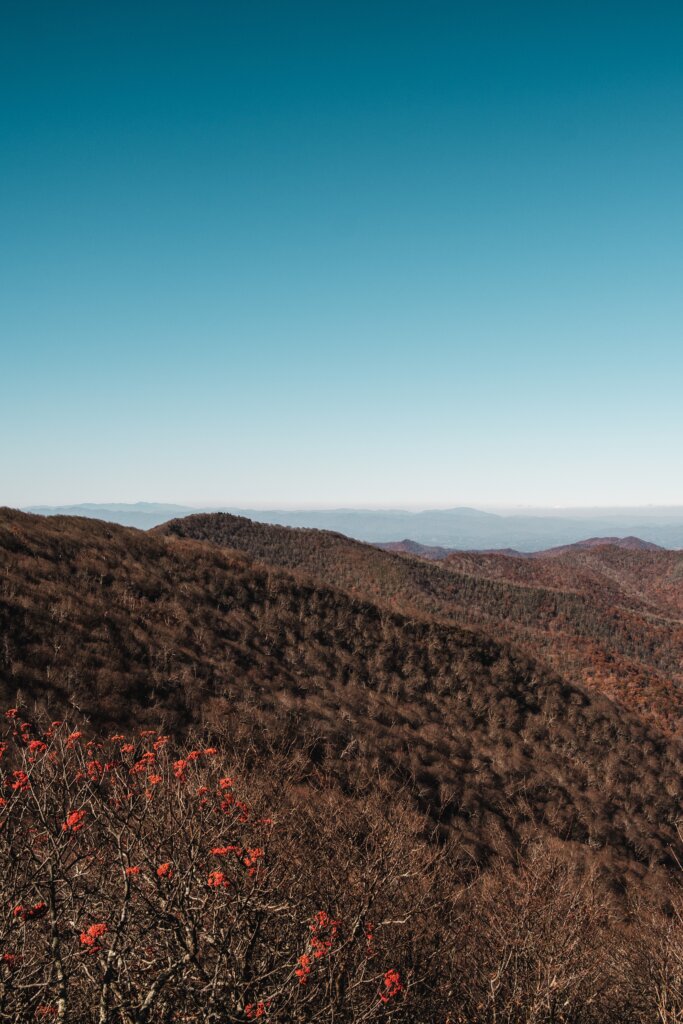 Go tubing on the river
Visit Deep Creek in the Great Smoky Mountains National Park for this incredibly fun experience.
Rentals are offered by several companies, and there are also campground and picnic areas nearby.
Explore downtown Asheville
The downtown area of Asheville is filled with art galleries, talented buskers and street performers, and a wide array of shops and restaurants. It is worth coming here many times, since there is always something new to see.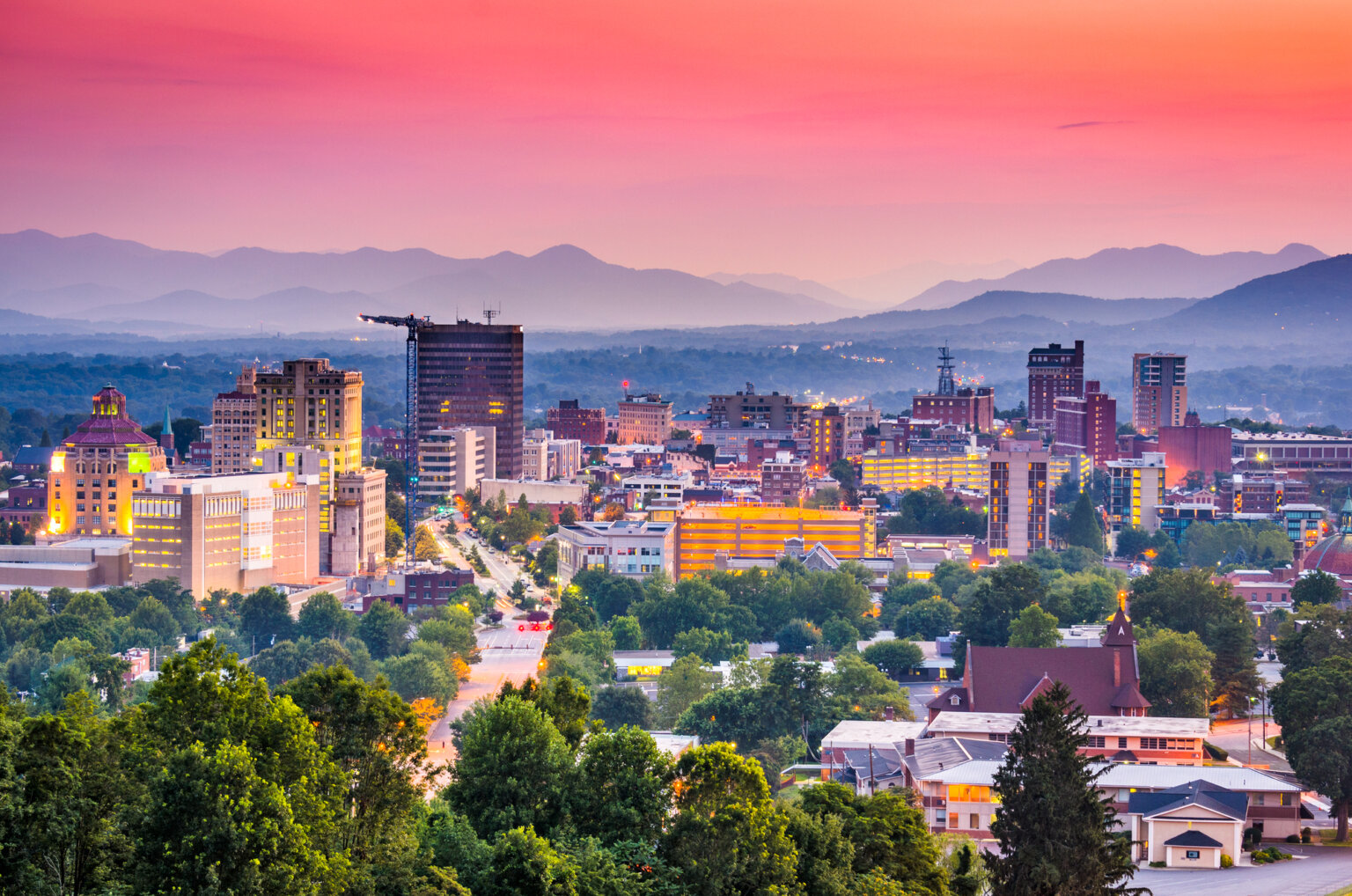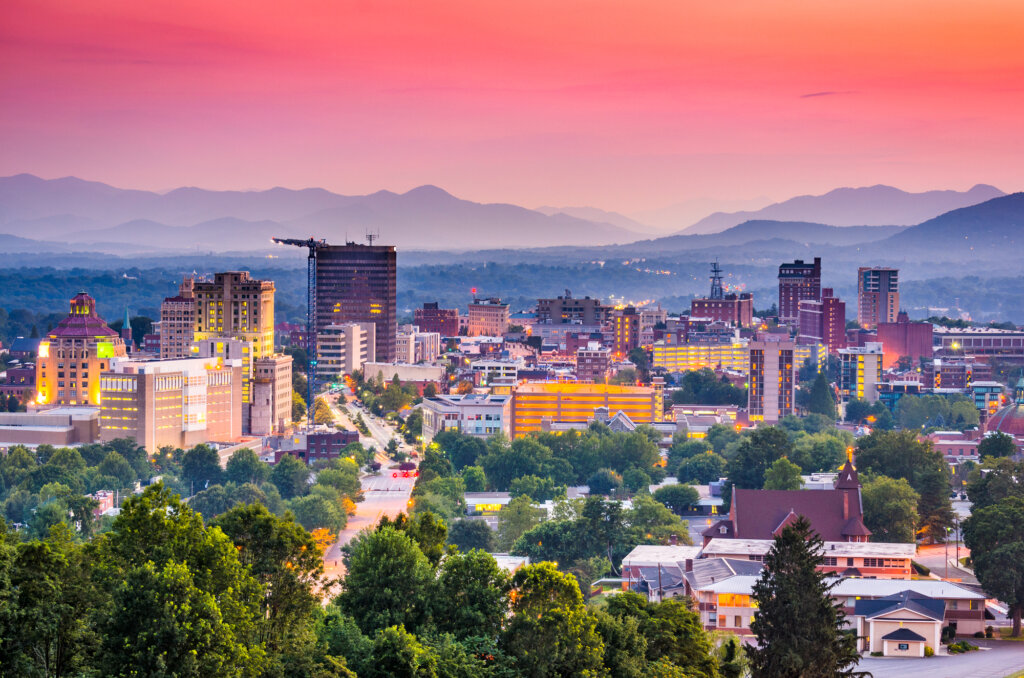 Tour Asheville's breweries
The craft beer scene here is amazing. In fact, Asheville is known for having the most breweries per capita in the US.
Here's a cool tour that takes you to breweries around downtown Asheville.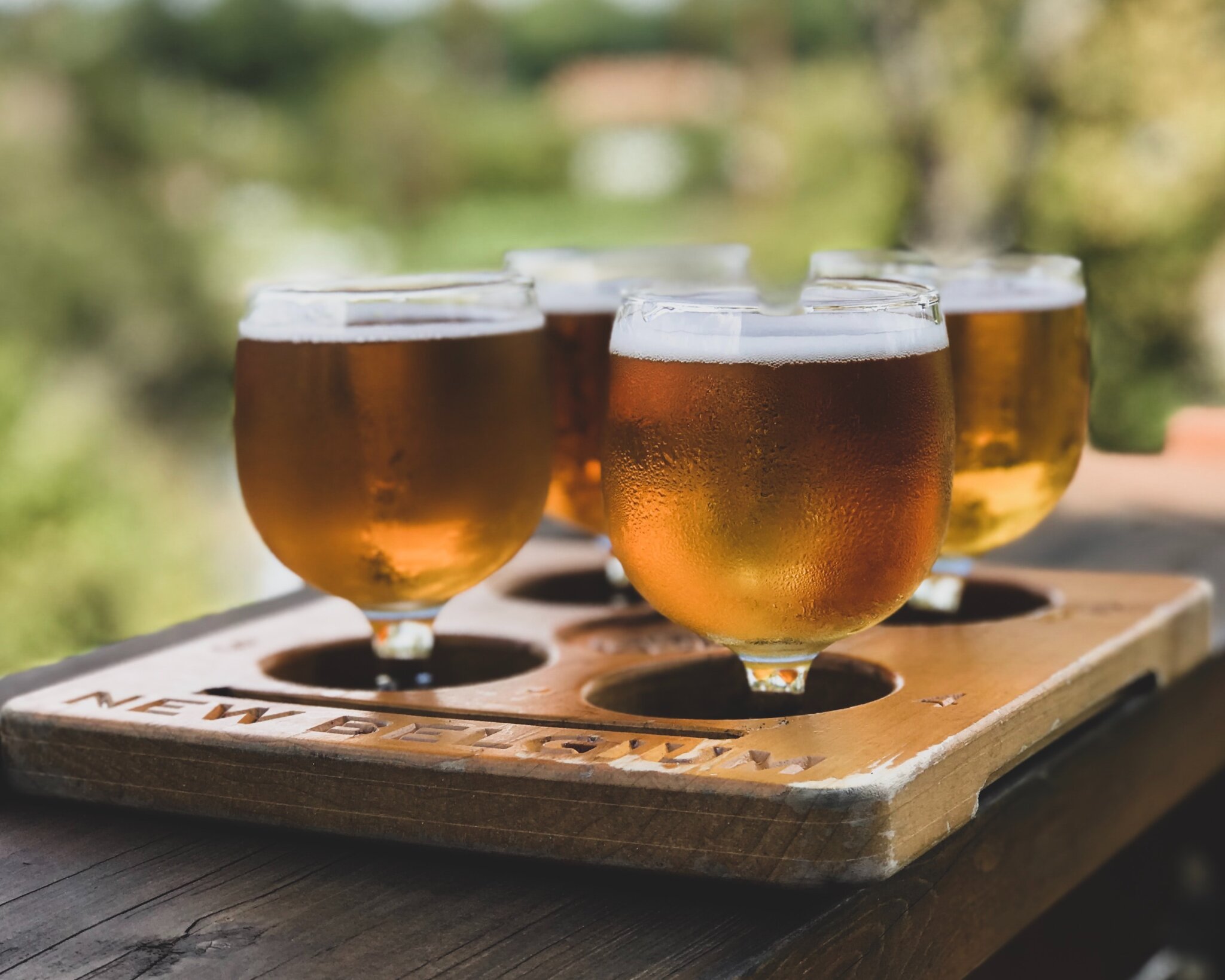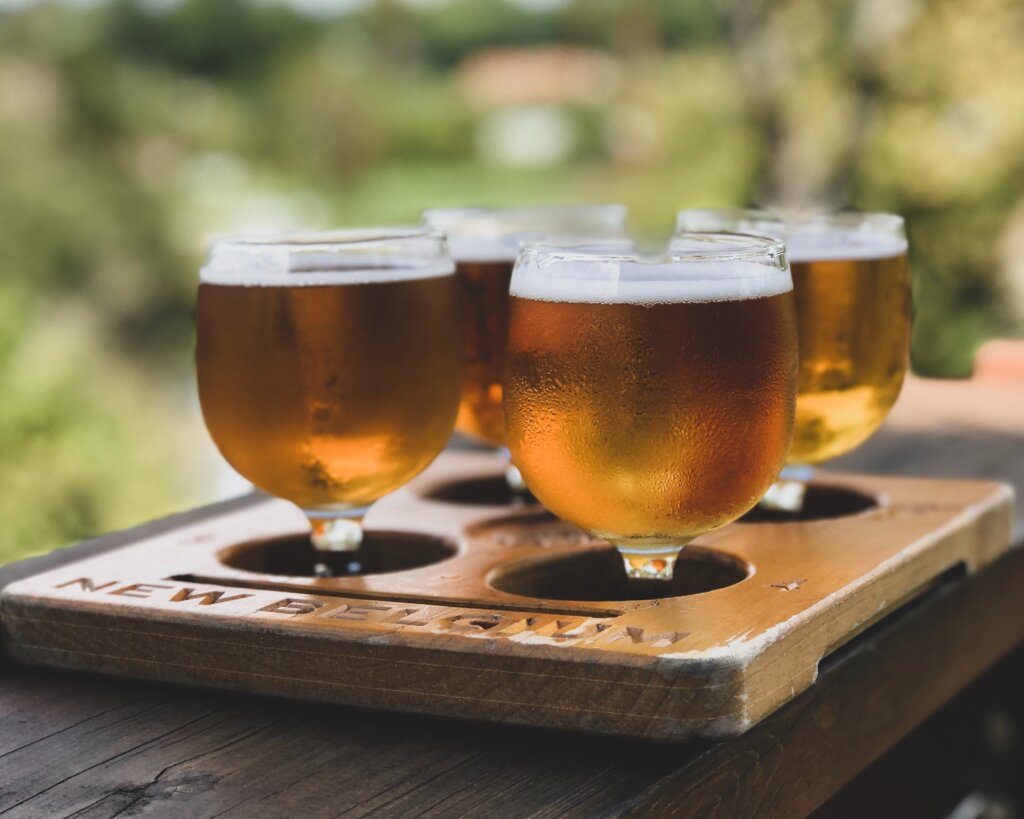 Hidden Gems in Asheville & What to Do Off the Beaten Path
From Asheville secret places to offbeat attractions most visitors miss, here are some cool off the beaten path things to do in Asheville that you must add to your list.
The River Arts District
This hip part of Asheville is filled with local artists displaying their amazing work. The perfect place to get a taste of the city's talent. PS: You can also go paddle boarding on the French Broad River. Here's a tour that you can book!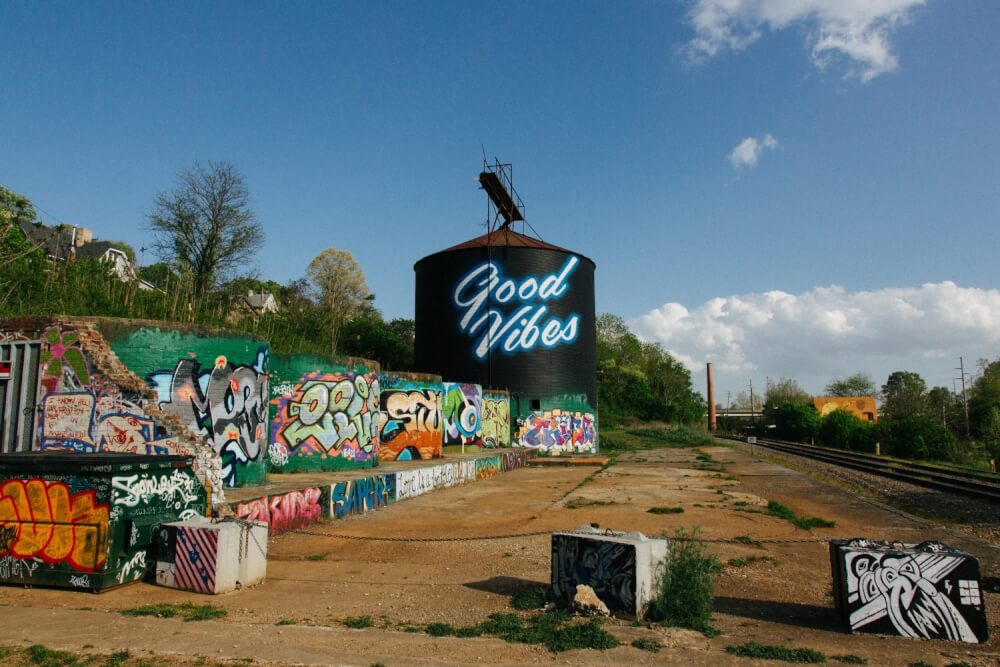 Go chasing waterfalls
Asheville and its surrounding areas have tons and tons of refreshing waterfalls to discover. Go find them all! Check out this cool hiking tour that takes you waterfall chasing around Blue Ridge Parkway.
It's also a great idea to find an Asheville RV rental and do it in style.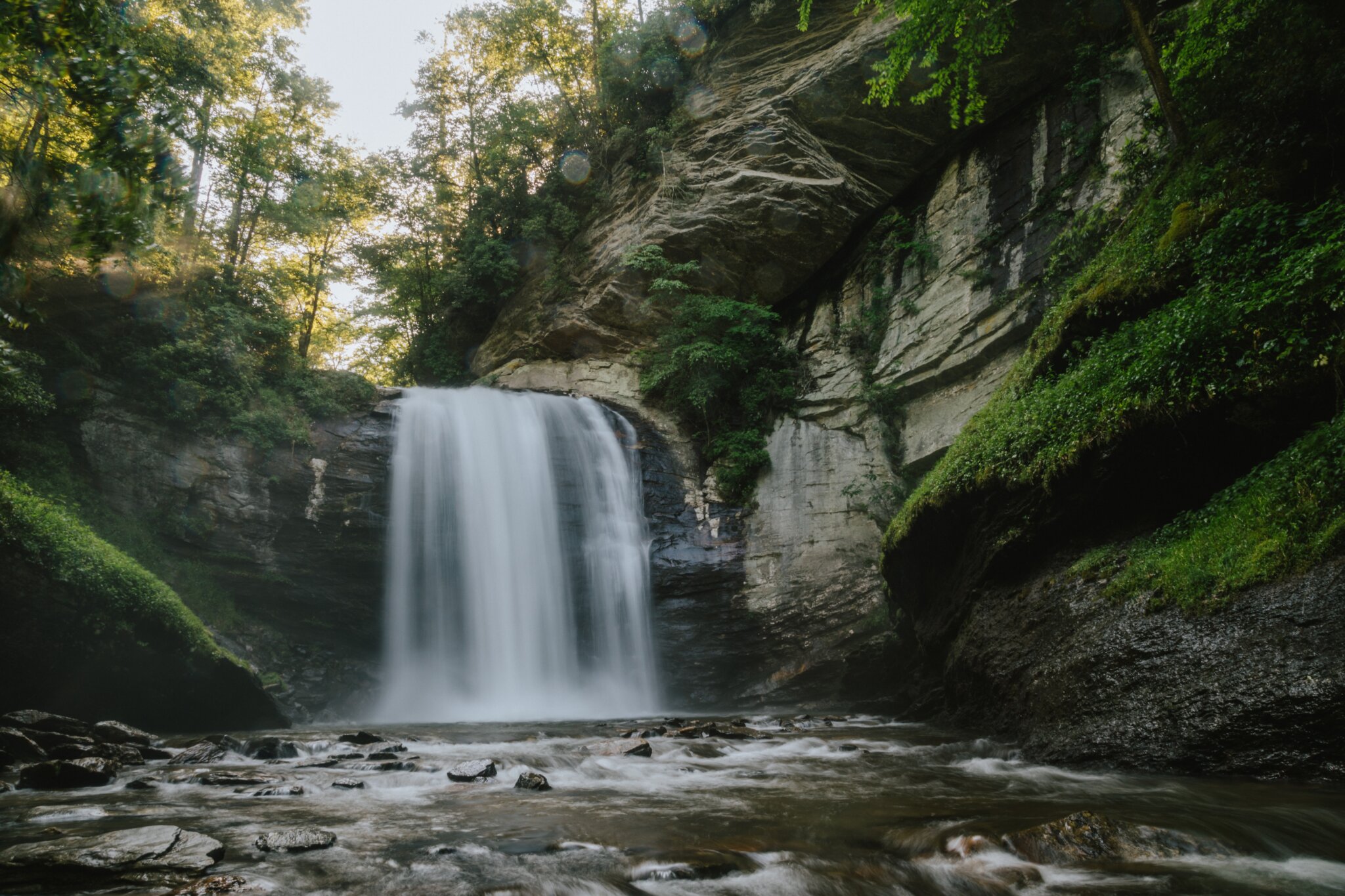 The WNC Nature Center
Get educated on local wildlife in an intimate, well-kept animal center.
With over 60 species on 40 acres of Southern Appalachian habitat, the WNC houses rich biodiversity.
Hit the spa at the Omni Grove Park Inn
The spa at this stunning hotel is a true luxury and Asheville hidden gem! Look no further to find utter relaxation.
Rooftop bars
Great cocktails and a view over Asheville, need I say more?
There are various rooftop bars to choose from in the city, such as The Pillar, the Social Lounge, and the SkyBar. Chilling at one of these is definitely one of top fun things to do in Asheville.
What to eat in Asheville, NC
Short on time? There's a lot of food Asheville is known for. Make sure you don't miss these epic eats, (and the best Asheville restaurants to try them in).
Biscuits and gravy: Hit up Biscuit Head to experience this must-have!
Pimento grilled cheese: Try this scrumptious, savory treat served at the Tupelo Honey Cafe.
Burgers: Order one from Farm Burger (with a side of sweet potato hush puppies).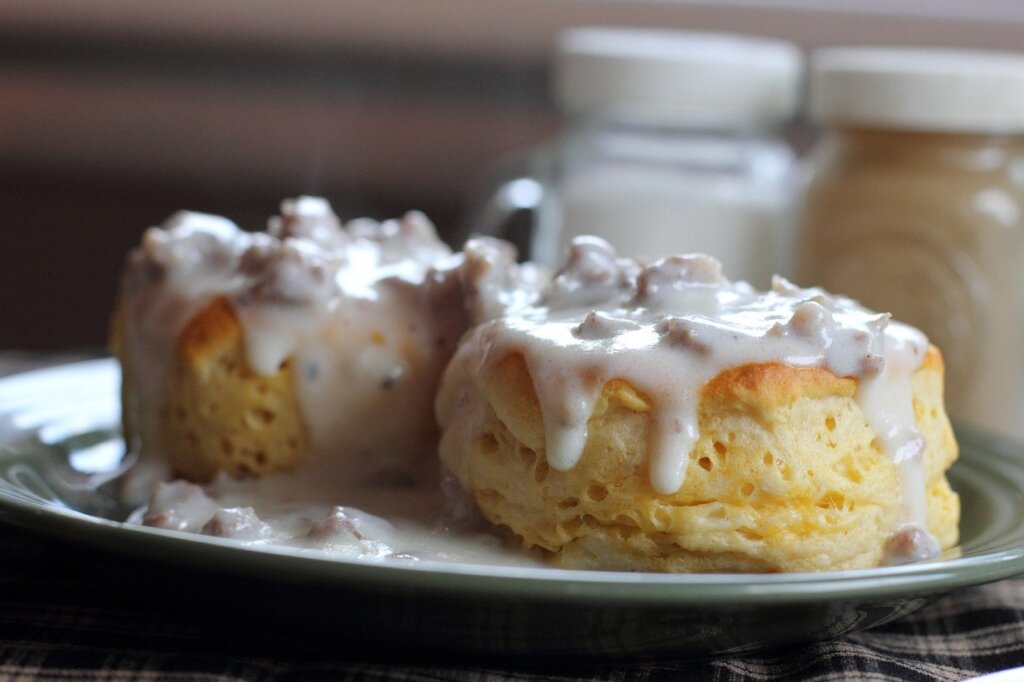 Best restaurants in Asheville, NC to try
There are plenty of amazing restaurants in Asheville, NC to experience. Here are some of the best places to eat in Asheville, according to Amy:
Curate:
Address: 13 Biltmore Ave
This hip locale is set in a former 1927 bus depot, and offers elevated small plates, cured meats, sherries, and wine. Try their amazing Spanish tapas!
Biscuit Head:
Address: 417 Biltmore Ave, Ste 4F
A perfect place to try a fresh, affordable take on Southern home cooking! Known for their tasty biscuits and gravy. As an added bonus, this eatery aims to keep their carbon footprint at a minimum, focusing on zero trace strategies. They have a second location in West Asheville.
Luella's BBQ:
Address: 501 Merrimon Ave
A well-priced restaurant specializing in authentic Southern BBQ. Known as the home of "hand-pulled perfection", all of their delicious options are made from scratch. Come try their smoked, seasoned meats and famous homemade sauce! They also have another location in South Asheville.
White Duck Taco:
Address: 12 Biltmore Avenue
Mainly cooked with American made products, their real world menu is constantly being revised to offer new options. Stop by to try their fantastic gourmet tacos. Their other location can be found in the River Arts District.
Laughing Seed Cafe:
Address: 40 Wall St
An excellent vegetarian place with an international flair. Their tasty cuisine stems from organic, local, and farm-to-table sources. Their extensive menu has many vegan and gluten-free options to choose from!
If you're still hungry, check out this list of cheap/affordable Asheville NC restaurants.
Best coffee shops to try in Asheville, NC
Looking for the best coffee in Asheville? Check these places out:
High Five Coffee
Address: 190 Broadway #102
A coffee house based on sustainable farming practices, as well as perfected brewing methods for coffee, espressos, and other tasty concoctions. They also serve both sweet and savory treats, and feature local beers on tap.
Trade & Lore
Address: 37 Wall St
A charming coffee shop with a chic, vintage-y feel. They focus on providing local products, and offer an array of drinks (including beer and wine) and pastries. Trade & Lore also works with local non profits and hosts many cool events.
World Coffee
Address: 18 Battery Park Ave
Located on the bottom floor of a 1920′s skyscraper, this place is uniquely adorned with artifacts from all over the world. World Coffee holds a full bar on two different floors and balcony seating areas from which to enjoy the live music. Come and try their delicious drinks, snacks, and meals!
If you're still buzzing for caffeine, here's a bigger list of the best coffee spots in Asheville.
Asheville Nightlife: Where to go out!
Looking for the best bars in Asheville? Here are some spots to hit up on your next trip.
Wicked Weed
Address: 91 Biltmore Ave
Housing an upstairs restaurant, downstairs tasting room, bottle shop, and original 15 barrel brewery, this is the spot to hit up for any occasion. Their dog-friendly patio and street level cocktail area also give access to live music from nearby buskers.
Lexington Avenue Brewery (LAB)
Address: 39 N Lexington Ave
An open air setting pub with a cool vibe. The LAB has a wide selection of beer and lots of great food, including vegan and gluten-free options.
Sovereign Remedies
Address: 29 N Market St #105
A spacious locale with large windows, lots of plants, and an outdoor patio. Apart from having a diverse collection of beer, wine, and mixed drinks, Sovereign Remedies also provides bar food with the highest commitment to local, organic meats.
Best Neighbourhoods in Asheville to Stay
West Asheville: offers a young, hip setting, and holds many great AirBnb options. There are also friendly hostels in the area.
Click here to browse the best deals on West Asheville hotels.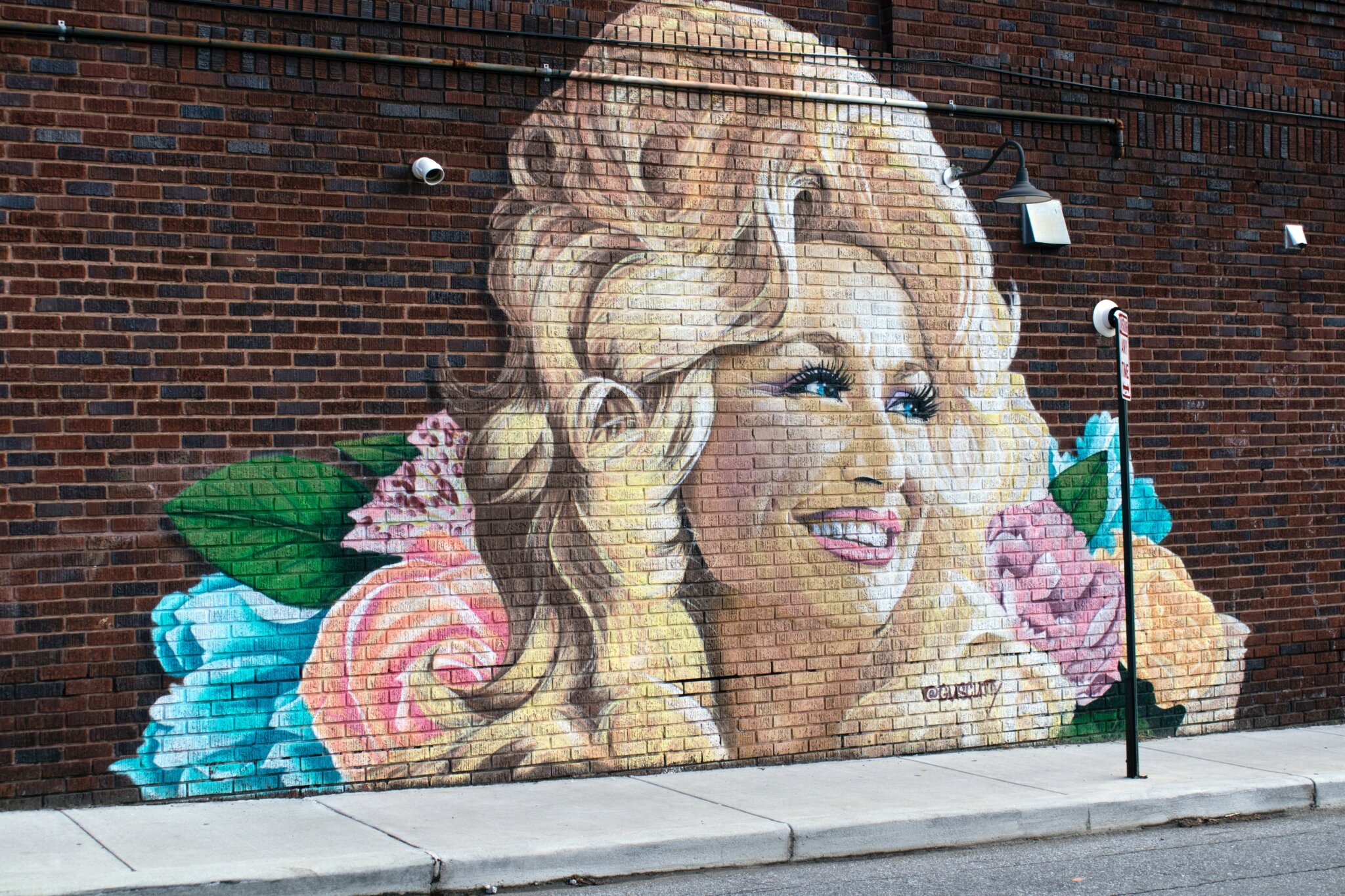 Where to stay in Asheville, North Carolina
BUDGET: Bon Paul & Sharkys Hostel
Address: 816 Haywood Rd
A budget, small, and pet-friendly operation that prides itself on a communal atmosphere. An awesome place to make friends while enjoying a beer on the porch, or chatting over a communal cookout and bonfire. They hold the options of booking cottages, private rooms, dorm rooms, and camping spots. Free breakfast, WiFi, guest computer access, and bikes to borrow.
Browse availability and deals on Hostelworld.
MID-RANGE: Sheraton Four Points
Address: 22 Woodfin St
A mid-range hotel that, while having the convenience of a city location, is still nestled in the beautiful Blue Ridge Mountains. This is a pet-friendly establishment that offers free WiFi, parking, an outdoor pool, a sundeck, and fitness centre. There is also an in-house restaurant for breakfast and dinner.
Browse availability and deals on Booking.com
LUXURY: Omni Grove Park Inn
Address: 290 Macon Ave
The ideal place for a luxurious stay in Asheville. Pick from an array of resort rooms with beautiful views, and indulge in the onsite spa, indoor and outdoor pools, fitness centre, golf and tennis courts, and plenty of surrounding restaurants. Free WiFi and access to computers. Pets are also welcome.
Browse availability and deals on Booking.com
Where to get the best views of Asheville, NC
Blue Ridge Parkway: offers the perfect spot to catch breathtaking views (especially during sunset or sunrise!) Alternately, park at the top of parking garages for other stunning, free views of the city.
Best places to go shopping in Asheville, NC
Definitely downtown! This part of the city is filled with interesting shops and boutiques to check out.