*FYI - this post may contain affiliate links, which means we earn a commission at no extra cost to you if you purchase from them. Also, as an Amazon Associate I earn from qualifying purchases. Check out our Privacy Policy and Disclosure. for more info.
24 hours in one of the world's most spectacular cities? Okay, challenge accepted.
The following 24 hours in Munich itinerary is here to kick your butt and whisk you away on a whirlwind tour of all the city's top highlights.
This itinerary is intense and jam-packed, but in a city like Munich, there's no time to waste, so chop chop, what are you waiting for?! Los geht's!
… and if you have more time to spend in Munich, check out my 2 days in Munich and 3 days in Munich itineraries too.
But first, the unsexy logistical stuff…
How to Get from Munich Airport to the City Centre
First thing's first: let's get you to the city. Taxis from Munich Airport to the city center cost about 50-60 euros, or you can book with Welcome Pickups, which guarantees an English-speaking driver and pick-up right from arrivals.
A must cheaper option is the Lufthansa Express, or taking the S-Bahn – both the S1 and S8 run from the airport to the center, and take about 45 minutes. For a full guide on what tickets to buy, how to find the station, etc., read my full Munich airport to city guide!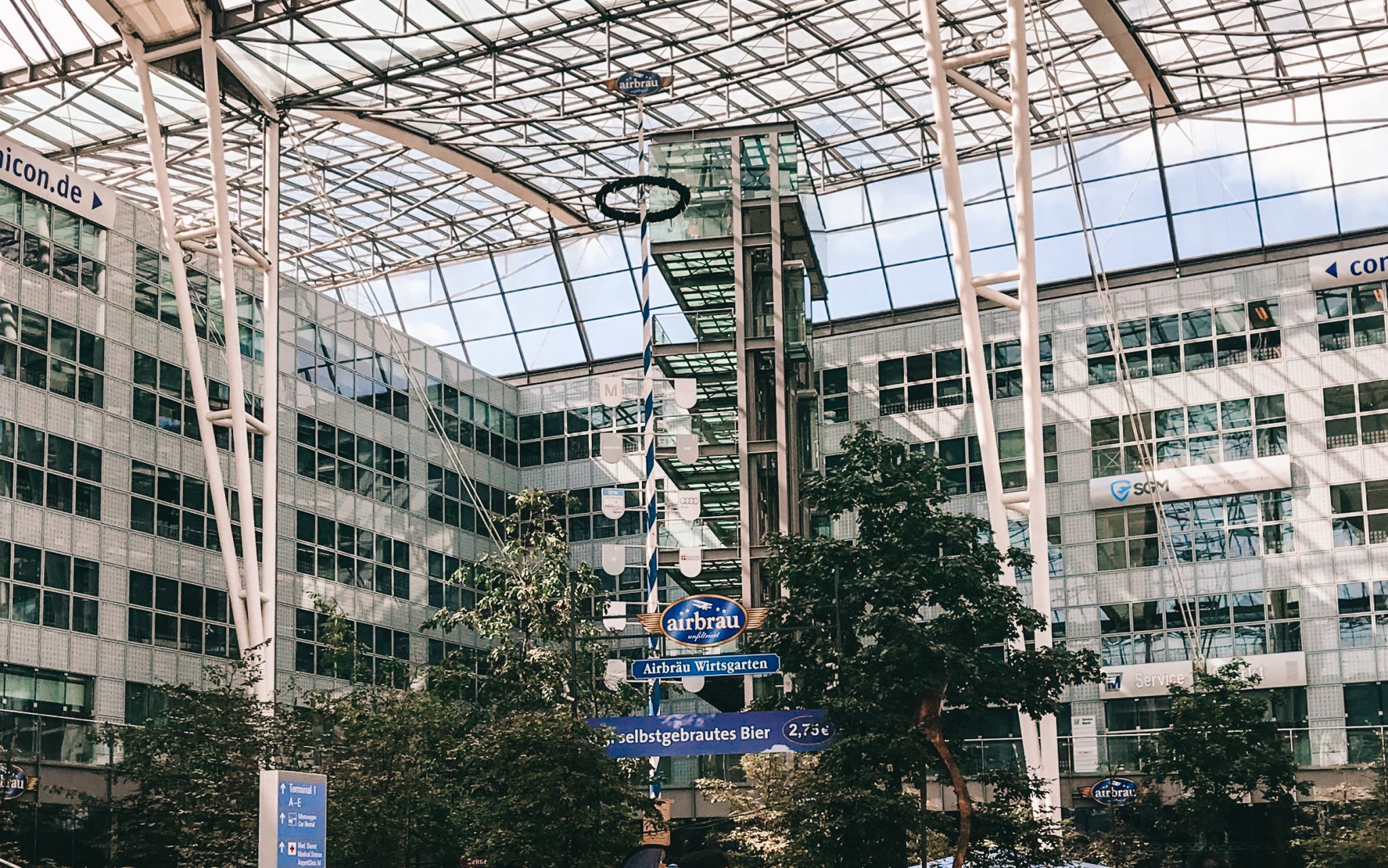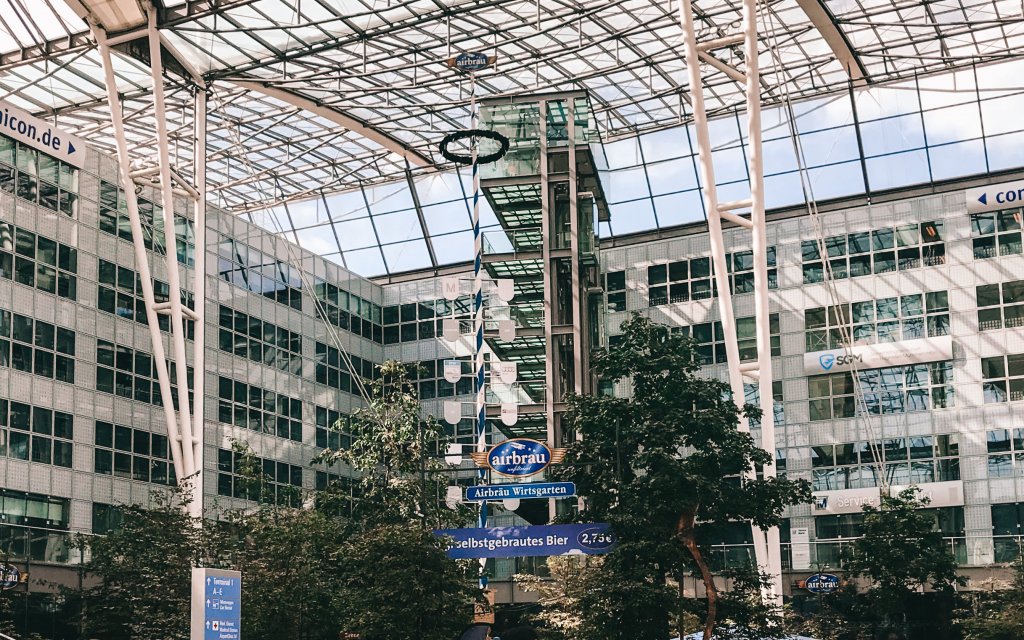 Munich's Bus and Train Stations
If arriving by train or bus, you might find yourself with the daunting task of navigating one of Munich's many train or bus stations. Don't worry, I have a guide for that too! Read my guide on the different stations around Munich for more info.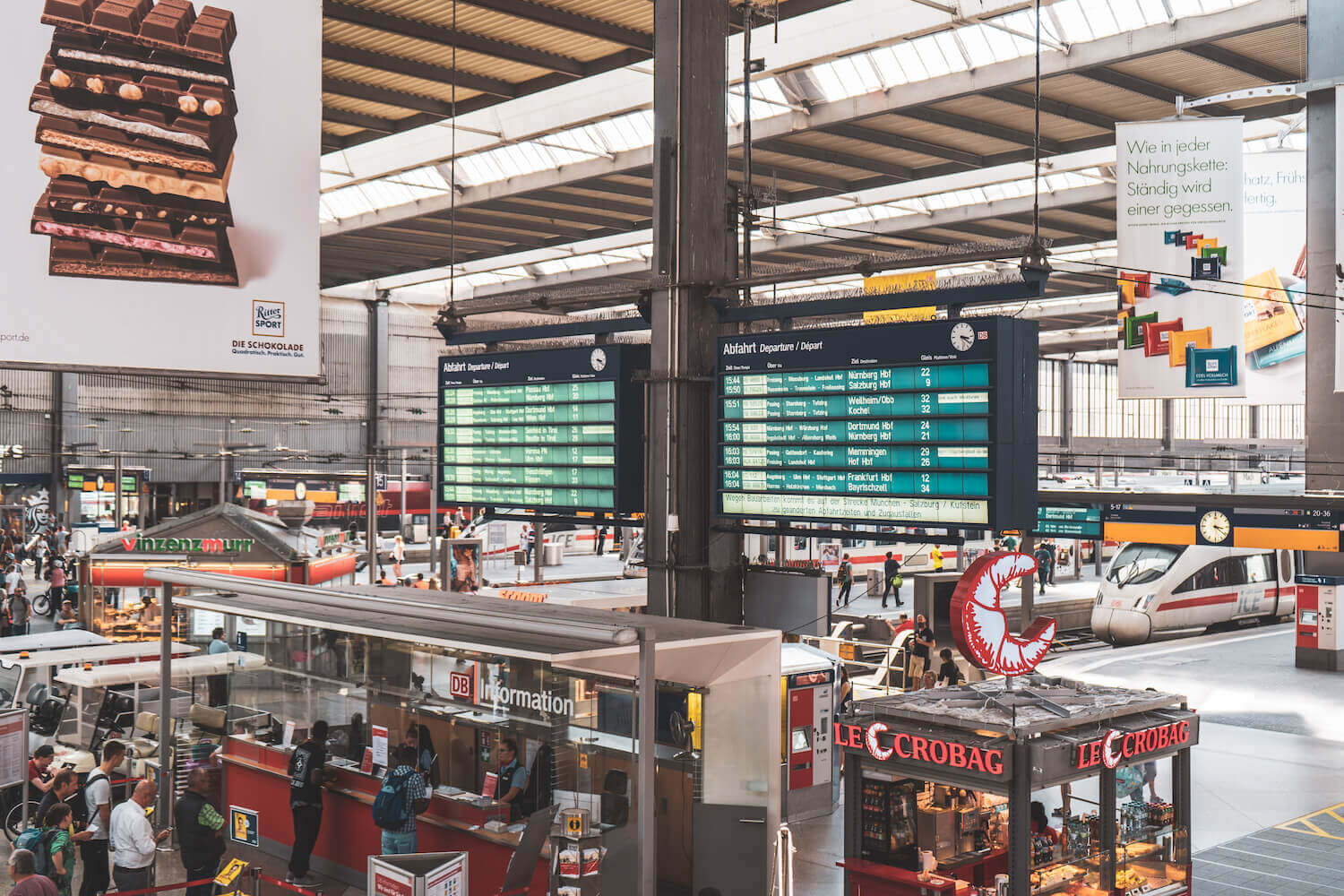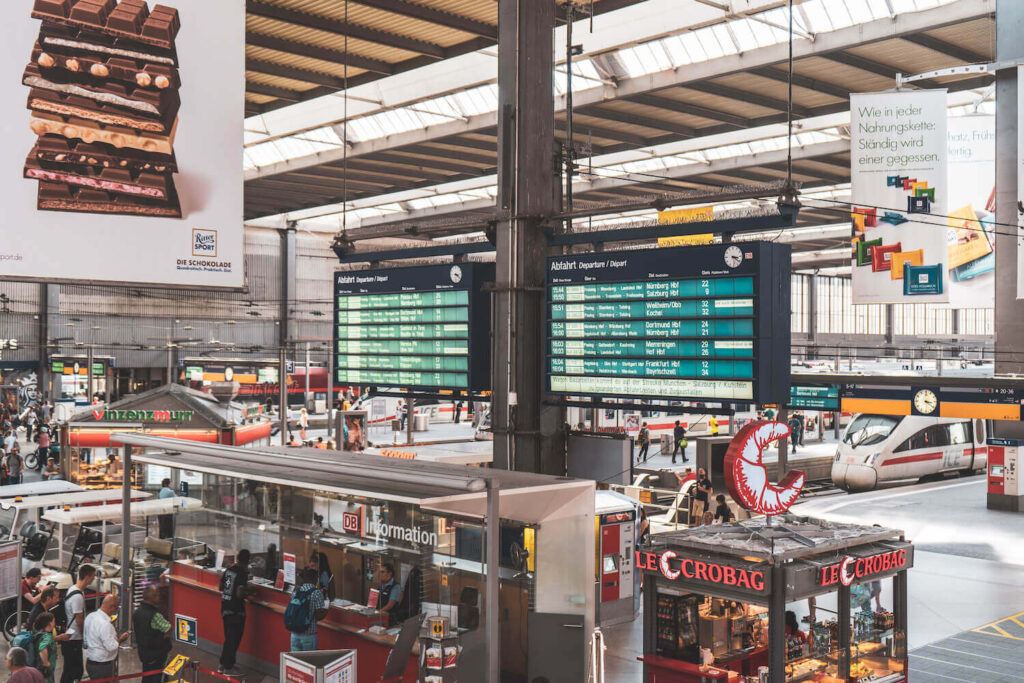 Munich's Public Transport System
I can't sugarcoat it – Munich's public transportation system is very, very confusing if you're new around here. If you're not sure what tickets to buy, what the U-Bahn/S-Bahn are or how to survive the system, check out my full detailed breakdown on Munich public transport.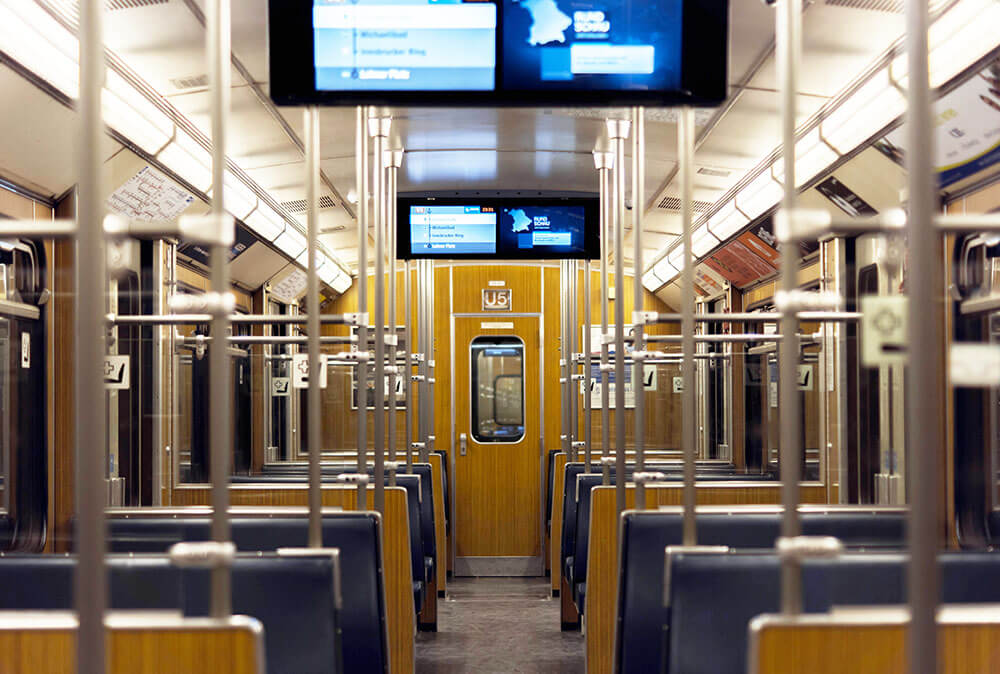 Alright – enough logistics! Let's move onto our 1 day in Munich itinerary…
1. Start in Marienplatz
Marienplatz has been Munich's main square since the 12th century and is THE best place to begin your whirlwind 24 hours in Munich. The first time you catch a glimpse of the majestic New City Hall (Neues Rathaus), you'll maybe see why I decided to move here!
This square is packed with 'wow factor', from its central golden-angel topped column (the Mariensäule), which was built to celebrate the end of the Swedish occupation during the Thirty Years' War, to the whimsically beautiful Old City Hall (Altes Rathaus) in the East, which, quite fittingly, houses a toy museum today.
Marienplatz is by far the most popular gathering point in the city, as it has been for centuries, since its origins as a space for markets, tournaments and celebrations. Today, it is tourist attraction numero uno here in Munich, which is why I think you should visit it first!
The square gets especially busy during the Glockenspiel performance at 11am, 12pm, and 5pm (omitted from November through February). You can try to be here for this performance, but it's kind of underwhelming in my honest opinion.
Don't forget to step through the central archway to peep into the little courtyard of the Rathaus – it is really beautiful, and a nice way to escape the crowds for a bit!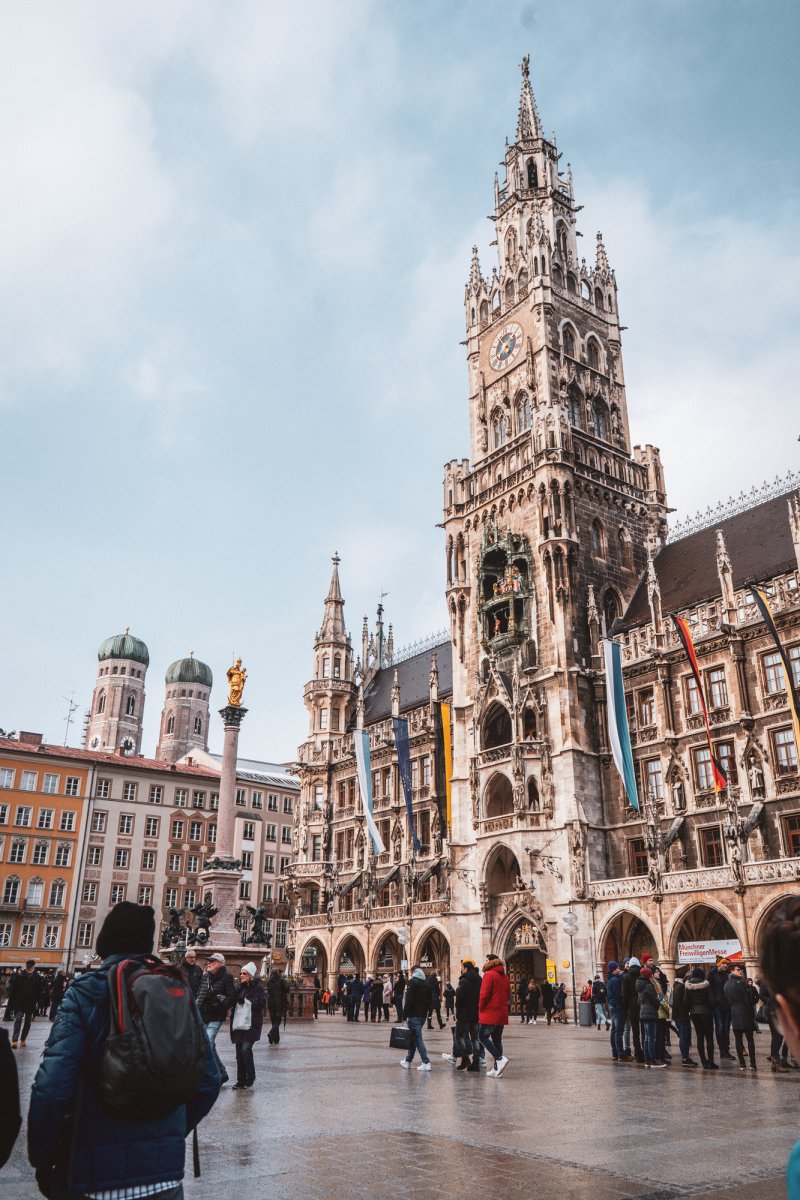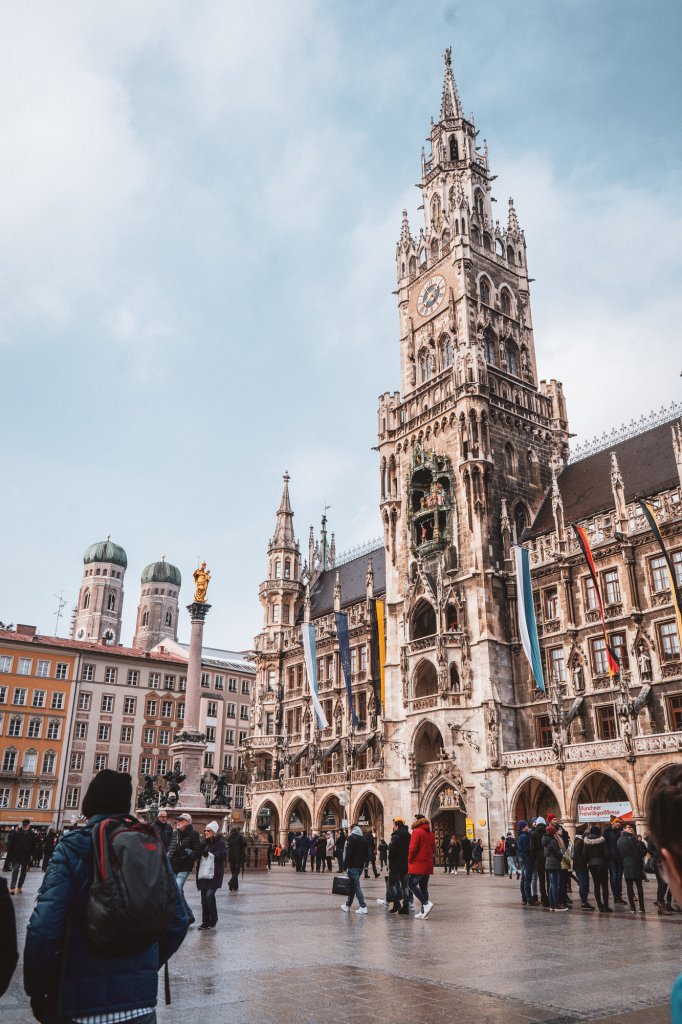 2. Traditional Bavarian Breakfast
When in Munich for only 24 hours, you need to prepare yourself… what better way to fuel up for a wild day of sightseeing than breaking open a cold one?
Yup!
Let's start your Munich adventure with a typical Bavarian breakfast, the stuff of true carby, boozy dreams.
Known around here as a Weißwurst Frühstück (White sausage breakfast), a Bavarian breakfast consists of three simple ingredients: a doughy pretzel, a pair of white sausages with sweet mustard, and naturally, a cold glass of wheat beer to wash it all down. Yes, this is truly a German stereotype served to you on a plate.
BUT HEY, welcome to Bavaria – it's time to get buzzed before noon in the name of culture!
On that note: make sure you do indulge in this treat before noon – it's very much a faux pas to have Weißwurst after the 12 o' clock bell strikes… and don't forget to peel the skin from your sausages too. Here's a video on how to do it (and to prepare you for the interesting aesthetic of this beloved sausage).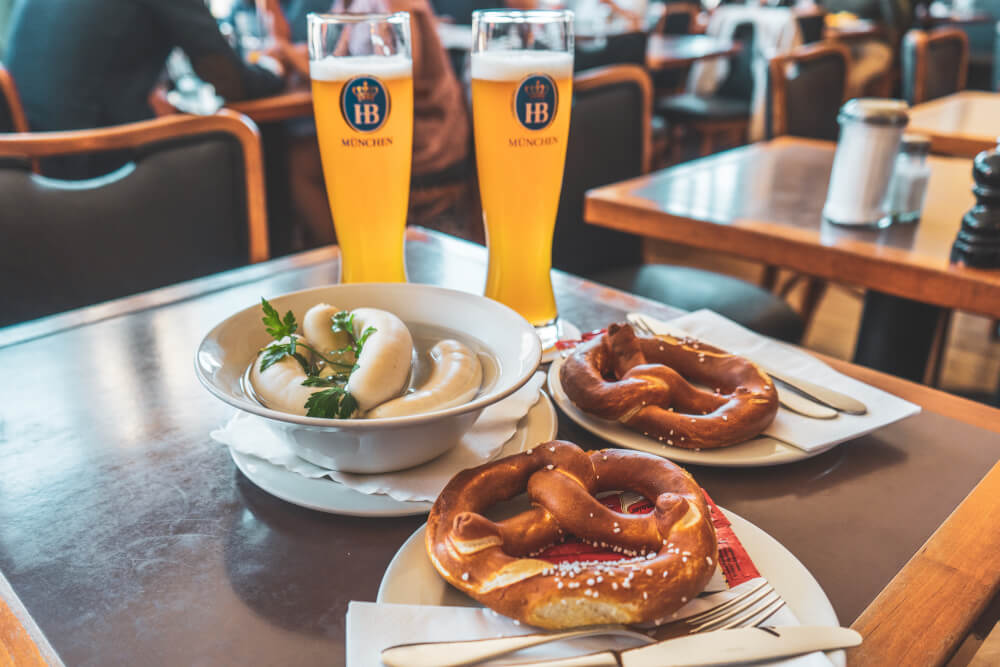 WHERE TO GET BAVARIAN BREAKFAST IN MUNICH
Café Glockenspiel
Address: Marienplatz 28 (Look for signs and then take the elevator up)
If you can score a table by the window, this has an AMAZING view over Marienplatz and is my preferred place to watch the Glockenspiel performance (if you time things correctly) because you'll be up above, watching the crowds of ant-like tourists from above while you sip your beer and eat your pretzels.
Service here is pretty mediocre and prices are a little higher (I mean, you always pay extra for a nice view!) but the experience is lovely if you manage to get a view.
Schneider Brahaus
Address: Tal 7
Located steps away from Marienplatz, this place is a little touristy, but locals like it here too. With a nice ambiance combined with excellent Weißbier, this would be a great place to have breakfast thanks to its very central location.
Hofbräuhaus
Address: Platzl 9
I'll be real with you, the Hofbräuhaus is mainly for tourists. I mean, locals go there too sometimes (usually visitors in tow), but it's very much a hammed up touristy serving of the classic beer hall experience.
That said, you can't go to Munich and NOT visit the Hofbräuhaus. You just can't! It's touristy, but it's fun, and it's quintessentially Munich. This 24h itinerary is jam-packed so if you want to say you've had a beer here, why not do so for breakfast?
… AND IF YOU DON'T FEEL LIKE SAUSAGE…
Dear plant-based and vegetarian friends, I'm fully aware that most traditional Bavarian eats won't be your jam, especially breakfast… BUT here are some breakfast options for you if you still want to have a great 'typically Munich' experience.
Vegetarian Weißwurst
If you really want to see what the buzz is all about and you have access to cooking facilities at your accommodation, there are some health food stores that sell veggie versions of the traditional Weißwurst.
I've heard Vitalia stocks them, as well as various "Bio" shops across the city. The Seitan Weisswurst from Wheaty is supposedly very good – click here to find a map of places in Munich that stock their products.
Café Frischhut
Address: Prälat-Zistl-Straße 8
Café Frischut is known for its schmalznudel, a very Bavarian, very fried, very doughy pastry that is definitely not good for you, but (I hope) involves zero sausage!
If you are hoping for a meat-free alternative to a Bavarian breakfast, but still want something that is very Munich, then stop at this adorable café and watch them fry up these beauties fresh before your eyes… all with a hot cup of joe of course.
Other Plant-Based/Vegetarian Options
And hey, if all you want is a good old fashioned avocado toast, who am I to judge? Munich has a surprisingly excellent selection of vegan/veggie restaurants these days, click here to check out my vegetarian friend Wandering Chocobo's guide on places to eat that are veggie friendly.
🎟️ Book Activities & Tours:
3. Get a view
With a belly full of caloric regret, it's time to work off your gluttony by enjoying one of Munich's finest viewpoints. If you thought Marienplatz was amazing from the ground, wait til you see it from above.
Saint Peter's Church Tower (Alter Peter) is one of the best places to get an amazing view over Munich, with soaring 360 degree views that stretch even to the Alps on a clear day.
Beware though, while the tower is cheap to climb (3 euros), it's an upwards slog that will literally take your breath away, with crowds to match!
This is why I would recommend doing this earlier in the day to get your bearings and avoid the hordes of people who roll in as the day goes on. A good physical fitness is required for this climb as it's quite steep and mildly claustrophobic near the top, but the views are very, very worth it.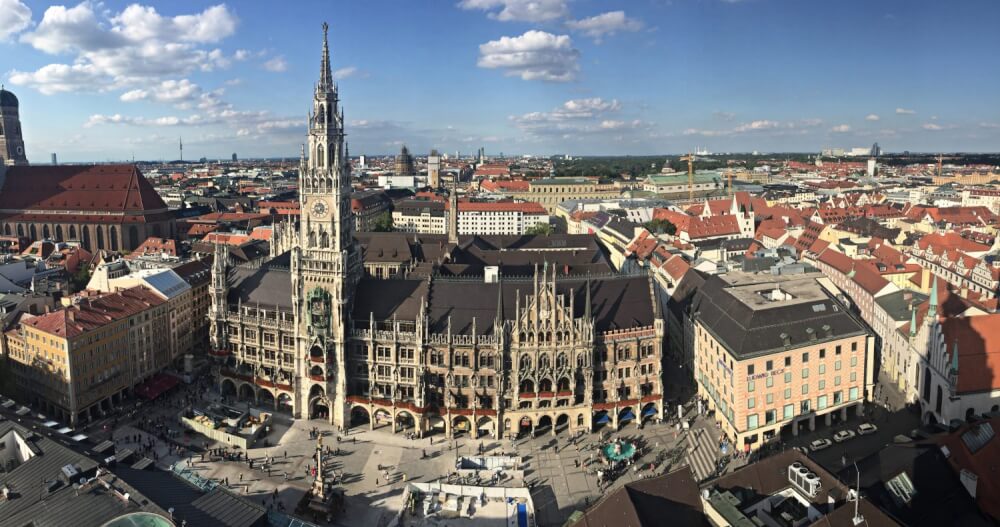 Alternatively, you can check out the amazing view from the Neues Rathaus right across from Saint Peter. The best perk of this view? You can take an elevator straight to it, and the perspective is just as beautiful, usually with far fewer people because it remains a happy secret from most tourists.
To get a ticket, go into the Tourist Information Center in the Neues Rathaus and ask for a ticket to see the Rathausturm (or the City Hall Tower). It will cost 4 euros per adult, but an elevator will take you all the way up.
You access this elevator through the passageway that leads to the inner courtyard. Keep an eye to your left for a discrete elevator and take it up, then follow the arrows, show your ticket to the (permanently grumpy) staff member, and they'll point you towards the final elevator that will zip you all the way up. Enjoy!!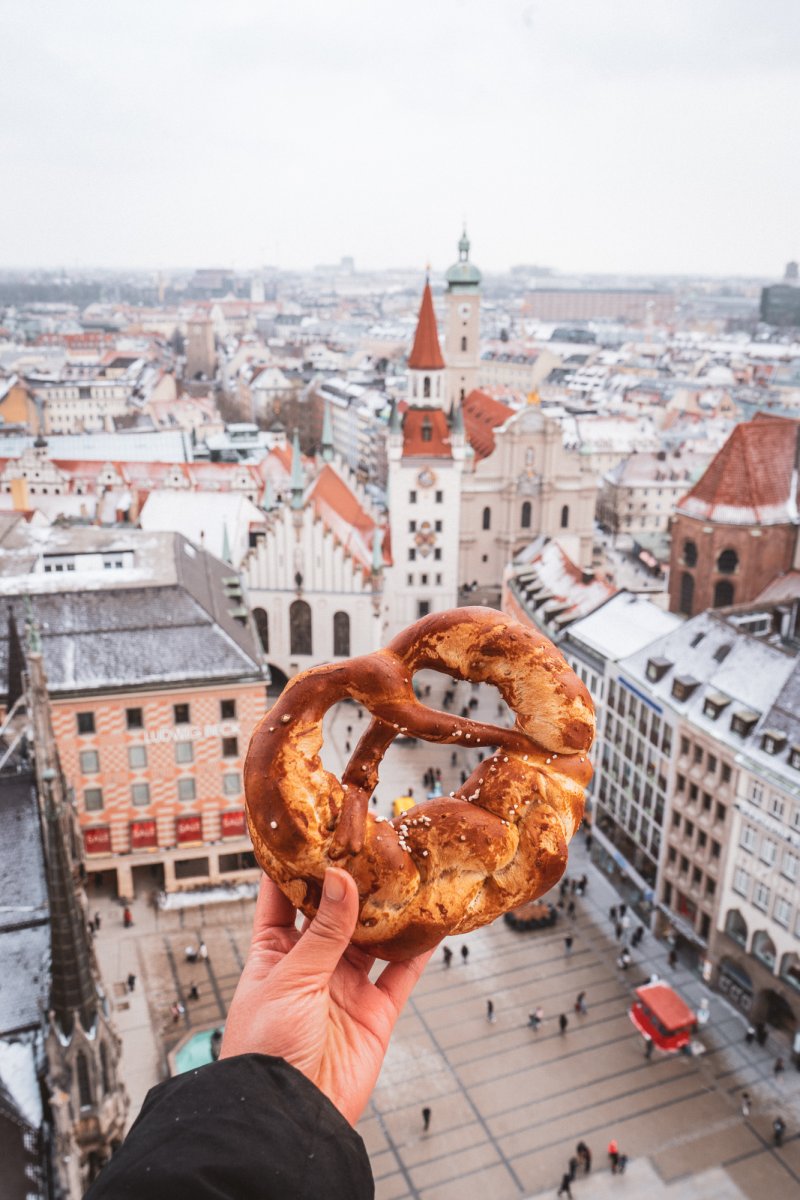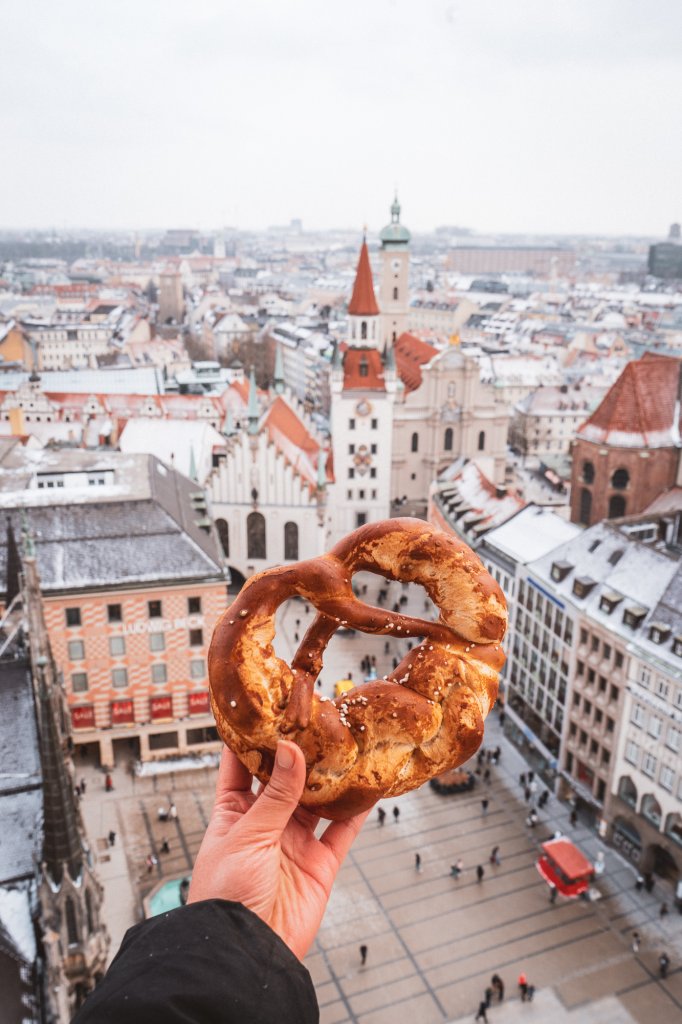 4. Viktualienmarkt
Steps away from Marienplatz, you'll find Munich's thriving food market, featuring stalls crammed with colourful produce, fresh bites to go, a bustling beer garden, and plenty of wonderful local products to bring home.
This (to me) is a much classier place to go souvenir shopping than the tourist shops that line some of Munich's main streets, but regardless of whether you want to shop or not, this market is well worth a nosy perusal!
Keep an eye out for the market's large maypole, identifiable by its blue and white pattern and figures representing the different trades that can be found in and around the area.
Maypoles are a common sight around Bavaria – every town will have one, and most beer gardens too. They're typically erected at the beginning of May and guess what? This one is carved out of the large Christmas tree that is set up every year for the big Christmas Market in Marienplatz!
FUN FACT: You are allowed to bring food/picnics into any of Munich's beer gardens, so if you aren't completely stuffed to the nose from your breakfast, you can grab some food from one of the vendors, buy a beer, and enjoy in the sunshine.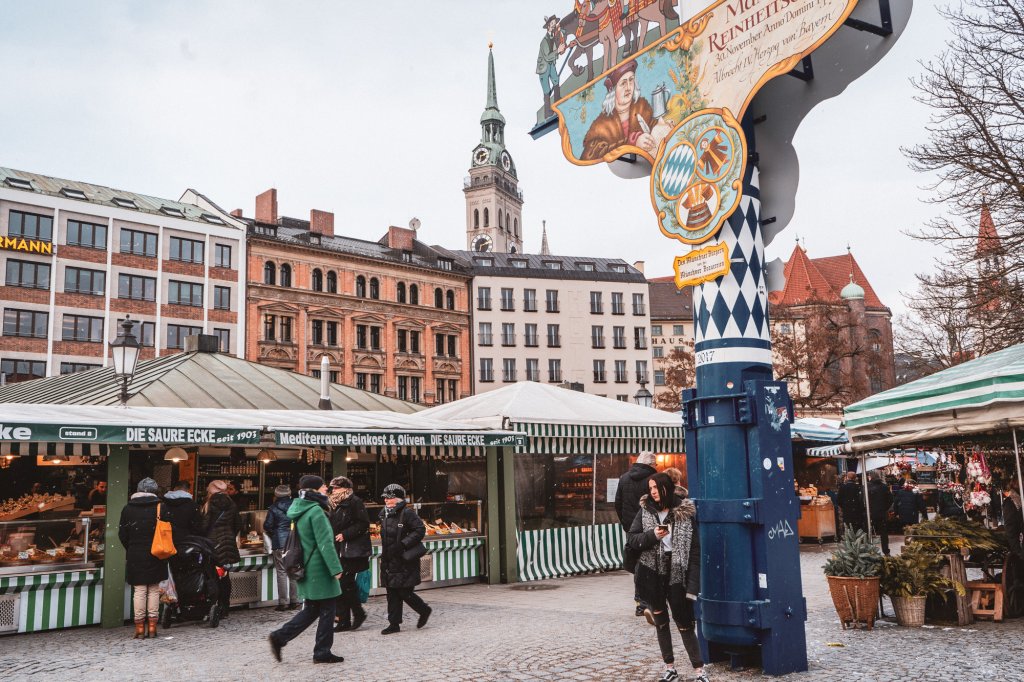 5. Wander around Altstadt
This is by far the most scenic part of Munich, and where I'd recommend focusing your attention if you only have one day in Munich to explore. Munich's Altstadt today is pretty much the area enclosed within the old city walls, marked by gates like the Karlstor (at Karlsplatz), Isartor and Sendlinger Tor, and the non-gate, Odeonsplatz.
Wandering within this area for a few hours is a must, and while I'd love to provide a mega-efficient route for seeing everything, the truth is some backtracking is bound to be involved, but that's all part of the journey 😉
So, here's what I'll do: I'm going to share with you some of the best points of interest in the Munich Altstadt and let you choose your own adventure… just make sure you eventually end up at Odeonsplatz because that is where our itinerary will continue.
So, here are a few points of interest within Munich Altstadt that you should check out during your day in Munich:
Frauenkirche
The iconic onion domes of Munich's Frauenkirche are undoubtedly one of the most important landmarks of Munich, so you should definitely take a peek while you're in the area. While the interior is not as stunningly ornate as some other churches in the city, it does have a very peculiar attraction: a 'Devil's Footprint' in the back of the church.
Hofbräuhaus
This iconic beer hall is a must-visit in Munich, even if you don't have time to stop for a beer. It's a touristy place, but lots of fun, with a leafy beer garden, beautiful interior décor, live music and even a beautiful Festhalle upstairs (which many visitors miss, so be sure to head up the stairs for a look!)
The Residenz
The Munich Residenz is this massive epic palace right in the middle of the city, where for centuries rulers and decisionmakers lived in opulent splendor. While sadly, much of the Residenz was destroyed during WWII, it has been gradually restored over the years and is open to visitors today. While you might not have time to actually tour the museum inside, even walking by, admiring the facades and courtyard is well worth it.
Maximilianstrasse
If you're a baller looking to shop, this is your place. This is the most luxurious shopping street in Munich, with high fashion brands for days. As for the rest of us, perhaps window shopping will have to suffice, but it's a lovely street for a quick perusal, especially with the Maximilianeum at the end, home of Bavaria's state parliament, and also, if you can believe it, a hyper-exclusive student residence.
Max-Joseph Platz
This is the square where you'll find Munich's National Theatre, with its striking neoclassical façade. This is one of the most photogenic spots in Munich, especially with the beautiful buildings opposite the theatre, with outdoor seating that spills out into the street in summer months.
Kaufingerstrasse
This is Munich's main pedestrianized shopping street that leads all the way to Karlsplatz. It contains all the usual suspects of European retail: think Zara, H&M, etc. The stores here are not terribly unique or special, but walking down Kaufingerstrasse can be an experience in itself
Asamkirche
As far as opulent churches go, this tiny church wedged between shops is by far the most ornate. Located near Sendlinger Tor, this Baroque beauty is worth the little detour.
Intended originally to be a private church (designed by rich artists for themselves, go figure), permission was only granted to build the church after they promised access would be for everyone.
This is great news for us, because the church is free to access for all people (even tourists!) today, and trust me when I say it's worth a look.
Karlsplatz
Located along the old city gate Karlstor, Karlsplatz (also known by its more popular name, Stachus) is a large square in Munich that acts as the end of the pedestrian shopping zone leading from Marienplatz.
It's a lovely square flanked by beautiful buildings, including the Justizpalast across the street, one of my favourite hidden gems in Munich (which is free to enter!), but mainly this is a jumping point for shopping or nights out. You'll even find a network of shops underground below the square, just follow the escalators down.
Theatinerkirche
This mustard yellow church in Odeonsplatz divides people – you either love it or hate it, but I personally LOVE it. The interior is all white and incredibly detailed – such a truly beautiful church that in my opinion can't be missed!
🎟️ Book Activities & Tours:
6. Odeonsplatz
Alright, we now find ourselves in Odeonsplatz, one of Munich's main squares. While it dates back to the early 19th century, what's especially striking about this square is if you look back on historical photos, it has remained largely unchanged.
Its focal point, the Feldherrnhalle is actually inspired (or well, copied) from the famous Loggia dei Lanzi in Florence. Today, you'll usually find Odeonsplatz as the stage for countless festivals and events (beer and wine festivals are common in the summer!), as well as the preferred drinking place of unruly youths up in the steps of the Feldherrnhalle 😉
Historically, Odeonsplatz is also a noteworthy spot for your day in Munich. That's because back in 1923, it was here that the final conflict broke out during the infamous Beer Hall Putsch, a failed coup d'etat led by Hitler and the Nazi party. 16 Nazis and 4 police officers were killed as a result, which led to Hitler's arrest a few days later, when he was charged with high treason and thrown in prison, where he wrote Mein Kampf.
Whew. I know it's a lot of history to take in, and pretty surreal when you look at historical photos too showing the Nazi rallies and speeches that took place here… but let's not dwell too long on the past and lighten things up a bit with our next stop.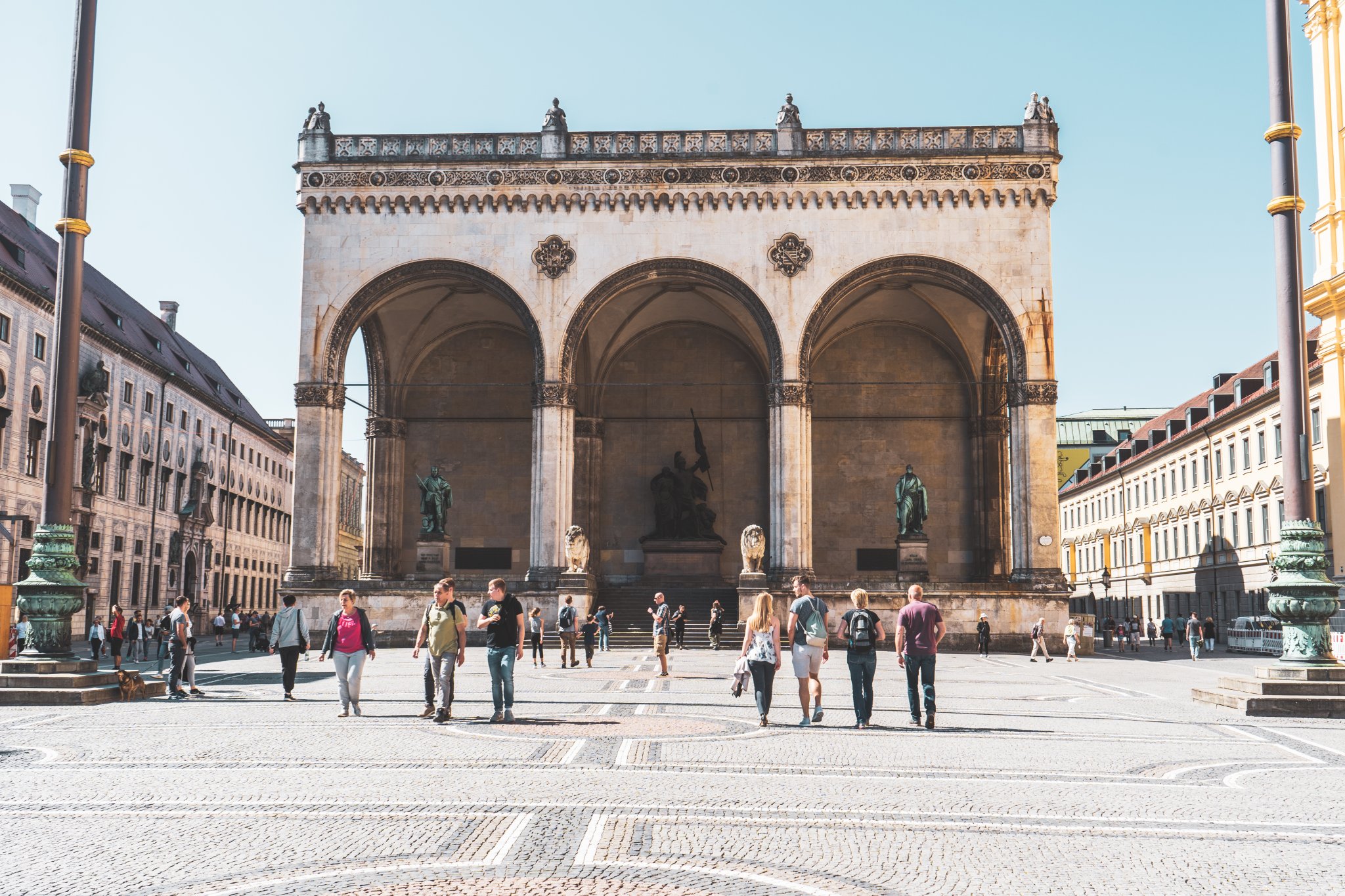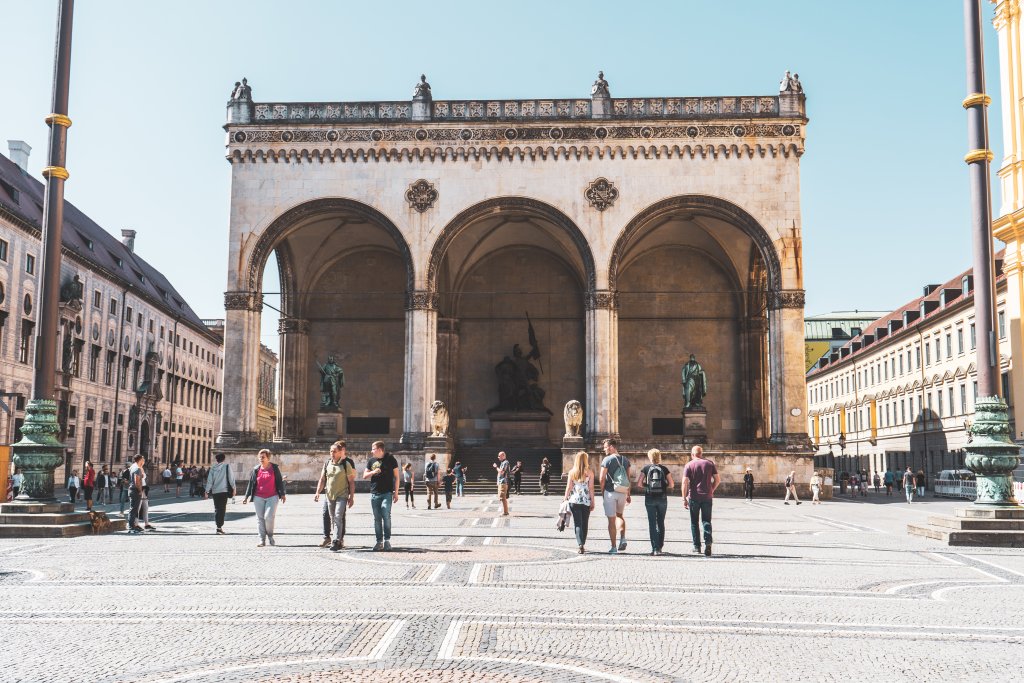 7. Hofgarten
Behind the Residenz is a garden as opulent as you might expect from Bavarian royals, designed in Italian Renaissance style in an ideal location between the Residenz and the sprawling English Garden.
Today, the Hofgarten is a public garden that you are free to access, and for us, it makes the perfect shortcut to visit Munich's largest and most famous public park. Keep your eye (and ear) out as you pass the Dianatempel (Diana Pavilion) in the center. It's a twelve sided gazebo that usually has some beautiful classical musician playing in the middle, and you might even recognize it from the Three Muskateers (2011) which filmed here!
This little garden is one of the most beautiful parts of Munich, and the perfect place to cross over to the English Garden.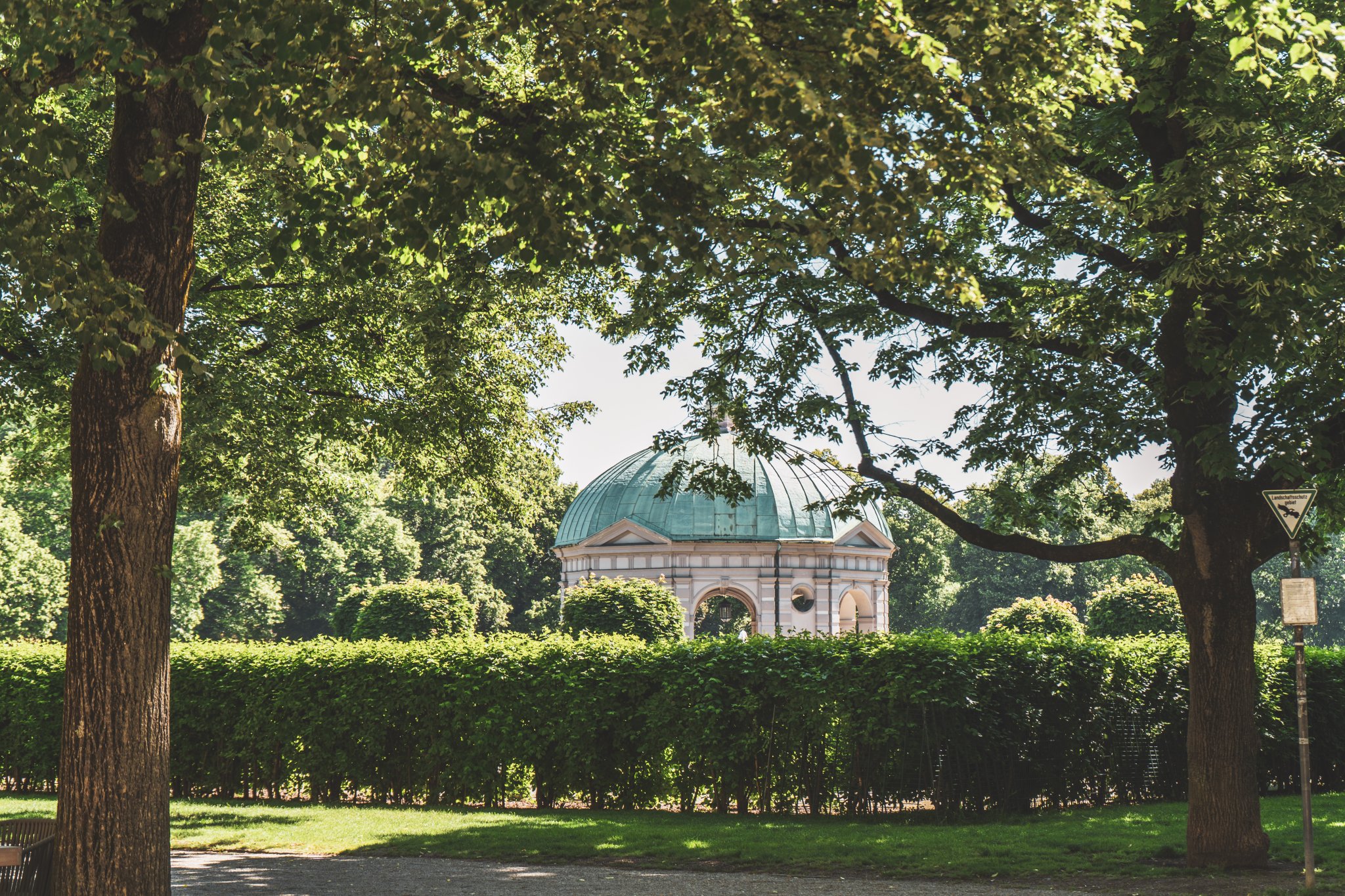 PS: The Bavarian State Chancellory building (Bayerische Staatskanzlei) is here on the East Side of the garden. It's a beautiful building to admire (which many do), but most miss the moving memorial hidden in the building's courtyard.
Finding it is easy – step down the stairs and head into the center where you'll find a covered pit, which houses a statue of an unknown soldier, dedicated to soldiers who lost their lives in World War I.
8. The Eisbachwelle and its River Surfers
From the Hofgarten, cross the street over to the Haus der Kunst, an imposing art gallery that was constructed in the 1930s as a museum showcasing Germany's finest art.
It is considered to be the first example of Nazi architecture. If you keep your eyes open, you might also notice a sign for "P1", Munich's swankiest nightclub, known as the preferred playground for the rich and famous.
If you continue forwards you might soon hear the sounds of the famous Eisbachwelle, Munich's unique standing wave which hosts a consistent stream of river surfers.
Actually, this is very close to where I live, so I can confirm that there are surfers here day and night, no matter the weather conditions. Sometimes, they even bring their own spotlights!
The best is when you come in the early morning and see some of the surfers changing from their wetsuits into their business suits for work, as they cycle away surfboard in tow. This is one of those things that are quintessentially Munich, and a must-do when you're in town!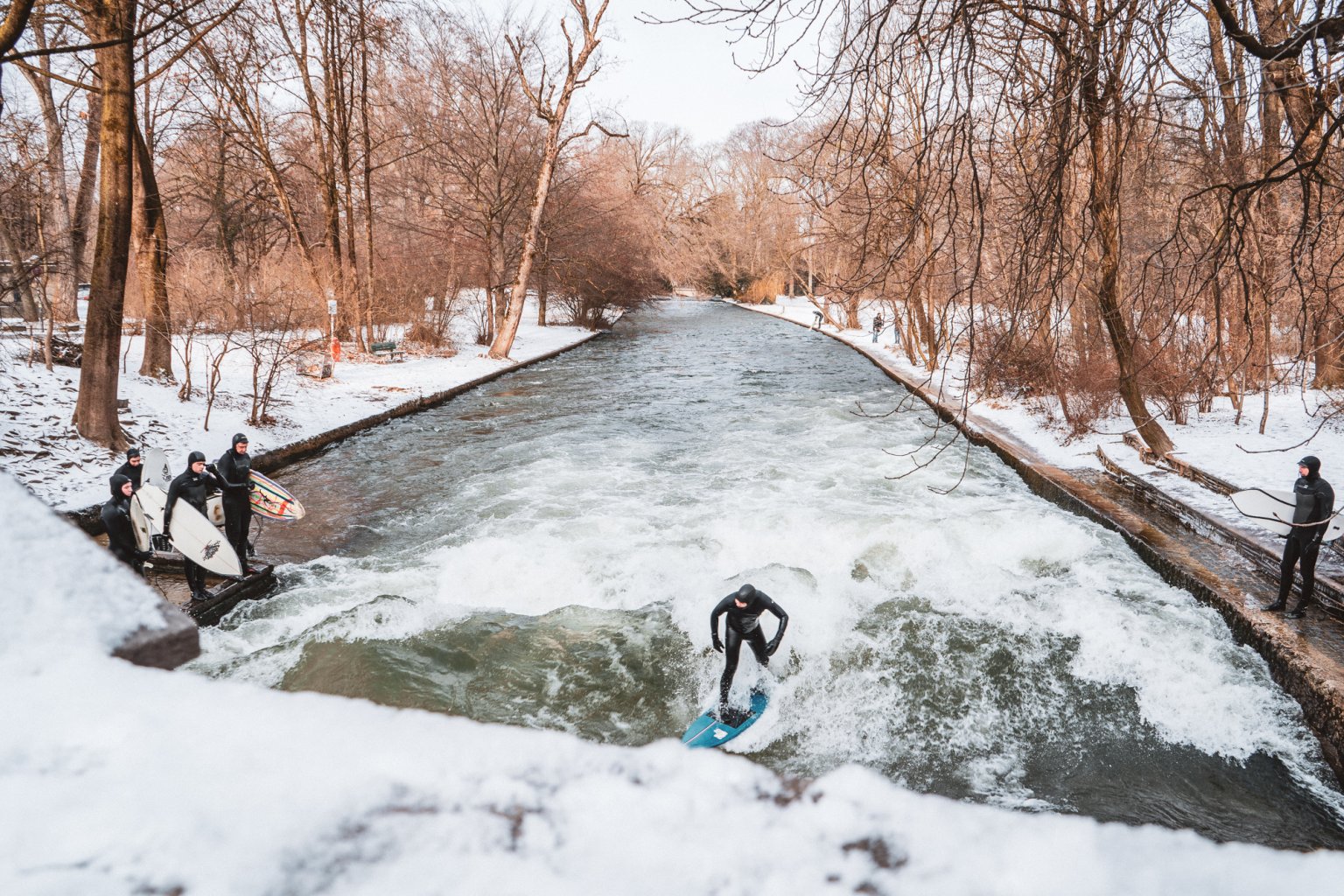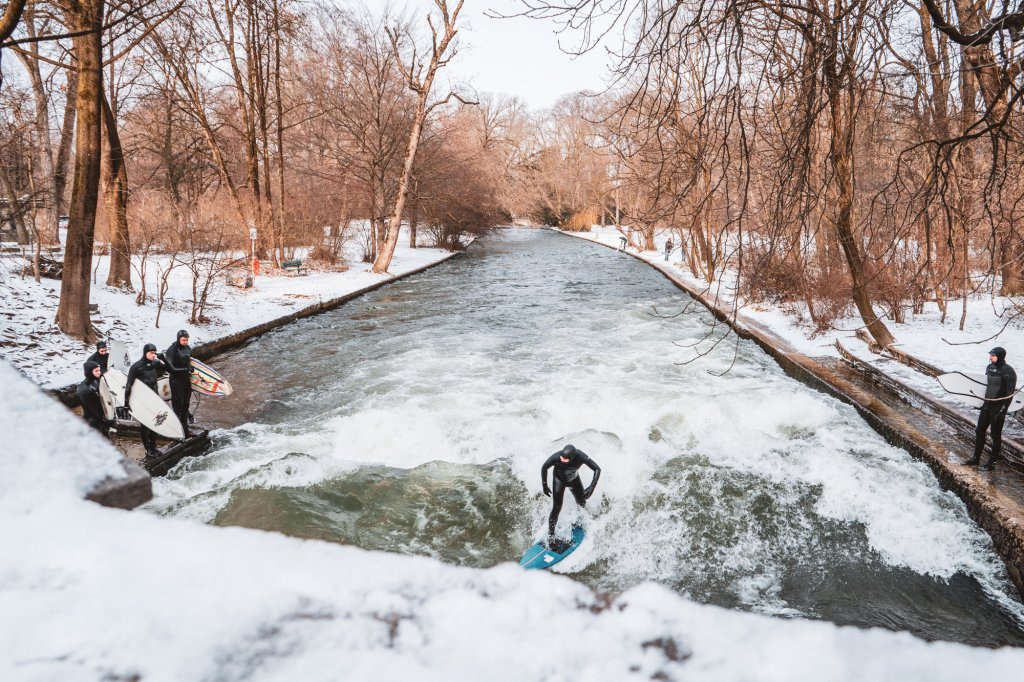 9. English Garden
The English Garden is a MASSIVE park that some say is the largest city park in the entire world. Yup, it's even larger than Central Park in New York.
But while it's huge, the best bits are definitely located in this portion of the garden. Stroll around to admire the Japanese Tea Room and garden, the Greek Monopteros, and slowly make your way to the Chinese Tower, one of Munich's most famous landmarks, that (to be honest with you) is not at all Chinese in any form.
PS: Don't be alarmed if you spot a nude person or two. Nude sunbathing and swimming is allowed in sections of the English Garden, and no, they are not secluded spots that are covered from the public eye, so if you get an eyeful, know that I warned you so 😉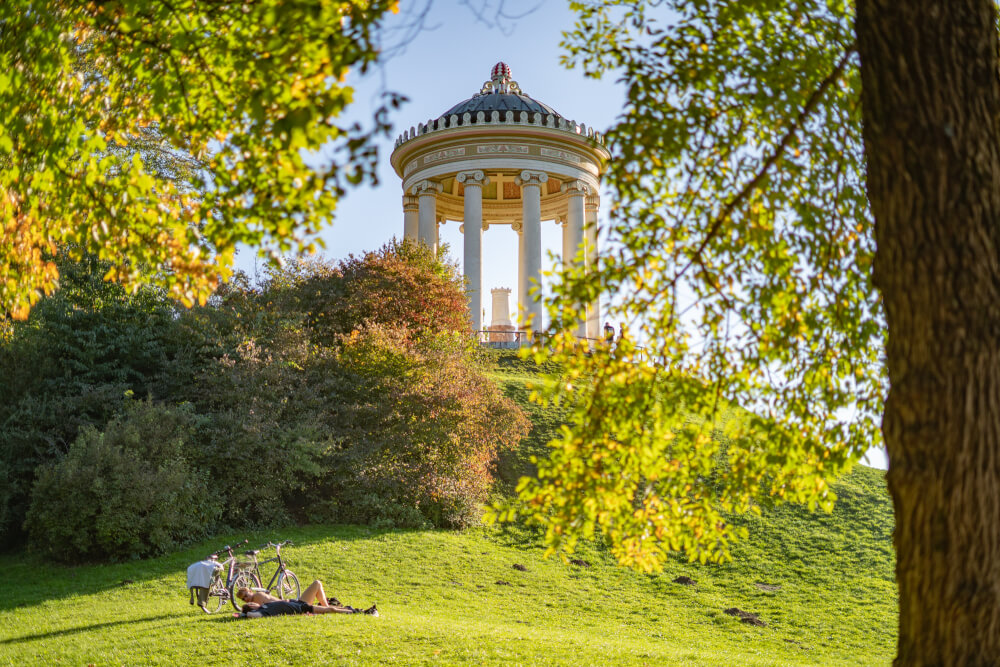 10. Lunch time at the Chinese Tower
The Chinese Tower Beer Garden is one of the most popular hang-out spots in Munich, for locals and tourists alike (although it's definitely one of the most popular beer gardens for visitors!)
Here, you'll find a huge food selection of traditional Bavarian foods, and of course, plenty of giant beers to keep you going.
Grab a tray, grab a beer, grab some food and then head to a table and enjoy the atmosphere.
Do note that they will charge you a deposit for your glasses called "pfand", so they'll add an extra euro to your bill per glass and give you a silver token for you to bring back with your glass. When you bring it back, you get your money back!
TIP: If you want a more "local" vibe and you don't mind a detour, my favourite beer garden is nearby and it's called Seehaus. It's perched along a little lake and it's much quieter and less touristy than the Chinese Tower, although both are good.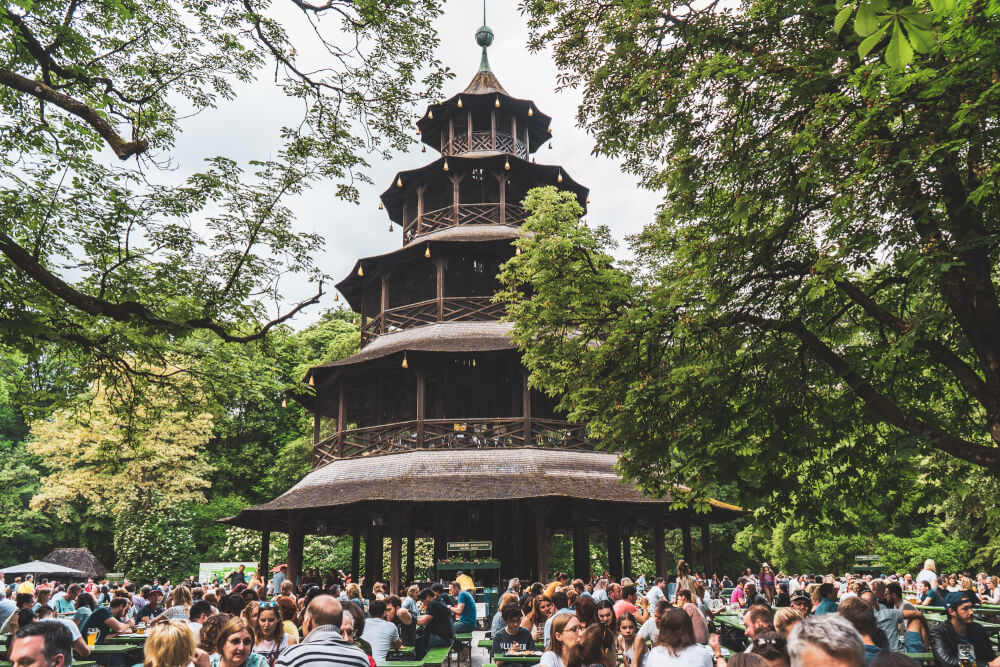 11. Universität
From the Chinese Tower, walk back through the garden and head to the Universität U-Bahn stop. This is where you'll find the main building of LMU (Ludwig-Maximilians-Universität), where I did my Study Abroad Program!
From here, you can also see Siegestor, Munich's Victory Arch, a monument built to honour the glory of the Bavarian army. On a vain level, it's also a very aesthetically pleasing place for a photo 😉
Before hopping onto the U-Bahn for our next stop, I would recommend walking up to the entrance of the university at Geschwister-Scholl-Platz" ("Scholl Siblings Square" if you have time.
Here, you'll find a subtle but moving memorial dedicated to the "White Rose Resistance Group", an anti-Nazi resistance group run by LMU students, including the Scholl siblings for which the square is now named.
The White Rose was a non-violent group that campaigned against Nazi rule through graffiti and leaflets. They were soon arrested and executed. In their memory, you will now see bronze replicas of their leaflets embedded in the square's cobblestones.
Virtually no tourists (or even students!) stop to look at this, but I think it's one of the most moving memorials in the city.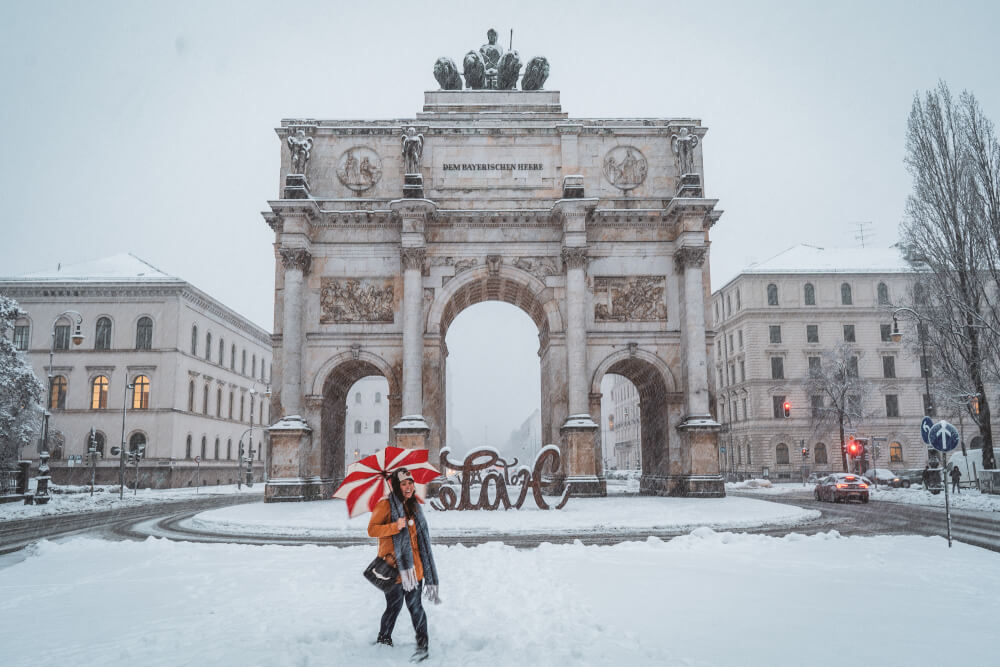 If that story has left you drained and sad, there is an amazing ice cream place behind the university called Der Verruckte Eismacher, known for the Alice in Wonderland aesthetic and erm, let's say ~inventive~ rotation of ice cream flavours, which includes Bavarian treats like Augustiner beer and sometimes even sauerkraut. Yup!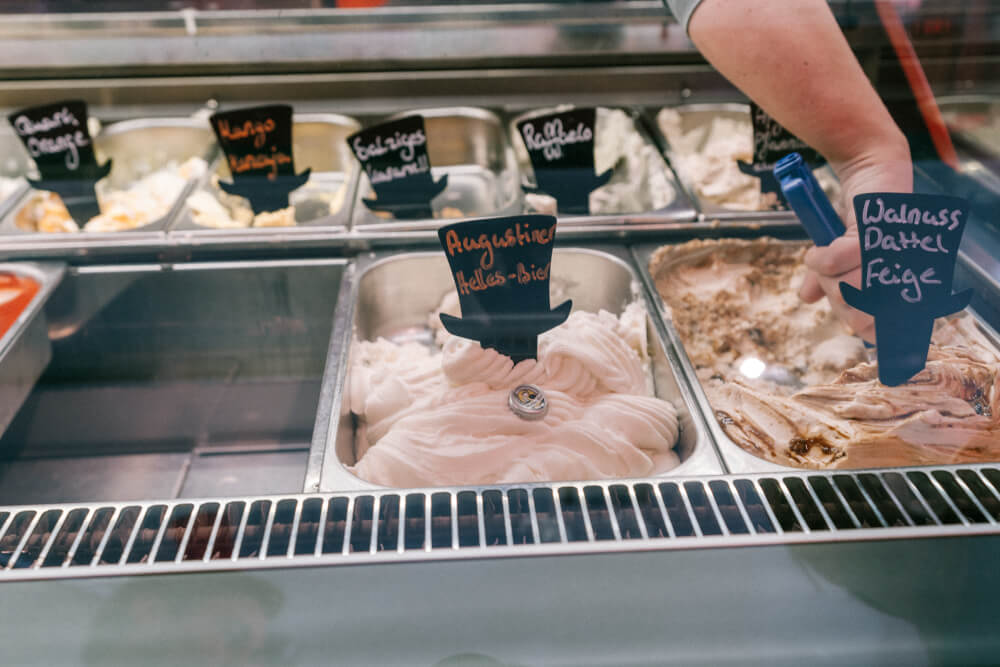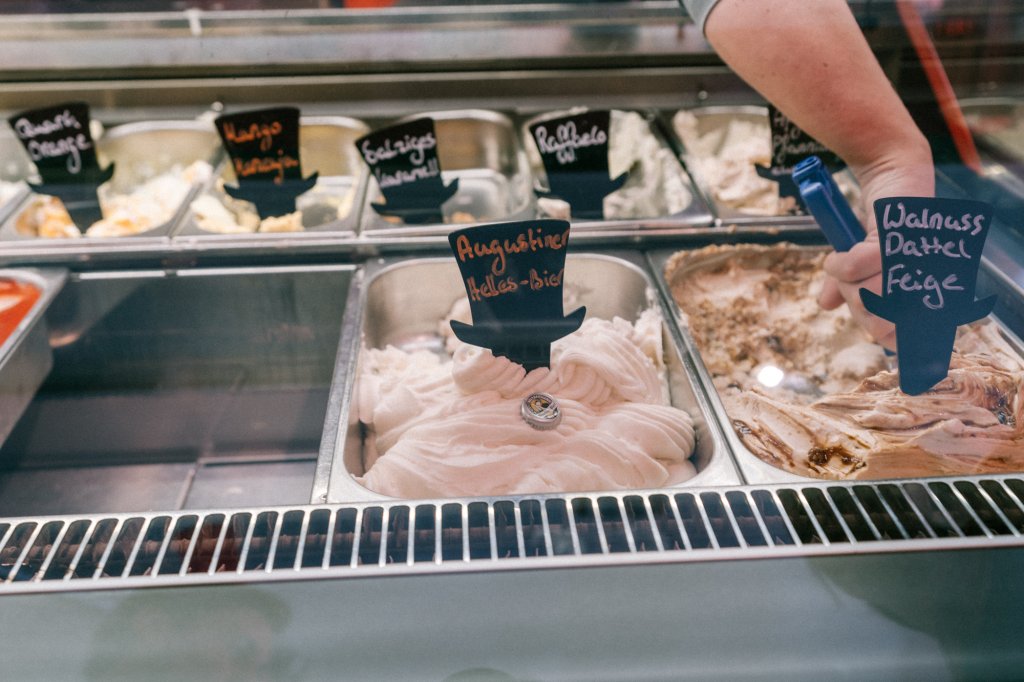 12. Olympiadorf
Alright, next stop: get off at Olympiazentrum.
Taking the U3 towards Fürstenried West, you'll be here in 10 minutes.
… Once there, let me say: Welcome to my old stomping grounds! The Olympic Park is where I first lived when I moved to Munich, in the Olympic Village to be precise, which is where athletes lived during the 1972 Olympics, and have since been converted into student housing.
Before you head out to explore the park though, I want to show you one of my favourite hidden gems in Munich, the Olympiadorf, an amazing student residence/open air art gallery.
This is one of my personal favourite secrets of Munich, so please be respectful 😉
This is the student village where I once lived, and it has officially been recognized as one of the coolest student residences in the world for one simple reason: all the students live in small cube houses called bungalows which they can paint however they wish.
This, over the years, has created an amazing array of colourful and artistic facades on each house, with nods to pop culture, inside jokes and more. Be sure to stop for a quick walk around here before exploring the rest of the park – it's easy to get lost in each of these streets!
… And stop by L4 to see the bungalow that I personally painted myself back in 2015.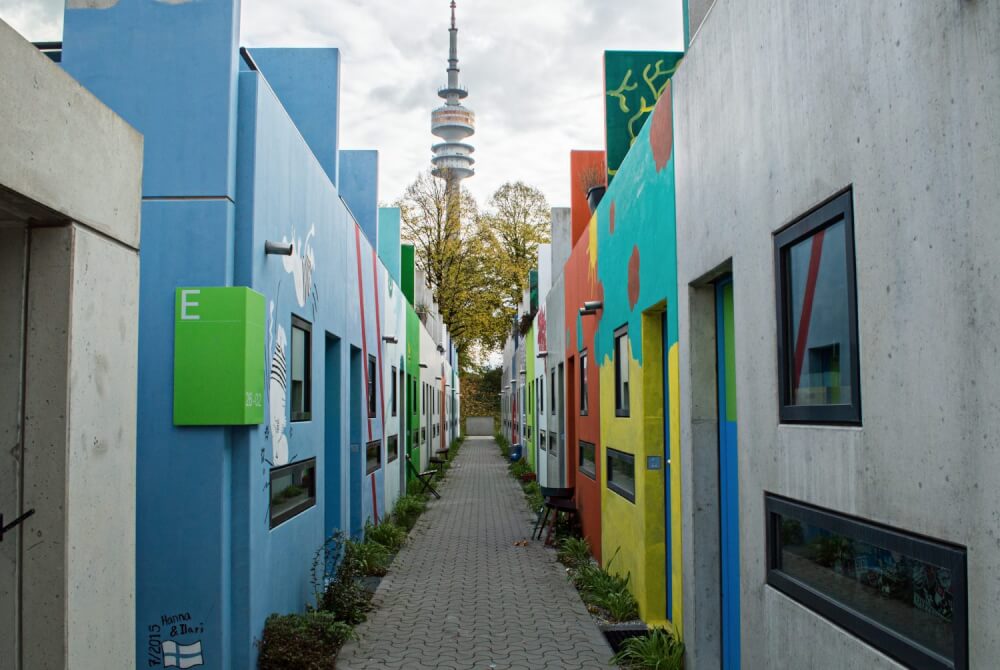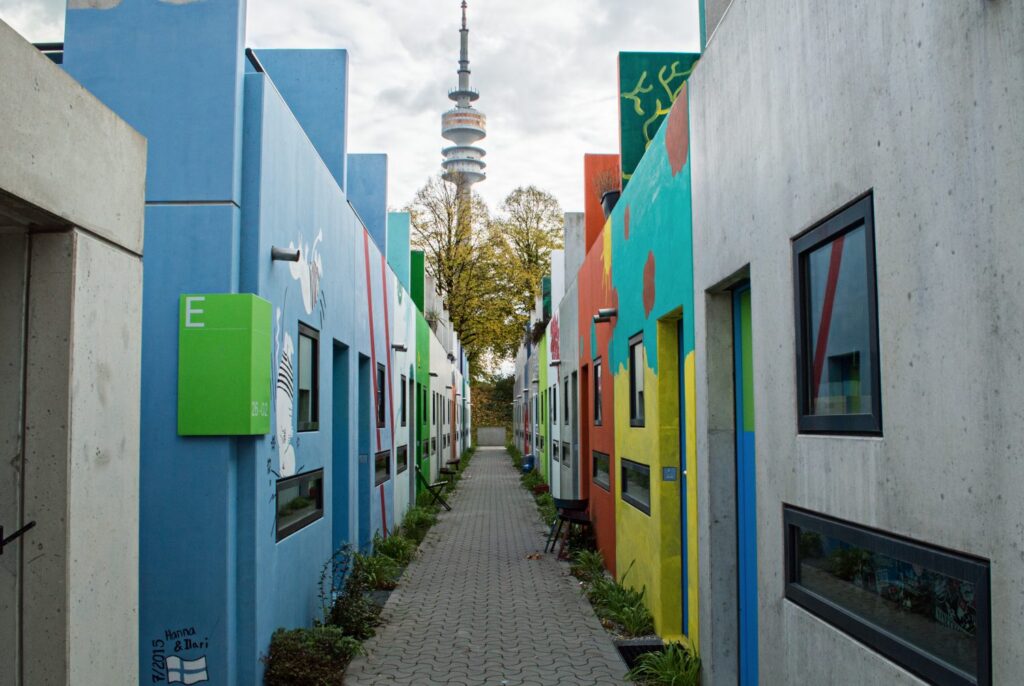 13. Olympiapark
The architecture of Munich's Olympiapark is worlds removed from the historic Old Town, and I love it. While it may look incredibly futuristic, it was all built for the 1972 Olympics, and the park continues to be a popular venue for sporting and cultural events. In fact, pretty much all the big concerts in town happen right here, in either the Olympiahalle or Olympiastadion.
Take some time to explore the park at your own pace. There's loads to see here! The Olympiasee for instance is a lake that is lined with Munich's own little 'Walk of Fame', with handprints and signatures embedded into the ground from famous celebrities (mostly musicians) who have visited the city.
There's also the Olympic Tower, rotating exhibitions at the Small Olympic Hall, the BMW Headquarters (with a distinctive building shaped like the four cylinders of a car engine) and even SEA LIFE Munich.
I also highly recommend you visit the free Munich 1972 Massacre Memorial, which is an open air multimedia installation in the park that honours the victims of the massacre that occurred at the 1972 Munich Olympics.
This was a very dark chapter of Olympic history, when the Palestinian terrorist group Black September held eleven members of the Israeli Olympic team hostage in the Olympic Village here, eventually killing them all.
The events were horrific and terrifying, but the installation here does an incredible job of summarizing everything and memorializing the victims. A harrowing experience, but a worthwhile one.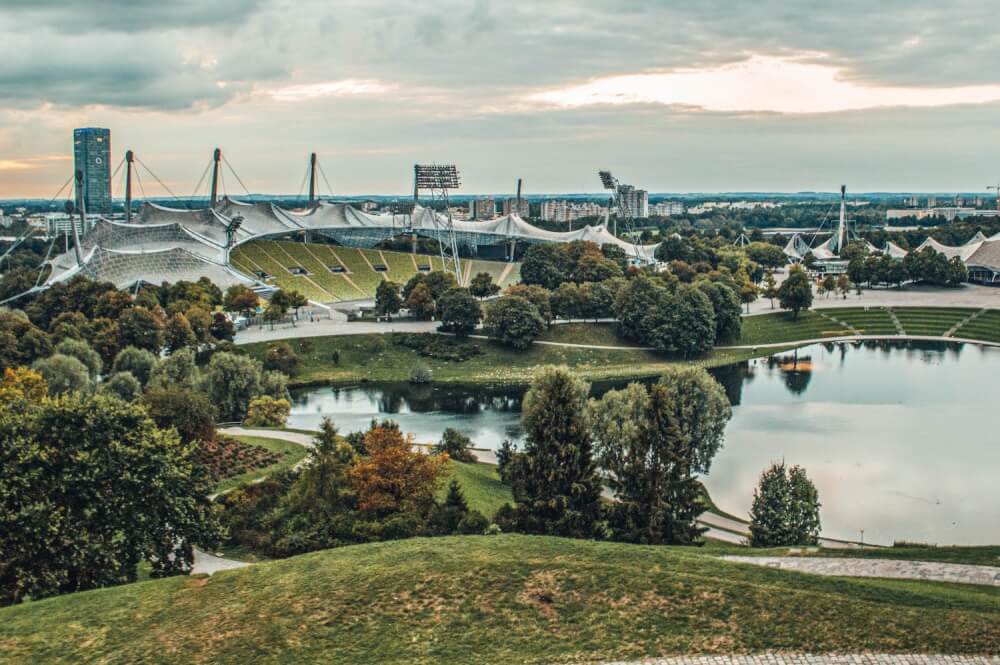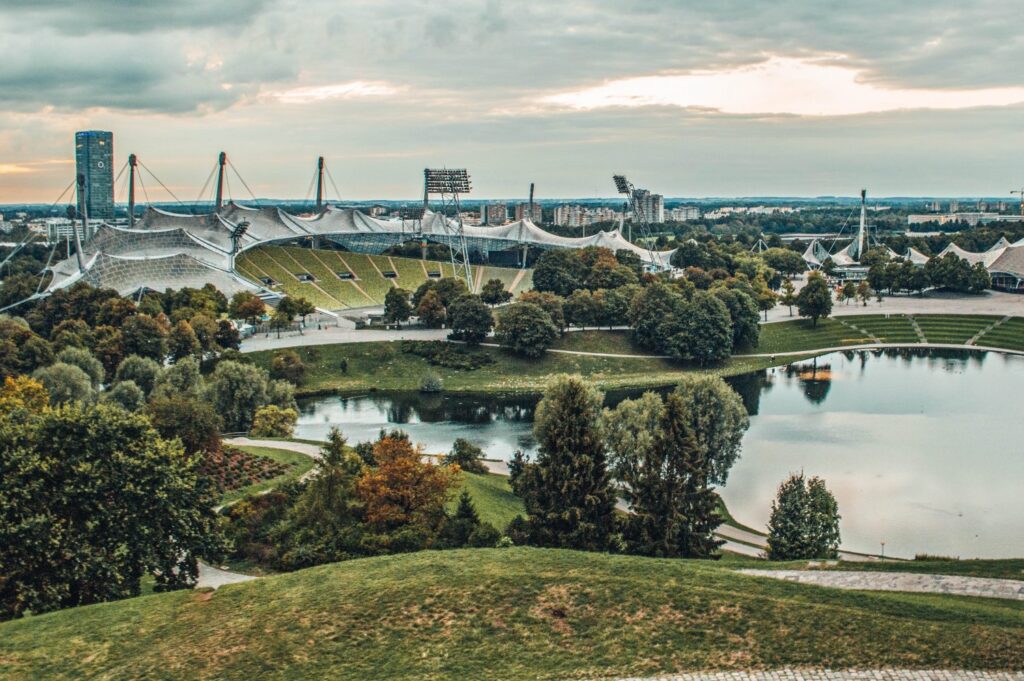 14. Sunset
Alright, let's end this park visit on a high.
Literally!
The Olympiapark is by far one of my favourite places in Munich to catch sunset. You have two options here, depending on your budget and um, desired romance level.
For a free place to watch sunset, climb Olyberg, a big hill that overlooks the park. You get a truly incredible vantage point over the city from here, and you can even see the alps on a clear day!
For bonus romance points, there is an Edeka supermarket near the Olympiaznentrum U-Bahn stop where you can pick up some wine, beers, or snacks. Alternatively, you can grab some take-out pizza or Asian food (the stuff from "Asian Kitchen" is surprisingly good) and climb up this hill for an amazing view.
If you don't mind paying, the Olympic Tower is a truly incredible place to watch sunset. With the view being so much higher than Olyberg, you see way more and it's breathtaking, but both are amazing in their own way.
Experience-wise, I much prefer sunset from Olyberg, but maybe it's because I've had my fair share of romantic memories there. Heh. Heh.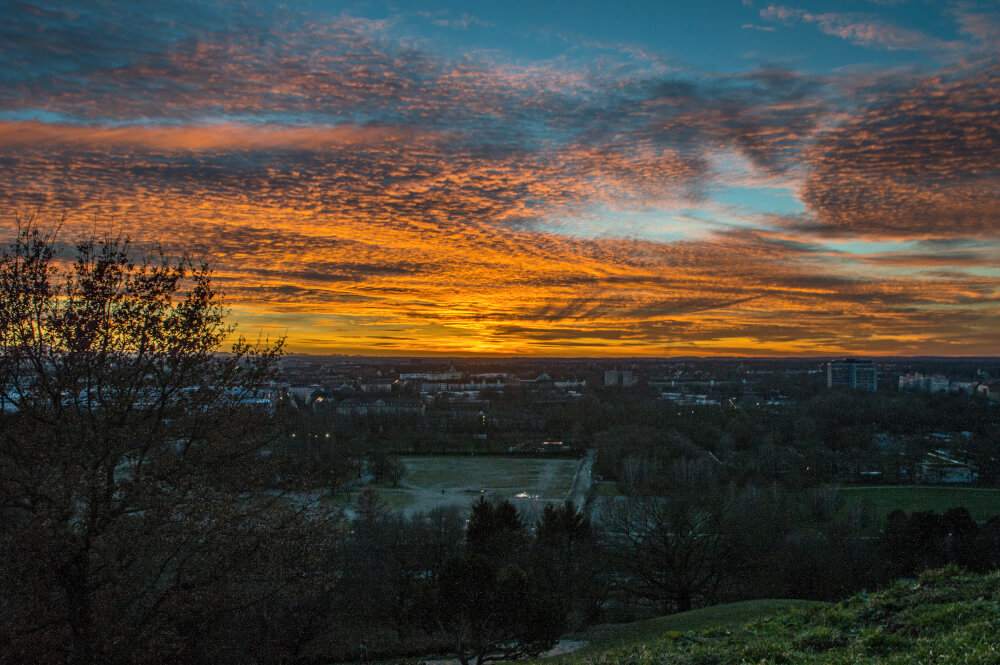 15. BMW World
After sunset, make your way to BMW World, which is open until midnight daily.
This is an amazing free alternative to the pricey BMW Museum, and it has GREAT bathrooms, which I'm sure you might need after those sunset drinks 😉
BMW World is effectively a massive showcase to the BMW Brand, which is of course based here.
It's a lot of fun though – you can look at all these amazing cars, get in them, hop on some motorcycles, and even (if budget allows) indulge in one of the most expensive fine dining experiences Munich has to offer, at the top-floor restaurant Esszimmer.
Two friends of mine ate their once, apparently they even offer to drive you home in a BMW after.
If however budget does not allow you to drop the 180 euros for a 7 course meal (wine NOT included), it's time to head back into the city center for dinner.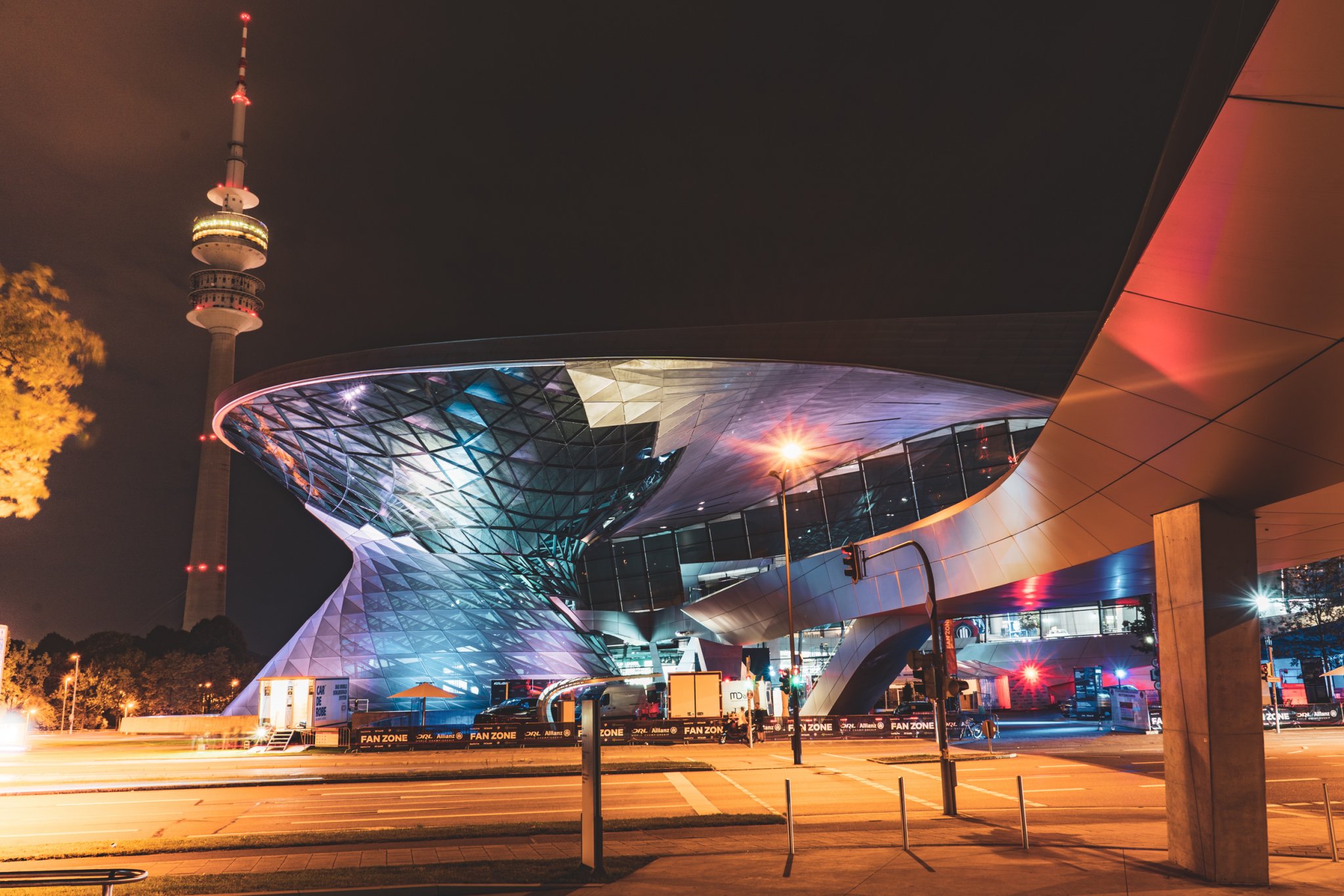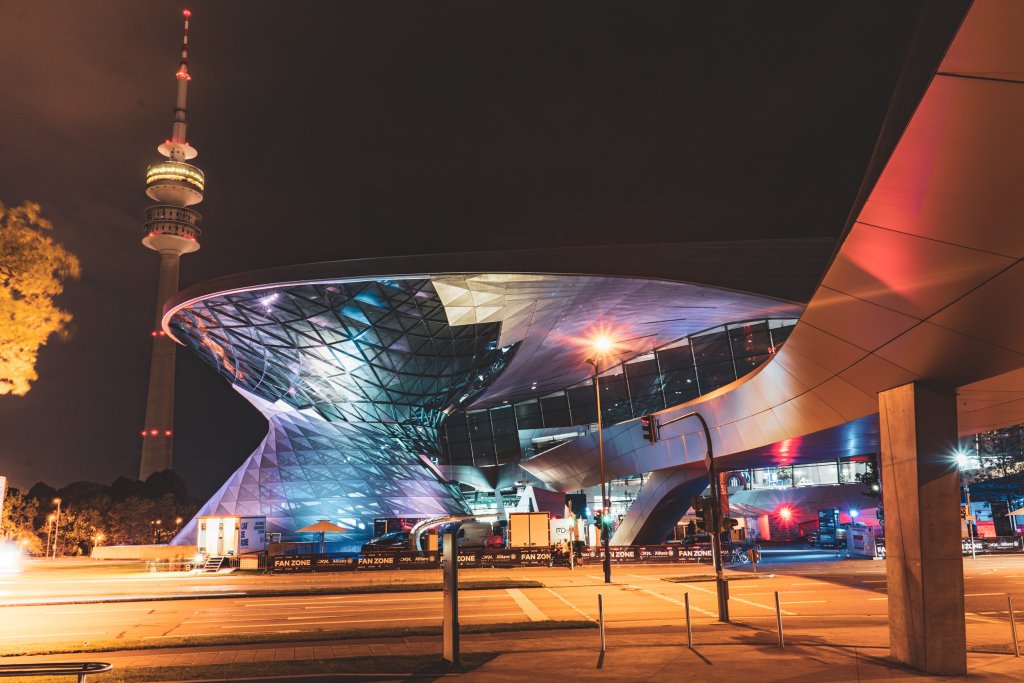 16. Dinner time in Altstadt
Assuming you are staying somewhere decently central, after sunset, I'd recommend hopping on the U-Bahn and going back to Marienplatz. Munich by night is magical, and seeing all those same monuments lit up at night is a special way to wrap up your day in Munich.
For dinner, there are a few places in the city center that I recommend. You can also click here to check out my full list of recommended Munich restaurants.
Augustiner Klosterwirt
Address: Augustinerstraße 1
My favourite favourite favourite place to enjoy traditional Bavarian food, and where I take every visitor who comes to town.
Located in the shadow of the Frauenkirche, it is a place that is tourist-friendly enough that there are English menus and the servers won't scowl at you for not speaking German, but it's authentic and tasty enough that you'll find plenty of locals here enjoying their meals too.
The schweinebraten is my go-to. I would hook myself up to an IV of their gravy if I could… plus Augustiner is the best brewery in town (as is the popular opinion with most locals).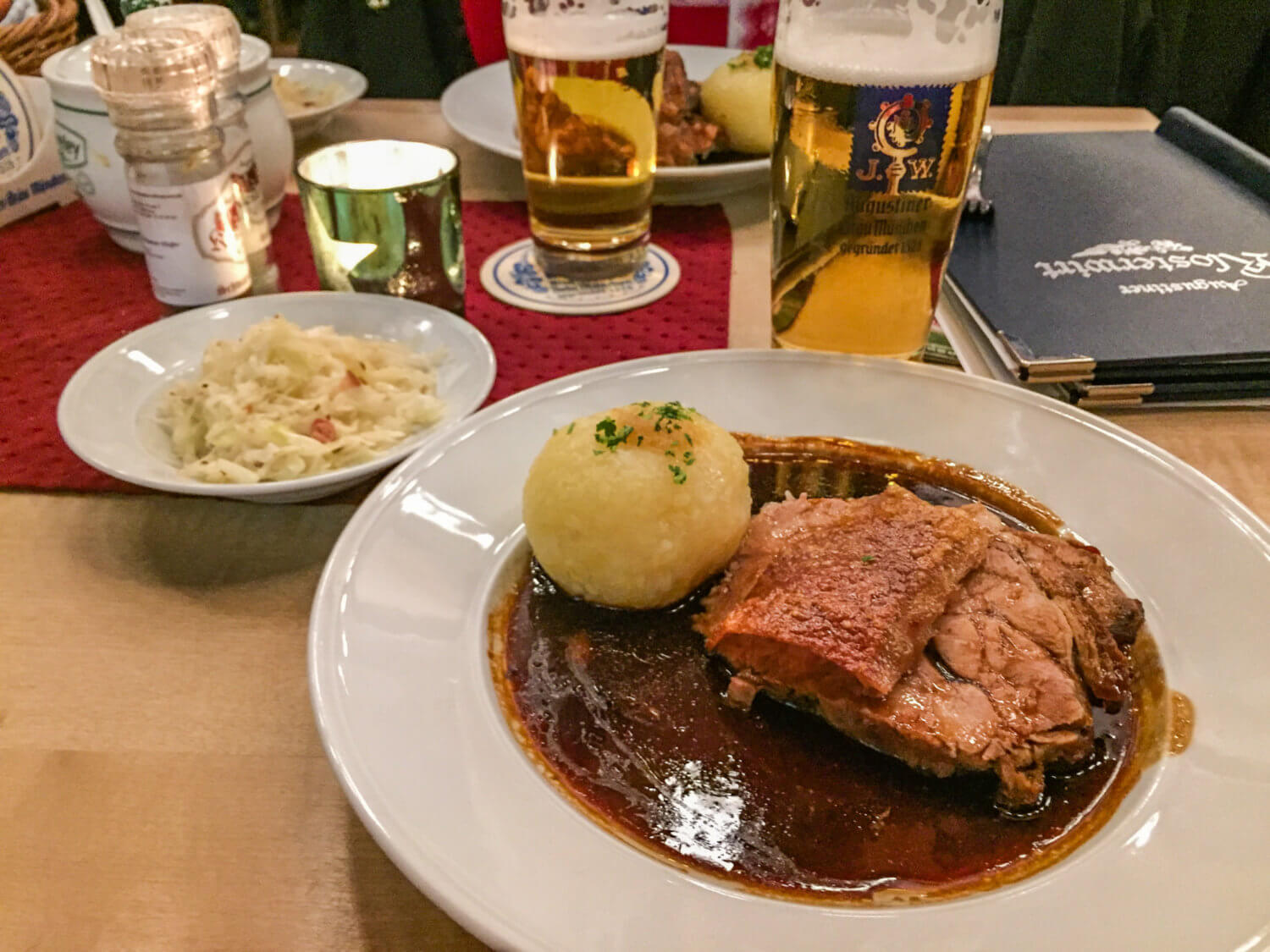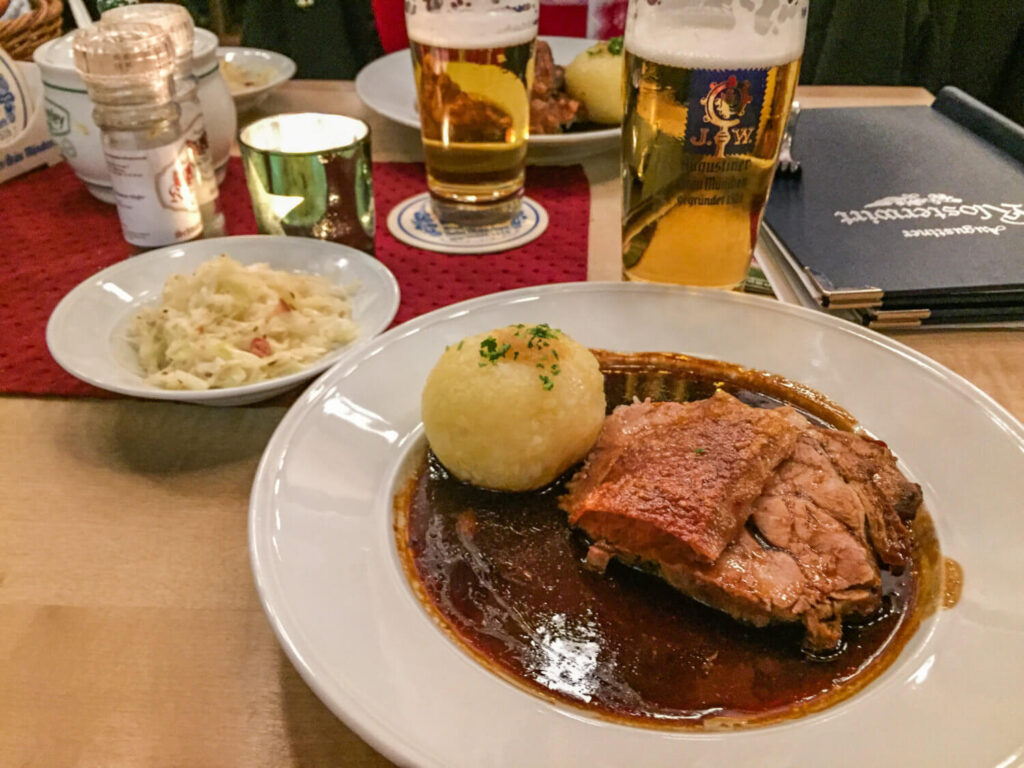 Haxnbauer
Address: Sparkassenstraße 6
I concede, while my heart belongs to Augustiner Klosterwirt, the knödel at Haxnbauer is better. They are like jiggly little balls of crack.
Haxnbauer is maybe the most famous place to try pork knuckle in Munich, thanks largely to its fame in guidebooks and also its tantalizing display of pork knuckles that rotate hypnotically at the restaurant front.
The lines here are long, but the food is pretty good. It's not my go-to place because it's kind of pricey and touristy, but you WILL have a good meal here.
L'Osteria
Address: Lenbachplatz 8
If you want something very cheap with a nice ambiance and aren't feeling for Bavarian food, L'Osteria is a chain of pizza places around Europe that have a super classy ambiance for rock bottom prices. Their gigantic pizzas can easily feed two, and they're only 10-12 euros each! Combined with a dim, candle-lit atmosphere, it's the perfect place for a casual, cheap meal without it "feeling" cheap. Also, the BBQ chicken pizza is heavenly.
Liebighof
Address: Liebigstraße 14
Not quite in the Altstadt area, but not far away from the Lehel U-Bahn stop is my favourite neighbourhood Bavarian place, Liebighof. If you are coming during Christmas time, EAT HERE! The food is good, affordable, and the décor during Christmas time is next level magic.
They serve Bavarian food, but not the typical dishes you'll find in every Bavarian restaurant in the center. Rather, they specialize in pfanne, pans of goodness with assorted meats, potatoes, etc. So simple but so good, and more of a local feel for sure.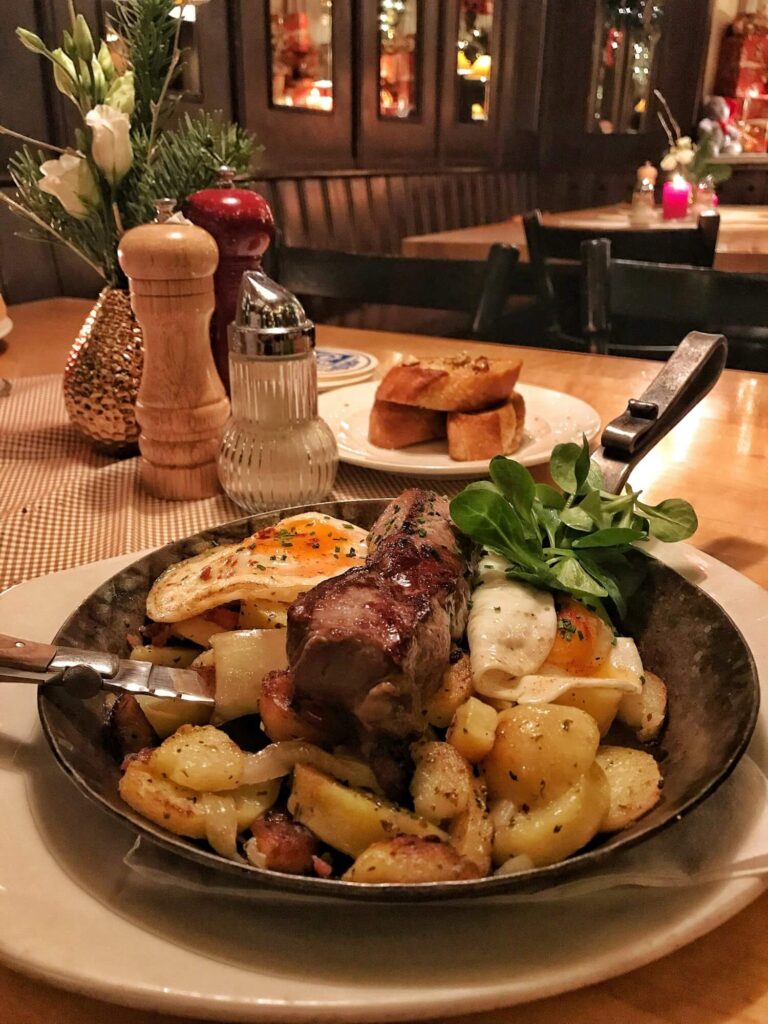 Now time to sleep off your food coma and think about how wonderful Munich is forever.
PS: Looking for a map version of this Munich in 1 Day itinerary?
Here is one for your convenience:
My Go-To Travel Favourites: