*FYI - this post may contain affiliate links, which means we earn a commission at no extra cost to you if you purchase from them. Also, as an Amazon Associate I earn from qualifying purchases. Check out our Privacy Policy and Disclosure. for more info.
NOTE: This post was originally written in 2017 and re-updated with every subsequent KVR visit I've survived. That said, I haven't been to the KVR since 2019, so I'm not aware of how the procedures have changed to accommodate 20201 safety/hygiene regulations. I highly recommend asking around on Facebook groups and reading local forums to get more up-to-date information.
After surviving the KVR Munich so many times (most recently in January 2019), I feel like I deserve some kind of medal.
Quite frankly, facing the Munich KVR is one of the worst things about living in Munich.
The staff are snippy, the waits are long, and you almost always get something wrong, whether that's not having the right documents, waiting in the wrong line, or just like… breathing in a way they don't enjoy.
Even after having gone through the process three times now (once as an exchange student, once as a youth mobility visa holder, and once applying for the self-employed visa), I still think the whole process is a hot mess of confusion and unnecessary angst.
Having braved the KVR Munich so many times though, I feel like I have a lot of random tips and advice to offer on getting your Anmeldung in Munich, AKA your city registration in Munich (with minimal mental breakdowns)…
So here's a guide to help you out, covering all the basics and must-knows for surviving your first Anmeldung experience.
NOTE: This article has been updated for January 2019 because the process has changed VERY recently. Read on for a detailed guide on how to get your Anmeldung anmel-done at the Munich KVR.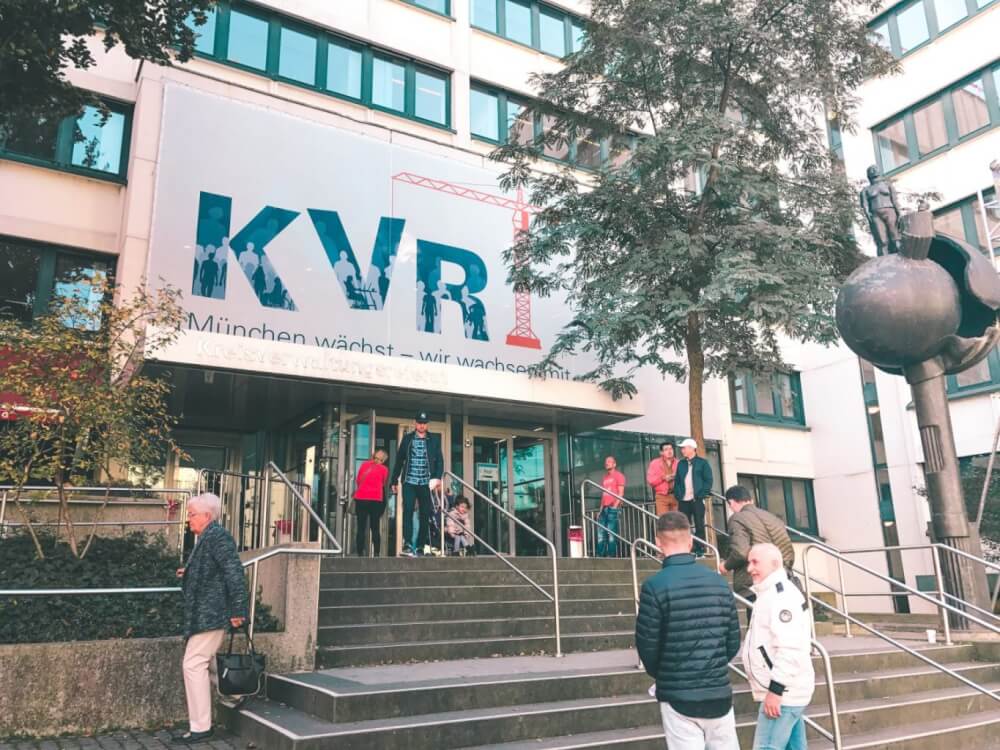 PS: All the information in this guide is based on personal experience and supplemented with resources I found from official sources like the Muenchen.de website. I can't stress enough though that I don't work for the KVR, and won't be able to answer specific questions you might have about your situation. I hope this personal account helps you out though, or at least puts your mind at ease a little bit.
First – What is the KVR Munich?
KVR is short for "Kreisverwaltungsreferat", AKA the Department of Public Order. They are the big dogs in charge of important things like visas, work permits, residency, etc.
NOTE: The KVR is apparently only a "thing" in Munich – elsewhere in the country this department/office has a different name (depending on where you are), so if you are reading some other guides that don't mention the KVR, that's probably why.
Anyway, when you first arrive in Munich, the "branch" of the KVR you'll need to deal with is the "Bürgerbüro" – the Residence Registration Office.
This is where you will get your Anmeldung.
This word will haunt you for your first few weeks in Munich.
Expect to say it a lot, expect to hear others say it a lot… maybe get it embroidered on a pillow. There are great memories coming ahead 😉 But first, if you're totally new to this, you might be wondering…
What is an Anmeldung?
In short, your Anmeldung is the process by which you register your address and declare to the authorities "hi, I'll be here a while – this is where I'm living." It's essentially your Munich address registration.
You do this at a Bürgerbüro – there are several in the city, but the most popular one is housed on the ground floor of the Munich KVR.
Registering in Munich is mandatory within two weeks of arrival if you plan to stay long term.
This isn't just a must for foreigners – Germans need to do it too! If you don't register within these first two weeks, you risk a fine (although I have never heard of this actually happening to anybody I know).
SIDE NOTE: I have never been asked for proof of my arrival date.
Completing the Anmeldung process will of course help you unlock your first big Bavarian "achievement": a residence permit!
This will be your golden ticket to a variety of other important to-do's, like opening a bank account, registering for university, getting a cellphone plan, etc. – essentially any task that requires you to show proof of residence (AKA every single important life task you can think of).
KVR Munich Location and Layout Guide
The main KVR building in Munich can be found at Ruppertstraße 11, right by the Poccistrasse U-Bahn station.
This is the one I've always gone to.
The Bürgerbüro is on the ground floor, and so if you're ONLY getting an Anmeldung, this is the floor you'll stay on.
Assuming you're a non-German citizen reading this, you should also take note that the Foreigner's Office is split between the 1st and 2nd floors (ABOVE the ground floor).
Students are processed on the 2nd floor, whereas "young professionals" requiring a Blue Card, freelancer, self-employed visa, etc. go to the Service-Center for International Professionals on the 1st floor.
In many cases, the rooms are split by the letter of your surname (e.g. one room serving letters A-G or something). Be sure to keep this in mind when running around looking for your spot.
Here is a directory to help you out. Remember, E is the ground floor, and then you start counting floors above that (so technically, Floor 1 is the floor above!)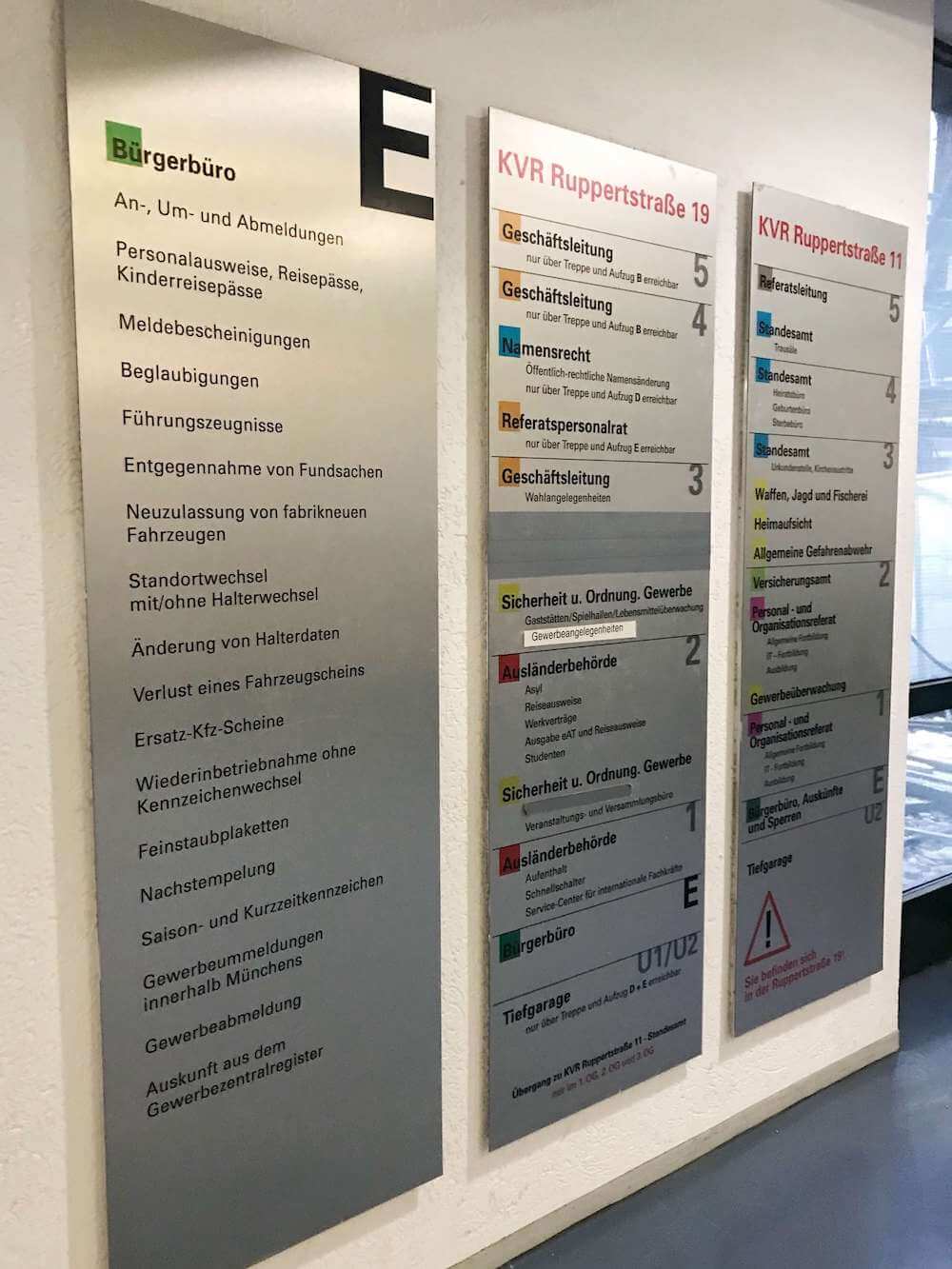 BUT, all that said, if you are simply doing an Anmeldung and don't need to do anything else (e.g. get a visa, etc.) then you can get it done at any Bürgerbüro.
There are six around Munich (including the main KVR building mentioned above).
Based on a list available on the official Muenchen.de website, here are the other five locations (accurate as of March 2018):
Orleansplatz
Orleansstr. 50
EG und 1. OG
81667 München
Leonrodstraße
Leonrodstr. 21
80634 München
Riesenfeldstraße
Riesenfeldstr. 75
1. OG
80809 München
Forstenrieder Allee
Forstenrieder Allee 61a
81476 München
Pasing
Landsberger Str. 486
81241 München
KVR Munich Opening Hours
According to the official website, these are the KVR Munich opening hours for residence/business registrations.
Be sure to read them carefully because they're slightly different each day.
NOTE: Wednesdays are a no-go for walk-ins (and only reserved for those with appointments). I highly recommend calling ahead if you are able to, since you don't want to waste time commuting there if they won't even be open.
Monday:
7:30am – 12pm
Thursday:
8:30am – 12pm
2pm – 6pm
Wednesday:
7:30am – 12pm
Thursday:
8:30am – 3pm
Friday:
7:30am – 12pm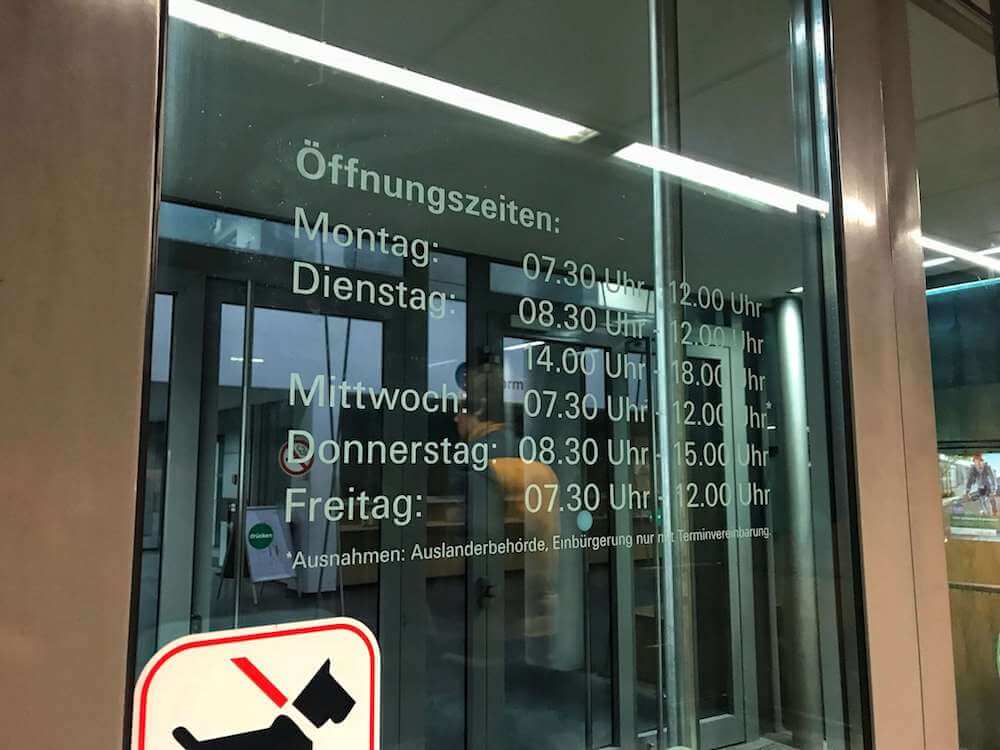 How to Get Your Anmeldung from the Munich KVR
Now, first thing's first, I want you to breathe.
Contrary to what you might hear, getting your Anmeldung really isn't that bad.
In fact, most people who complain about the process simply did it wrong. (Harsh, but true). If you go in with all the documents they've asked for, all in order (and with a cute little smile) you will be fine.
If you don't want to do this alone, and are wary of hiring a translator by the hour, my friend Seb came with me for a flat rate and was super nice and helpful during my visit. If you're interested in hiring him, send an email with the subject title "KVR TRANSLATION" at [email protected]
So, how do you get your Anmeldung? Here it is, step by step.
STEP ONE: Decide if you are going to do it yourself or authorizing someone to go on your behalf (like a surrogate).
Your Anmeldung can be done by either yourself or someone you send.
If you plan to send someone to do it for you, you must fill out an "Authorisation Letter" (available for download from the main website).
This person must then bring in the necessary paperwork, alongside YOUR ID (passport or otherwise) and their own.
STEP TWO: Decide whether you are going to make an appointment or do a walk-in.
If you are responsible and well-prepared, you might consider making an appointment in advance to ensure that you (or your authorized surrogate) gets it done with minimal stress.
To make an appointment, go here and click on the first option (Meldeangelegenheiten) and choose the service you want. If it's an Anmeldung, select from the drop-down menu "An-oder-Unmeldung", how many people you are registering for and then go down to the black button that says "Weiter".
At this point, you click on the location of the Bürgerbüro you want and you'll see a calendar. Odds are, it will be fully booked for months. If this is the case, don't panic…
This is because you can also get your Anmeldug "walk in" style.
This is how I have successfully done my Anmeldung three times. If you are working already or going to class, keep in mind that this process will generally take about half a day unless you get there very very early, so plan accordingly.
That said, they have updated the process in 2019 to make things a bit more organized.
Walk-ins now must proceed to a Terminvergabe where you get a time-slot in a colour-coded waiting room, so you at least have some idea of when you'll be seen.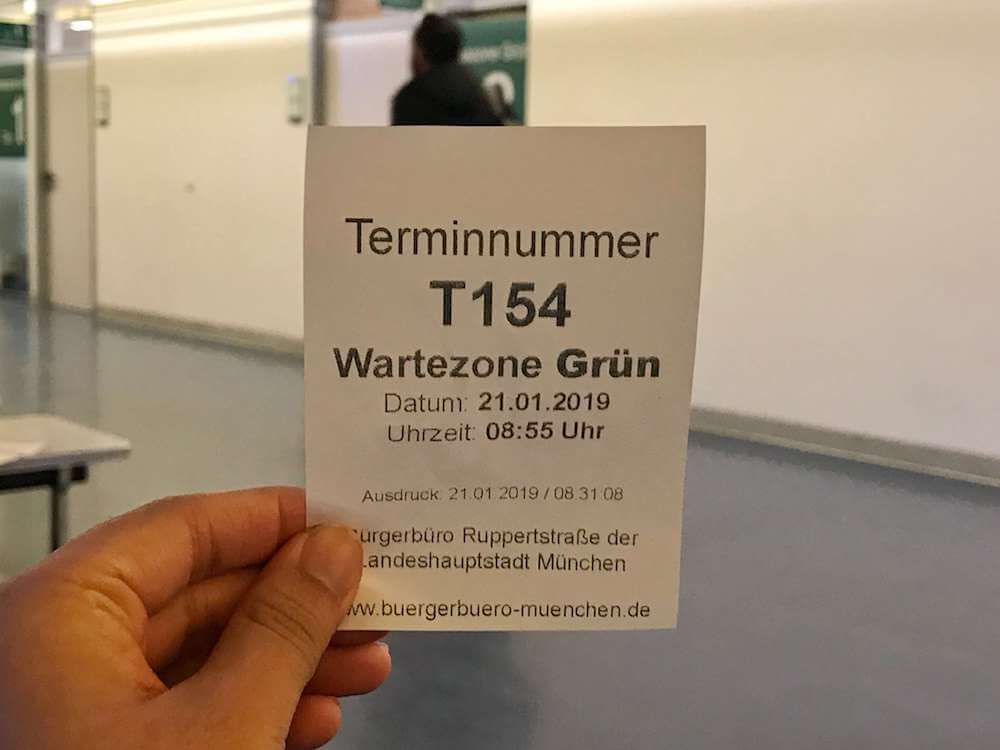 STEP THREE: Get the necessary documents ready (see below for a checklist)
In theory, getting your Anmeldung is quite simple.
You just need to have the right forms filled out, a copy of your passport, a visa (if you needed one to enter Germany, otherwise you're fine) and confirmation from your landlord that you live there (an official, mandatory form called Wohnungsgeberbestätigung).
This should be easy to obtain from your landlord if you have an apartment secured (and I think it is actually illegal for them to refuse filling it out).
Unfortunately, the housing situation in Munich is absolutely bananas, so many people are left in the position of NOT having an address to register with.
I got very lucky – when I was a student, I was living in student housing… and with my Youth Mobility Visa, my boyfriend here already had an apartment.
I know how fortunate I am, because finding an apartment here is definitely not easy!
If you find yourself caught in the horrific trap of not being able to get a rental agreement because you're not registered, but not being able to register due to lack of rental agreement (a ridiculously common problem), just know that you CAN register with a "short term" rental so long as the landlord signs your form.
You'll just need to re-register once you find a permanent address.
So, don't stress out about finding your "forever home" in Munich right away – so long as you have housing and a landlord willing to vouch for you and confirm that you live there, then you can register and jump through that necessary hoop.
STEP FOUR: Go to the Bürgerbüro very early with all your documents
Once you have all your documents ready, you must proceed to a local Bürgerbüro.
I've only gone to the main one at the Munich KVR, but you can find a list of other Bürgerbüros below. I've heard the waits at these ones are much quicker, but I have no experience with them personally.
My best tip? GO EARLY.
I've been at the very front of the line of the KVR twice now (yes, I'm an ultra keener). 1-1.5 hours before opening is usually a good amount of time to ensure you're ahead of the pack. The mob really begins to form about 40 minutes before.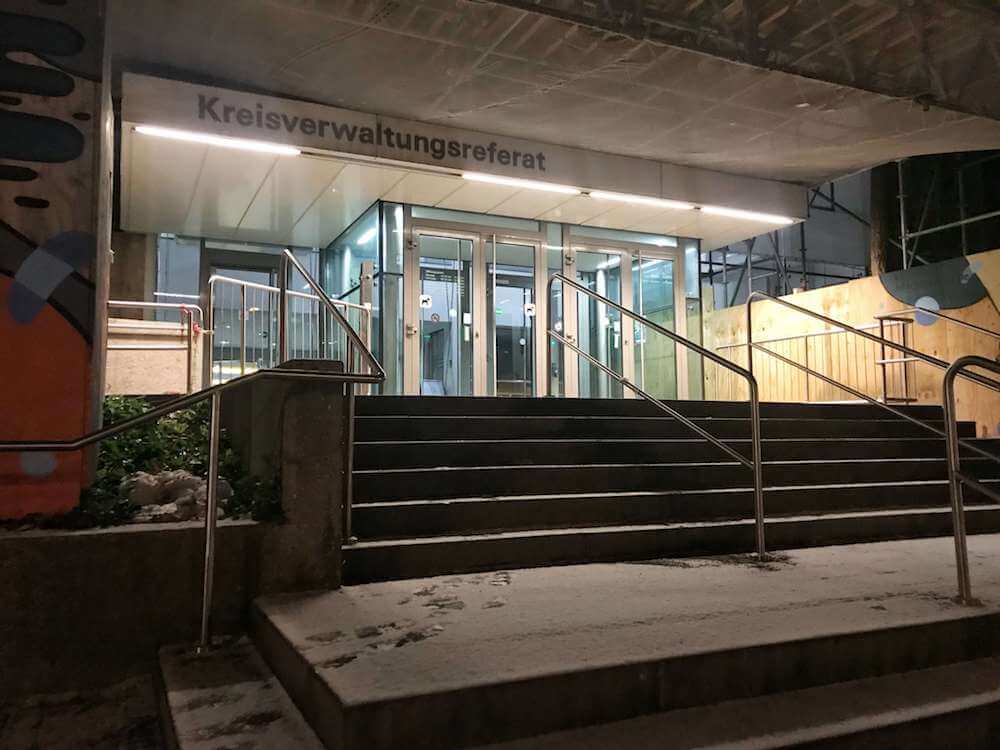 STEP FIVE: Be prepared when the doors open and go to the Terminvergabe to get yourself a time slot
[2019 UPDATE: This process is new, so be sure to read this part carefully]
Trust me, as soon as the doors open, all hell breaks loose.
People push, run and try to edge past whoever they can in this grand Hunger Games of German bureaucracy. If you don't know where to go, your waiting time will all be in vain, so be prepared.
Below is a map of the ground floor of the Munich KVR.
The very bottom of this map is the main entrance by the Poccistr U-Bahn. So, as you can see, the Terminvergabe is reached by going straight ahead when you walk through the door, going past the Green Waiting Area.
Here, line up and there will be some staff members at computers who will set you up with an appointment. At 8:30am, I was able to get an appointment for 8:55am.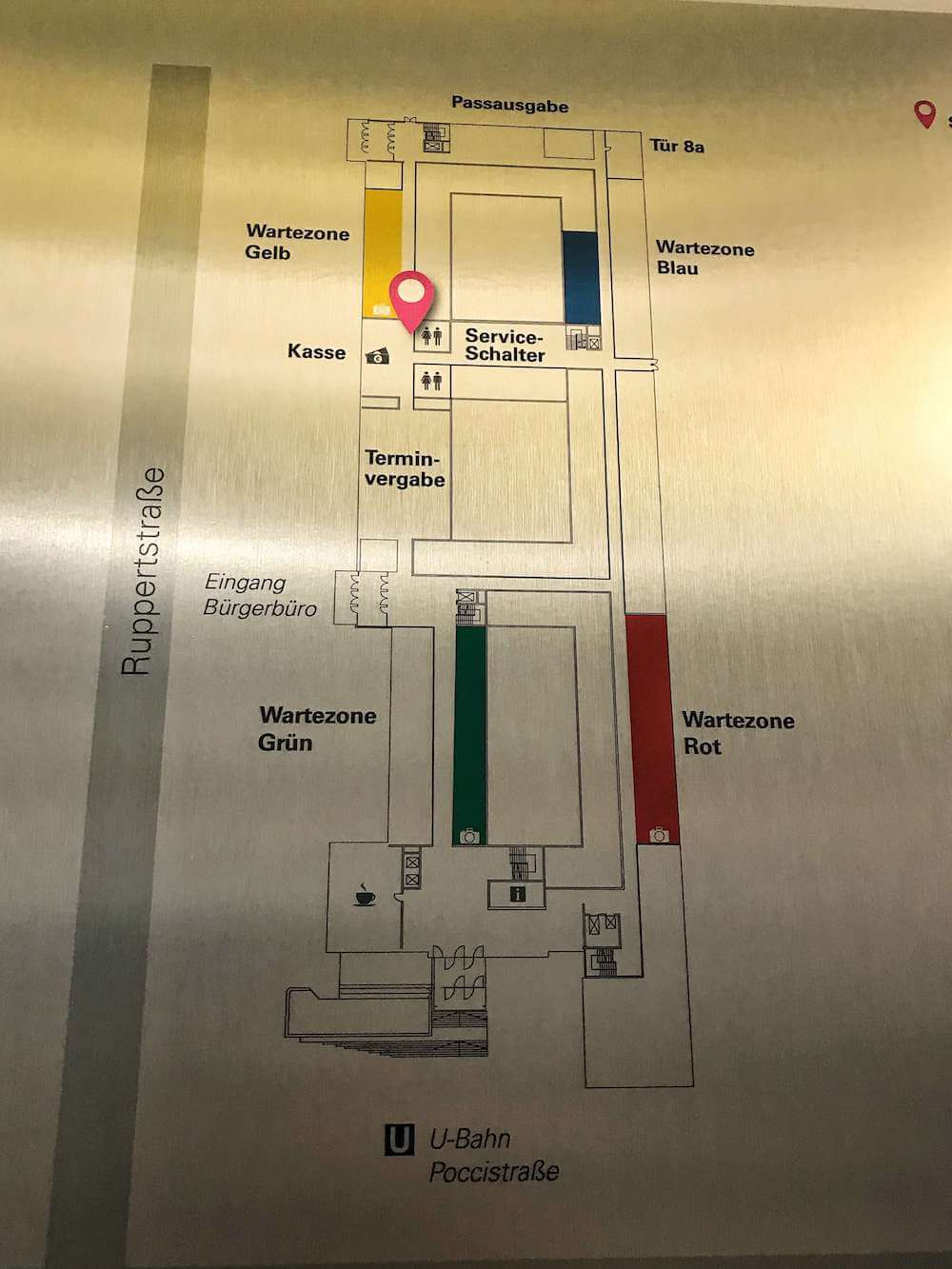 STEP SIX: Proceed to the coloured waiting area that is on your slip and wait for your number to come up on the screen
The stressful part is over!
Provided that you have all the correct documents, you just need to wait for your appointment now. Your appointment slip will have a colour on it, so go to that waiting area (refer again to the map above).
Once your number is called, head into the office number on the screen and show off your number (as there will be lots of staff in there at different desks).
Go to the right desk and give them your documents. The overall process shouldn't take more than 15 minutes.
From my experience, the Anmeldung workers are usually the nicest and most eager to speak English, probably because they deal with a lot of non-German speakers.
If all goes well, you'll walk out with a rather unspectacular sheet of paper that documents your registration: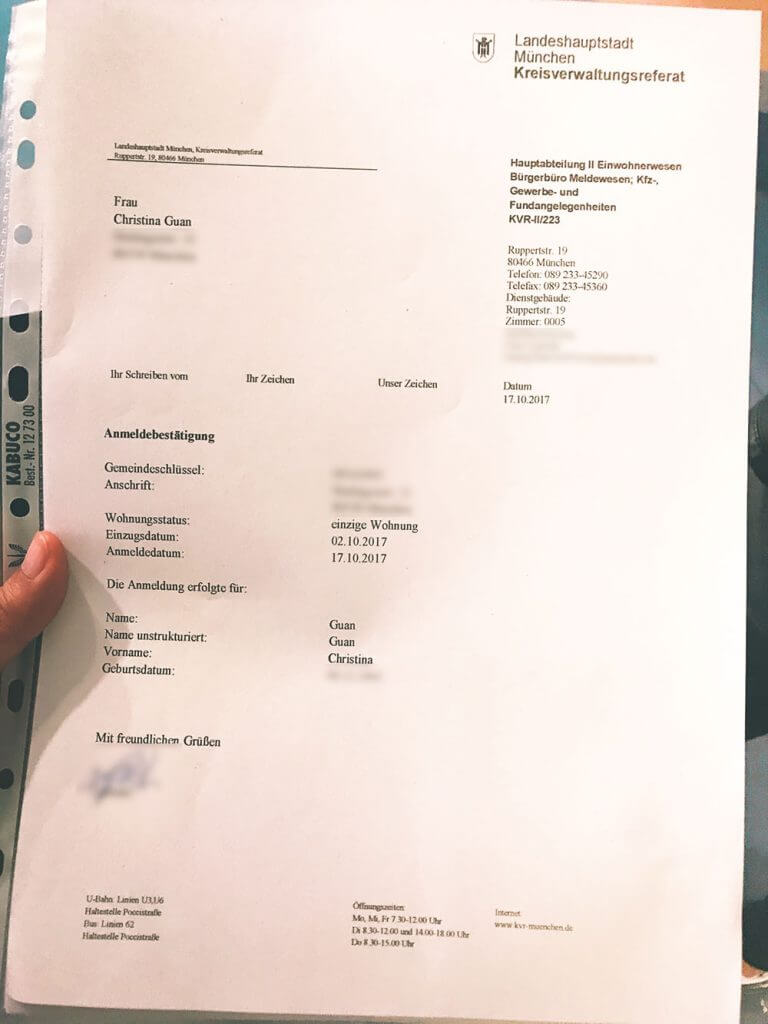 STEP SEVEN: Do a happy dance on your way out.
Yay! You did it!
Getting Your Anmeldung at the Munich KVR: A Checklist
A registration form (Meldeschein) (You can download it from the main website here
Valid ID (Passport for non-EU citizens or ID card for EU and EEA citizens
Visa (if required for entry into Germany)
Wohnungsgeberbestätigung (written confirmation from your landlord – a special form you can download from the main website; mandatory as of late 2015)
OPTIONAL: Rental agreement (this isn't stated as mandatory, but if you have it, it couldn't hurt)
** Make sure to also bring things like marriage certificates if you are registering as a family
IMPORTANT: If you change addresses at any point, you need to register again. You must also de-register when you leave. This is non-negotiable. When I went to apply for my self-employed visa, they told me they couldn't process me until I de-registered and re-registered, despite living in the same address. This is because I left and went home to Canada for a short while after my working holiday visa expired before coming back, and according to the system I had never left… soooo, yes, registering and de-registering is important. Welcome to Germany! It's fun here.
Some Final Important Tips Before Visiting KVR Munich
Okay, so you're pretty much ready to conquer the beast. Here are some final tips for you. Yes they're repetitive but super important!
1. Triple check that you have all the necessary documents
A few friends of mine have had to go back a few times simply because they forgot a form or forgot their ID (yes, really).
The night before you go, make sure you have everything well-organized and ready to go.
I've found there's often a nice nod of approval when I bust out my folder full of paperwork and documents, so consider getting yourself a cute folder too… remember, if you get on their good side, it makes things much easier.
PS: If you need passport photos, don't worry – there are several machines in the different waiting rooms.
2. Check the opening hours (and whether some hours are appointment only)
The opening hours listed on the website (and recopied here in the section above) are straight from the official source, BUT what they don't list is whether those hours are appointment-only, for certain departments only, etc.
During the both times I've gone, Wednesdays were closed to walk-ins, so if you're able to, verify hours before you go.
A few friends of mine were burned by the Wednesday closure and had to waste a few trips back and forth!
3. Get there freakishly early
The KVR is a busy place. To minimize waiting, DEFINITELY get there early.
On some days, they re-open in the afternoon, so if you don't fancy waking up really early, try to head there in advance of the afternoon re-opening, but know that some morning spill-over people might get priority before you.
You can read more about my most recent experience below, but I got to the KVR office about half an hour prior to opening time, and still was met with a big mob of people already waiting. The next two times, I went 1.5 hours early and was first in line.
4. Brush up on some basic German
Specifically, brush up on the important terms that will be relevant to your KVR task (Anmeldung, the name of the visa you want, etc.)
This will help you a lot.
None of the signs are in English, and many of the employees won't speak English either.
You might even be given some new forms to sign (which will probably be in German). This is why I highly recommend you potentially…
5. Bring a German speaker with you
If you are feeling very nervous (as I was on my recent visit), you should consider hiring a German speaker to come with you.
While translators usually charge by the hour (a risky choice since you have no idea how long you'll be there), my friend Seb came with me for a flat rate and was super nice and helpful during my visit.
If you're interested in hiring him, send an email with the subject title "KVR TRANSLATION" at [email protected]
If you can't afford a translator, you can also…
6. Download Google Translate on your phone (and download German for use offline)
If you don't speak German, this will undoubtedly save your life.
Specifically the function where you can take a photo of something and have it translate your photo! (Use this to translate any forms or signs you're given – it'll be much faster than manually translating each word).
7. Bring something to entertain yourself
A laptop, a book, anything. You might be waiting for hours, and the WiFi is usually hopeless. If you do forget to bring something, try entertaining yourself with people watching.
This might sound sadistic, but the look on people's faces when they realize they're doomed to wait in this hellish line too is a sad sliver of entertainment in the monotonously dreary KVR.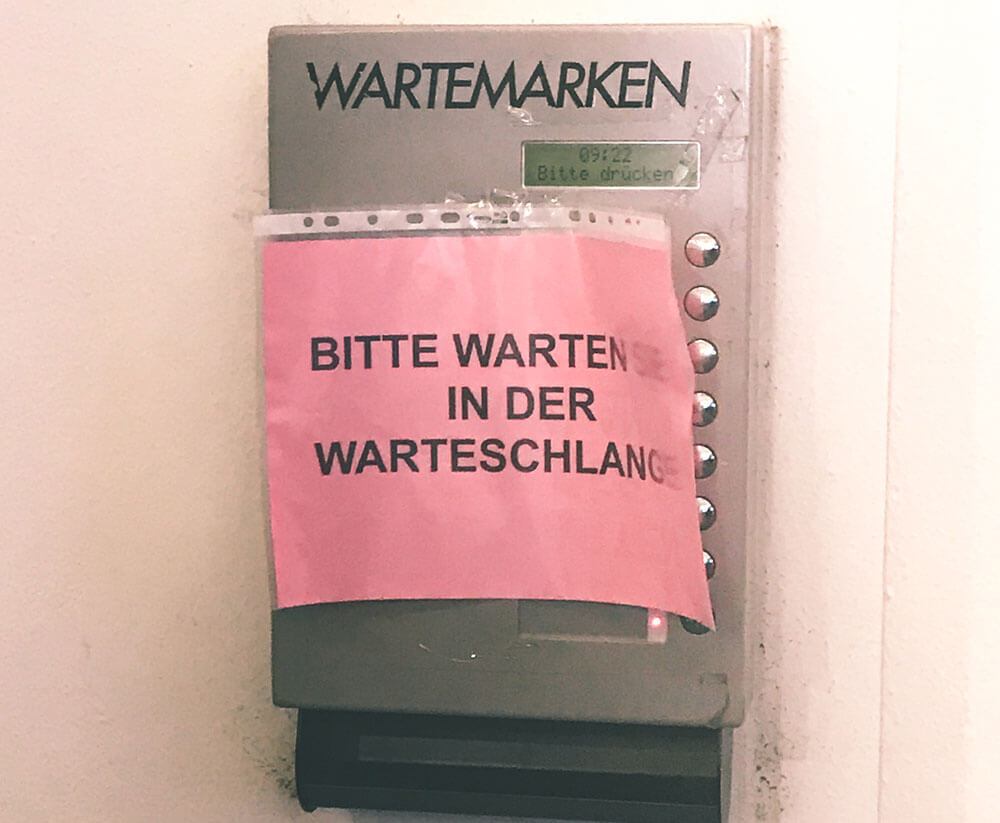 My Experience at KVR Munich (January 2019)
In brief, here's what happened: I was going to the KVR to apply for a self-employed visa.
I had already registered my address (gotten my Anmeldung) ages ago when I first moved for my working holiday visa, so I didn't think I needed to do it again.
On Monday mornings, the KVR opens at 7:30am.
Based on advice from my lawyer, he told me to get there 2 hours early just in case (!!!) I arrived at 5:45am and was the first in line.
The next person didn't come until 6:15am, and things started filling up by 7am.
As the doors opened, I ran upstairs one floor to the Foreigner's Office.
After wasting a few minutes here, it turns out I needed to actually go to the Service-Center for International Professionals.
Once I got there, I was maybe 15th or so in line, which negated my whole 5am wake-up call buuuut oh well.
Once at the front desk, the receptionist took my passport and asked me how long I had been in Munich.
Because I never de-registered, the system had logged me as having stayed continuously since 2017, which was not the case (I went home when my Working Holiday Visa ended, and came back legally on my tourist visa a month later).
Because I never de-registered though, she advised me that I would need to officially DE-REGISTER and RE-register, despite living in the same address… all this before she could take my new visa application.
… I could have cried.
But rules are rules!
So I headed downstairs and went to the Terminvergabe, where I got an appointment for 25 minutes later. I was pleasantly surprised by how quick it was, actually.
After an easy 25 minute wait, I got de-registered and re-registered by a lovely staff member who spoke English with me and got me set up in record time.
I then bolted back upstairs to the Service-Center for International Professionals.
After waiting in line, I was told by the (rather rude) receptionist that it was too late for me today, and that I'd have to come back the next day. This was only at 9am.
So, dejected and defeated, I went home and cried and napped and ate noodles (all a true story) and tried my luck again the next day.
This time, the KVR was opening at 8:30am, so arrived at 7am. Again, I was first in line.
I would like to note that Tuesday was MUCH busier than Monday. The mob was pretty big by 8am.
This time, I sprinted up to the Service-Center for International Professionals and got to the front after a 10 minute wait.
The receptionist this time was much nicer, took all my documents, issued me a visa extension while I waited for my application to be processed, and that was that. I left the KVR within an hour.
So I think this story highlights a few things: 1) your KVR experience is highly dependent on WHO you get.
My receptionist the first day was very rude, and my receptionist the second day had me sorted in less than 10 minutes, I didn't even need to see a case worker.
It's a bit 'luck of the draw'. And also 2) it really is important to get there early, unless you want to spend half your day there.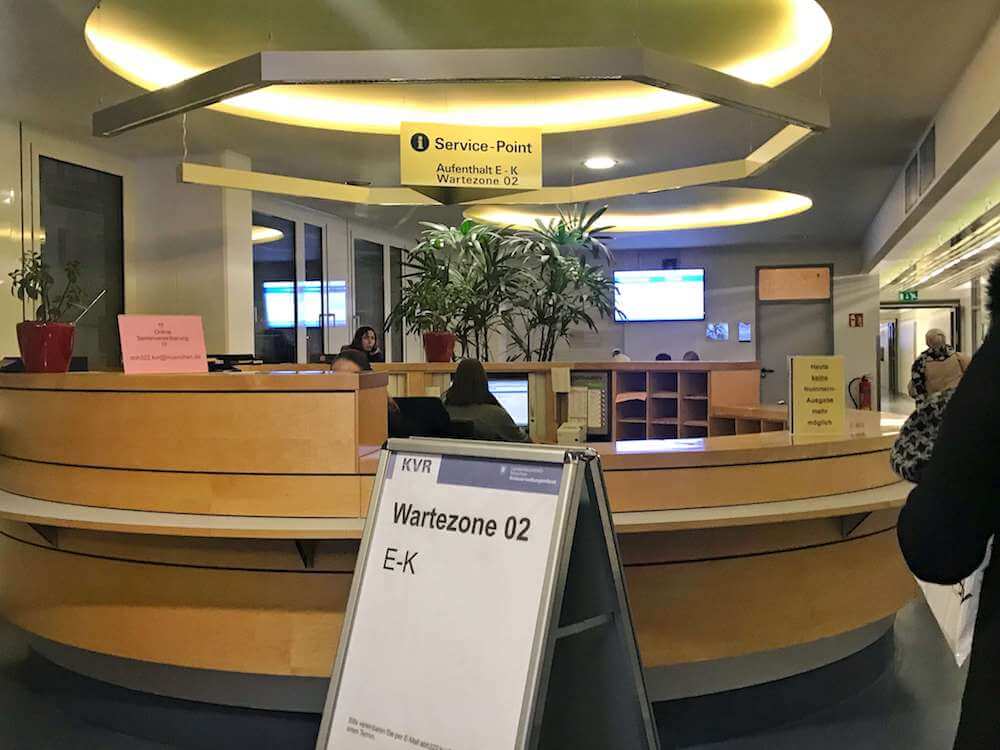 My Experience at KVR Munich (October 2017)
NOTE: This experience is now outdated and is only here for your random reading pleasure. As you read above, the system has changed a lot in 2019, but here's what happened in 2017 when I went.
When I confronted my fear of the KVR on a cloudy October day, I had two things I needed to do: register my address (AKA get my Anmeldung) and also get my Youth Mobility Visa extended.
I arrived at 8:05am to a mob of people already waiting outside.
At around 8:20am, the doors opened and it was complete chaos.
I literally saw a man run from the back of the line, through some shrubbery, then leap over a little barrier to get in faster. Then a bunch of people followed suit and hopped the barrier too.
Okay, noted: THE KVR MUNICH is NO JOKE.
When you walk in, you should follow the mob. You'll head straight through the main doors, go forward and that first waiting room is for A-C. Keep walking through to reach the F-H.
For me (last name G), I got #28 at 8:20am.
TIP: If you are planning to do both the Residence Registration and Visa Extension in one day, one trick might be to get your number for the Anmeldung and then run upstairs to also secure a number for a visa extension. Who knows – you might get lucky and then walk up without having to wait!
PART ONE: Getting my Anmeldung
So, as I said, I rushed in and got #28 at 8:20am.
This was a pretty good spot in line, but I still had to wait a while. I got cozy with my phone, tried in vain to connect to the WiFi and soon enough, found my number up on screen as I proceeded into the office.
The process was the same both times I did it, I walked in, there was a woman gesturing to me from her desk (there are multiple desks in this big office, but of course you just sit with one).
I awkwardly handed my papers over as she started tapping away on her computer.
Now, here's the thing: you need to know that these staff are not required to know English (nor should you expect them to, but this is something to be wary of if you're not a confident German speaker).
I got lucky both times and the staff member assisting me had fluent English, which made the process much smoother.
If you are nervous about this though, you have two potential options: 1) Bring a German speaker with you or 2) Send a German speaker to go on your behalf (as mentioned above).
Because I had my paperwork in order, all she had to do was type everything into the computer, print out my shiny new residence registration and I was out of there by 9:20am. Not bad!
If all you need is your Anmeldung, consider it Anmel-done. (ha, sorry, had to).
For me though, there was still one more item on the to-do list…
PART TWO: Getting my Youth Mobility Visa Extension
I then went upstairs to the visa section. It was pure chaos! Tons of aggressive pink signs everywhere, and a huge line of people.
NOTE: There was a sign telling students to go onto second floor, which makes me think they now set up a special area just for student visas during peak times. Make sure to look around/ask someone near you to triple check that you are waiting in the right line.
In my case, there was no way to take a number – I just had to stand in a line that seemed to not move at all. It seemed to go on for eternity, but around 10:15am I got to go into one of the offices to meet with another employee. My lucky English streak however had come to an end, my guy did not speak a word of English.
Again, I awkwardly shuffled over my huge stack of papers.
I had brought extra copies just in case of everything I initially applied with (back in Canada), plus fresh passport photos.
He made extra copies anyway, and even handed me a new form to sign. He seemed a little exasperated that I hadn't done it in the first place, but he let me fill it out there as he watched me weakly Google Translating most of the form.
… It wasn't my proudest moment.
Then, he asked me to leave the room (who knows why?) and told me he would fetch me from the waiting room when he was ready.
Again, since my German is minimal, it took a LOT of "hand talking" for me to understand he wanted me out. That was another embarrassing failure.
Anyways, after some waiting, it was at 10:50am that he gave me a nice little paper which I had to bring to the cash desk (in another part of the building, go figure), where I paid 54 euros for my new extended visa. Yay!
Final Words of Wisdom for Surviving the Munich KVR
So, in sum, I want to leave you with two important takeaways: 1) abide by the rules and 2) be nice.
So long as you have all your paperwork in order, there is no reason for them to reject you or make your life miserable.
Having gone through the Anmeldung process three times now at the Munich KVR, I have been pleasantly surprised both times at how simple and straightforward it was (compared to the reports I had read online).
There are way too many horror stories and anecdotes floating around. I promise – if you do exactly what you're supposed to, you will be fine, and that shiny proof of residence will be yours!
Best of luck, and I hope that KVR Munich guide helped out 🙂 May the odds be ever in your favour.