*FYI - this post may contain affiliate links, which means we earn a commission at no extra cost to you if you purchase from them. Check out our Privacy Policy and Disclosure. for more info.
Sometimes when I think about the past month, my head spins a little.
Part of it might be due to the weeks spent at Oktoberfest, sipping elegantly (lol jk – chugging) on beers the size of my torso. But also, it was a crazy month packed with a lot of life changes.
There were exciting things (like gaining momentum on a new business venture), fun things (like the many days spent at Oktoberfest) and also very sad things (like losing my best friend, my sweet pup Rodeo who I've had since I was 10 years old).
And while admittedly, I did spend many days sulking, soaking in my grief thousands of miles from home, it reminded me that travel and life abroad isn't always rainbows and comically large pretzels. Inevitably, there will be times when it sucks… like when you're forced to say your last goodbye over Skype.
But that's life, with all its ups and downs.
And while I admit yes, it has been a tough few weeks, I'm quickly bouncing back to my usual (caffeine-crazed) self. This isn't meant to be a sad, pity party type post (after all, Rodeo lived to be almost 100 in dog years – a legitimate shock as he never exercised, much like me) BUT I just wanted to take a second to let you know that life on the road certainly has its lows, and if you ever need to talk about it, I'm here for you 🙂 <3
With that out of the way, the rest of this post will be wayyyyy more lighthearted! Here's where the month of September brought me.
England
My month started off with a quick weekend break in England to visit my boyfriend's extended family.
As in like… cousins, aunts, uncles, random little children… all in one swoop.
It was a bit nerveracking, meeting so many family members at once, but I stifled my ironic (and phony) English accent for the weekend and tried my best to emit some kind of Canadian charm. According to insider sources, I did alright, and even managed to snag a "FAMILY WINNER 2017" trophy out of it, after getting weirdly competitive at trivia.
My ego was quickly knocked down a few pegs when I tried to be cute and teach one of the little kids my name. At the end of the afternoon, when I asked him "Heyyy Leo, who am I?! his answer was a blunt "nobody."
It was a big win for my self-esteem.
Travel side-note: I learned on this trip just HOW CHEAP it is to get from Bavaria to London if you plan right. The airport at Nuremburg runs budget flights that literally cost 10 euros if you book early enough. That's cheaper than a day ticket to travel around Munich. You can bet my UK friends will be seeing me a lot more often 😉
Austria
A few weekends after (I needed time to nurse my bruised ego), I spent a weekend in Austria's stunning Vorarlberg province, specifically in the Bregenzerwald.
I love Austria. I've been to Salzburg, Vienna, Innsbruck and a few towns along the Danube during my old river cruisin' days. It's a stunning country and I always look for excuses to go back. Here's the thing though: Vorarlberg is not at all like the rest of Austria. Bordering Germany, Switzerland and Liechtenstein, this province is known for its modern adaptations of longstanding tradition, which means so many different things, like surprisingly contemporary architecture, an exciting food scene and all sorts of events like you'd never expect from a sleepy Alpine region.
I spent the weekend enjoying an array of cool activities, like culinary hiking (where you hike from course to course in the Alps), doing self-guided scavenger hunts through town, eating my face off and even jamming out to a rock concert in the clouds (or well, at the top of a mountain).
Highlights include zapping my butt on an electric fence and eating cake for breakfast (before a 4 hour hike). All in all, a solid weekend. I would definitely recommend checking this region out if you find yourself in Central Europe!
Read more:
21 Photos of Bregenzerwald, Austria that Will Ignite Your Wanderlust
The Unique Magic of Bregenzerwald: Alpine Charm with a Twist in Vorarlberg, Austria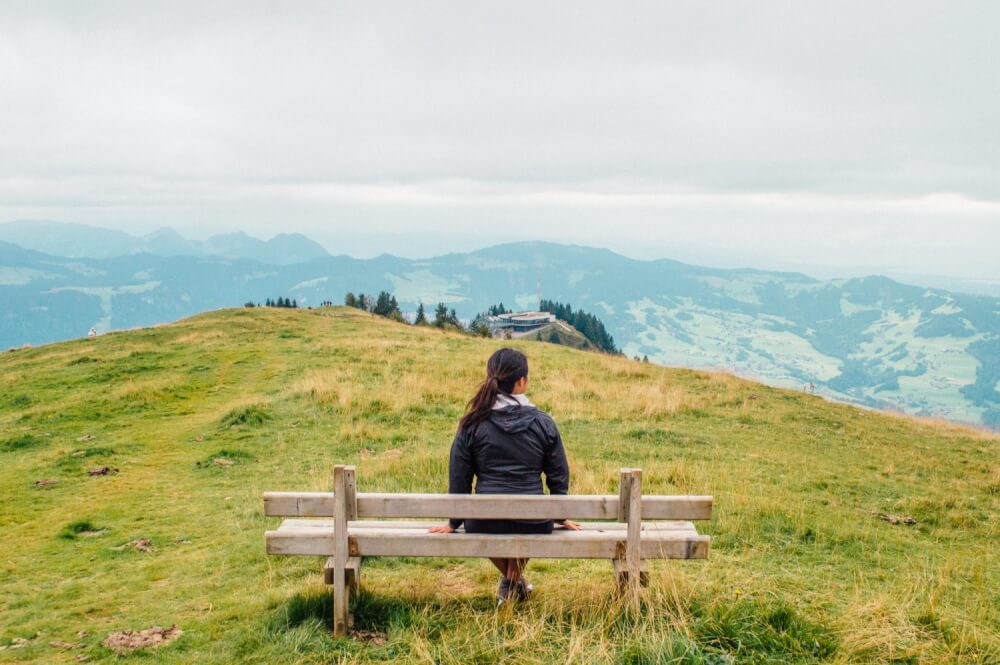 Oktoberfest in Munich… over and over
When Oktoberfest hits Munich, every resident can expect at least one drunken friend to crash on their couch.
… it's practically part of the rental agreement.
And this year, I think I maxed out my limit when I fit 9 people at once in the tiny shoebox apartment I call home.
Yes, nine. I was basically running an unlicensed hostel.
Here's the thing: I'm absolutely rotten at goodbyes. I will literally say anything and everything to avoid the awkwardness of saying a forever-bye to someone. This applies to friends met while travelling… and last May, when I spent 2 weeks in Bulgaria, I met some ridiculously awesome travellers I soon came to recognize as family. During our sad goodbyes, I inevitably blurted out "COME VISIT ME DURING OKTOBERFEST!"
The crazy thing is: they did. Friends from 3 different continents managed to align their schedules again to come visit… and it was absolutely wild.
Besides my Bulgaria fam, I also had two friends from home visit for a weekend. I think I terrified them a little bit with my enthusiasm for the city. I honestly love living in Munich so much, it borders on weird. I swear the city only gets prettier every time I walk through it, and my "tour guide spiels" pour out more like creepy fan letters. It's okay though, when your city looks this nice, I reckon you're allowed.
Read more:
The Ultimate Munich Oktoberfest Guide: Everything You Need to Know
14 Things You Must Know Before Attending Oktoberfest
Romania
I had a total of one night without houseguests before I set off for my last stop of the month – beautiful Romania!
Back in May, I spent some time in Bucharest and ended up really falling in love with the country. Every day since then, I've been plotting my return, so when I was invited to explore an underrated gem in Transylvania known as Covasna County, I signed up quicker than the Energizer Bunny on steroids.
Covasna is a quiet, undiscovered county in Romania with a lot of different nicknames – Land of Mansions being one. That's because there's almost 200 different castles, manors and mansions in the region, many of which have been restored and repurposed for tourism. We got to stay in one and it was awesome – I felt like I was in some old timey murder mystery!
Over the span of a few short days, we explored the best of what Covasna had to offer, visiting local artisans, soaking in the unspoiled nature and going full Pacman on the wide range of food and drink. Naturally, I enjoyed a cotton candy 4x the size of my head and attended a festival dedicated to cake. We also watched bears and painted gingerbread cookies. What can I say – it was a packed itinerary!
It was also during this trip that I (low key) became a local celebrity. In the span of a few days, I was interviewed for two national TV channels (speaking about cake, of course), once for a local newspaper and I even attended a press conference where I did not realize until we arrived that I WAS SPEAKING AT the conference, and not just attending. Why is my life so strange?
Anyways, take the hint Romania, if you're looking for a hype gurl, hit me up.
Onwards to October…?
I've been more inclined to take it easy these days with travel. Constantly being on the road burns me out, and now that I have a new business to worry about, my main goal is on productivity (shameless plug: check out Slaying Social here!). I do have two trips planned for the end of the month (guess where?!) but that's still a few weeks away. So, my next (mega-exotic) destination is a James Blunt concert. #wanderlust
I'll also be partnering with Eurail to discover some of Europe's most scenic train rides. I have my pass for the next two months, but I haven't made solid plans yet. Let me know if you have any recommendations for me!
Now, allow me a few seconds to be super basic, but ahhhh, I'm so excited for Autumn! I've been watching the leaves change colour from my window while I happily sip tea and bundle on increasingly fuzzy scarves. My life might be a chaotic mess right now, but at least it'll be a sweet pumpkin spice mess in the coming months 😉
Sorry for that longwinded update. I hope you enjoyed it! Talk soon,
Want to travel smarter and more often?
Join over 80,000 followers who love what I have to say! Enter your email here & you'll gain instant access to my special VIP zone, featuring freebies like checklists and printables... plus exclusive content, tips and updates!
---
Watch my most popular YouTube video this week:
---