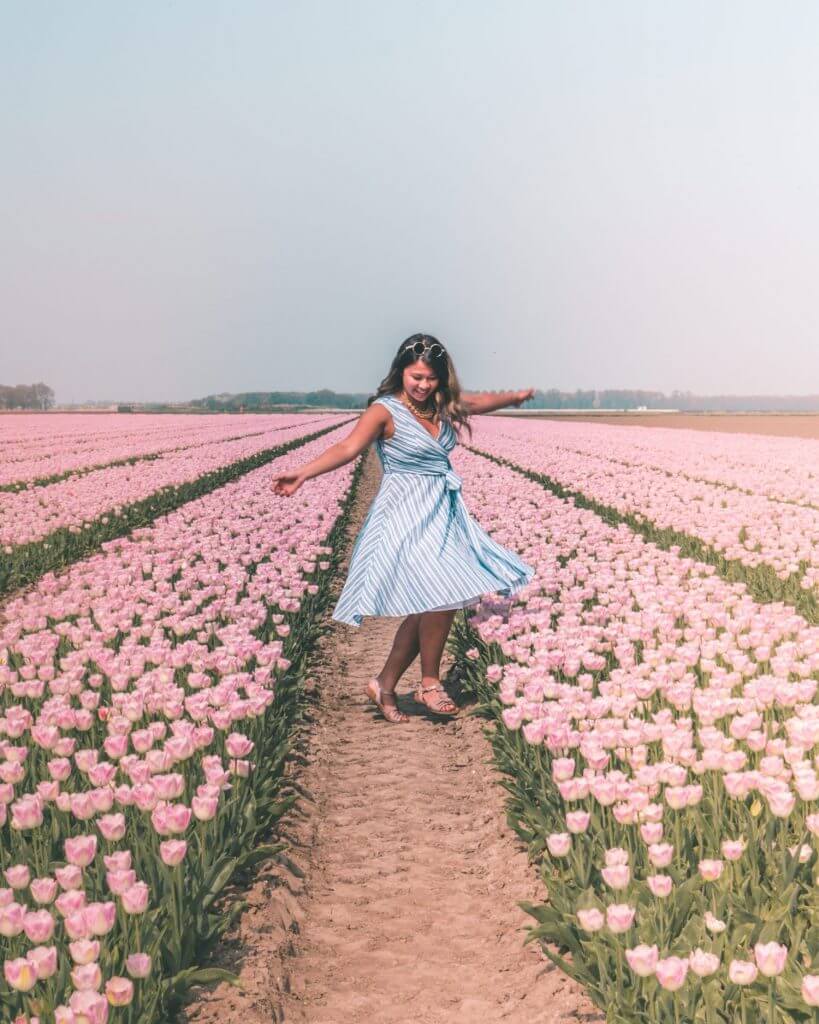 Sooo, monthly updates still count when they're 6 months apart right?
Hi guys! *awkward wave* It's Christina, here to claim the title of "actual worst". Around this time last year, I vowed to write a monthly travel update for you all, and dutifully, no matter how painful, I kept it up.
But then (as they usually do with me), things got a little wacky, and my plans went off the rails.
The truth is, I iced the updates because I thought nobody was reading them. Sometimes it felt like I was typing up all these muddled thoughts, sending them up to cyberspace only to receive virtual crickets and the occasional pity comment from my mom. But when (from time to time), I started getting questions about my next update, where the personal posts had been, I realized maybe there's like 1-2 of you that actually read them. So here I am… for you! If you do happen to enjoy these more personal posts, please let me know 🙂 A quick emoji in the comments… a virtual high five. Something to rescue me from crying myself to sleep, maybe? Thank you!
Desperation aside, if you want jokey, play by play updates of my travels, your best bet is to follow me on Instagram and watch my Stories.
Now, onwards to the update…
An Exciting New Partnership with Omio
First thing's first, I announced on Instagram a few weeks ago that I have officially joined Omio as their Munich local expert! For any of you travelling in Europe, Omio is an awesome, free site that allows you to compare prices, times, etc. on transport routes all around the continent, which means you can quickly and easily see the best ways to get from Point A to Point B. You can check them out here.
I've been using Omio for years (since my first backpacking trip, if I remember correctly), so this partnership is a total dream come true. I can't wait to produce monthly content with them all about my beautiful city, things like this insanely detailed guide to public transport.
My New Travel Partner
Next, I need to introduce you to my new travel partner: Alphred! He's dark, handsome, takes amazing photos, and….
Okay, fine, he's a camera. Alphred is a camera.
But not just ANY camera… My Alphie is a shiny new Sony A7iii, a full-frame mirrorless beauty that takes THE dreamiest photos. It has been a full four years since I've bought a new camera, and while my Nikon D3200 (my first ever DSLR) served me well for a long time, an upgrade was long overdue. Friends, say hello to Alphie! 🙂
My 2018 Travels so Far
Okay, now onto this long overdue travel recap. Honestly, sometimes I scroll through all my photos from the past three months and wonder how I survived without becoming an actual coffee bean.
In the past three months, I've hopped through three continents. Here's a quick recap.
February
February brought me to India for a very exciting collaboration with Incredible India. As one of 60 bloggers invited to take part in the Great India Blog Train, I got a chance to experience one of India's top luxury trains: the swishy Golden Chariot, which took me through the South Indian provinces of Karnataka and Goa. You can read a full review in this post.
Immediately after that, I did a surf camp in Fuerteventura with Planet Surf Camps. Trading in a sumptuous luxury train for a surfer hostel was interesting to say the least. I think the princess in me withered up and died a little. Overall it was good fun, and you can read my full review here. I survived, but my dignity remains in tatters.
March
Trading in a wetsuit for a business suit, I flew directly from Fuerteventura to Berlin to attend ITB, the world's largest travel trade fair. Of course, I arrived ten shades tanner thanks to the Spanish sun, and so my first stop was to buy myself some new foundation that didn't make me look like a surprised ghost. To my shock/horror, I was officially the darkest shade offered in Germany: so-called "chestnut". For the next few days, I scooted my chestnut butt around ITB, catching up with great blogger friends, getting barraged with "YOU'RE SO TAN?" and making some great business connections along the way. If you're a fellow blogger, I can't stress the importance of attending in-person events. It's so important!
Arriving back in Munich, I had all of two days' to myself before my best friend from Vancouver flew in for a visit. Basically she decided to like, parachute in while my whole world was in flames. Sleeplessness aside, it was great to have a familiar face in my new hood, and after showing her all my favourite spots in Munich. Together we then jetted off to Porto (one of my favourites) and Lisbon (a new favourite, despite an unlucky brush with pickpockets). We managed to visit during a freakish rainstorm as well, which locals found comically unusual. Oh, and a seagull stole an entire omelette off my friend's plate. Against all odds, I still had an amazing time.
On the way back from Portugal, I stopped for a quick city break in the beautiful fairytale city of Bruges, where I drank from mugs larger than my face, gawked at a vial of Jesus' blood and stood over top the world's first beer-filled pipeline. Guys, Bruges is cool. You can copy my 48 hour itinerary here, check out some alternative things to do, or read about the top, beautiful must-sees.
April
I only had a few days after that trip to repair my trust issues, when another friend decided to drop in on a parachute: Penelope from the The Flyaway Girl! After a whirlwind visit in Munich, we flew off together with AirBaltic to visit Vilnius, Lithuania. There, we partnered up with the awesome team at Travel Addicts Club and they showed us a side to Lithuania I never knew existed. Guys, Vilnius is amazing. You need to go. Here's a post I wrote explaining why I fell so hard, and of course a great roundup of things to do in the city.
Now, I can't lie to you – my main reason for visiting Vilnius though was that I had booked a very very cheap flight deal from there to visit home in Vancouver for two weeks (like, 300 euros cheap), two weeks filled with a non-stop parade of sushi and international eats I can't get my grubby hands on in Munich. I also happened to be home just in time for peak cherry blossom season, a happy coincidence that resulted in one of my most popular posts this year – where to find cherry blossoms in Vancouver. My days were filled with blossom chasing with my parents as co-pilots, and it was pretty darn awesome and after a brief Insta-training, my dad is getting weirdly good at photography.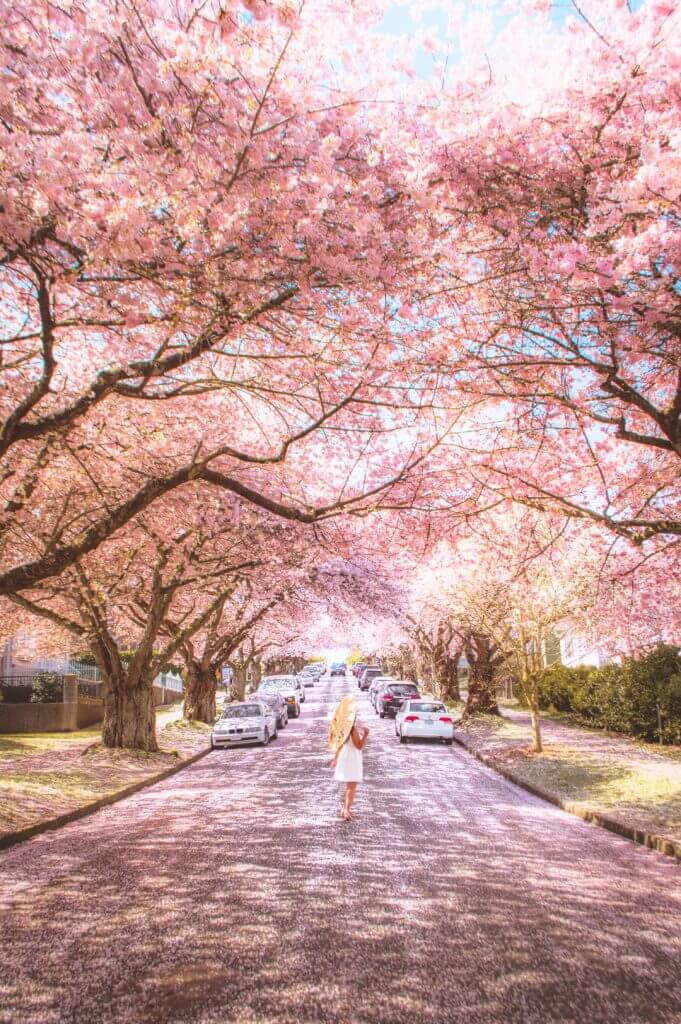 The blossom trend continued as I returned to Europe. My flight home stopped in Amsterdam, which made a brief foray into the famous Dutch tulip fields a must. With my spontaneity being costly (what, on a holiday weekend in APRIL in the Netherlands), I looked for alternative accommodation outside of Amsterdam, which is how I found myself in the magical little village of Giethoorn. It was crowded, but lovely, and staying the night there made all the difference (especially for super vain pics like these):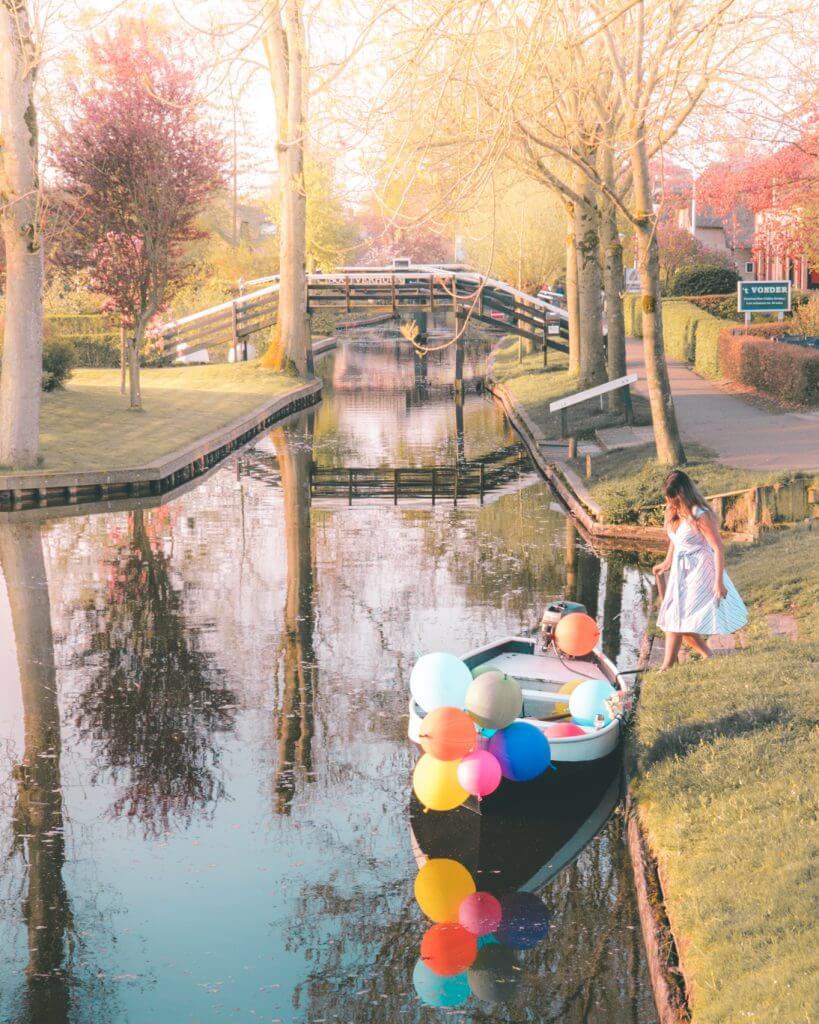 I then got to meet up with a friend off Instagram, Kristy from Tassie Devil Abroad, who gave me the okay to third wheel a romantic tulip adventure with her and her partner. We skipped the oh-so-popular Keukenhof in favour of lesser-known tulip fields around the province of Flevoland. It was bliss!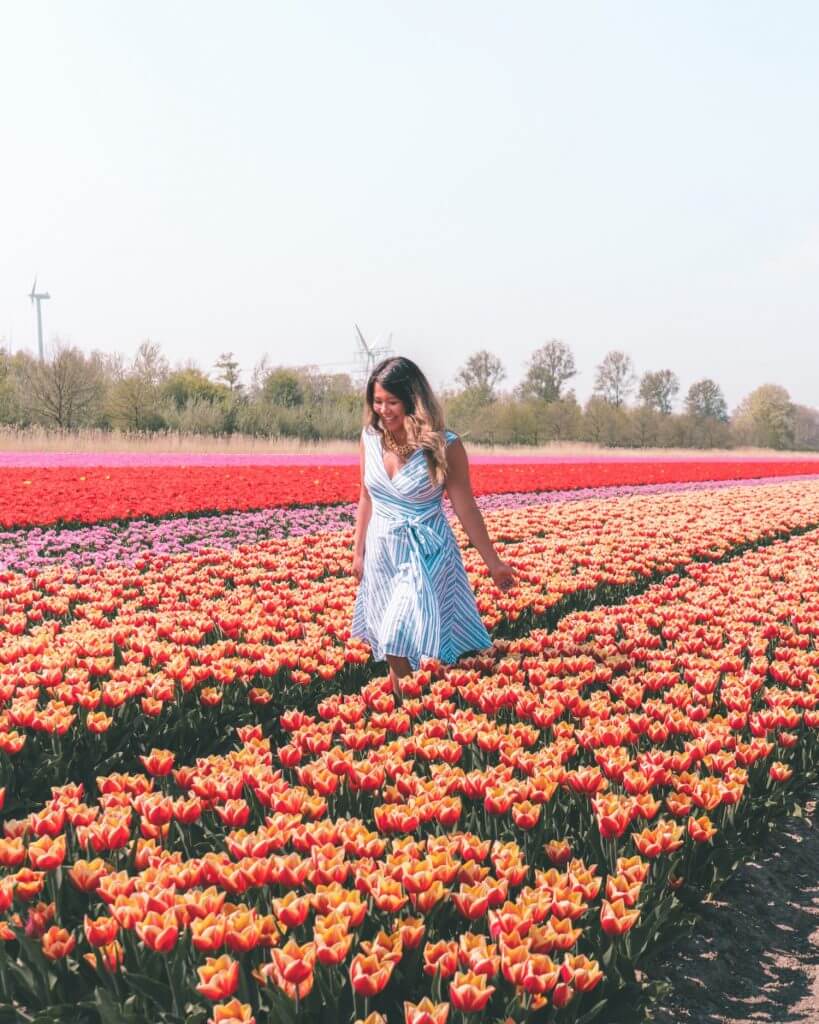 Then came Paris. Spring time in Paris has always been a dream of mine, and so I couldn't resist a quick break here. Side note: I know it sounds like I've been making it rain euro bills all over the place, but travelling around Europe can be SO affordable (here's my guide to cheap transportation options), and I actually hopped on a bus from Amsterdam to Paris for less than 50 euros. Amazing.
In Paris, I was blessed with brilliant weather, spring blooms, and the most perfect few days in one of my favourite cities. For those of you who hate Paris or think it's overrated, fight me. Yes it's cliched, yes it's touristy, but if you know how to do it right, it's also pure magic. It helps of course that I got to work with Hotel Le Pavillon while there, a brilliant boutique hotel with the most absurdly stunning view. I didn't want to go home!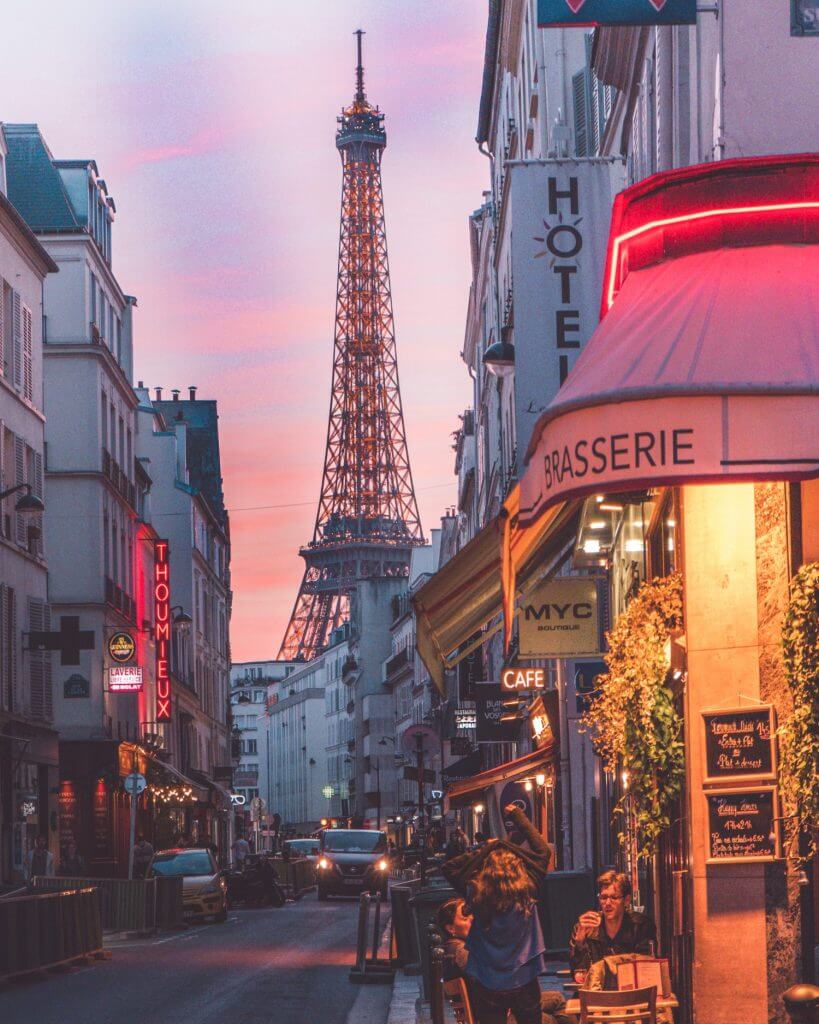 My last stop before going back to Munich was a press trip to the amazing butterfly-shaped province of Trentino, a beautiful area in Northern Italy between the Dolomites and Lake Garda. Genuinely, I think it's one of the most underrated spots in Italy I've been to – all the beauty and sights, without the crowds 😉 I can't wait to share more of my trip with you soon!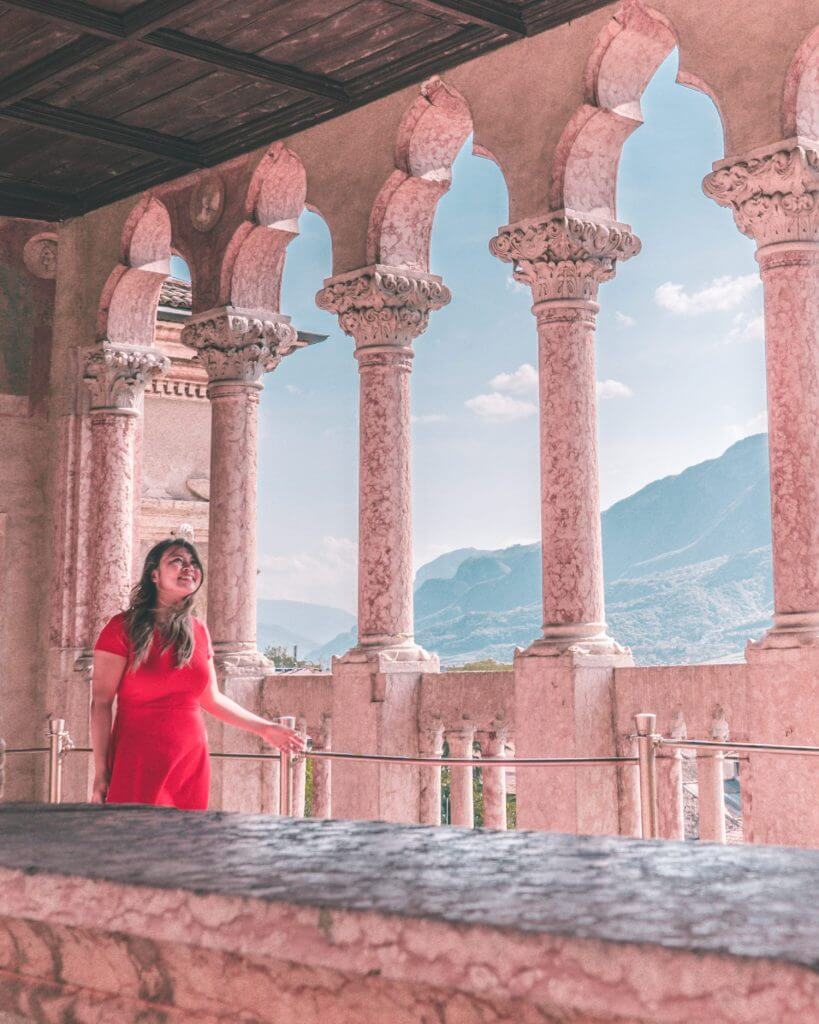 So… What's Next?
I really want to slow things down for the summer. Dial it down to a slow mo, light some candles, yenno, the good stuff. I genuinely believe that travel is best appreciated when there's balance and ample time to reflect.
I have a few short weekend press trips lined up, but apart from that, I want to make the most of my time in Munich and the European summer… maybe try to get back in shape, because although round is a shape, I'm getting noticeably doughy, a not-so-ideal consistency for bikini season. This time last year, I had just finished a half marathon, and now this year, the only half I'm finishing is half a cake. Then the second half.
I also need some time to focus on work. I'm a workaholic by nature, so the inability to sit down and get things done is really weighing down on me. I guess you can expect a loooot of content coming your way. To be honest with you, I'm still struggling to find the balance between travel and work, an especially troubling issue given that I'm a full-time travel blogger. The issue is this: when I'm in a new place, I always try to do it all, experience it all, often to the demise of my productivity and sleep patterns. The amount of times I've fallen asleep, mouth-open in bed while editing photos or writing is far too many… but it's a 1st world problem I'll happily take if it means I get to do what I love.
So anyways, another "short" updated that has turned into a novel. I guess I really am back 😉 Talk to you all again soon!

Want to travel smarter and more often?
Join over 80,000 followers who love what I have to say! Enter your email here & you'll gain instant access to my special VIP zone, featuring freebies like checklists and printables... plus exclusive content, tips and updates!