*FYI - this post may contain affiliate links, which means we earn a commission at no extra cost to you if you purchase from them. Check out our Privacy Policy and Disclosure. for more info.
As we switch gears into Christmas mode (early, I know, but I'm convinced I was an elf in another life), one can't help but wonder what Europe's Christmas markets will look like this year… and especially whether or not they'll be cancelled.
As an avid Christmas market fangirl, I've been doing a lot of research on this topic. I've already assembled a list of Christmas markets in Germany that have been cancelled, but I figured a broader one for more of Europe's most famous Christmas markets would be helpful, so here it is!
For the purpose of this article, I'm mainly discussing the countries in central Europe best known for their Christmas markets (e.g. Germany, Switzerland, France, Austria).
I have also included cancellations across the UK as that info is readily available, whereas details on most other countries are not yet confirmed. I hope you find this all helpful!
Since this list has gotten very long since its inception, you can click here instead for a list of European Christmas markets that are still on for 2020.
Save this for later on Pinterest: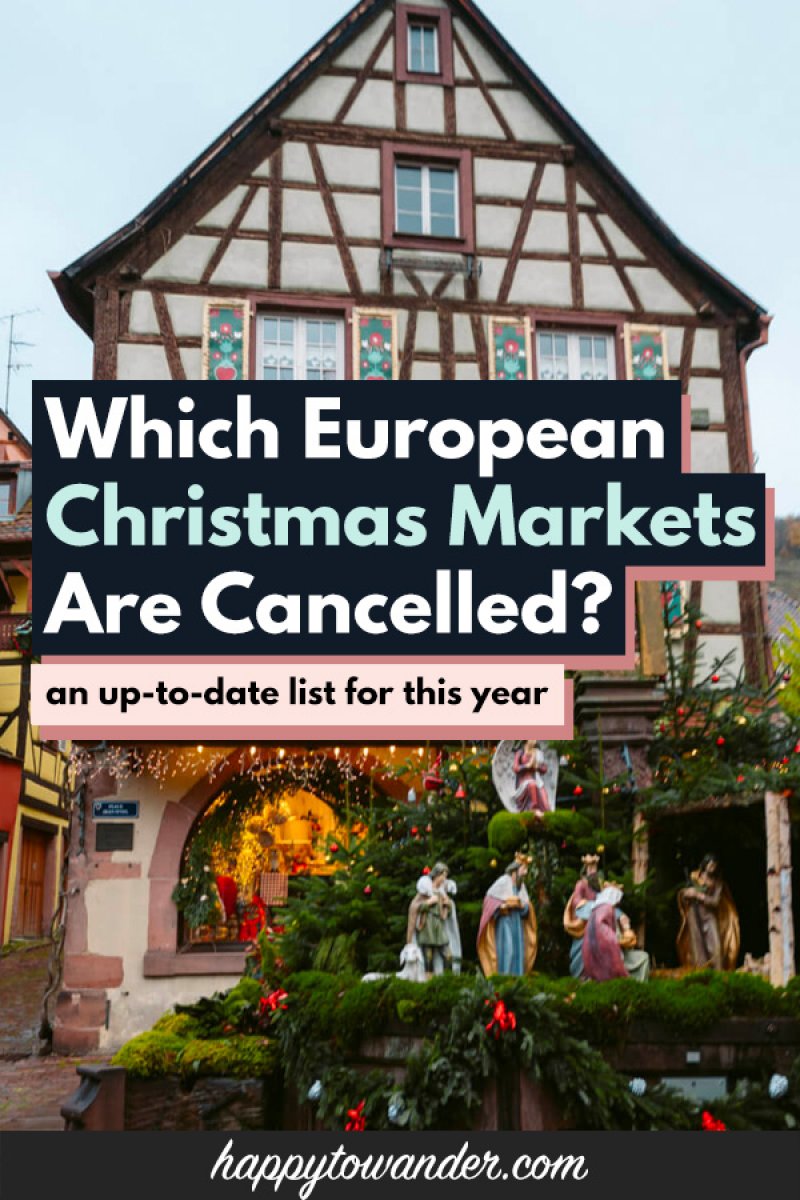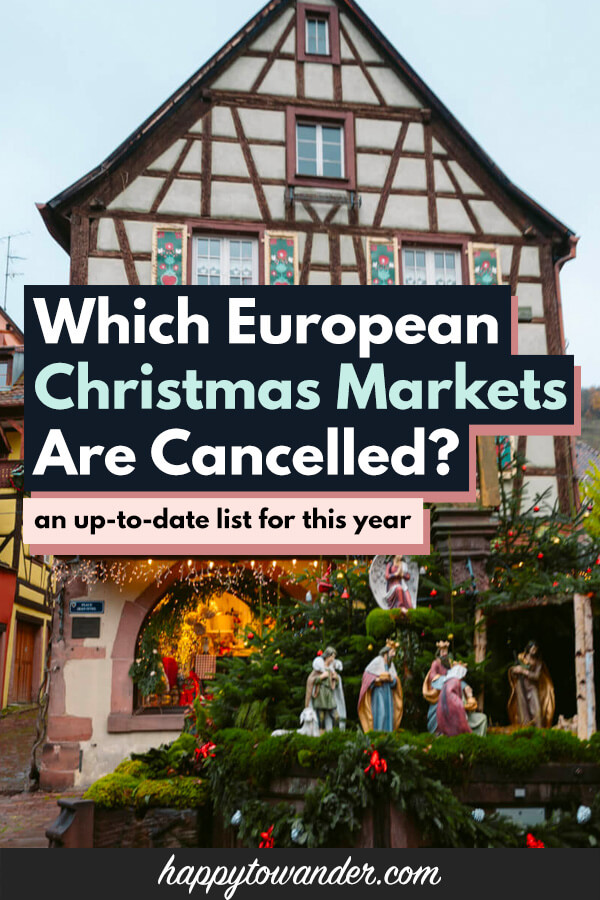 Christmas Market Cancellations in Austria
Those hoping to visit Austria's scenic Christmas markets this year are in luck – the majority of the big ones appear to be moving forward.
At the moment, planning is already underway for the popular Christmas markets in Vienna, where new safety measures are in the works, including testing stations in popular spots like the City Hall.
The super popular Christmas markets in Salzburg are apparently moving forward, and nearby winter events like the Wolfgangsee Advent are in the works as well.
The one-day market in Hallstatt also appears to be moving forward, as well as the Christmas markets in Graz.
Nonetheless, some smaller markets have announced cancellations already, well in advance of the Advent Season. Here are the Christmas markets in Austria that have been cancelled so far:
I will update this section as I learn more about Christmas market cancellations in Austria, but this page is a good resource for up-to-date cancellations for all events in Austria, organized by region.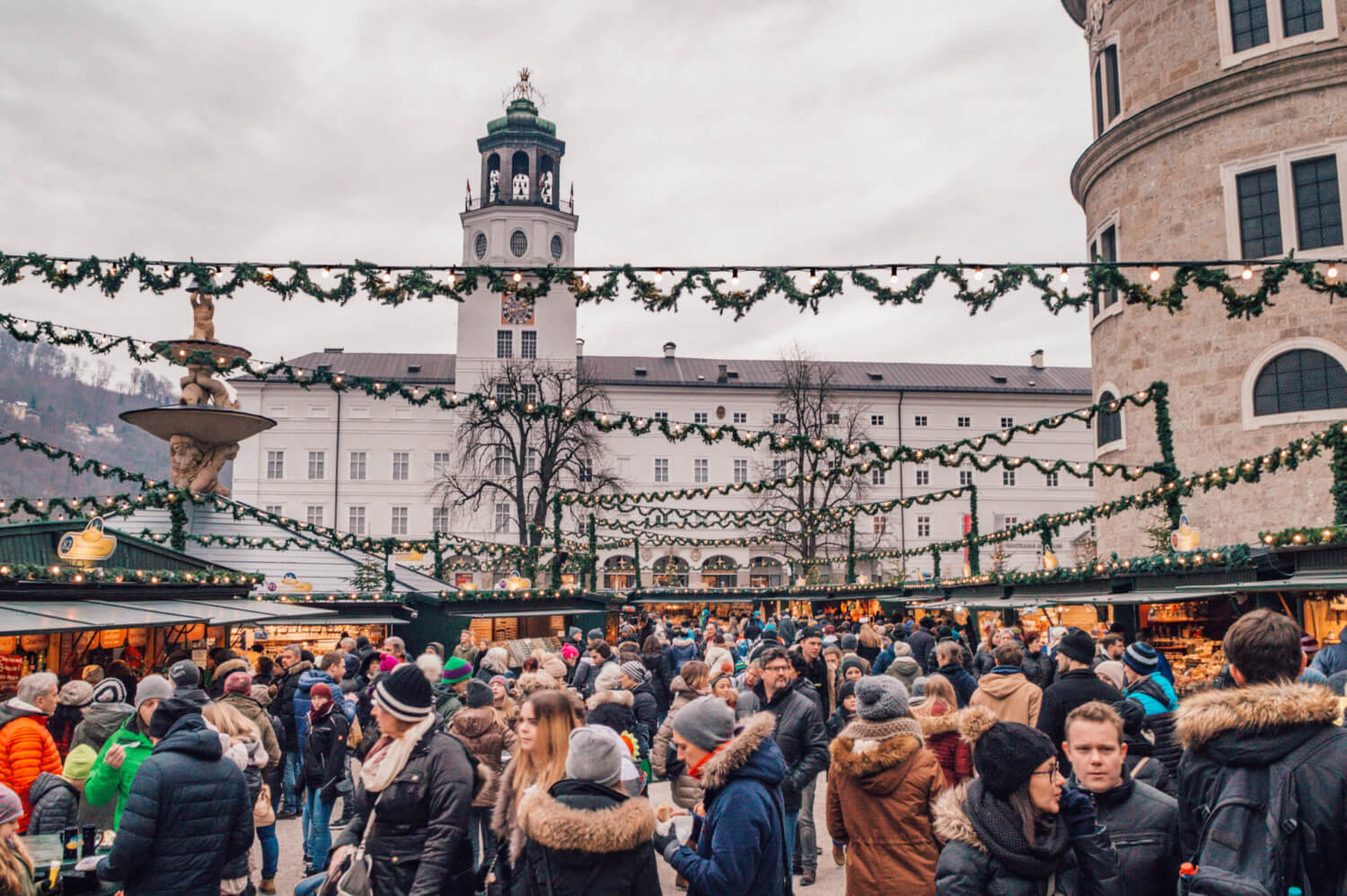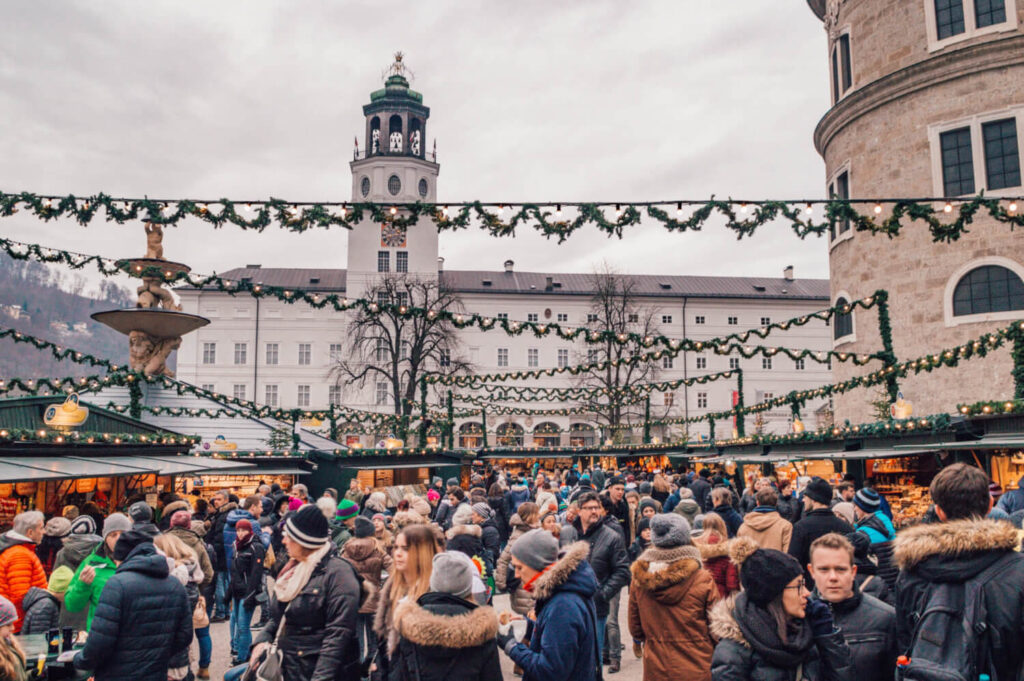 Christmas Market Cancellations in Czechia
Czechia is becoming an increasingly popular Christmas market destination in Europe, thanks in large part to its tourist magnet capital of Prague.
And for eager visitors, the news seems pretty positive. So far, it seems like the Christmas markets in Prague will be going ahead. They've even announced the annual competition for their main Xmas market Christmas tree, so at the very least we know there will be festive decorations across the city.
Brno, another city known for Christmas markets in Czechia, has also begun the process of auctioning off stalls to different vendors (here's a funny article about that), so we can infer that plans are underway there as well.
I will update this section as I learn more about Christmas market cancellations in Czechia.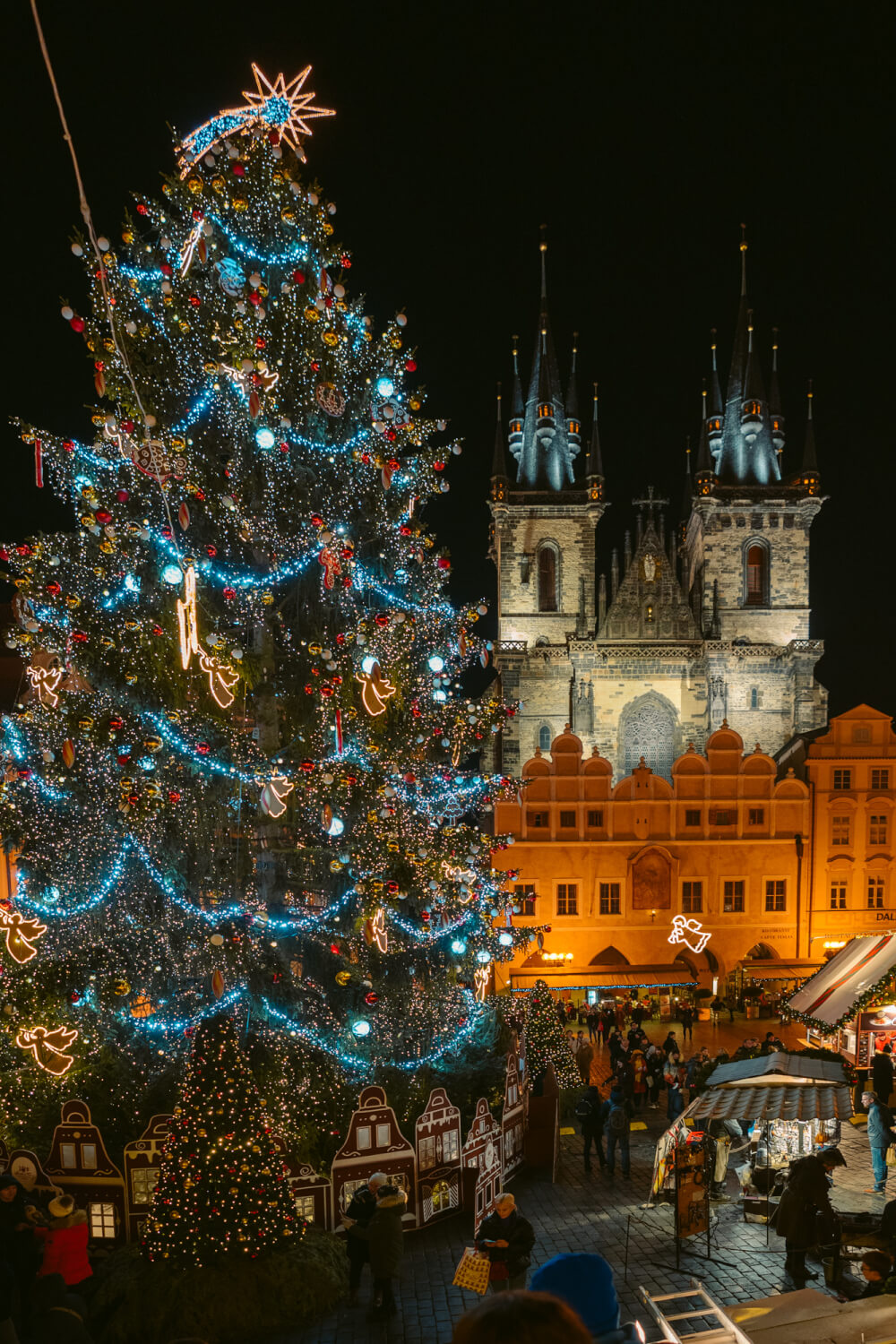 Christmas Market Cancellations in England
While Christmas markets are usually a popular staple of the winter season across England, many organizers have already cancelled their winter events for 2020.
Optimistically, it seems like many organizers are cancelling their usual events in favour of alternative programs that allow for appropriate distancing, but the exact details of these are not yet known.
But, if you're curious, here are the Christmas market cancellations in England we know of so far: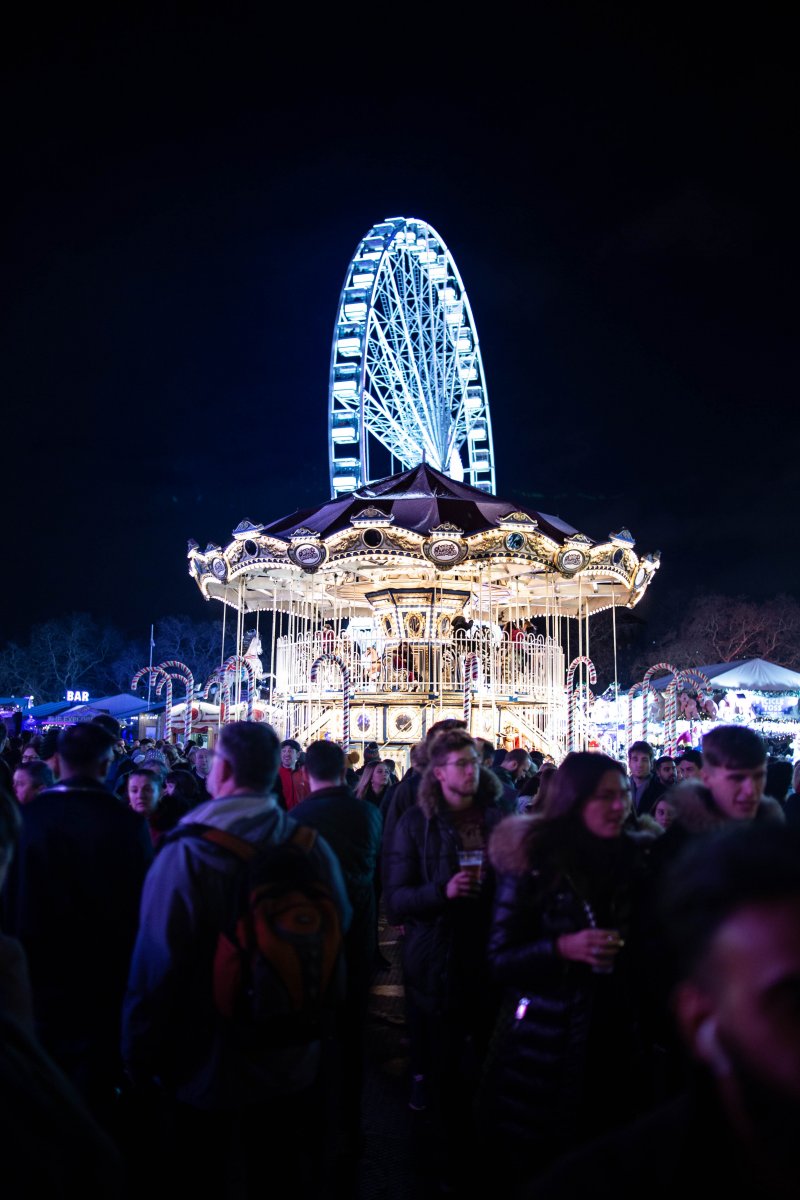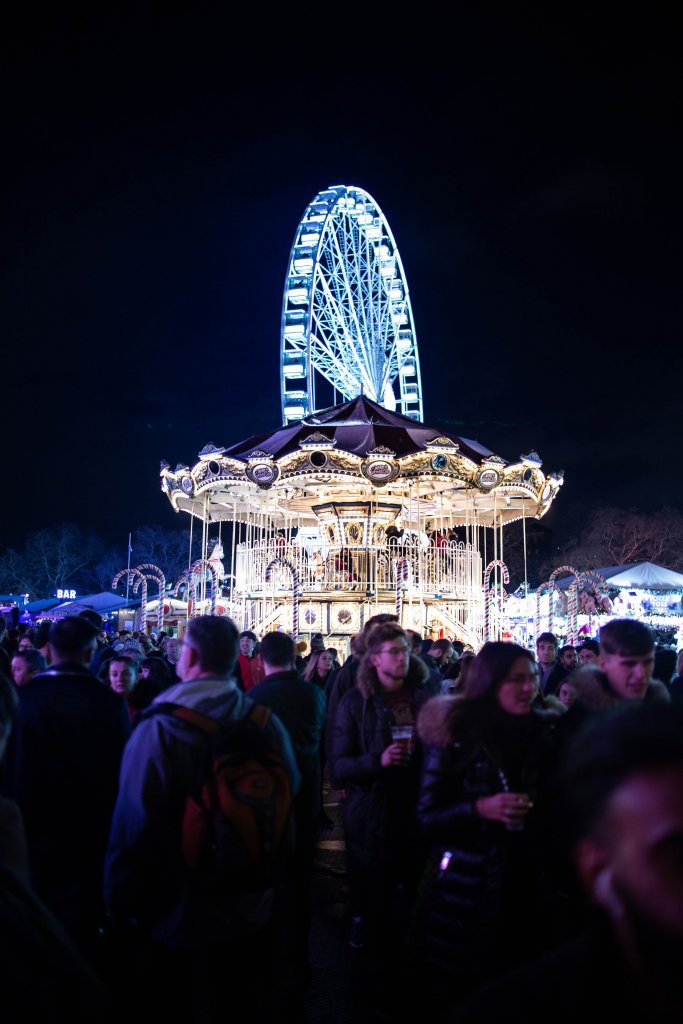 Christmas Market Cancellations in France
France is home to several world-famous Christmas markets and events. Christmas in Paris for example is a popular choice for many visitors from overseas, however with rising cases and uncertainty, concrete plans on what Christmas will look like across Paris (and France in general) are not yet known.
Christmas markets in the Alsace region are especially popular for visitors from around the world, however official word on the fate of these markets (which include big names like Strasbourg Christmas Market and Colmar Christmas market) is unknown as well.
As of early September, it was announced by the mayor of Strasbourg that the goal was to still hold the city's Christmas market this year, but with a wary undertone of "anything can change quickly".
Nonetheless, there are a few Christmas markets in France that have already been cancelled. Here are the ones that have been confirmed so far: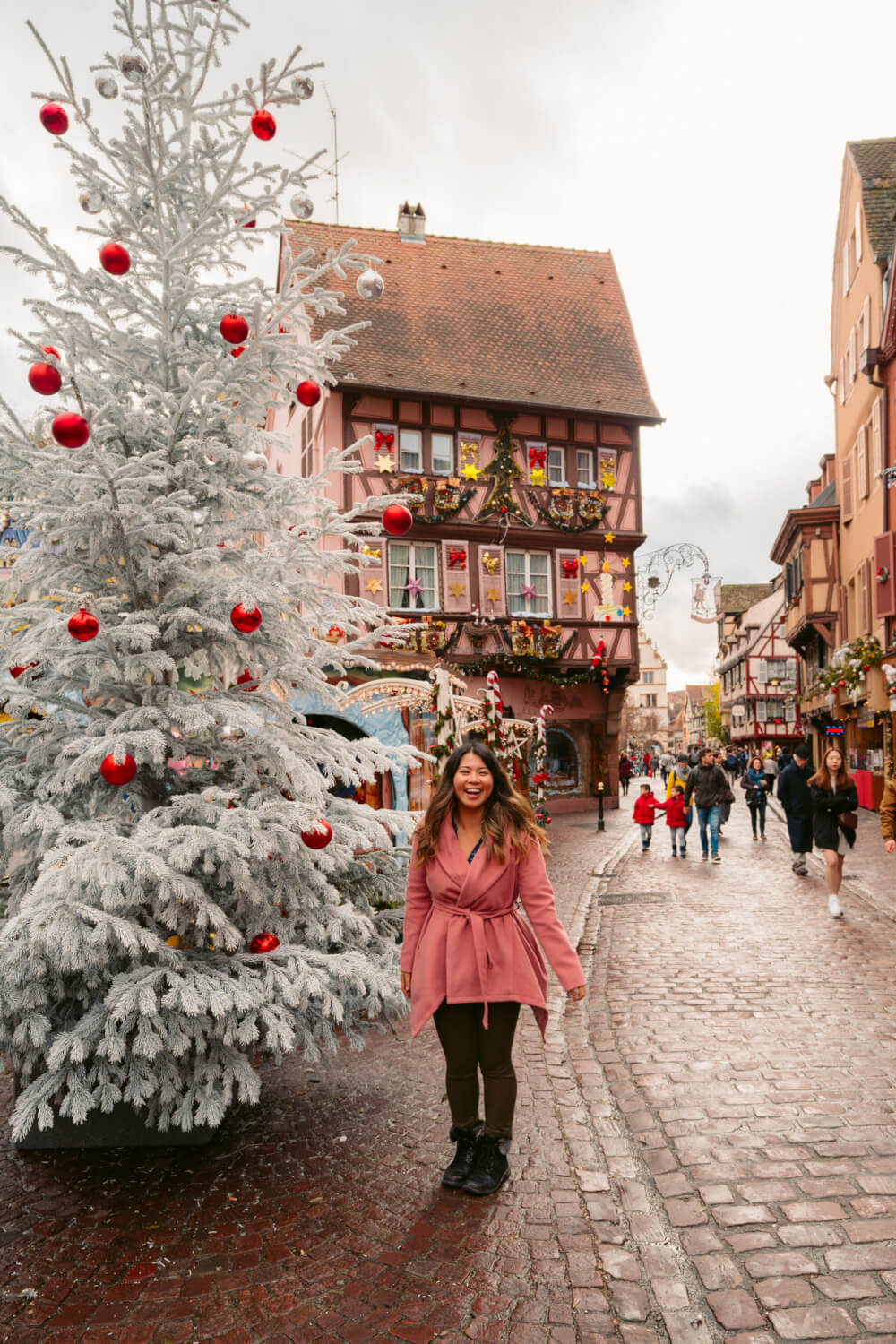 Christmas Market Cancellations in Germany
Since Germany's Christmas market scene is so huge, I have an entire list here dedicated to Christmas market cancellations in Germany, organized by state.
While most major cities originally planned to proceed with Christmas markets this year, this possibility is growing less and less likely due to the nationwide mini-lockdown recently announced in Germany throughout the month of October.
Major markets have already been cancelled in Cologne & Munich.
Many smaller Christmas markets in Germany have also decided to cut their losses early. Again, you can access a more thorough list of cancellations here, organized by state, but here they are at a glance…
BAVARIA:
Auerbach: The town's Bergwerksweihnacht celebration has officially been cancelled for 2020
Augsburg: The main Christmas market in Augsburg is still scheduled to take place, however smaller markets in the city and in nearby districts have been cancelled, such as the Elisabethmarkt at Sankt Elisabeth KJF Berufsbildungs- und Jugendhilfezentrums.
Kreis Augsburg: Elsewhere in Kreis Augsburg, the following markets have been confirmed as cancelled: Weihnachtsmarkt Bobingen, Weihnachtsmarkt Fischach, Adventsmarkt Großaitingen, Weihnachtsmarkt Horgau, Adventsmarkt Klosterlechfeld, Weihnachtsmarkt Meitingen, Weihnachtsmarkt Mickhausen, Weihnachtsmarkt Oberschönenfeld, Weihnachtsmarkt, Stadtbergen Engerlmarkt Thierhaupten, Weihnachtsmarkt Untermeitingen, Weihnachtsmarkt Walkertshofen, Weihnachtsmarkt Wehringen, Weihnachtsmarkt Welden, Christkindlmarkt Zusmarshausen
Coburg Christmas Market: The Christmas market in Coburg has officially been cancelled for 2020
Christkindlmarkt auf der Fraueninsel: Officially cancelled for 2020
Freising Christmas Market: The Christkindlmarkt am Freisinger Marienplatz has officially been cancelled for 2020.
Garmisch-Partenkirchen: The town's annual White Night 2020 has been officially cancelled, and some sources report that the Christmas market will also be cancelled this year
Haideck Christmas Market: The Heidecker Weihnachtsmarkt has officially been cancelled for 2020.
Herzogenaurach: The Herzogenaurach Christmas Market and Advent Calendar have been officially cancelled for 2020.
Kreis Aichach-Friedberg: The following Christmas markets have been confirmed as cancelled inKreis Aichach-Friedberg – Kathreinmarkt Aindling, Weihnachtsmarkt Affing, Weihnachtsmarkt Dasing, Waldweihnacht Gut Mergenthau, Kipferlmarkt Hofhegnenberg, Adventsmarkt Rehling, Weihnachtsmarkt Schiltberg
Kreis Günzberg: The following Christmas marekts have been confirmed as cancelled in Kreis Günzberg: Dorfweihnacht Bubesheim, Schlossweihnacht Burgau, Weihnachtsmarkt Burtenbach – die Schlossweihnacht hingegen findet statt, Weihnachtsmarkt Gundremmingen, Nikolausmarkt Günzburg, Adventsmarkt Jettingen, Nikolausmarkt, Christkindlesmarkt und Adventsbasar Leipheim, Weihnachtsmarkt Offingen, Dorfweihnacht Rettenbach, Weihnachtsmarkt Thannhausen, Adventsmarkt Waldstetten
Kreis Landsberg: The following Christmas markets have been confirmed as cancelled in Kreis Landsberg: Weihnachtsmarkt Dießen am Ammersee, Adventsmarkt Eresing, Advent am Fuggerplatz, Kaufering, Christkindlmarkt Utting am Ammersee
Kreis Neuburg-Schrobenhausen: The following Christmas markets have been confirmed as cancelled in Kreis Neuburg-Schrobenhausen – the Weihnachtswerkstatt im Rathausfletz in Neuburg an der Donau, the Weihnachtsmarkt in Unterhausen
Kreis Neu-Ulm: The following Christmas markets have been confirmed as cancelled in Kreis Neu-Ulm -Weihnachtsmarkt Illertissen, Roggenburger Weihnachtsmarkt, Weihnachtsmarkt Senden, Adventsmarkt Vöhringen, Nikolausmarkt Weißenhorn
Kreis Unterallgäu: The following Christmas markets have been confirmed as cancelled in Kreis Unterallgäu – Pfaffenhausen leuchtet, Weihnachtsmarkt Türkheim
Lindau Christmas Market: Both the Hafenweihnacht und Jahrmarkt in Lindau have been officially cancelled for 2020.
Miltenberg Christmas Market: Officially cancelled for 2020, and will be replaced by a new festive concept known as "Miltenberger Weihnachtszeit" (Miltenberg Christmas Time) which includes a program of festive performances rather than a traditional market
Munich: The Münchner Christkindlmarkt, Medieval Christmas Market, Chinese Tower Christmas Market and Winter Tollwood 2020 have all been officially cancelled in Munich, along with the Christmas market at Munich airport which was officially cancelled months in advance.
Rothenbuch Christmas Market: Officially cancelled for 2020
Tegernseer Adventszauber: This lakeside Christmas event which includes 3 markets along the lake was officially cancelled earlier in August, but they are currently examining other smaller festive alternatives.
Tischenreuth Christmas Market: The Kunsthandwerklichen Weihnachtsmarkt has been officially cancelled for 2020
BERLIN:
NORTH RHINE WESTPHALIA: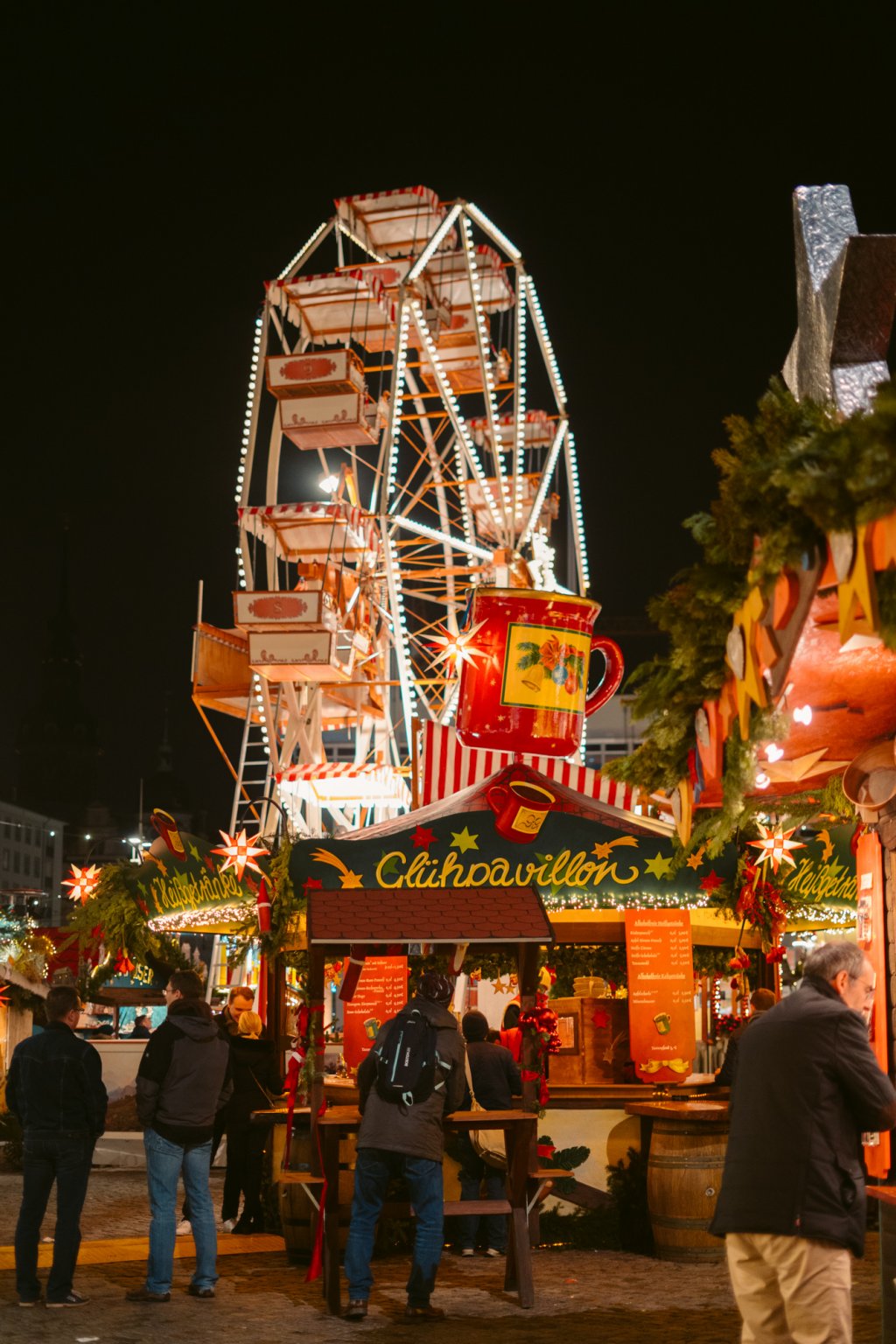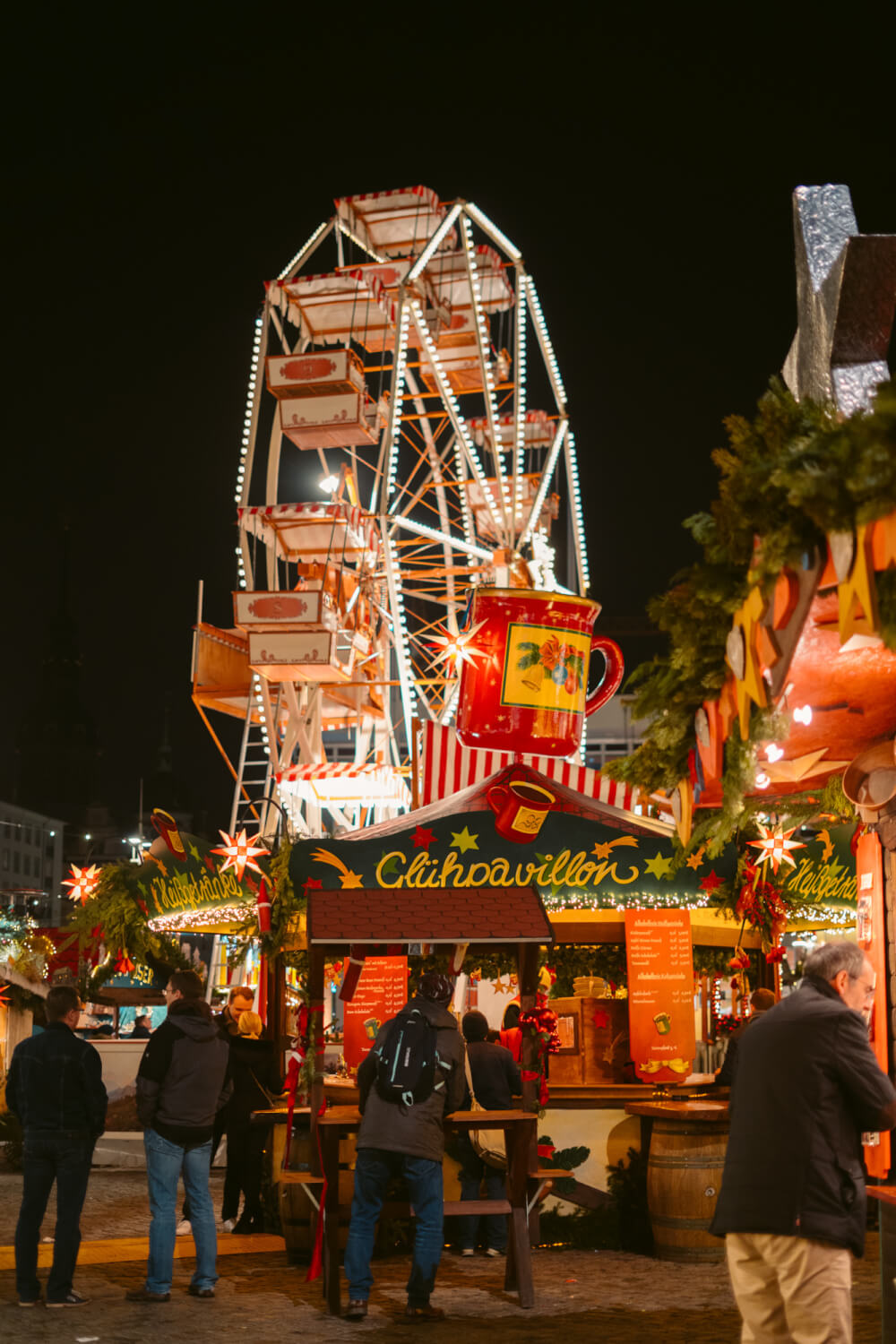 Christmas Market Cancellations in Scotland
Christmas markets and festivals have become an integral part of the Scottish winter calendar, but one thing's for sure: the events that do go on will look substantially different this year.
And while official cancellations for Christmas markets and festivals in Scotland are still quite limited, many areas have opted to cancel official switch-on events for Christmas lights this year, including Ayr, Paisley, Inverness, Bridgend and Felixstowe, however most of them will still have the lights, just without the usual switch-on ceremony.
Controversially, the Edinburgh Christmas Market is scheduled to go on this winter.
Here is what we know so far about Christmas markets and festivals that have been cancelled in Scotland:
Christmas Market Cancellations in Switzerland
Switzerland is home to some truly breathtaking Christmas markets (or Swissmas markets, as I like to call them) and so far, it seems most of the major markets are planning to still go on in some capacity, with revised hygiene concepts and programs to reduce crowding.
The mayor of Basel for example has insisted that the famous Basel Christmas Market will take place this year in some form. Plans are also underway for the Christmas markets in Zurich, as well as the lights-on ceremony for 'Lucy', Zurich's beloved Christmas lights.
Overall, it seems like the event organizers in these regions are very opposed to cancelling the Christmas markets completely so (depending on how cases progress of course), we can likely expect them to take place in some way.
Nonetheless, some Swiss Christmas markets have announced that they will not be happening in 2020. Here are the Christmas market cancellations in Switzerland that we know of so far: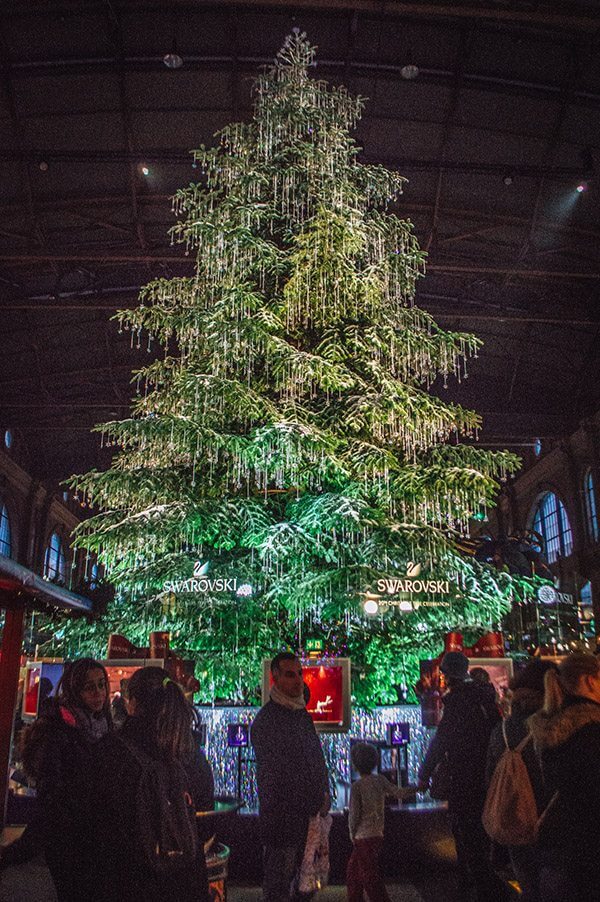 Christmas Market Cancellations in Wales
While many Christmas events in Wales have already been cancelled, the fate of the country's major Christmas market in Cardiff is still to be decided.
For now, here is what we know about Christmas market/festival cancellations in Wales for 2020:
I will update this list as I learn more about Christmas market cancellations in Wales, but this page is also a great resource that is getting updated frequently.
Other Major Christmas Markets in Europe: Which are/might be cancelled?
Since Europe covers a ton of countries, there are still plenty of Christmas markets that I haven't mentioned above.
Unfortunately, the fate of Xmas markets in many other countries is still a huge question mark, but here is what I've been able to dig up on some other major Christmas events. Let me know in the comments if you have additional helpful info that I should add!
The Christmas markets in Brussels, Belgium have already set the dates for their 2020 Plaisirs d'Hiver event, (from Nov 27, 2020 to January 3, 2021) and while other markets in Belgium have been cancelled (like in Leuven), organizers have recently said that they will try their best to ensure the Plaisirs d'Hiver continue. No concrete announcements have been made, however.
Many Christmas markets in the Netherlands have already been cancelled for 2020. This page (in Dutch) is a really excellent resource, so be sure to check it out for an up-to-date list on what Christmas markets have been cancelled in the Netherlands.
The Christmas markets in Budapest, Hungary have been voted one of the most beautiful Christmas markets in Europe for multiple years. Unfortunately, the Vörösmarty Square Christmas Market has officially been cancelled, although alternative arrangements are being discussed.
The Christmas markets in Tallinn, Estonia have also earned international acclaim over the past few years, but as of mid-October, the 2020 festivities have unfortunately been cancelled officially.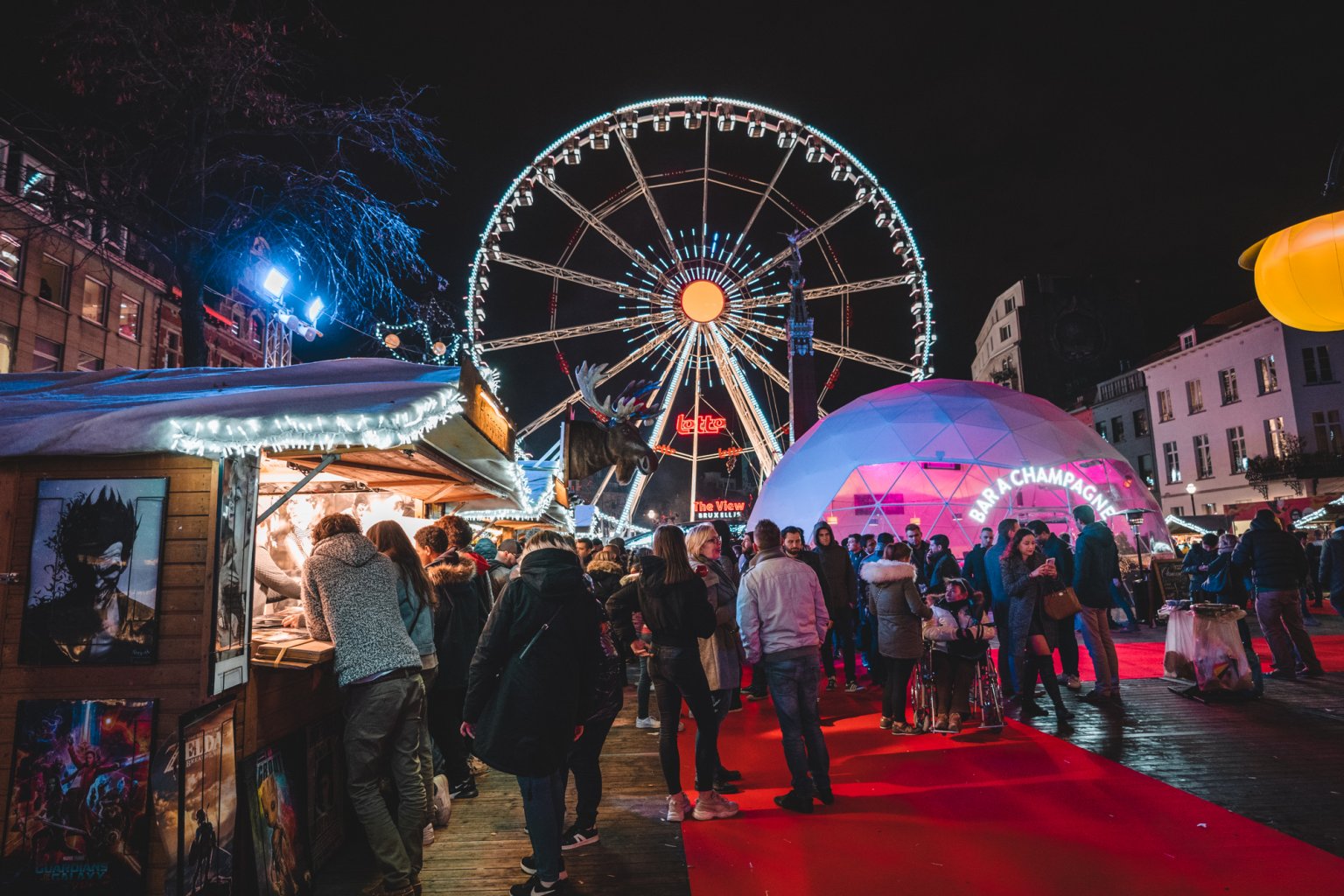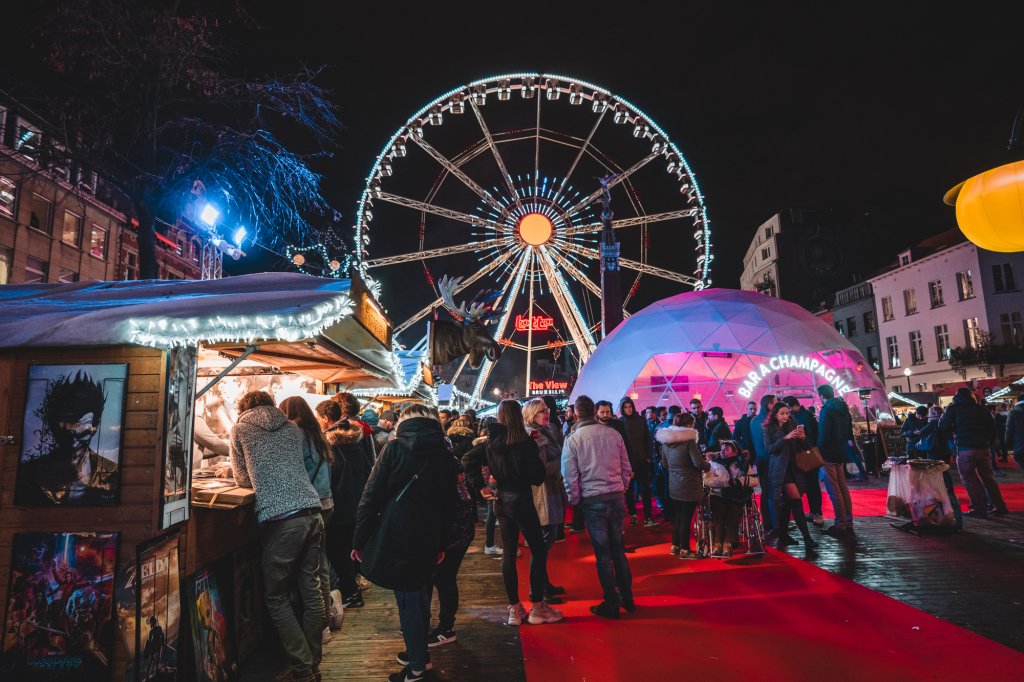 Do you have more European Christmas market cancellations I should add to this list?
Let me know in the comments below if I'm missing a Christmas market cancellation that you know of! Pooling all this information from scattered sources has been a huge challenge, and I did try my best but this info changes day by day so I can always use a hand in updating the list! Thanks so much for reading, and I hope you found this helpful.