SICK OF GETTING NOWHERE WITH TRAVEL BLOG MONETIZATION?
Here's the story of how I went from $2 to $1500 of passive income in 30 days.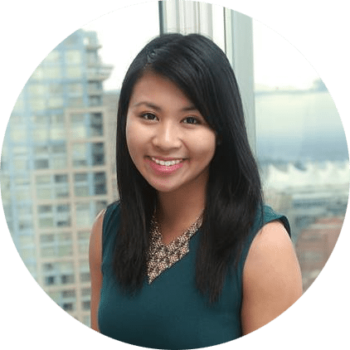 What's up, friend? My name's Christina and in late 2016, I decided it was time to actually make money off my blog.
After dabbling in ads, sponsored posts, and coaching, I figured there had to be a better way… and that's when I started taking affiliate marketing more seriously. I put on my big girl pants, enrolled in a course and you know, tried not to cry.
The dramatic version of my story is this that in November 2016, my affiliate income skyrocketed over 70,000% from $2 to $1500 in a mere 30 days.
But I don't believe in dramatics. The cold hard truth is that affiliate marketing for travel bloggers isn't easy. Clickbaity facts like the one above (ha sorry about that) make us believe in overnight success stories that downplay the amount of hard work that goes into making monetization work. While my growth was pretty amazing, I recognize that not everyone follows the same path to success.
So that's why my approach is a little different. I don't believe in selling big promises… what I do believe is teaching you the building blocks, skills and strategies that you need to make affiliate marketing work for your travel blog, and create the passive income you've always dreamt of. Travel blogs face a really unique set of challenges when it comes to affiliate marketing, and I found that out the hard way. I got an amazing head start through taking a course and through independent research, but there were still some parts of the puzzle that were missing…
That's why I decided to write The No BS Guide to Affiliate Marketing for Travel Bloggers, to fill this resource gap and provide some much-needed guidance for affiliate marketing within the travel niche. This book ain't no beginner's guide – it's meant for those who understand the concept, have added links, but are disappointed by their lukewarm results…
So what's in this magical ebook? Besides glitter and unicorns, here's what you can expect: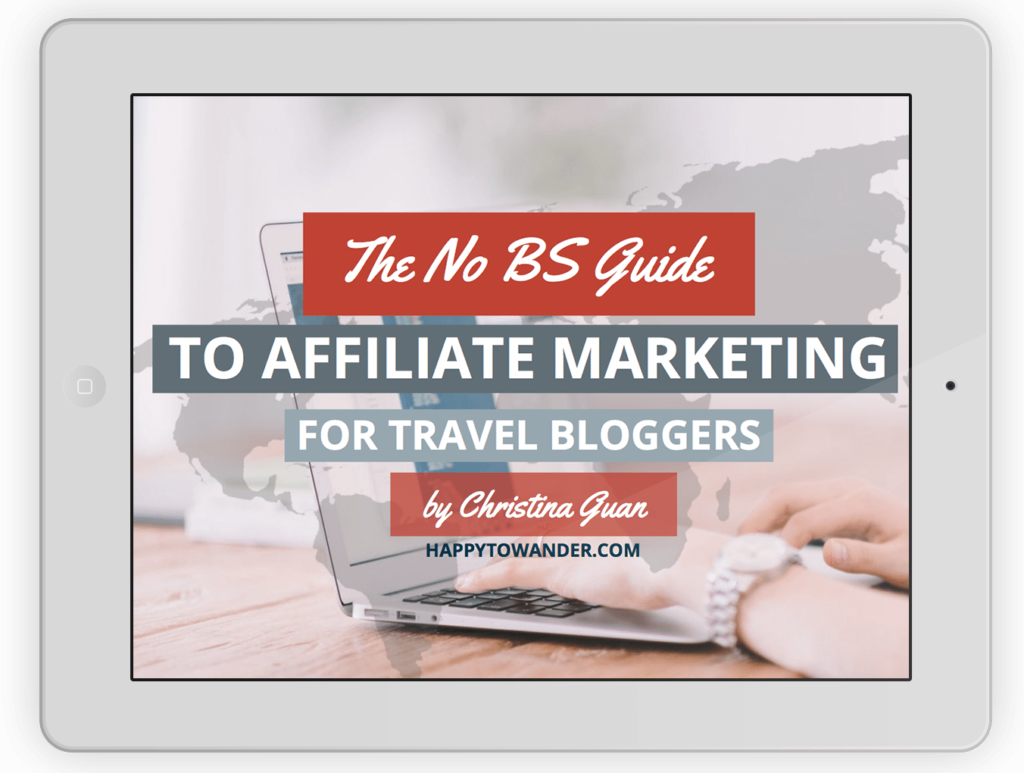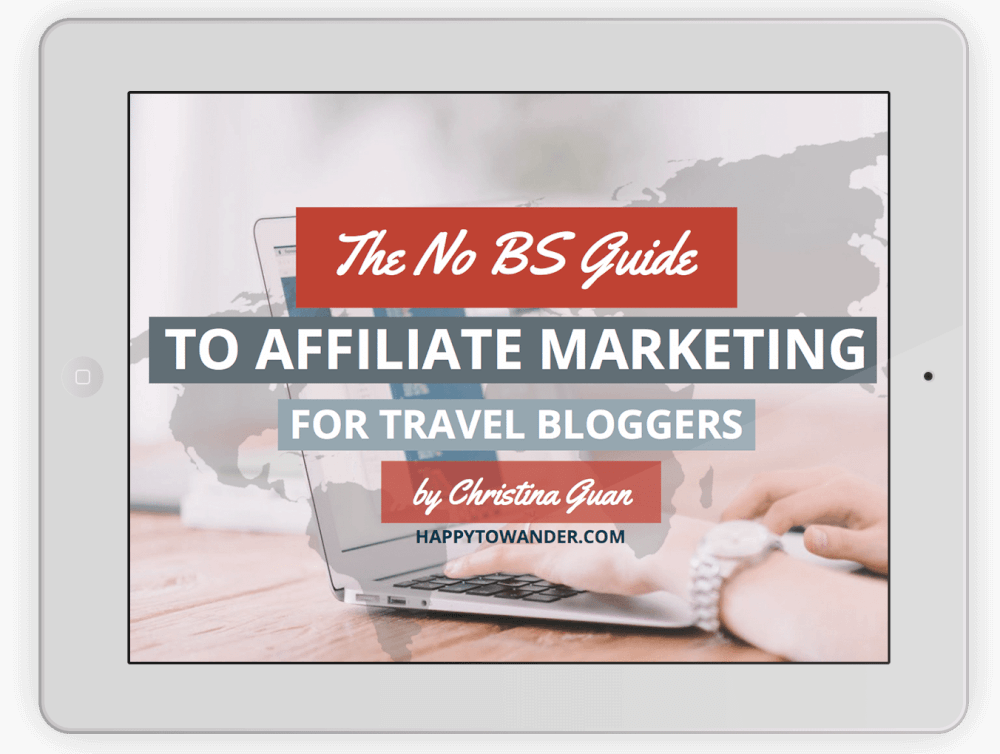 68 pages of lightbulb moments
Included are:
Are you sick of links that don't convert, and vague, irrelevant advice that doesn't work for the travel content of your blog?
That's exactly why I created this eBook. Fact: travel bloggers have it tougher than other niches when it comes to affiliate marketing. After all, it's much harder to sell flights and hotels than it is a tube of lipstick, which is why SO much of the information out there is irrelevant to us. But, now that I've found what works for me, I'm keen to share it. This is the resource I wish I had when I first started out. Because this guide is one of few that specifically speaks to affiliate marketing in the travel niche, I promise the info will be relevant, practical and actionable for your blog.
Is this eBook right for you?
Odds are, my book will be a good fit if…
You are...

An intermediate to advanced level travel blogger fed up with your lack of results from all your monetization efforts.

You want...

to monetize your travel blog but are dreadfully afraid of "selling out".
You're sick of...

slaving over affiliate links on your blog and getting no conversions.

You're ready...

for passive income that rolls in while you sleep.
Here's what my readers thought:
Christina continues to deliver, and this gem is no exception. It is truly a NO BS guide to affiliate marketing. She does not hold back – she shares valuable insight that has worked for her. Her eBook is honest, genuine, and so easy to read through and understand. The eBook provides excellent suggestions and guidelines to help you implement strategies to help you grow with affiliate marketing. It is definitely the best one I have seen in the market.

Nam | Laugh, Travel Eat
As always, Christina doesn't hold back on all the information at all. Having taken some other affiliate courses that are high priced and offer vague details, Christina's targeted look at affiliate marketing for travel bloggers is completely on point and immensely helpful. From which affiliate company to use, what kind of posts work best to reader psychology, everything is covered and I read it all in one go – this is how amazing a resource it is. If you want to know more about affiliate marketing for travel blogger, definitely don't miss out on this!

Soraya | Hello Raya
This book is all about tangible tips that move you from ideas to action.
… because tough love and honesty are my specialties.
If you're feeling stuck, here's that push you've been looking for.
This is not a beginner's ``how to do affiliate marketing`` book. In this concise guide, we skip the basics and dig deep into why affiliate marketing isn't working for your travel blog, and how to fix it.
I need to warn you right off the bat: if you're looking for a quick way to get rich, this isn't it. I don't believe in shortcuts or overnight success stories. To create a sustainable stream of affiliate income, you can't compromise on quality, value and reader trust. I resisted monetization for a long time because a) it confused the heck out of me and b) I thought it always meant becoming a slimey, ad-filled sell-out. But, being the stubborn mule that I am, I found a way to do affiliate marketing my way – in a way that actually provides value to my readers and allows me to create content I'm proud of.
Christina has once again over delivered with this GEM of a course! It's worth every single cent! Especially for new bloggers like me who don't have much in the way of a budget. I've got so many actionable tips from this guide already and I can't wait to see the results. It will pay for itself 10 fold I'm sure! I love how the guide is simple and straight to the point, no fluffy vague dance arounds that cost a of $200. Basically no BS, which is what Christina is all about. I recommend it to anyone. The course is jam packed with awesome advice and little homework tasks to make sure you get on with it!! Best money I've spent on a course so far.

Sally | Lady and the Tramper
Loved Christina's Guide To Affiliate Marketing for Travel Bloggers! Why? Because it is real, honest, and worth the investment. It isn't the vague information that is so often found in these courses. She really spells out step by step what you should be doing to help monetize your blog and HOW you can go about doing it. A lot of times it seems like fellow travel bloggers don't want to spill the tea on how they actually earn money with their blog. Christina's guide has lots of tips and best practices for affiliate marketing as well as things you can RIGHT NOW to start making it happen for you. After reading I feel I need an overhaul of my own blog to put some of her guidance to practice. Thanks for the great resource Christina!

Sheila Smith
Christina's guide to affiliate marketing is an exceptional eBook, packed with detailed information, clever insights and a clear focus on how to apply affiliate marketing to the travel blogging niche. Having already taken a course on affiliate marketing, and read extensively on the topic, I was pleasantly surprised that The No BS Guide to Affiliate Marketing had new things to teach me!

Written in Christina's personable and witty style, it's easy to read in one go. All the information is clear, actionable and well explained, leaving you with a plan of action to implement affiliate marketing on your own travel blog. The essential thing about this guide is that it's built on Christina's own personal experience of turning a medium sized travel blog with no previous history of strong monetization, into a steady earner. This means after reading her guide, anyone else can repeat that success too by following her process! Definitely worth a read.

Gemma Hilton-Tapp
Want to travel smarter and more often?
Join over 80,000 followers who love what I have to say! Enter your email here & you'll gain instant access to my special VIP zone, featuring freebies like checklists and printables... plus exclusive content, tips and updates!