*FYI - this post may contain affiliate links, which means we earn a commission at no extra cost to you if you purchase from them. Check out our Privacy Policy and Disclosure. for more info.
Wouldn't it be nice to get instant savings on your travels, without barely doing a thing?
Ah my lazy friends, I've got great news – you totally can! And before you accuse me of witchcraft, please hear me out…
I've written in the past about how to save money for your travels (here's 99 ways to do exactly that), but one of the biggest complaints I hear from readers re: travelling on a budget is how much time, coordination and scrimping it requires. If you feel that way too, then yesss this post is for you. I'm about to rock your world with four ways to save money on travel bookings that require almost no effort (and yield instant results).
Pssst, FYI – This post contains affiliate links that earn me a small commission to keep the site running, but come at no extra cost to you! Thanks as always for your support 🙂
1. Sign up for Ebates.
Ebates is a free cashback site that allows you to earn money back from most of your online purchases (almost like a partial instant refund).
Here's how it works: Ebates is partnered with a bunch of popular online retailers (travel ones like Expedia, Agoda, etc. included!). When you click through to these retailer sites via Ebates and buy something, Ebates earns some affiliate commission, a portion of which they share with you as a cashback (deposited straight into your Paypal). In other words, you're getting money back for shopping, which translates into instant discounts for your travel bookings.
Sign up for free here and earn cashback on your online purchases.
Canadians: sign up for Ebates.CA here.
Warning: The folks at eBates are biiiig fans of email, so be ready for that. I like getting their emails because they advertise sales/deals, but I admit they can be a bit much. To handle it, I have my Gmail filters set up so that eBates emails go into a special folder that I browse maybe once a day. Yay to no more clutter!
Here's an old screenshot from when I first started earning cash back from Ebates!

2. Download the Chrome extension, Honey.
By far THE easiest way to save on all your travel bookings (and any online shopping really). This ridiculously simple Google Chrome extension automatically searches through the Interwebs to locate relevant coupon codes and then applies them for you when you're shopping online! This means you no longer need to search around for deals and codes that may or may not work. As all the reviews say, "it's literally free money". Click here to download Honey for Google Chrome.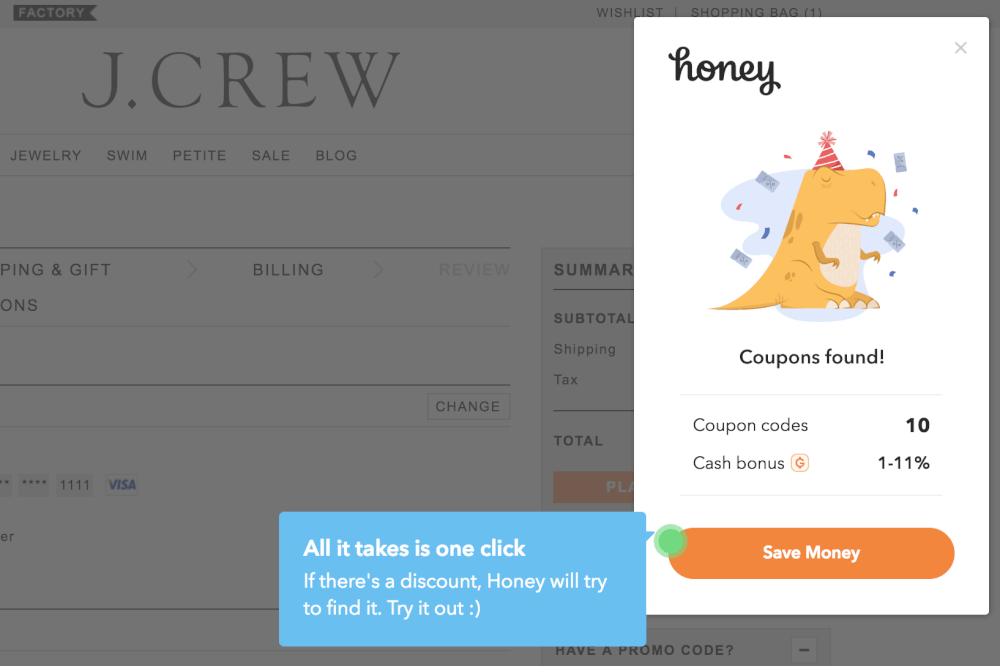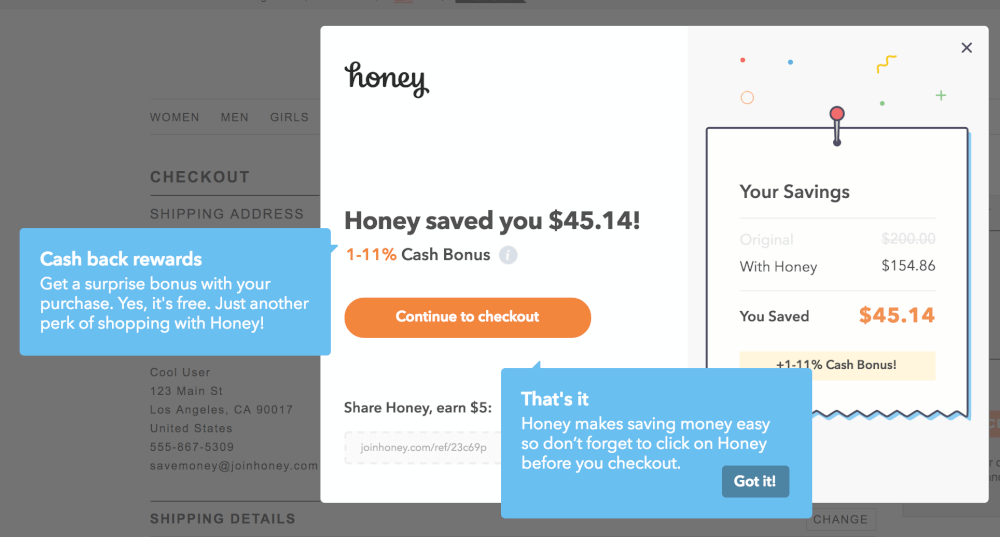 3. Sleuth around on discount sites like Groupon and Travelzoo.
Websites like Groupon, Travelzoo and Living Social often have crazy discounts on vacations, hotels and activities. I love these websites because they consolidate great deals in one spot, which makes finding the perfect deal pretty effortless.
Double whammy: if you purchase buy a Groupon or LivingSocial voucher through eBates, you'll get some extra cashback.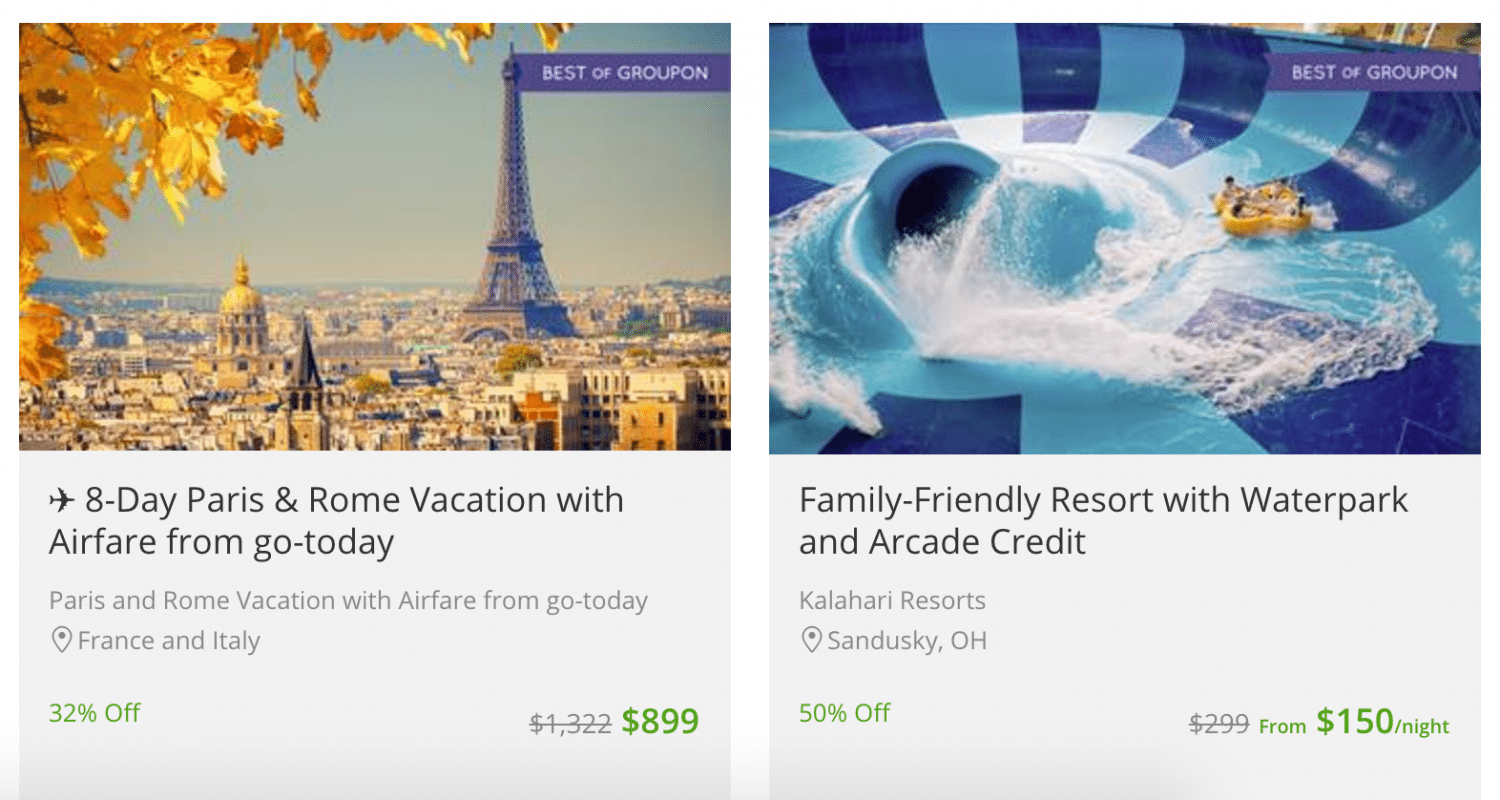 4. BONUS: Join Swagbucks.
I'm a big fan of getting rewards for things I'd be doing anyway… so that's why I adore websites like Swagbucks, a free online community that rewards its members with gift cards for doing things they already do online, e.g. Googling, watching videos, doing surveys and more. Through doing certain tasks, you rack up "Swagbucks" which you can redeem for things like Amazon gift cards. I was super into this years ago, and have earned tons of free gift cards from it. It's easy work but adds up to awesome rewards! You can create a free account here.
Plus: Swagbucks also does cashback like eBates. While you're compensated in Swagbucks rather than immediate cash, you can then redeem these SB for gift cards or direct Paypal deposit. The upside of using Swagbucks for cashback (rather than eBates) is that sometimes, Swagbucks has better bonus cashback rates. For instance, at the time of publishing this article, they were doing up to 10% cashback on Priceline. Pretty rad!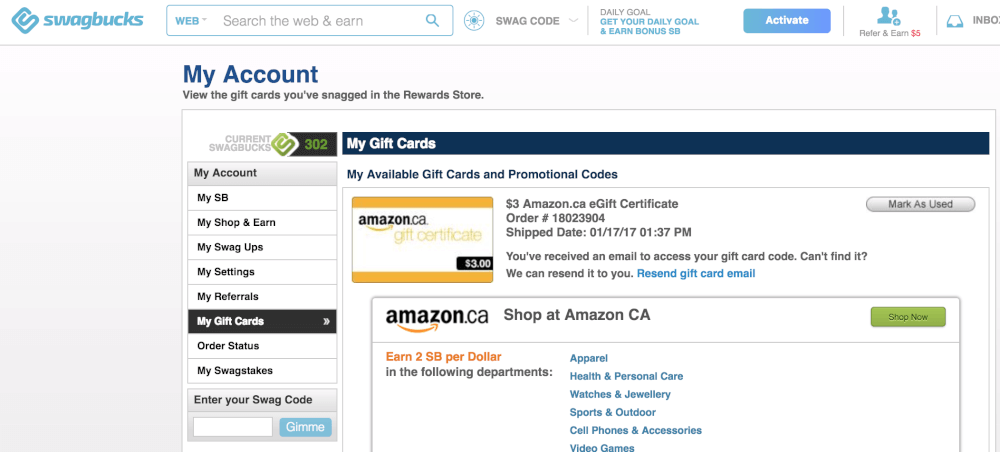 ---
So, hopefully you picked up a new trick or two when it comes to affordable travel. Let me know in the comments if I've missed any of your favourite (easy) ways to save money on travel bookings, and best of luck!
Pin for later:
This post contains affiliate links that earn me a small commission to keep the site running, but come at no extra cost to you! Thanks as always for your support 🙂